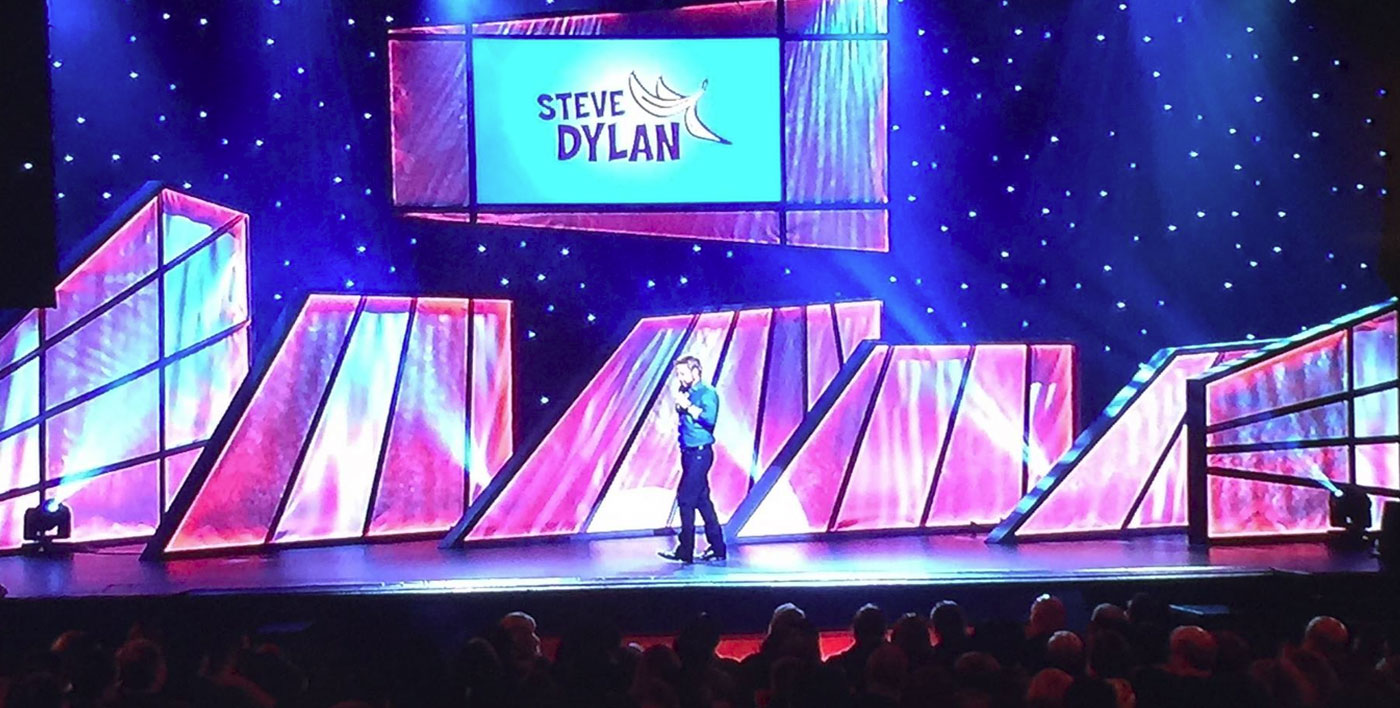 Steve Dylan at Casino Niagara
When: July 28 - July 30th, 2016
Where: Yuk Yuk's At Casino Niagara
Weekly Shows: Thursday, 9PM Tickets $11.43; Friday, 9PM Tickets $16.19; Saturday, 8PM and 10:30PM Tickets $16.19 
It's not just his golden locks that catch the tint of the spotlight like sunshine off a calm lake at high noon that should make you stop and take notice of Steve Dylan. Delivering smart, insightful potshots at society in his signature laid-back style, this Kingston native has carved out a name for himself as one of the brightest comedians in Canada.
Since leaving his day job in 2005, Dylan has appeared at the Just For Laughs Festival in Toronto and Montreal, the Ha!ifax ComedyFest and the Uptown Waterloo Comedy Festival. He was a finalist in Yuk Yuk's Great Canadian Laugh Off, and had his own national Comedy Now! special air on CTV/The Comedy Network in 2011.
Dylan is an accomplished Comedy Award-winning and Gemini-nominated writer/producer. His writing credits include Mr. D (CBC), Funny As Hell (HBO Canada), The Jon Dore Television Show (The Comedy Network/IFC), Last Car Standing (Discovery), Wipeout Canada (Global Television), This Hour Has 22 Minutes (CBC), TV with TV's Jonathan Torrens (TVtropolis), You Bet Your Ass (The Comedy Network), The Canadian Comedy Awards (The Comedy Network), and the animated series Scaredy Squirrel (YTV/Cartoon Network/POP UK), Almost Naked Animals (YTV/Cartoon Network/CITV UK), Camp Lakebottom (Teletoon) and Numb Chucks (YTV).
All prices are plus applicable taxes and service charges. Purchase tickets online through the Yuk Yuk's website. Tickets may also be purchased at the PAC Booth or by calling 1-888-325-5788. View the Yuk Yuk's Privacy Policy. All acts subject to change without notice. Must be 19 years of age or older to enter the Casino.