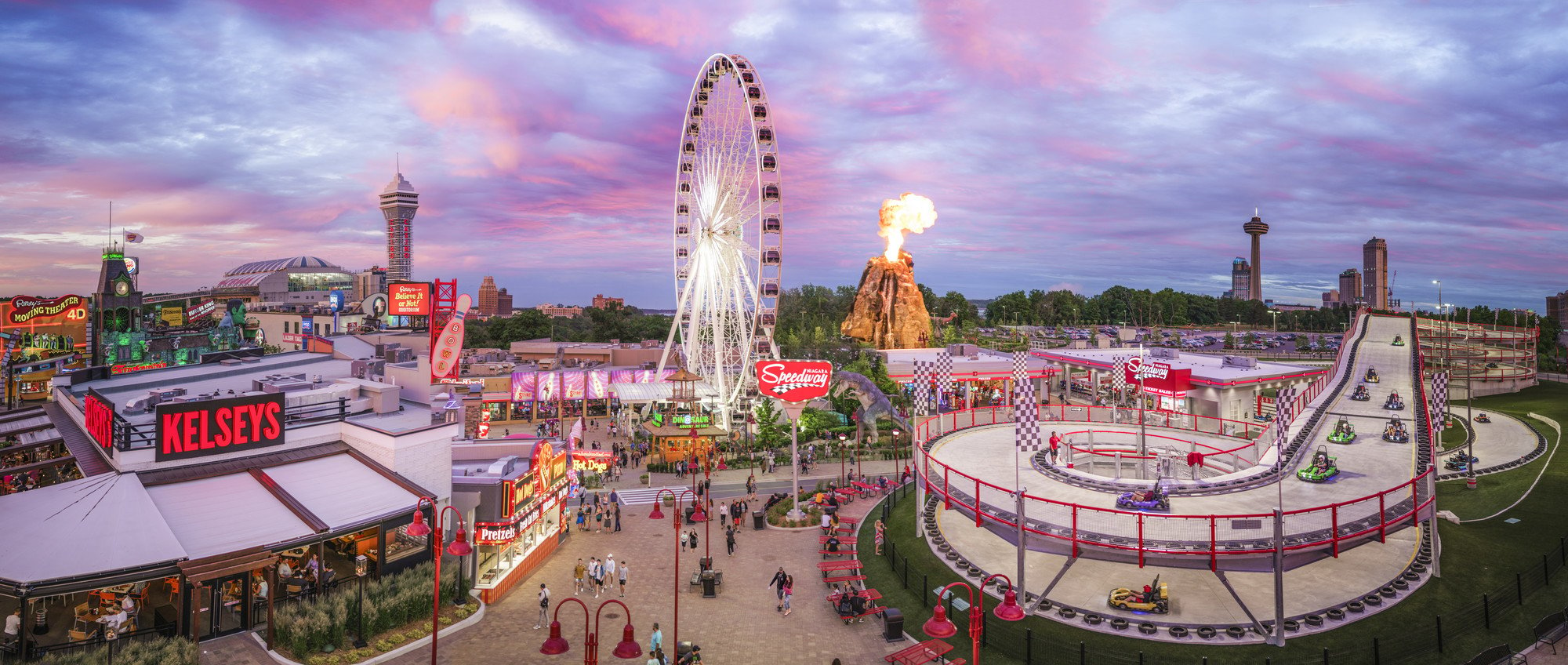 Niagara Speedway
4960 Clifton Hill, Niagara Falls, ON, L2G 3N4
Niagara Speedway: Hours
Ticket Pricing:
Driver $13.00 (Per ~5 Minute Race)
Rider $4.00 (Per ~5 Minute Race)
TICKETS ARE TO BE PURCHASED ON-SITE IN-PERSON
*Prices do not include applicable tax.
It's tall, it's fast, it roars with excitement!
The Speedway is a world-class attraction that combines the adrenaline inducing thrill of kart racing with the remarkable experience of a roller coaster ride. The course is spread out over four acres with over 2000 linear feet of concrete racing surface, running through a four-story helical spiral followed by a two tiered coaster style ramp that runs into another spiral. Though riders may feel like they are flying over a cliff at certain points during the ride, extensive safety features were built into the Speedway attraction.
The karts are powered by a large 4 stroke Honda motor, boasting 9 HP with a maximum track speed of 32 km/hr. The colourful, low profile bodies are adorned with advanced lighting systems and open leg areas for ease of loading.
Be sure to visit North America's largest elevated go-cart track facility. The first of its kind in Canada! Niagara Speedway is a marriage of traditional go-karts with the added fun and excitement of an elevated coaster styled track. Test your driving skills along the straight away, negotiate the hair -pin turns and climb the elevated ramp as you head for the checkered flag!
Requirements:
Height Restriction, Driver minimum height 58" (147.32 cm or 4'10") and maximum height 78" (198.12 cm)
Height Restriction, Rider minimum height 40" (101.6 cm or 3'4") and maximum height 60" (152.4 cm)
​To carry a passenger, the driver must be a minimum of 18 years of age, or the parent or legal guardian of the passenger.

Print and Redeem
Click here for official Speedway press releases, logos, imagery: Niagara Speedway Media Centre
Fun facts on the structure:
10,000 bolts
595,420 lbs of steel (approx. 300 tons)
2,150 Linear Feet of Guard Rails
16,763 Individual Parts
1,832 Welded Assemblies
19,100 – Individual Welds
36 Go-Karts going every ride
Tallest point is 40 ft tall.
Niagara Speedway Game Zone
The Niagara Speedway also features the Game Zone as well!

The Game Zone features all-new games and some old favourites. Affiliated with the Great Canadian Midway, this building will use the same tokens. There is also an additional Redemption Centre and a Men's and Women's washroom for your convenience.
Get The Latest Speedway News