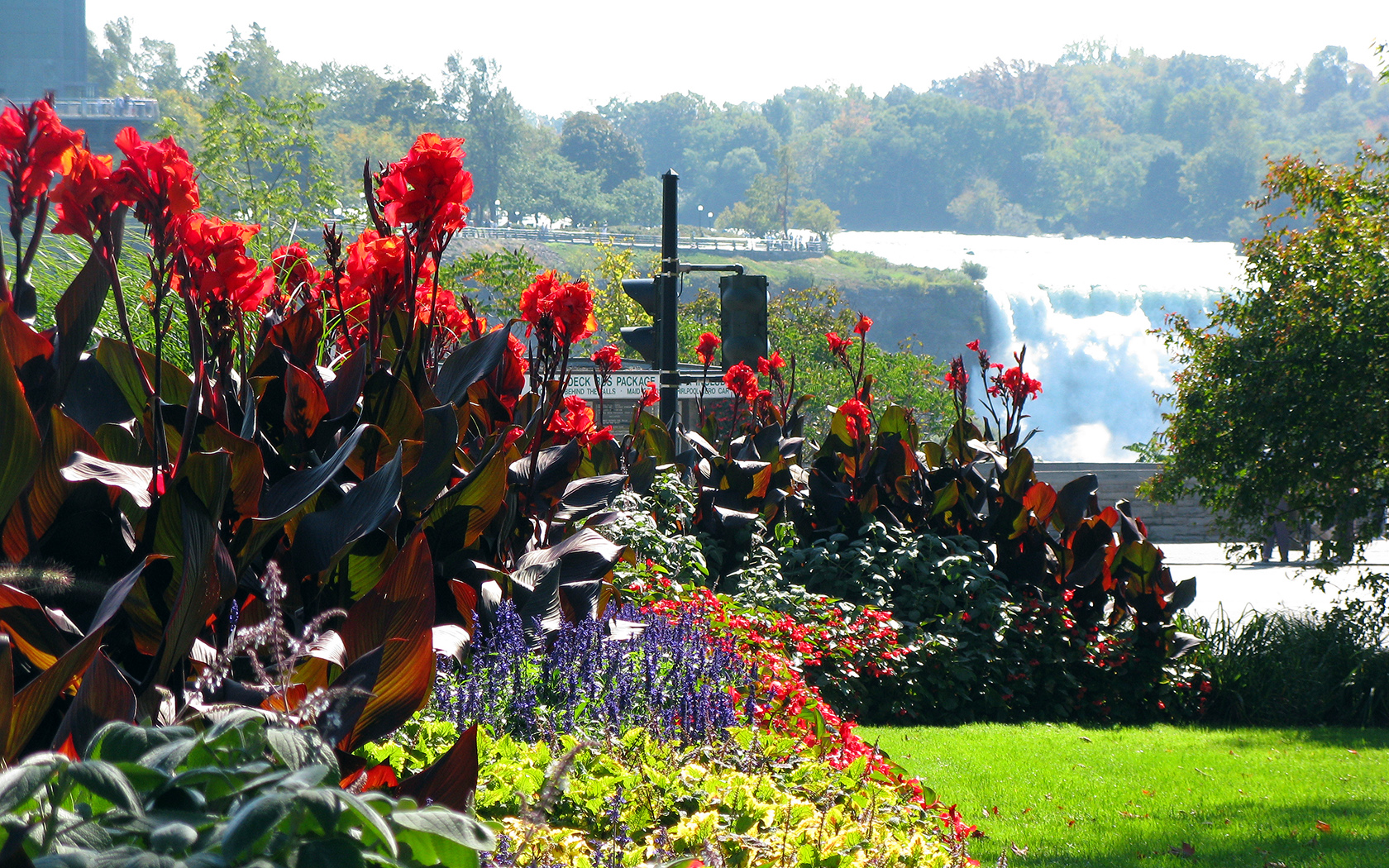 Queen Victoria Park is the crown jewel of Niagara's Parks, and is the main area to go to view the majestic Niagara Falls. Landmarked by the Niagara escarpment, the Niagara Gorge, and the Niagara River, the park features a prized collection of both indigenous and international flora for the world to enjoy.
The majority of plants are labelled for the education of the local and out of town visitors. The park offers a romantic stone garden, rose garden, and attractive carpet bed displays. A convenient number of park benches and finely manicured lawns provide a pleasant opportunity for relaxation for the weary traveller.
Landscape illumination is an integral part of the park environment, as is the illumination of the Falls.
Queen Victoria Park celebrates each season in style. Every spring, 500,000 daffodils herald the arrival of this season in a natural, welcoming way. Magnificent magnolias, breathtaking tulips and other spring blooming plants play host to spring in the park.
Summer showcases many carpet bed displays as well as 1000's of flora throughout the park. Lantana and Magenta standards, coleus, cannas and many others provide many beautiful landscapes that appeal to any type of visitor, including horticultural professionals.
Chrysanthemums and Kale have been grown in the fall to extend the season and to provide interest after the arrival the first frost of the season. 
During the winter season, the bare branches of trees and shrubs create interesting natural visuals for our visitors, especially when coated with ice from the freezing mist of the Falls, and the park transforms itself into a Winter Wonderland as the primary home of the Winter Festival of Lights.
There is no admission cost for the park, as it is free for everyone to appreciate and enjoy. Ample parking can be found at Clifton Hill's main parking lot, just a 5 minute walk away. Parking here also has access to a jolly cut for a quick way to the central Queen Victoria Park area -- perfect on fireworks nights!
Queen Victoria Park is also home to the majestic Canadian & American Falls, Table Rock Centre, Hornblower Niagara Cruises and Wildplay's Zipline to the Falls.