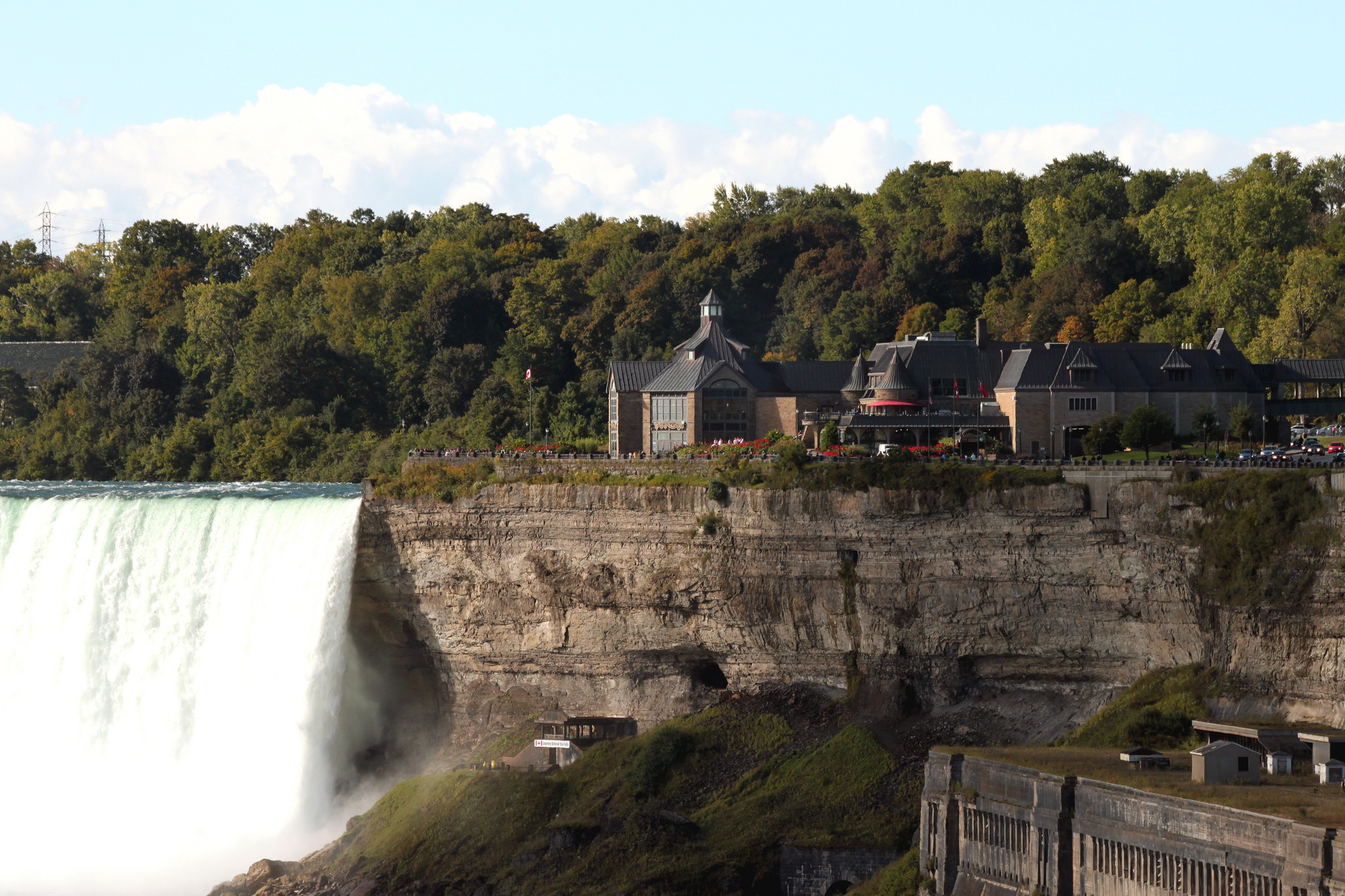 Table Rock Centre
6650 Niagara Parkway, Niagara Falls, ON
At the edge of the Horseshoe Falls you'll find the famous Table Rock Complex, where millions of people from around the world travel every year for a first-class view of the majestic Niagara Falls. It has fabulous lookout points that place you mere yards away from the thundering Horseshoe Falls.
From here, you will experience the thrill of watching 2,800 cubic meters of water crash down to the base of the Falls below. Renovations in 2008 to the Table Rock included the addition of a covered pedestrian walkway to protect visitors from the elements of year round weather, and provide easy mobility over the Parkway to the complex. Experience a two-level indoor viewing gallery called the Grand Hall, where a panoramic views of the falls can be appreciated up close!
The Table Rock Centre is wheelchair accessible, has a Welcome Centre to purchase Niagara Parks attraction tickets and packages, a first aid station, currency exchange, shops, restaurants (both casual and fine dining), and you will find both admission to the Journey Behind the Falls and the Niagara's Fury here.
The Journey Behind the Falls tour and the shops are all open daily year-round excluding Christmas Day. Access to the view of the Niagara Falls is open to the public daily and 24 hours a day.
You can take a shuttle bus from Clifton Hill, or enjoy a leisurely 10 minute stroll through the wondrous gardens of Queen Victoria Park.
The "Table Rock" got its name from a large rock shelf that used to sit a little further north of where the Table Rock Complex stands today. This "shelf" allowed tourists a marvelous view of the Horseshoe Falls in the early and middle 19th century. Bit by bit, minor and major rockfalls began to occur, with the biggest being in 1850 when a massive chunk fell into the Niagara Gorge below. At the time, a gentleman was on the shelf washing his carriage when it gave way. The carriage was lost below, while the man escaped death.
For safety purposes, the remaining rock was blasted in 1935.
The Table Rock is just minutes away from the Fallsview Boulevard. Book a hotel from any one of these Niagara Falls Fallsview Hotels for a fabulous stay!