Reading Time: 
7
minutes -

The Biggest and the Brightest of All Winter Festivals in Ontario!
November 3rd, 2018 –  January 31st, 2019
The Niagara Winter Festival of Lights returns this year with an all new international fireworks competition, animated light installations, projections and entertainment – all of which will leave you spellbound! The festival is marked with many weeks of celebration, which literally shines up the entire Niagara Falls destination with its brilliance and dazzles people with its joy.
The Niagara Winter Festival of Lights is FREE and open to everyone! It takes place November 3rd to January 31st, 2019 along 8 km of the Niagara Parkway and within Queen Victoria Park, Dufferin Islands, and various tourist areas throughout Niagara Falls including: Clifton Hill, the Victoria Centre, Fallsview Boulevard, and Lundy's Lane.  Festival organizers have carefully crafted a brilliant schedule to ensure a diverse variety of events happen each week over roughly two months. Visitors should come out early and often to catch all the distinctive events throughout the festival.
"The Ontario Power Generation Winter Festival of Lights has evolved in recent years with new lights, displays, entertainment, and signature events. In 2017, the festival attracted over 1.6 million visitors and our goal is to make the 36th festival even bigger and brighter!" said Tina Myers, Executive Director, OPG WFOL. "We are excited to unveil new interactive illumination displays featured at light festivals in Montreal and Amsterdam and we are extending the festival's run to make it more accessible for people."
Beginning 36 years ago (1982), the Winter Festival of Lights has grown into one of North America's largest and most recognized holiday light shows, attracting millions of visitors annually and  hundreds of motor coach tours each year. Identified as one of the Top 100 Festivals on Ontario, Sponsor of the Year, Best Volunteer Program, Most Innovative Partnership, and the prestigious Events of Distinction Award from Festivals and Events Ontario (FEO). The American Bus Association has long recognized the OPG Winter Festival of Lights as one of its Top 100 internationally Known Events from 2005-2015.
Each year the festival is committed to keeping the Niagara Winter Festival of Lights: family friendly, free to attend and open to everyone. So bundle up and celebrate the power of light and community!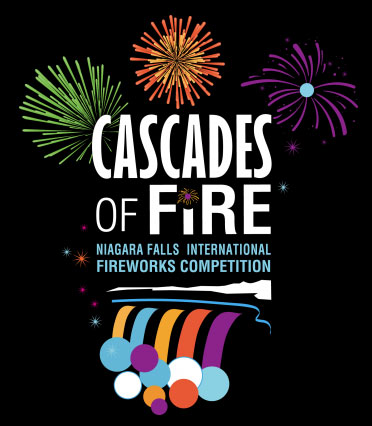 NEW FOR 2018: CASCADES OF FIRE!
INTERNATIONAL FIREWORKS COMPETITION
This November see the skies explode with color, lights and sounds over Niagara Falls as the premiere edition of the "Cascades of Fire International Fireworks Competition" kicks off. This grand event is widely anticipated to become the largest and most impressive firework show in the country this Fall!
Presented by the Hornblower Niagara Cruises, These remarkable displays will thrill audiences from across the region with events over 6 weekend nights, starting November 9th, 2018. Cascades of Fire boasts multiple 18-minute pyrotechnic light shows, beautifully matched to music.
2018 Cascades of Fire International Fireworks Competition
Dates: Fridays, Saturdays, and Sundays staring November 9th 2018.
November 9th, 10th, 11th, 16th, 17th, 18th.
Time: All shows start at 9:00 PM
Where: Queen Victoria Park, Niagara Falls, Canada
Cost: Free
Award winning pyrotechnic teams from China, Finland, Brazil, Vietnam and Italy will be showcasing their fireworks displays. As the hosts, Team Canada will put on a special fireworks finale show on November 18th presented by Fallsview Casino. Each presentation will be judged on five categories: theme and choice of music, creativity, selection of the fireworks effects and use within the display, synchronization to the music and crowd reaction and appreciation.
"The Cascades of Fire International Fireworks Competition will be the region's top Winter event and we are excited to announce our presenting sponsorship and community partnership with this event," said Greg Bechkos, Director, Sales & Marketing at Hornblower Niagara Cruises. "An event like this brings the community together and it's a fantastic way to showcase our beautiful city in the Winter months. We appreciate the vision and commitment of all parties involved in organizing this International Fireworks Competition. We are very pleased to associate our Hornblower Niagara Cruises brand with Cascades of Fire."
2018 WINTER FIREWORKS SCHEDULE
Feel the magic! Bring the whole family to the opening ceremony of the OPG Winter Festival of Lights and be a part of the celebrations in Queen Victoria Park!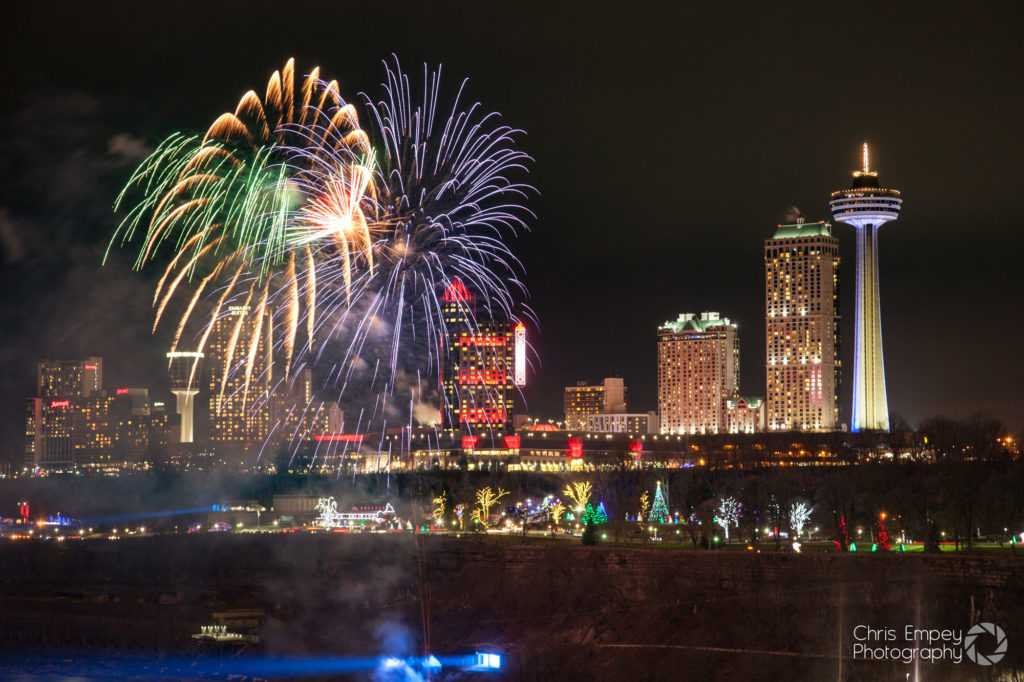 DATE: Saturday, November 3rd – Fireworks at 8 PM and 9 PM

This will be followed by weekly fireworks every Friday night at 9 PM, each show during the winter schedule will be four minutes long. There will also be bonus fireworks shows during the Holidays, every night from: December 22nd – 30th at 9 PM.
Fridays: November 9, 16, 23, 30 December 7, 14, 21, 28, January 4, 11, 18 & 25
Nightly: Dec. 22 to Dec. 30
New Years Eve: Monday, December 31st at 9PM & Midnight
*Please note: The Fireworks schedule is subject to change.  Additionally the fireworks shows are weather dependent and can be cancelled due to unfavorable weather conditions like high winds or rain.*
Display Gallery:
WFOL OPENING CEREMONIES:
Join us and bring your family and friends to the Opening Ceremony of Niagara's most beloved winter tradition, the OPG Winter Festival of Lights, Saturday, November 3, 2018! The big event features hundreds of acres of twinkling lights over the 8-km illumination route. The dazzling display includes hundreds of lighted attractions boasting more than two million energy-efficient LED lights. The event will be held at Queen Victoria Park, at the foot of Clifton Hill's extremely popular amusement area. There is no admission fee for the ceremony and visitors will have full access through Queen Victoria Park, so you can enjoy some Family fun or dine on Clifton Hill before or after the event.
The festivities will take place in Niagara Parks' Queen Victoria Park. The festivities will run from 11:00 AM to 9:00 PM with live entertainment, food trucks, interactive displays and special guests. Kids entertainment will run from 11:00 AM to 4:00 PM with appearances by the Paw Patrol, shows by the MiniPop Kids, the Home Depot kids workshop, the Heartland Forest train, face painting and more. Starting at 4:00 PM, Beverley Mahood & Friends will take the main stage with performances by Julian Taylor, Brad Battle, Mac Sheppard, Jamie Warren, Leah Daniels & Beverley Mahood.
"Our goal is to create an experience that everybody will fondly remember," said Myers. "While you are visiting our festival, be sure to check out Impulse, a publicly activated light and sound experience that features a series of interactive illuminated see-saws that transform when put into motion by people. Impulse will be located in Queen Victoria Park until December 1st," adds Myers.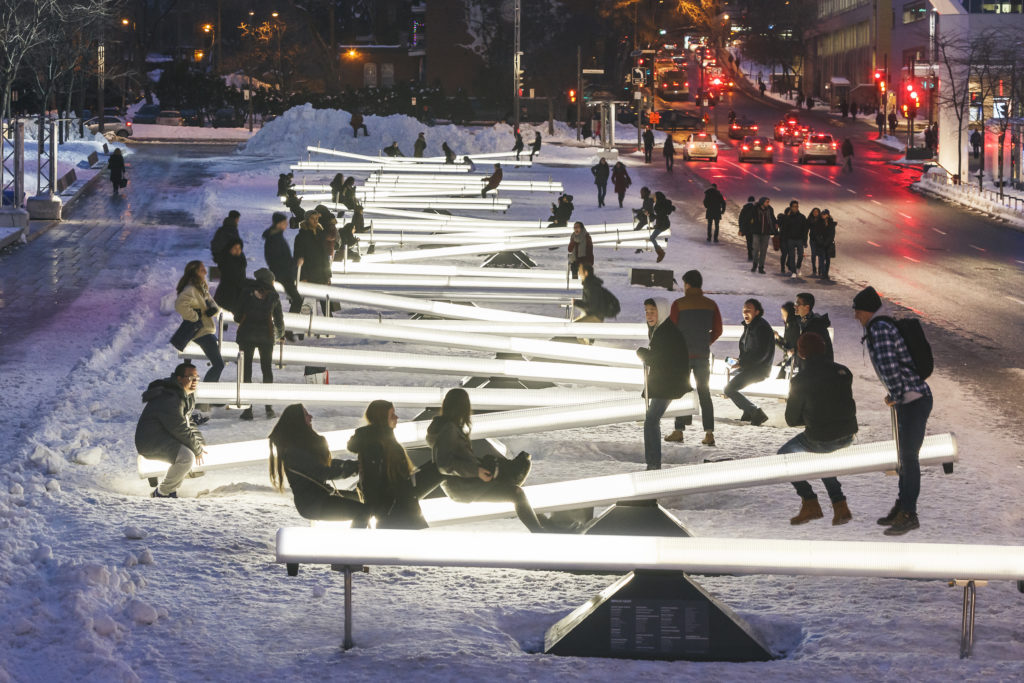 CLIFTON HILL:
Clifton Hill is generally lit up year round, but will be boosted by additional light displays during the festival. Warm white lighting with strands hanging down will adorn many trees in this area, making it look like Spanish Moss. Located at the bottom of Clifton Hill in Oakes Garden Theatre will be a grouping of beautifully lit spiral trees and bright accent lighting. Best of all, Clifton Hill is also home to numerous year-round attractions  like the Niagara SkyWheel, Fallsview Indoor Waterpark, the Great Canadian Midway and more!

At the corner of Victoria Ave. and Clifton Hill, travelers will discover the Teenage Mutant Turtle light displays! Additionally there are a pair of arches above the Clifton Hill district entrance at both Ferry St. and  Victoria Ave. Don't forget to take a selfie of  Santa's Sleigh led by two of his reindeer; travelers can jump into the sleigh for some fun pictures! Clifton Hill is also decorated with a cluster of giant 6′ retro light bulbs providing another unique photo opportunity.
NINJA TURTLES
NOV 3 2018 – JAN 31 2019 @ 5:00 PM – Midnight
Don't miss a fun photo opportunity with the famous Ninja Turtles display on Victoria Ave. in Clifton Hill's tourist district.
Catch other "must see" Festival favourites including displays at the: Zimmerman Fountain, Noah's Ark, the 2 storey tall Canada/US flag, the Royal Canadian Mounties, 3-D wildlife presentations, the Skylon Tower illumination, Parks Floral Showhouse and Queen Victoria Park's Forest of Trees.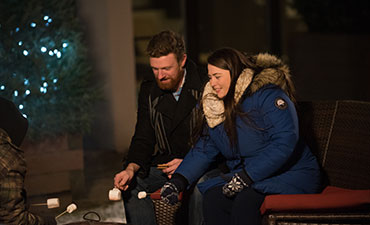 DECK THE FALLS
Deck the Falls Holiday Walking Tour is a popular winter activity in the Falls. It features a self-guided tour of the most decked out venues in the Niagara Falls tourist area. Spanning over 3 weekends in December, it can be enjoyed at your own pace on foot, or you can take the WEGO bus for quicker pacing. This tour features three venues in the Clifton Hill area. Dates/times are as follows:
Fri., November 30 & Sat., December 1 : 5:00 p.m. – 10:00 p.m.
Fri, December 7 & Sat, December 8 : 5:00 p.m. – 10:00 p.m.
Fri, December 14 & Sat, December 15 : 5:00 p.m. – 10:00 p.m.
The walking tour allows patrons to tour venues throughout the district in Niagara Falls, with each location offering a different-themed activity. Participating venues feature culinary and gourmet food sampling, holiday beverages, desserts, photo opportunities, live music and entertainment, craft workshops, ice sculptures and more.
One of the key new attractions to the walking tour is the Skylon Tower, which will feature a ride to the top! Last year's popular horse-drawn carriage ride from the Table Rock Welcome Centre to the Niagara Parks Floral Showhouse also returns.
SPARKLE LIGHTING AWARDS
The Winter Festival of Lights will hold another "Sparkle Lighting Award" contest, which recognizes the "best" lit residential, multi-residential and commercial property in Niagara Falls for the winter holidays.
Anyone in the City of Niagara Falls is free to participate in this event!
Nominations Open: November 3, 2018 | Judging Night: December 12, 2018
*For more information on the Ontario Power Generation Winter Festival of Lights, or to enter the Sparkle Lighting Awards contest, please visit www.wfol.com*
Please feel free to view the map below that features a Legend of the Festival's lights and illumination display locations: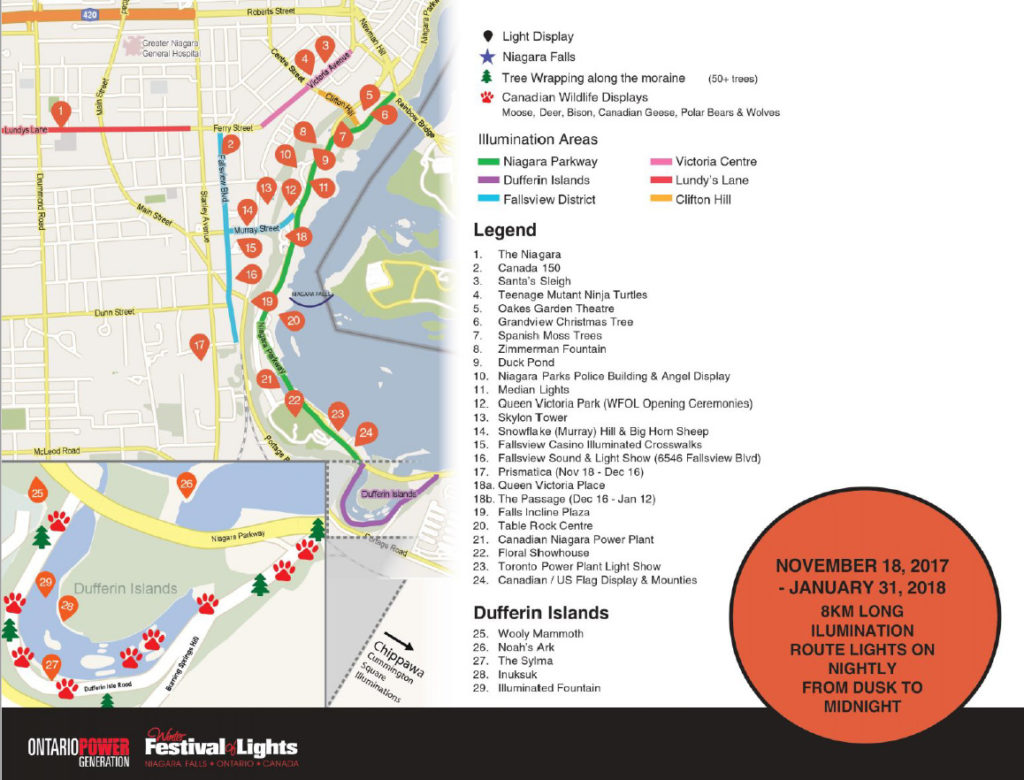 PARKING:
There is plenty of parking just off of Clifton Hill that extends to the Skylon Tower. Easily accessible to all attractions and events, there is even a jolly-cut available to access Queen Victoria Park easily and efficiently, provided you have no mobility issues.
For directions to this parking lot, click the image below: