Reading Time: 
6
minutes -

The Biggest and the Brightest of All Winter Festivals in Ontario!
November 16th, 2019 – January 12th, 2020
The Niagara Winter Festival of Lights returns this year with an amazing fireworks, animated light installations, projections and entertainment – all of which will leave you spellbound! The festival is marked with many weeks of celebration, which literally shines up the entire Niagara Falls destination with its brilliance and dazzles people with its joy.
The Niagara Winter Festival of Lights is FREE and open to everyone! It takes place November 16th to January 12th, 2020 along 8 km of the Niagara Parkway and within Queen Victoria Park, Dufferin Islands, and various tourist areas throughout Niagara Falls including: Clifton Hill, the Victoria Centre, Fallsview Boulevard, and Lundy's Lane. Festival organizers have carefully crafted a brilliant schedule to ensure a diverse variety of events happen each week over roughly two months. Visitors should come out early and often to catch all the distinctive events throughout the festival.
The Ontario Power Generation Winter Festival of Lights has evolved in recent years with new lights, displays, entertainment, and signature events. The festival attracts over 1.8 million visitors and 450 motor coaches with the goal of making each festival even bigger and brighter!
Beginning 37 years ago (1982), the Winter Festival of Lights has grown into one of North America's largest and most recognized holiday light shows, attracting millions of visitors annually and hundreds of motor coach tours each year. Identified as one of the Top 100 Festivals on Ontario, Sponsor of the Year, Best Volunteer Program, Most Innovative Partnership, and the prestigious Events of Distinction Award from Festivals and Events Ontario (FEO). The American Bus Association has long recognized the OPG Winter Festival of Lights as one of its Top 100 internationally Known Events from 2005-2015.
Each year the festival is committed to keeping the Niagara Winter Festival of Lights: family friendly, free to attend and open to everyone. So bundle up and celebrate the power of light and community!
Executive director Tina Myers said this season's edition will feature about 20 new light art exhibits and interactive displays, including 2.4-metre-high letters that spell Play. In between the letters will be illuminated swings. The letters will change colours as guests play. It will be in Queen Victoria Park with illuminated see-saws that were featured last year.
A new illuminated Timbits Hockey display depicting animals playing the sport will be showcased.
Two giant Christmas ornaments will also be added to the festival route.
As part of a partnership with Amsterdam's Light Art Collection, the festival will feature displays representing world artists. These pieces will provide people opportunity to explore pieces created by artists from Italy, the Netherlands, Singapore, Israel, United Kingdom, France and Hungary.
"We're excited to unveil new interactive illuminations which have been featured at festivals all over the world, as well as our all-new opening ceremonies featuring a stellar lineup of family-friendly activities."
---
2019/20 WINTER FIREWORKS SCHEDULE
Feel the magic! Bring the whole family to the opening ceremony of the OPG Winter Festival of Lights and be a part of the celebrations in Queen Victoria Park!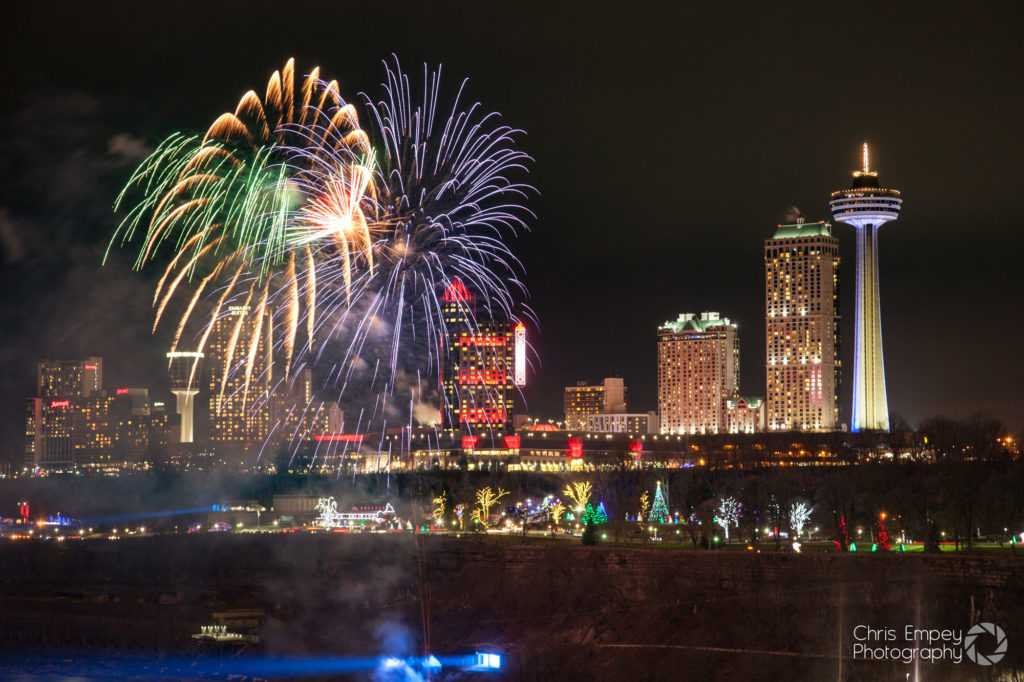 DATE: Saturday, November 16th – WFOL Opening Ceremonies fireworks at approximately 8:00PM & 10:00PM
This will be followed by weekly fireworks every Friday night at 9 PM, each show during the winter schedule will be four minutes long. There will also be bonus fireworks shows during the Holidays, every night from: December 20-30, 2019 & January 1-5, 2020.
Fridays: November 22, 29 December 6, 13, 20, 27, January 3 & 10
Nightly: Dec. 21 to Dec 30 & Jan. 1 to 5
New Year's Eve: Tuesday, December 31st at 9:15PM & Midnight
Saturday, January 11, 2020
*Please note: The Fireworks schedule is subject to change. Additionally the fireworks shows are weather dependent and can be cancelled due to unfavorable weather conditions like high winds or rain.*
Display Gallery:
---
WFOL OPENING CEREMONIES:
Opening ceremonies Nov. 16, between 3 p.m. and 8 p.m. at Queen Victoria Park, will include live entertainment, food trucks, interactive displays and special guests. Kids entertainment will include a performance by magician Greg Frewin, cast members from Oh Canada Eh? and Belle & the Beast by Linus Hand Productions. The flip-the-switch ceremony is to start at 7:30 p.m. with greetings from dignitaries and a visit by Santa Claus.
Opening Ceremonies Fireworks:
Saturday, November 16th – WFOL Opening Ceremonies fireworks at approximately 8:00PM & 10:00PM
"Our goal is to create an experience that everybody will fondly remember," said Myers. "We're excited to unveil new interactive illuminations which have been featured at festivals all over the world, as well as our all-new opening ceremonies featuring a stellar lineup of family-friendly activities " adds Myers.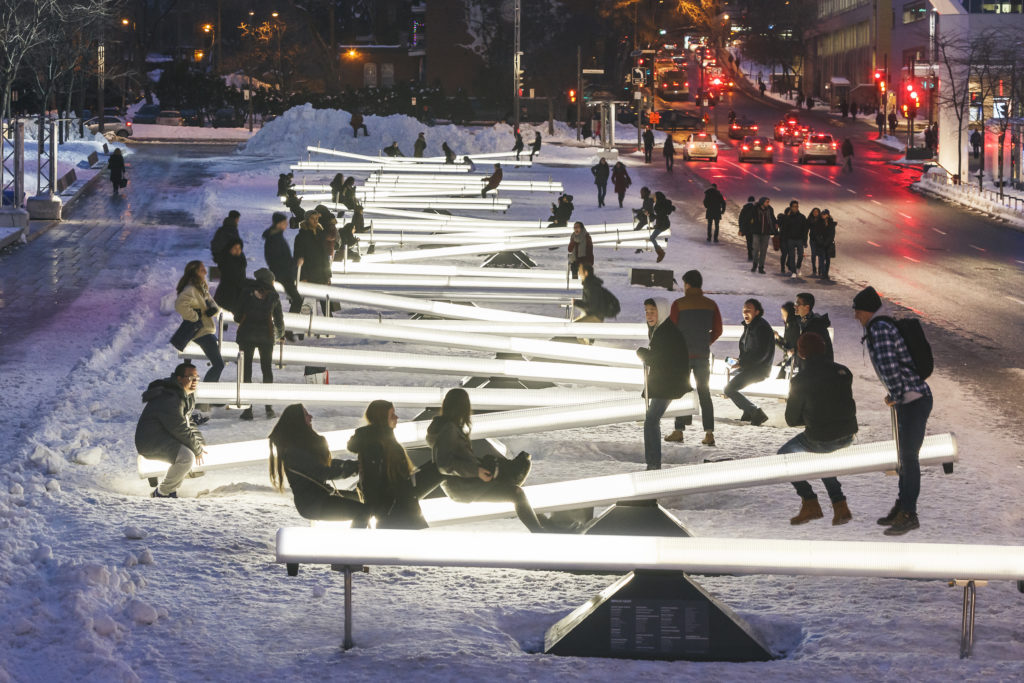 ---
CLIFTON HILL:
Clifton Hill is generally lit up year round, but will be boosted by additional light displays during the festival. Warm white lighting with strands hanging down will adorn many trees in this area, making it look like Spanish Moss. Located at the bottom of Clifton Hill in Oakes Garden Theatre will be a grouping of beautifully lit spiral trees and bright accent lighting. Best of all, Clifton Hill is also home to numerous year-round attractions like the Niagara SkyWheel, Fallsview Indoor Waterpark, the Great Canadian Midway and more!

At the corner of Victoria Ave. and Clifton Hill, travelers will discover many light displays and activities! Additionally there are a pair of arches above the Clifton Hill district entrance at both Ferry St. and Victoria Ave. Don't forget to take a selfie of Santa's Sleigh led by two of his reindeer; travelers can jump into the sleigh for some fun pictures! Clifton Hill is also decorated with a cluster of giant 6′ retro light bulbs providing another unique photo opportunity.
---
STRANGERS IN THE LIGHT
NOV 16, 2019 – JAN 12 2020 @ 5:00 PM – Midnight
The little figures we know from pedestrian traffic lights (one red and one green) which we sometimes impatiently have to wait for are more than just icons in the installation 'Strangers in the Light'. Artists Victor Engbers and Ina Smits, who have worked together to create several large installations for festivals and exhibitions, have enlarged the common figures into six-metre tall sculptures, whereby losing their original function of telling you whether you can cross the street or have to wait. The figures have become characters in their own story. They have to come to life and have escaped from their 'black box'.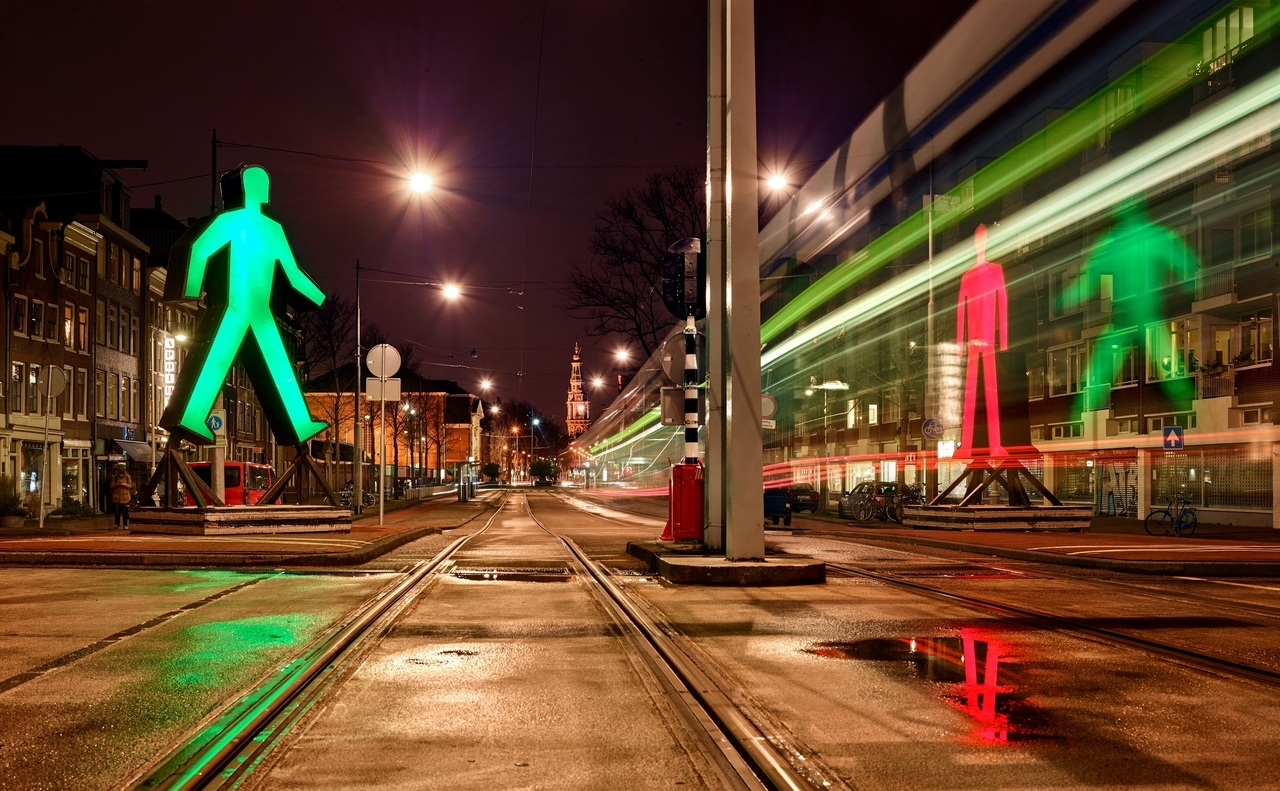 ABOUT THE ARTISTS
Victor Engbers & Ina Smits, The Netherlands
After studying law and journalism and finally attending the Gerrit Rietveld Academy, Victor Engbers could be considered an all-around artist. He works as a journalist but also creates large sculptures, graphic work, and takes the stage as a performance artist. The majority of his work revolves around one theme: don't take the world for granted. He created the work 'Strangers in the Light' in collaboration with artist Ina Smits.
This light artwork is being featured at the Winter Festival of Lights this winter in partnership with the Light Art Collection.
---
Clifton Hill Favorites
Catch other "must see" Festival favourites including displays like the: The Passage, Zimmerman Fountain, Oakes Garden Theatre, SkyWheel Post Mounted Displays, Noah's Ark, the 2 storey tall Canada/US flag, the Royal Canadian Mounties, 3-D wildlife presentations, the Skylon Tower illumination, Parks Floral Showhouse and Queen Victoria Park's Forest of Trees.
SPARKLE LIGHTING AWARDS
The Winter Festival of Lights will hold another "Sparkle Lighting Award" contest, which recognizes the "best" lit residential, multi-residential and commercial property in Niagara Falls for the winter holidays.
Anyone in the City of Niagara Falls is free to participate in this event!
Nominations Open: Click Here
*For more information on the Ontario Power Generation Winter Festival of Lights, or to enter the Sparkle Lighting Awards contest, please visit www.wfol.com*
Please feel free to view the map below that features a Legend of the Festival's lights and illumination display locations: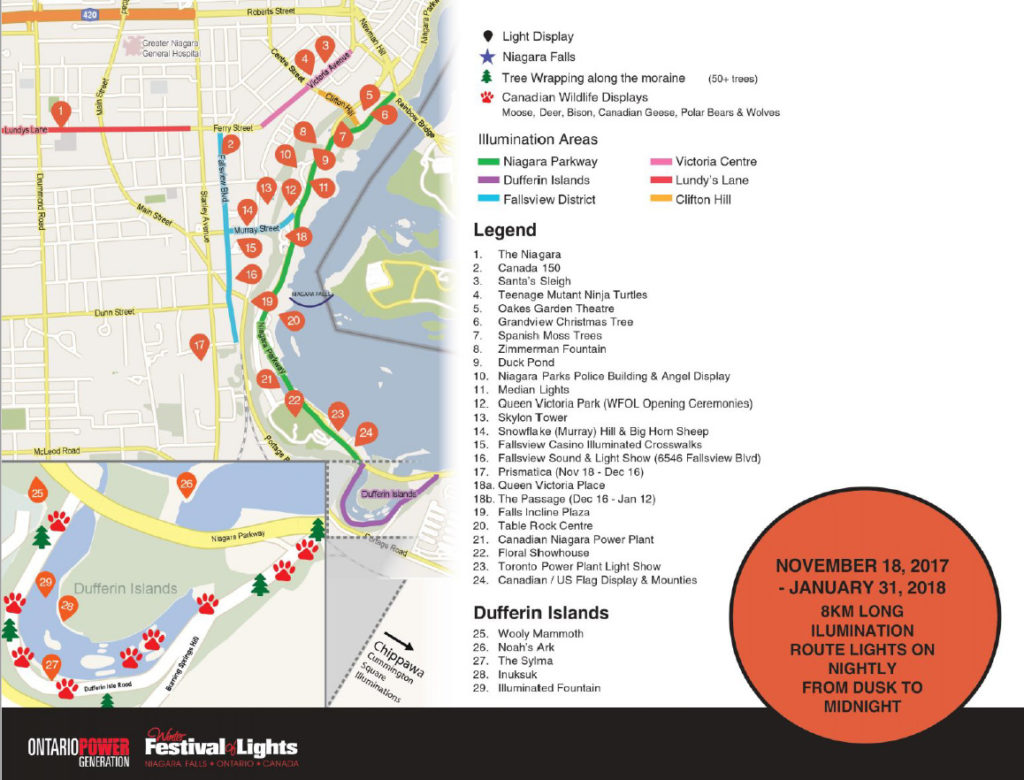 PARKING:
There is plenty of parking just off of Clifton Hill that extends to the Skylon Tower. Easily accessible to all attractions and events, there is even a jolly-cut available to access Queen Victoria Park easily and efficiently, provided you have no mobility issues.
For directions to this parking lot, click the image below: