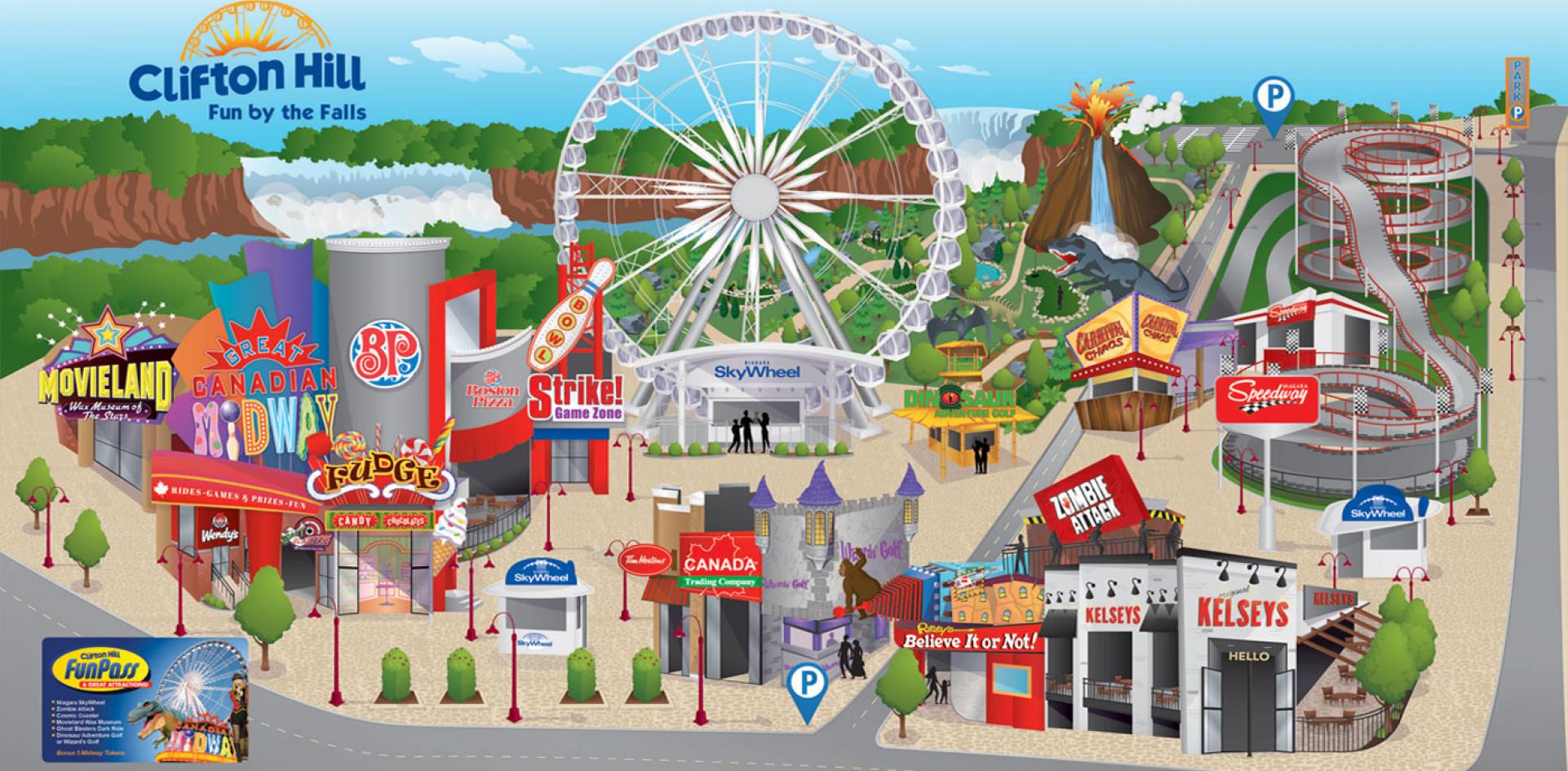 Niagara Falls Maps and Directions
Hours |  Parking | Maps | Prices | Contact
Below we have provided some helpful maps and directions to guide you to the Niagara Falls and Clifton Hill destination. 
You've picked a great time to visit Niagara's favourite "Street of Fun by the Falls"! Below are some helpful pages to assist in planning your best day ever to Clifton Hill, Niagara Falls.
On this unique street, individuals, couples, friends and family can enjoy all the fun that we have to offer all year round. There is so much to do here from shopping, taking in all our attractions, dining, and even just strolling or people-watching! We draw in thousands and thousands of people from around the world annually.
Please choose one of the following options:
Clifton Hill Offers the easiest most hassle-free place to find parking in Niagara Falls
Depending on the time of year, many visitors descend upon the Niagara Falls area to take in the Falls and all the surrounding attractions and events. Yet, you needen't struggle to findparking with the enormous parking area, in the middle of it all -- On Clifton Hill! A short walk from the Fallsview district and their adjoining restaurants, and it comes complete with a jolly cut that allows you to bypass crowds and get from the parking lot to the Falls in a matter of seconds!
This location is close to Queen Victoria Park, which is where you need to be to view the Falls, access the Hornblower Niagara Cruises and to watch the Niagara Falls fireworks shows.
A trip to Niagara wouldn't be complete without spending time on Clifton Hill. Clifton Hill is the entertainment hub of the Niagara area, with casinos, shops, and a plethora of fantastic restaurants and interesting attractions. For information on crossing the border to our location, please visit: https://www.cliftonhill.com/explore/plan-trip/niagara-falls-border