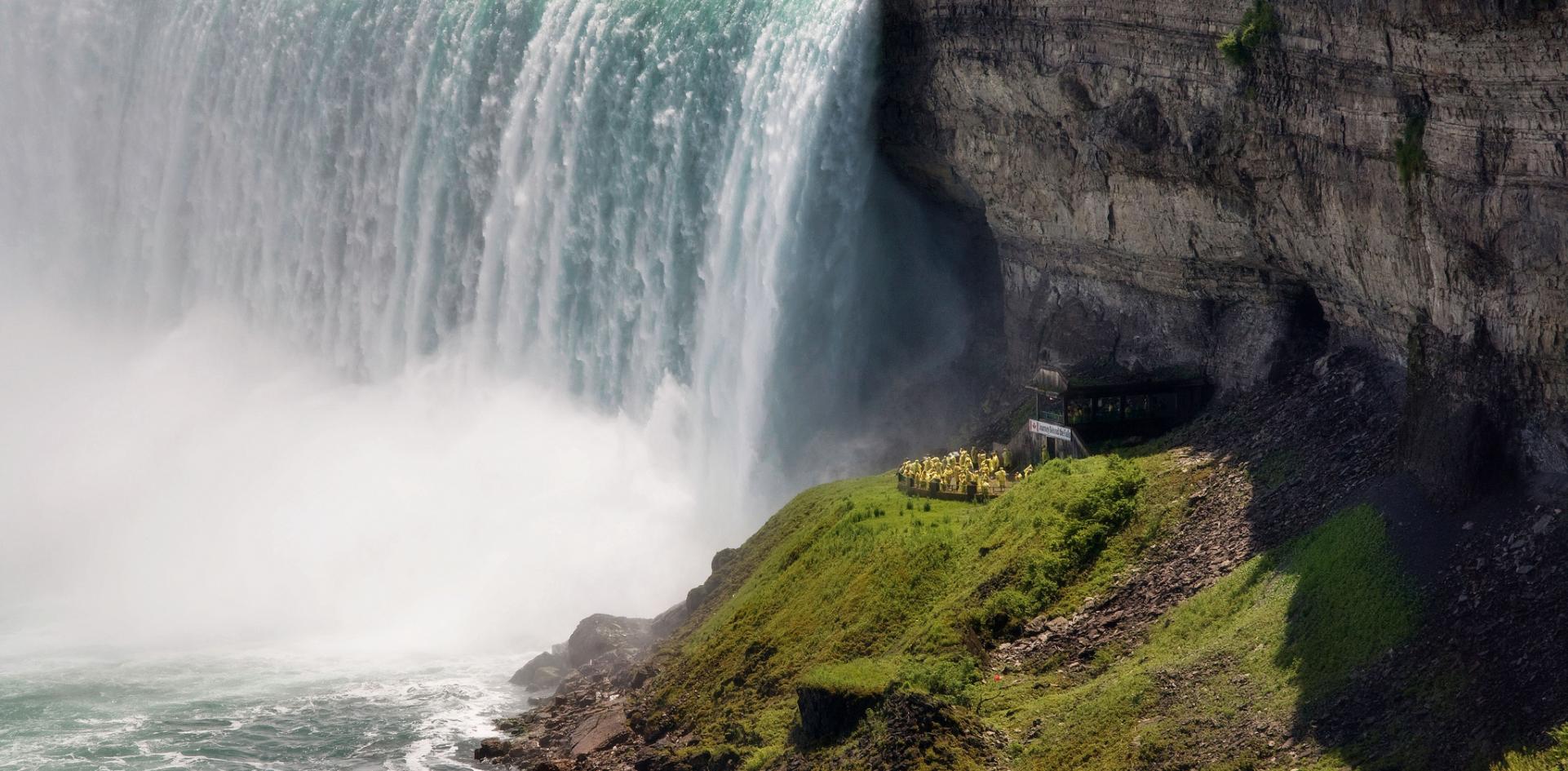 Niagara Falls Geology
Niagara Falls is the highlight of the Great Lakes system and is the most intense waterfall in North America.
Each minute that passes, 17 million litres of water stream over the edge, gnawing endlessly at the delicate earth shale at the base of the Falls, leaving the hard top layer – unsupported. It's persistent breakdown brings about the withdraw of the Falls. The length of the Niagara Gorge demonstrates that this erosion has been steady for a great many years. This was a key discovery for Victorian researchers which led to insights of "deep time"; and that the Earth if far more ancient than observed beforehand.
Until the mid-20th century, the Falls rapidly moved, inching back towards the USA  at a rate of 1.2m  a year. That changed in the 50's when new hydroelectric systems started siphoning off water in the 50's. The rate of disintegration is presently 1/3 meter for every year and dropping.
Starting over 12.5 thousand years prior, Niagara Falls has moved back more than 11 kilometers.
People can easily find a prime lookout to observe the strata of layered rock shale derived from tropical ocean silt over 400 million years old. 
Researchers believe the Falls will be gone between 15000-50000 years into the future; At this point the Falls will vanish into a quick running stream and progression of rapids.
Facts
The Horseshoe Falls are 53 meters high. Water flows over the peak at a speed of around 32 km/h
Niagara Falls pulls in more than 12 million tourists a year
The Niagara River is 58 km (36 mi.) long and is the prime outlet from Lake Erie to Lake Ontario
The height difference between the two great lakes is around 99 meters (326 ft.), half of which is at the Falls
The Niagara River drains around 684K square kilometers (264K sq. mi.)
The grade difference from Lake Erie to the start of the upper Niagara Rapids is just 2.7 meters (9 ft.)
Underneath the Chippawa-Grass Island Pool control structure, the waterway drops 15 meters (50 ft.) to the edge of the Falls
The deepest portion of the Niagara River is underneath the Falls. It is so deep it matches the height of the Falls over, 52 meters (170 ft.)
The Upper Niagara River grows 35 kilometers (22 mi.) from Lake Erie to the Cascade Rapids, which start 1 kilometer (0.6 mi.) upstream from the Canadian Horseshoe Falls
At Grand Island, the Niagara River splits into the west channel, known as the Canadian or Chippawa Channel, and the east channel, known as the American or Tonawanda Channel
The Chippawa Channel is around 17.7 kilometers (11 mi.) long and fluctuates from 610 to 1220 meters (2,000 to 4,000 ft.) in width. Water speed ranges from 0.6 to 0.9 meters for each second (2 to 3 ft. every second). This channel transports roughly 60% of the total water flow
The Tonawanda channel is 24 kilometers (15 mi.) long and shifts from 460 to 610 meters (1,500 to 2,000 ft.) in width above Tonawanda Island. Downstream, the channel changes from 460 to 1220 meters (1,500 to 4,000 ft.) in width. Speed ranges from 0.6 to 0.9 meters for every second (2 to 3 feet for each second)
The Niagara Gorge extends out from the Falls for 11 kilometers (7 mi.) downstream to the foot of Queenston Heights