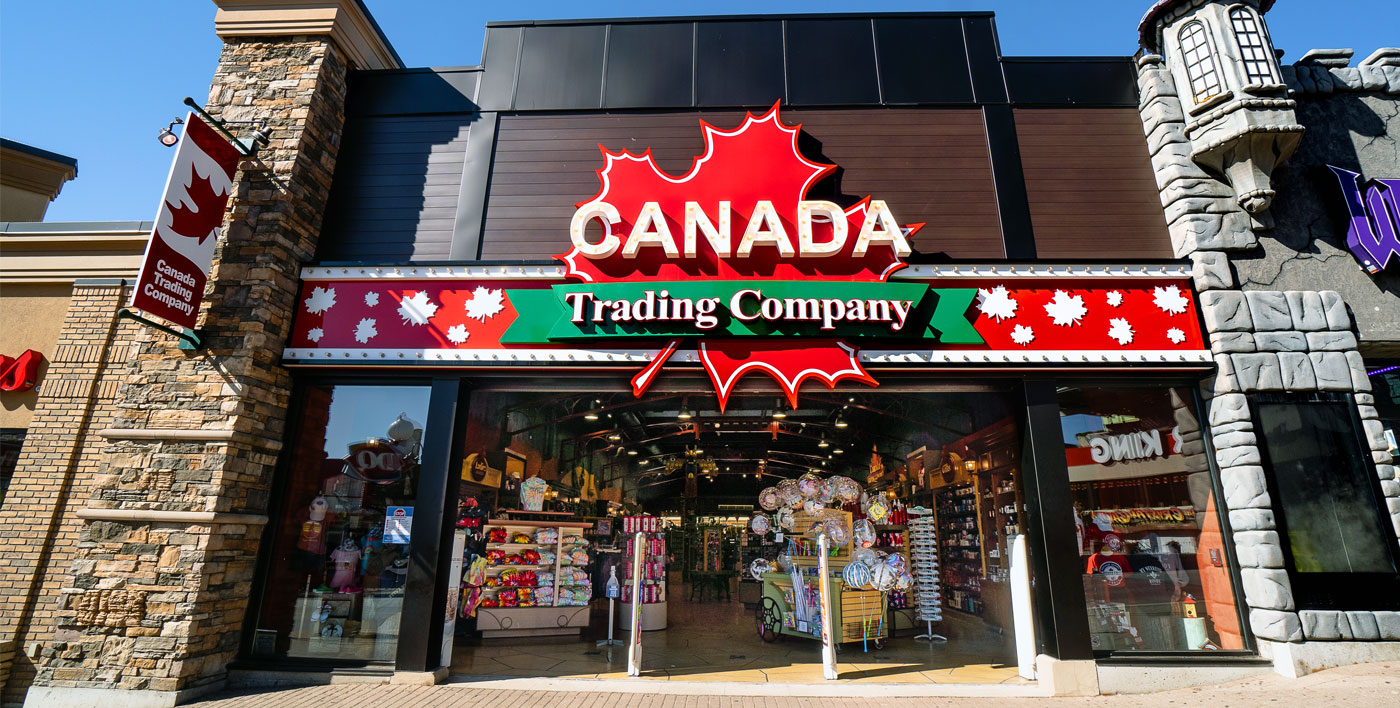 Canada Trading
4950 Clifton Hill, Niagara Falls, ON L2G 3N4
Welcome to the Canada Trading Gift Shop, nestled in the heart of Niagara Falls! Immerse yourself in a vibrant and welcoming atmosphere, where every corner is adorned with a unique selection of collectibles and gifts suitable for every occasion. Whether you're treating yourself or searching for that perfect gift, our diverse inventory guarantees you'll discover something truly special.
At the Canada Trading Company, we take pride in offering a wide array of quality souvenir clothing and gifts for the entire family. Delve into the rich cultural heritage with our Native Northwest collection, showcasing exquisite artwork from Indigenous artists. From cozy moccasins to intricately crafted dreamcatchers, each piece is a testament to the artistry and traditions of Canada's Indigenous communities.
Indulge your taste buds with our selection of maple syrup and gourmet foods, celebrating the rich flavors that define Canadian culinary excellence. For art enthusiasts, our collection of Edge Sculptures provides a unique blend of creativity and craftsmanship that adds a touch of sophistication to any space.
For the young and the young at heart, explore our enchanting assortment of Disney Figurines, TY plush, and Squishmallows that bring beloved characters to life. Elevate your style with Jacqueline Kent Crystal gifts and fashion jewelry that exude elegance and charm. Discover the latest in trending toys and make a statement with SunStaches licensed character sunglasses.
Personalize your experience by finding your name on one of our many personalized gifts, creating a lasting memory that's uniquely yours. If you're seeking inspiration, our collection of inspirational giftware is sure to uplift and motivate.
Conveniently located at the top of Clifton Hill, the Canada Trading Company welcomes visitors seven days a week, all year long. Whether you're a local or a tourist, our doors are open, inviting you to explore our treasure trove of unique finds. Take a break from the breathtaking sights of Niagara Falls and immerse yourself in the joy of shopping at the Canada Trading Gift Shop.
As you stroll through our aisles, each item tells a story, reflecting the diversity and charm of Canadian culture. Our team is dedicated to providing a seamless shopping experience, ensuring that you leave with not just a gift but a piece of Canada to cherish. So, why not make your next visit to Niagara Falls even more memorable? Pop into the Canada Trading Gift Shop and discover the perfect blend of warmth, variety, and Canadian charm.