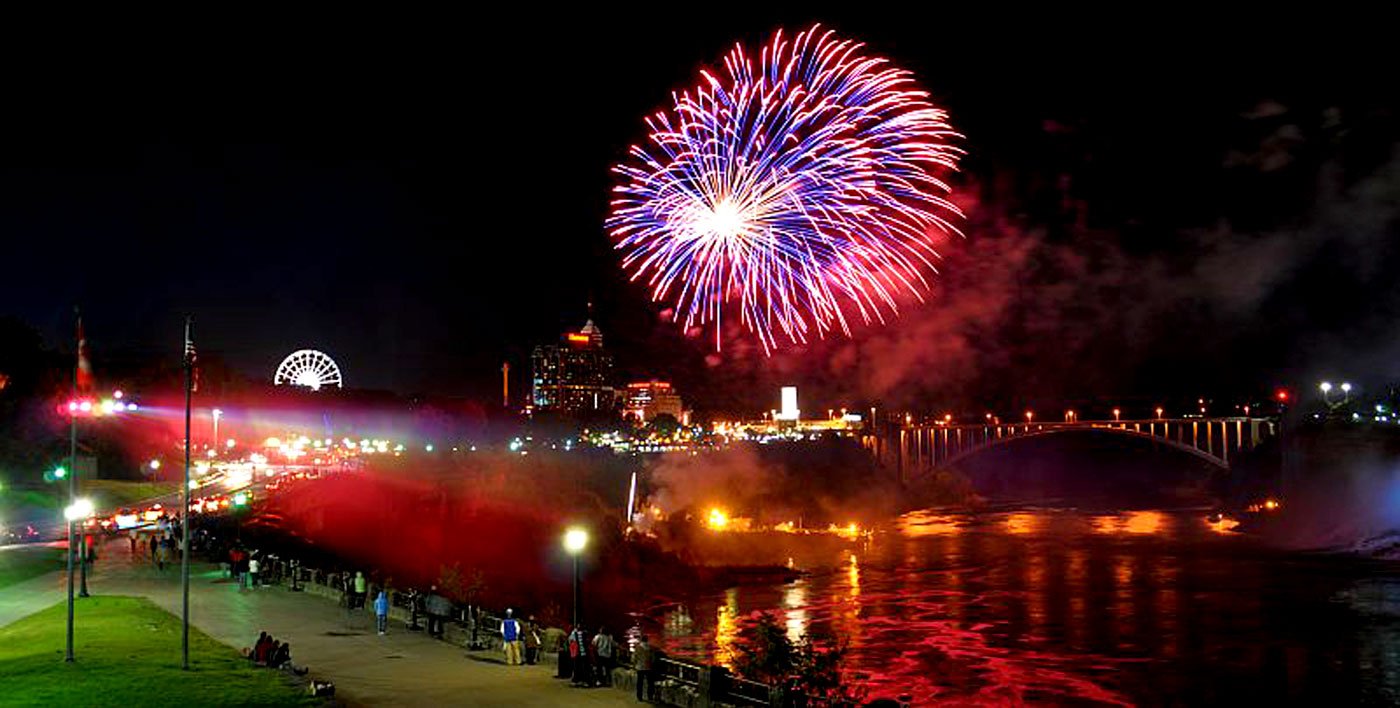 Niagara Falls New Years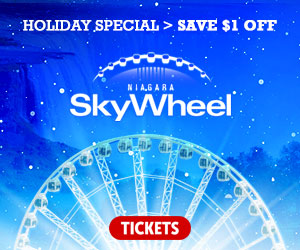 Niagara Falls New Years!
Ring in 2022 at one of Canada's largest New Year's Eve destinations
Date: December 31st 2021
Make Niagara Falls your New Year's Eve destination this year and experience wonderful fireworks, activities, live entertainment and more!
Be sure to check this page often for updates as we get closer to the big night. Until then: Happy New Year!
The Niagara Falls New Year's fireworks in Queen Victoria Park (QVP) draws many people, and this year is expected to be no different, so come out and celebrate with us and enjoy two spectacular fireworks displays planned for 9 p.m. and midnight that evening. The first fireworks show is set to take place at 9 p.m., while the second show, will ring in the New Year as the clock strikes midnight. 
Celebrate the Holidays with Fireworks at Niagara Falls
Beginning December 26 and continuing each night through to January 1, fireworks will return with spectacular displays over the Falls this holiday season, adding to celebrations taking place across the destination. 
December 26-30th 2021 & January 1st, 2022 @10pm
December 31st, 2021 (New Years Eve) @9 p.m. and Midnight
Music Entertainment
Niagara Falls offers an exciting lineup of musical talent On December 31st, ring in 2022!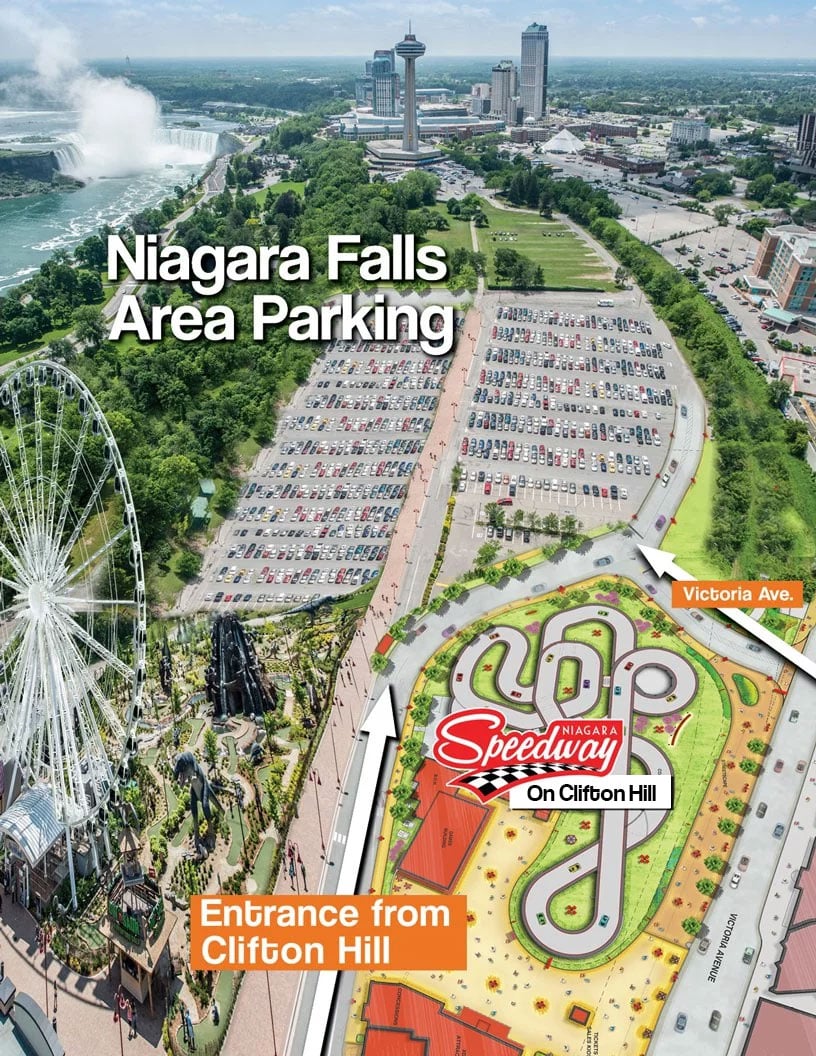 Directions/Parking for the Fireworks Show in Queen Victoria Park. 
You may have been to the Falls 100 times, but have you ever arrived at the same time as thousands of other people?  New Years in Niagara Falls has traffic! Please, We can't stress it enough, expect to arrive and be parked at your destination by 8:30 pm at the latest. Choose a spot close enough to the New Year's festivities, that is also walking distance from wherever you plan on having dinner, etc. If you plan on seeing the New Year's Eve fireworks down at Queen Victoria Park,  hopefully you picked a hotel within walking distance to the event. If not, click here and let us help you with a list of nearby hotels complete with a map that pinpoints their location in relation to the park, Niagara Falls, and the attractions that you wish to visit. 
A parking lot that is close to the fireworks in the park, Scotiabank Convention Centre, both casinos (Casino Niagara and Fallsview Casino), and all the main Clifton Hill attractions, is just off Victoria Avenue. If you enter the parking lot from here, you will fare much better in getting in quickly — whereas entering at the front (off Clifton Hill) will be difficult depending on your time of arrival. It is large and extends from the rear of the Niagara SkyWheel all the way to the Skylon Tower. You should have no problem finding a parking spot here, and the wait to leave the property afterwards will be far less compared to elsewhere. There are two entrances and three exits. Click here for detals
Route #1 From Highway 420 1.  Once you are on Highway 420 heading towards the Falls 2.  Turn RIGHT onto MacDonald Avenue 3. Turn LEFT onto Centre St. 4.  Turn RIGHT on Victoria Ave. 5.  Turn LEFT into the Clifton Hill Parking side entrance.  Once parked, it's a quick walk to the main event.
 
Route #2 From Highway 20 (turns into Lundy's Lane) 1.  Follow Highway 20 past Thorold Townline Road (where it turns into Lundy's Lane) 2.  Continue Past Stanley Avenue  3. Continue onto Ferry Street  4.  Ferry turns onto Victoria Ave,  go RIGHT into the Clifton Hill Parking side entrance. Once parked, it's a quick walk to the main event.
 
Route #3 From Thorold Stone Road 1.  If you are on the QEW heading south towards Niagara Falls you will see signs for Thorold Stone Road. 2.  Take the Thorold Stone Road exit and turn LEFT, continue all the way through to Stanley Avenue, slight right. 3. Turn LEFT onto Hwy 420. 4. Then  RIGHT onto MacDonald Avenue 5. Turn LEFT onto Centre St.  6.  Turn RIGHT on Victoria Ave. 7.  Turn LEFT into the Clifton Hill Parking side entrance. Once parked, it's a quick walk to the main event.
 
Route #4 From McLeod Road 1. On the QEW, head south towards the Falls and take the McLeod Rd exit and turn left. 2. Travel through to the Marineland Parkway and turn LEFT on Stanley Ave 3. Turn RIGHT onto Ferry Street 4.  Ferry turns onto Victoria Ave,  go RIGHT into the Clifton Hill Parking side entrance.  Once parked, it's a quick walk to the main event.
Helpful Tips for Visitors 

Designate a Meeting Spot – Niagara Parks recommends that friends and family attending the fireworks show take a moment at the beginning of the evening to assign a designated time and location as a meeting place, should individuals become separated following the show's conclusion. Please ensure everyone in your party is aware of this location, particularly children attending the event. 
Dress for the Weather – Visitors are advised to dress warmly and in layers to prepare for all types of weather conditions and take extra precautions to protect extremities such as hands, feet and ears.

As always, the presence of security and policing will be on-site to ensure everyone's safety throughout the night. 

Community partners involved in the New Year's Eve festivities in Queen Victoria Park include: The Niagara Parks Commission, The City of Niagara Falls, the Tourism Partnership of Niagara, Niagara Falls Canada Hotel Association, Fallsview Tourist Area, Niagara Fallsview Casino Resort, Victoria Centre Tourist Area, Clifton Hill Tourist Area, Canadian Niagara Hotels, Skylon Tower, Lundy's Lane Tourist Area, Tim Hortons, Pizza Pizza and many other stakeholders within the City. 
Niagara Falls Hotels
Book your Niagara Falls hotel now for New Year's Eve
 Clifton Hill Hours of Operation for New Year's Eve
On New Year's Eve, it's out with the old and in with the new — which welcomes back top entertainment and wonderful experiences to enjoy during the holiday weekend in Niagara Falls. Our tourist areas, attractions and restaurants are definitely ready to ring in 2022 with you this year!
New Year's Eve is one of Niagara Falls' busiest and best nights of the year! It is exciting to see the whole city coming alive, as Niagara provides more to do than anywhere else in Canada on this special night. Visitors and residents alike should come on down and enjoy the entire tourism district in full swing – from the Niagara Falls live music festival to family fun at Clifton Hill's World Famous Street, to the high-energy gaming at the Niagara Casinos; and the gourmet restaurants and fun hotel getaways, Niagara is the place to be on New Year's Eve.
According to Niagara Falls Mayor Jim Diodati, "New Year's Eve Falls-side never disappoints and this year we invite you to keep up the tradition of celebrating with us from wherever you are, all over Canada! Nothing beats being here in person of course, celebrating at the site of our natural wonder, or enjoying the amazing live music entertainment! We promise that this year's will have the stuff of memories that will last the whole year through!"