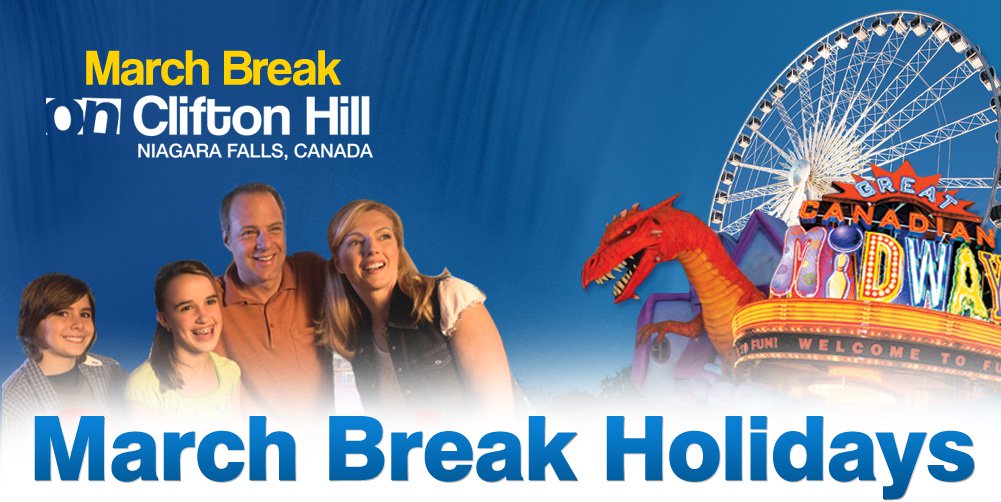 March Break Niagara Falls
Celebrate March Break...Niagara Falls Style!
March Break Holiday: March 13th to 17th, 2023
Generally speaking, most elementary school kids will get a week off, which breaks up the winter doldrums and gives families an opportunity to spend time with their loved ones. Furthermore it gives kids time off between Family Day and Easter, which is a long period of time in which people need a rest.
All things considered, why not choose the Niagara Falls destination, which no doubt offers the best place to celebrate March Break Holiday in Niagara? For instance, there are many different fun activities to choose from including: sightseeing, amusements, attractions, museums, entertainment, outdoor activities, arcades, bowling and more.
Family Fun on Clifton Hill!
Is your family ready for a fun and exciting day on Clifton Hill? Just steps away from the awe-inspiring American and Horseshoe Falls, you'll be in the heart of entertainment land. 
Start by taking a ride on one of the largest Ferris wheels in Canada, the Niagara SkyWheel, where you will enjoy a bird's eye view of the falls. Next, fill your mind with some fascinating history and some unbelievable stories and artefacts at Ripley's believe it or not or visit your favourite Hollywood stars at Movieland Wax Museum of Stars. After the tour why not make a wax replica of your own hand and take home a one-of-a-kind souvenir?
And if that's not enough, take in a motion-simulated show at the Wild West Coaster, play a game of bowling or billiards at the Strike Rock N Bowl, enjoy a round of mini golf at the Dinosaur Park or Glow in the Dark Mini Golf, or visit the incredible Great Canadian Midway to play some super cool interactive games and simulators.
As you can see, there's plenty to enjoy on Clifton Hill. Nothing unites a family more than a family vacation. With all the time pressures of work, extra-curricular activities, homework and friends, it's important to maintain a sense of togetherness with the ones we love.
At Clifton Hill you'll enjoy a fun family experience like no other!
Click here to read our Niagara Falls March Break Guide
Top Famiy Attractions in Niagara Falls: