Ball's Falls Thanksgiving Festival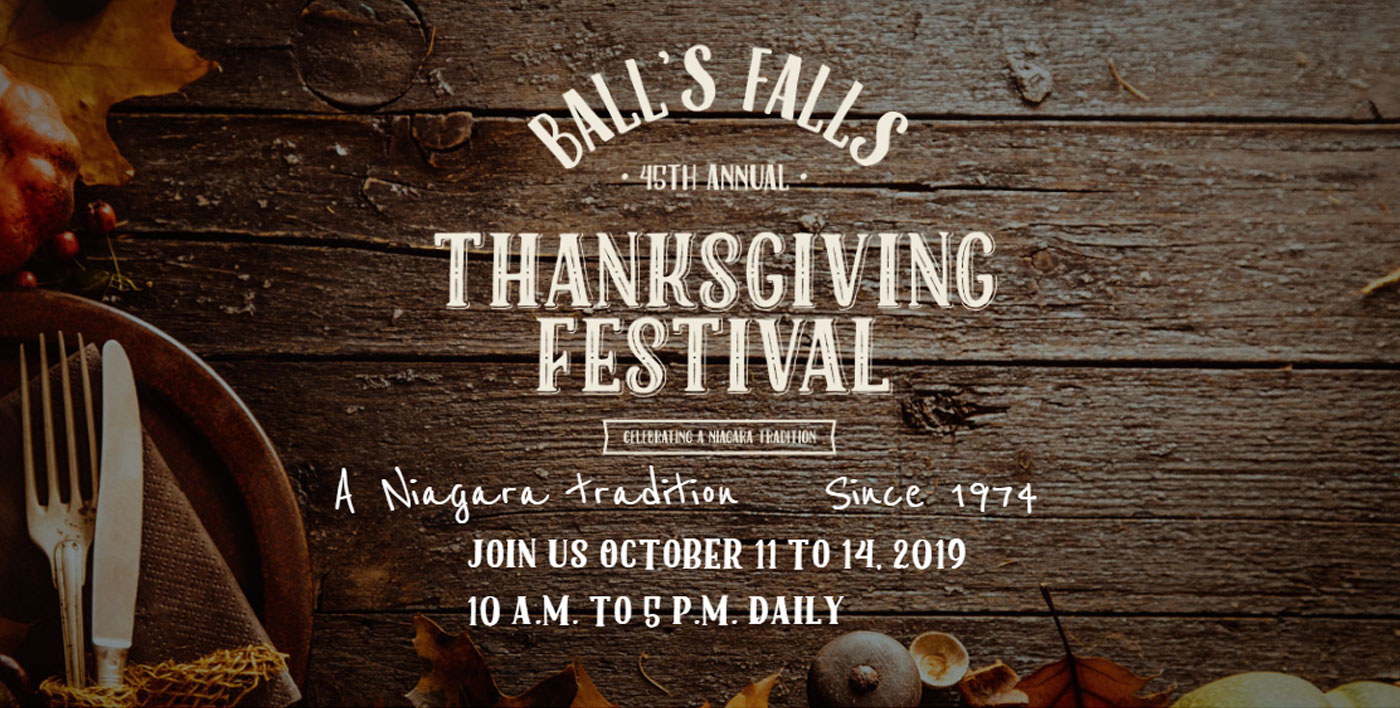 A NIAGARA TRADITION
In its 45th year, the Ball's Falls Thanksgiving Festival is a Niagara Tradition that runs October 11th through October 14th.
With over 170 juried artisans, food vendors, demonstrators & entertainers participating in this four-day long annual tradition, there is always plenty to do, see, and explore at the Niagara Peninsula Conservation Authority's most popular conservation area. You'll also want to be sure to stop at the Farmer's Market where you can pick up local produce, VQA Wines, and local brews.
The first Thanksgiving Festival was held at Ball's Falls Conservation Area in 1974. The intention was simple: to raise money for conservation and environmental programs that were not otherwise funded. This remains the purpose of the Festival today. From its humble beginnings as a one-day craft show, the event has become a family tradition.
FESTIVAL DATES
October 11th through October 14th
LOCATION & PARKING
The festival is held at Ball's Falls Conservation Area in Lincoln. Parking will be available on site and volunteers will be available to direct you where to park. A shuttle is available to take you from the parking lot to festival grounds.
Hours: 10 a.m. – 5 p.m.
Tickets available at the door only $7
Children 13 and under are FREE when accompanied by an adult
Please no pets. Service dogs only. Thank you for your cooperation on this matter.
 170+ Artisans
 Live Entertainment
 Food, Wine, & Craft Bee
LIVE MUSIC & ENTERTAINMENT
The Thanksgiving Festival features a full stage showcasing live acts with a variety of music to set the mood for this eclectic tradition. Click on a performer's image to learn more.
Friday, October 11:
12-2 p.m. Riley Michaels (Blues/Rock/R&B)
3-5 p.m. Country Junkies (New Country)
Saturday, October 12:
12-2 p.m. The Weather Wild (Americana)
3-5 p.m. Dave Rave Band with Hailie Rose (Rockabilly/Punk/R&B)
Sunday, October 13:
12-2 p.m. Road Waves (Funk, Blues)
3-5 p.m. Stacey Lee Hunt (New Country/Rock/Folk)
Monday, October 14: 
12-2 p.m. Niagara Rhythm Section (Blues/R&B)
3-5 p.m. O'Phelan's Boys (Celtic)
 Country Music
 Popular Music
 Children's Music
FAMILY FUN & CHILDREN ACTIVITIES
What better way to spend the Thanksgiving weekend than experiencing unique artisans, food and beverage with those you love?
Included in the price of admission, families are welcome to enjoy:
Bouncy Castles & Inflatables
Face Painting
Niagara Antique Power Association train rides and displays
Sky Hunters Birds of Prey Demonstrations
Kids Out Fishing Workshops and Demonstrations
Pony Rides
Calvin's Magic Show
All located on the Historical and Children's Area of the Festival.
 Airbrush Face Painting
 Bounce Castles
 Pony Rides
 Tractor-Trolley Ride
HERITAGE TOURS
As you continue your adventure, you will discover that Ball's Falls has been lovingly maintained to its early mid 19th century industrial hamlet atmosphere featuring the original Ball family home, an operating flour mill, a lime kiln, a church, black smith shop, carriage shed, and more.
Travel back in time this Thanksgiving weekend at our Historical Village with:
Black Smith Shop Tours and Demonstration
Grist Mill Tours
Niagara Handweavers and Spinners Demonstrations
Ball Family Home Tours
Ball's Falls Historical Church Tours