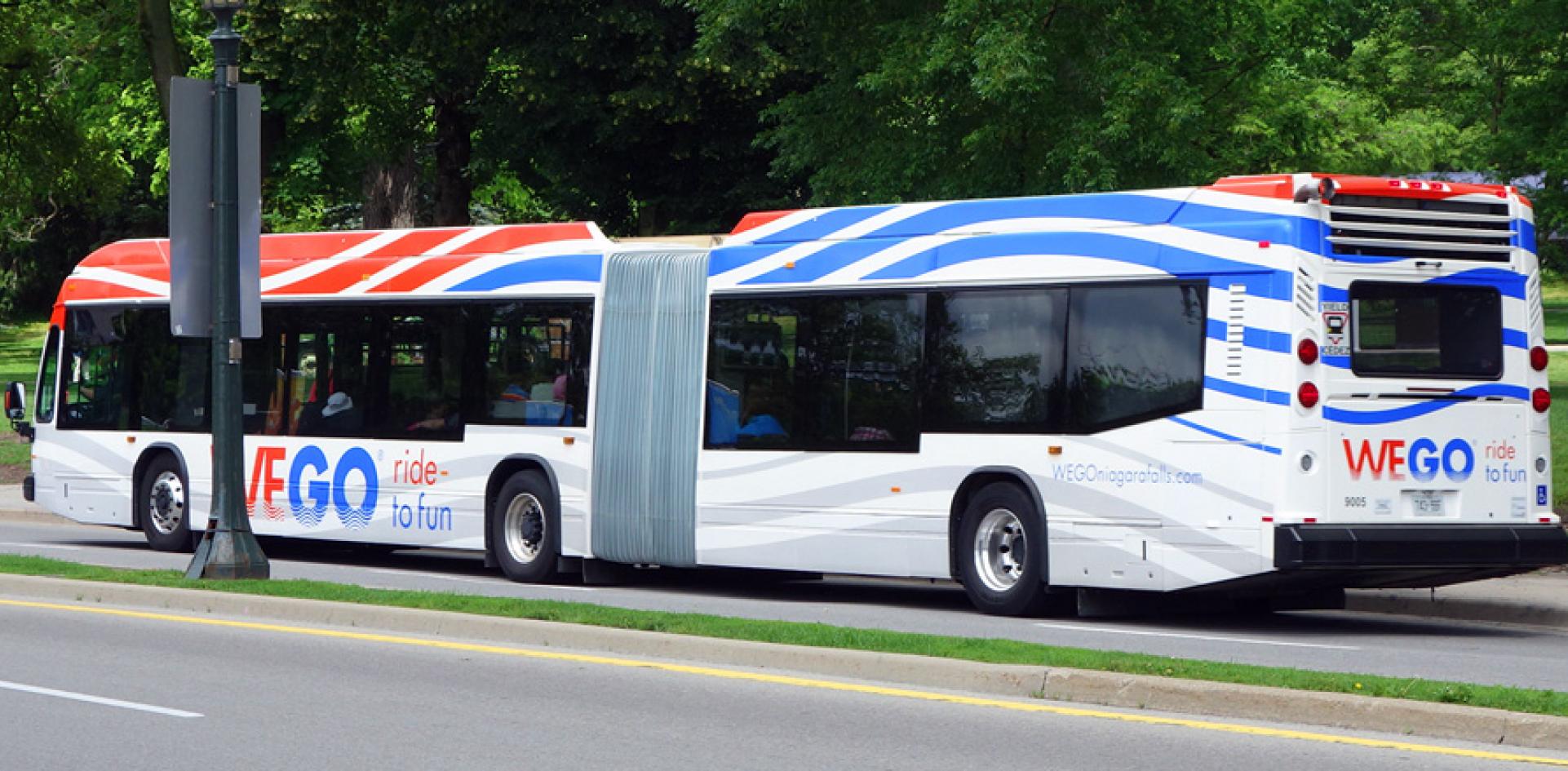 Niagara Falls Transportation
From Within Niagara Falls:

WEGO Bus Service
Ride to Fun! This state-of-the-art bus system connects accommodations and Niagara Falls tourist areas. WEGO takes you to popular attractions in Niagara Parks and throughout the tourism areas of Lundy's Lane, Victoria Avenue, Clifton Hill, Fallsview, Main & Ferry and Queen Street.

Telephone:  905-356-1179
Niagara Transit
Niagara Falls Transit has supplied public transportation for the City of Niagara Falls, Ontario, Canada since 1960. Presently, they supply the city with 10 bus routes that deliver passengers to various business areas and medical facilities around Niagara Falls. 
Telephone: 905-356-1179

Niagara Air Bus Tours and Transportation
Providing Niagara Winery Tours and Tours of Niagara Falls.
Telephone: 905 374-8111

Niagara Falls Taxi
Telephone: 905-357-4000

5-0 Taxi
Telephone: 905-358-3232
 
From Outside of Niagara Falls
Go Transit
GO BUS SERVICE: GO will offer regular weekday, weekend, and holiday GO Bus service to Niagara Falls. This daily service will operate year-round and will make stops in St. Catharines, Grimsby, Stoney Creek, and connect with trains at the Burlington GO Station.

GO TRAIN SERVICE:  GO will offer Saturday, Sunday and holiday GO Train service to Niagara Falls,  on the Victoria Day weekend, May 16-19, on Fridays, Saturdays, Sundays and holidays from June 27 until September 1, and Thanksgiving weekend, October 10-13. Click here to get the  schedule directly from GoTransit.
Telephone: 1-888-438-6646
 
Via Rail - Railway Transportation
VIA Rail is Canada's Rail network. It operates transcontinental service from Vancouver to Halifax, as well as fast commuter, business and leisure service within the Quebec City-Windsor corridor. There is also service to remote locations in Ontario, Quebec, Manitoba and British Columbia. In conjunction with major bus companies, Via Rail offers bus connections from many centres that do not have rail service to the nearest point on the Via network.

Telephone: 514 989-2626
 
Niagara Air Bus Tours and Transportation
Providing airport shuttle transportation to Buffalo and Toronto.
Telephone: 905 374-8111
 
Greyhound Canada Motor coach Transportation
Long-distance bus service across Canada from British Columbia in the west to Montreal in Quebec. Inter-provincial services are also available.
Telephone: 800-661-8747