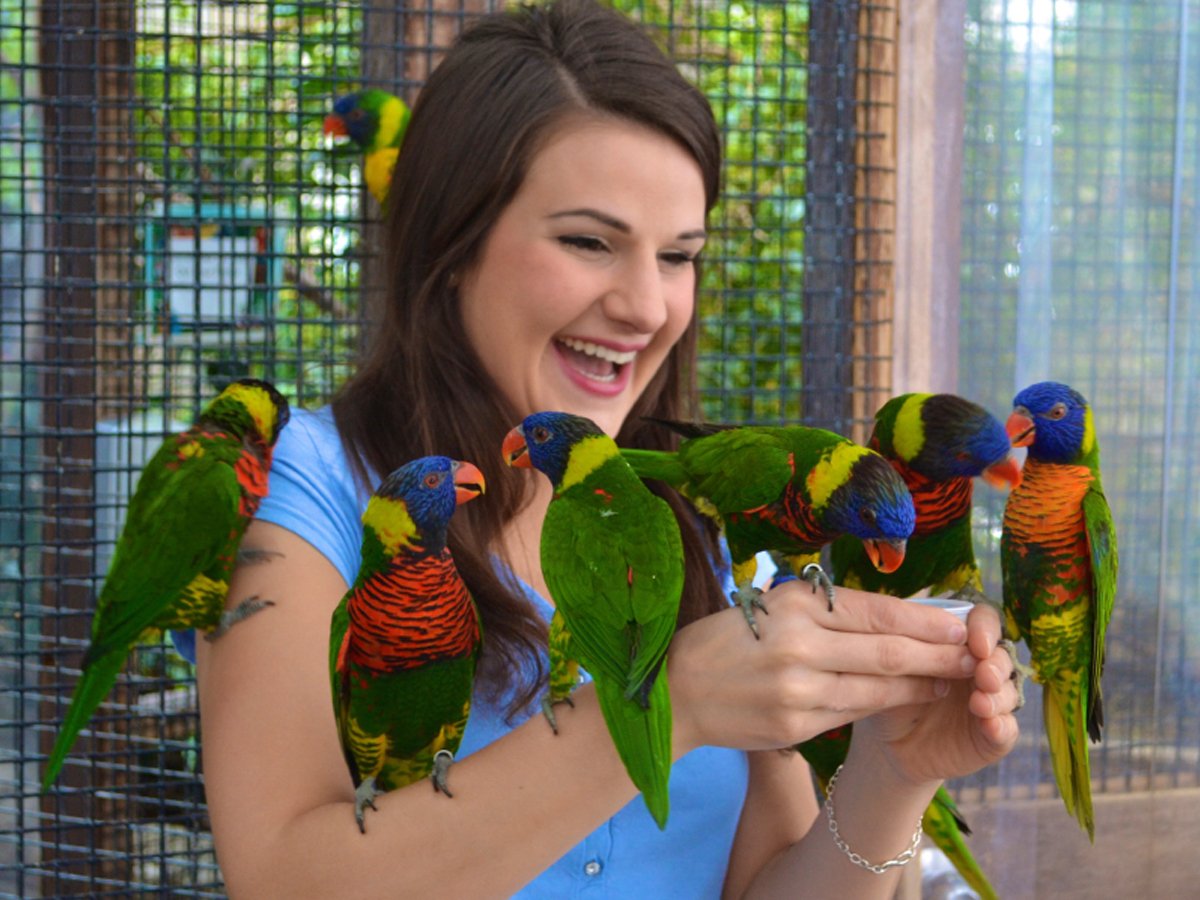 Bird Kingdom
5651 River Rd, Niagara Falls, ON L2E 7M7
The building that houses this attraction was the original Spirella Corset Factory, built in 1907. It was one of the first poured concrete buildings ever made in Canada. The building then became home to the famed Niagara Falls Museum in 1958, with its world-renowned collection of Egyptian artefacts. Amazingly, it was discovered the museum had been home to the actual mummy of King Ramesses I! Unfortunately for the museum, that fact wasn't discovered until after the museum closed and the mummy was safely returned back to Egypt.
Larry and Marilyn Vann bought the building in 2000 and added an additional 50,000 square feet in their plans to create the aviary. They were honoured with Heritage recognition for maintaining the original architectural style of the building while matching their addition to the historic building. Two years later, after the couple grew their bird collection, Bird Kingdom was opened.
The incredible experience begins at the mysterious Old Museum where you feel like you have travelled back in time. Your adventure takes you to the Explorer's Base Camp. Interact and hold friendly parrots, exotic birds and animals. Explore the Night Jungle which is home to owls, bats, and other nocturnal animals.
At last, discover the Kingdom! Be amazed as you enter the World's largest free flying indoor aviary. Watch exotic colourful birds fly freely in the multi-level rainforest. Wander on the path that starts at the top level taking you behind the 40-foot waterfall down to the jungle floor.
Feed and interact with the birds at Lorikeet Landing. Visit the Javanese House from 1875 that is the only one of its kind in North America.
The Bird Kingdom is proud to be included in the Trip Advisor Hall of Fame.
It is open 365 days a year. Visit them at www.birdkingdom.ca to see all the upcoming events happening weekly. They are wheel chair compatible also.
Daily events include feeding the Rainbow Lorikeets, and bat feeding in the Night Jungle, (see www.birdkingdom.ca for the feeding schedule).
Onsite parking is $3.00 per hour, and will take approximately 45 minutes to 1 hour to tour the Bird Kingdom.
Allow an hour or more to explore the following areas:
*Cafe (Poen on weekends only during the off-season)
*Old Museum (Free Niagara Falls Barrel Photo Op)
*Explorer Base Camp (Bird/Animal Encounters)
*Small Bird Aviary
*Night Jungle (Nocturnal)
*Main Aviary
*Lorikeet Landing
*Historic Javanese House
*Macaw Market Gift Shop
Hours:
July & August: 9:00 am to 6:30 pm daily
September - June: 9:30 am to 5:00 pm daily
*Winter season will have last admission time 30-45 minutes prior to closing.
Pricing:
Adults 16+ (18.95+HST)
Children 3-15 (14.95+HST)
Infant and Toddler (2 and under) are FREE
*Seniors (60+) receive 50% off regular adult admission each Tuesday.