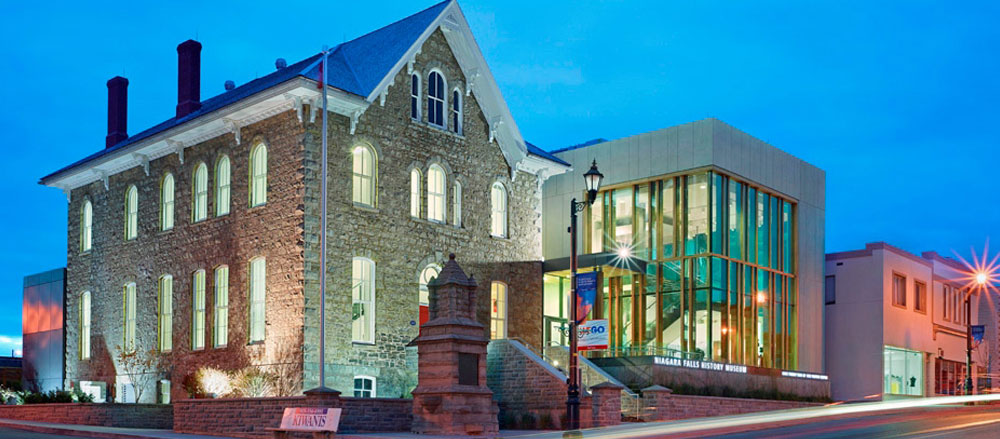 Niagara Falls History Museum
5810 Ferry St, Niagara Falls, ON L2G 1S9
One of the best, most affordable and enjoyable visits for people of all ages.
Visitors to the Museum in the heart of Niagara Falls will experience history during their visit. While here try on a replica uniform from the War of 1812 and feel the wool and the weight of a musket, build a bridge to span the Niagara Gorge or walk the tightrope like the daredevils from the past.
The Museum is housed within the old Stamford Town Hall built in 1874. The Lundy's Lane Historical Society was given the building in 1971, becoming the Lundy's Lane Historical Museum. On January 1st, 2010, the City of Niagara Falls took direct operation of the museum and it became Niagara Falls History Museum. Housing a vast collection of Niagara Falls history, the Museum provides a showcase for the unique past of the famous city. The Museum's recent $12M renovation and expansion creates a dynamic space to examine and explore our diverse history. It re-opened to the public on July 21, 2012. The renovation and expansion was designed by Toronto architecture firm Moriyama and Teshima, and now features three remarkable galleries telling the most compelling Niagara Falls stories with engaging hands-on exhibitions. The Museum is located within steps of the Drummond Hill Cemetery, the focal point of the Battle of Lundy's Lane, considered the "bloodiest battle" of the War of 1812. The starting point for any trip to this battlefield will be a visit to the Museum.