Printed in the August 2008 Update Business News is published by the City of Niagara Falls Community Services Department.

$100 million Niagara Convention and Civic Centre
Niagara Falls will be home to the region's first convention and civic centre in 2011.
Building upon significant private sector funding commitments; $70 million in Federal and Provincial funding; and support from local municipal and regional governments, plans for the new privatepublic- sector joint venture have moved into high gear.
With funding secured, the Niagara Convention and Civic Centre NCCC began advertising for a president and general manager in late 2007. Kerry Painter, an Ontario native, was the successful candidate and started in her new position and assumed her role with the NCCC on April 15. Ms. Painter brings a wealth of experience to her new job having previously operated various public assembly facilities in Detroit, San Francisco and suburban New Orleans.
One of the first orders of business for the new management team was to put a plan in place to help market the yet to be constructed facility. In May 2008, NCCC unveiled a new positioning and brand identity for the centre that was created by Cundari SFP. "UnConventional Experiences" is the new tag line that will re-enforce local tourism stakeholder's views that the Niagara region is not your regular convention and meeting place location, and that it offers so many more non-traditional experiences to potential visitors. A new logo that includes a nontraditional interpretation of the famous cataracts and waterfalls was also made public.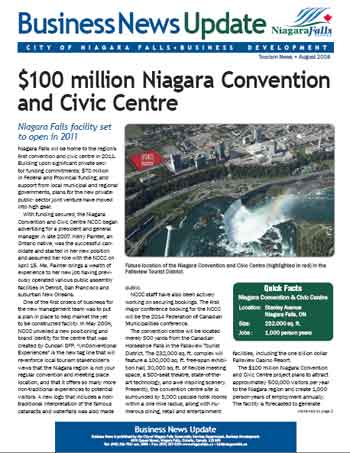 NCCC staff have also been actively working on securing bookings. The first major conference booking for the NCCC will be the 2014 Federation of Canadian Municipalities conference.
The convention centre will be located merely 500 yards from the Canadian Horseshoe Falls in the Fallsview Tourist District. The 232,000 sq. ft. complex will feature a 100,000 sq. ft. free-span exhibition hall, 30,000 sq. ft. of flexible meeting space, a 500-seat theatre, state-of-theart technology, and awe inspiring scenery. Presently, the convention centre site is surrounded by 5,000 upscale hotel rooms within a one mile radius, along with numerous dining, retail and entertainment facilities, including the one billion dollar Fallsview Casino Resort.
The $100 million Niagara Convention and Civic Centre project plans to attract approximately 500,000 visitors per year to the Niagara region and create 1,000 person-years of employment annually. The facility is forecasted to generate (more…)
Update Business News is published by the City of Niagara Falls Community Services Department, Business Development 4310 Queen Street, Niagara Falls, Ontario, Canada L2E 6X5 Tel: (905) 356-7521 ext. 5000 • Fax: (905) 357-9293 www.niagarafalls.ca • [email protected]