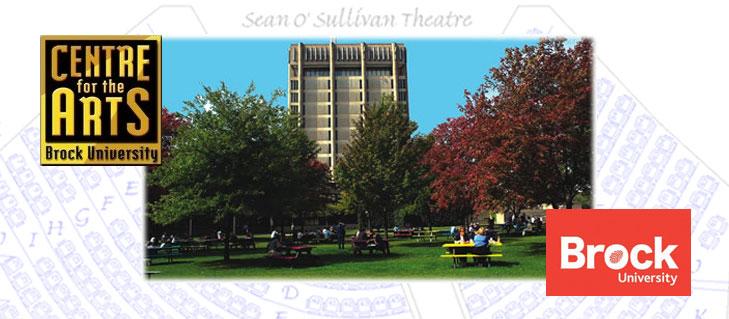 Sarah Harmer with Hey Rosetta
Sarah Harmer with Hey Rosetta!
Nov 18, 2010 
7:30 PM Sean O`Sullivan Theatre, Centre for the Arts, Brock University
On oh little fire, Sarah Harmer's first album in five years, Harmer sounds reinvigorated and positively charged. In the years after touring her last studio release, the Polaris Prize-nominated I'm a Mountain, she set music aside to focus on political and environmental campaigns, helping to shepherd PERL (Protecting Escarpment Rural Land), the organization she co-founded. Only on occasion did she venture into the studio, lending backup vocals to artists such as Neko Case, Howie Beck and Great Lake Swimmers. Her own music and lyrics were waiting for the opportune time to burst out: as she sings on -Careless,- -All the words that I've held too close to my chest " Are calling on me now to get through.-
"...Harmer casually asserts her pop passions with songs that bounce, spin and charm. More often than not, the best of them boast lyrics that are succinct and disarming." - The Washington Post

Oh little fire is, sonically, Harmer's most fully realized album, its layers of textures, from ear-tingling atmospherics to gut kicking power chords, complement the deceptive complexity of her songs. Whether she's channeling Neil Young through Teenage Fanclub on the likes of -Late Bloomer- or floating away on a stream of Julie Fader's backing vocals on the evanescent closer, It Will Sail, Harmer is always offering new pathways for the listener to explore. Throughout, her voice, clear and precisely emotive, is the beacon that guides you on your way.
NEWS - Niagara Magazine CD Review - October 2010

Oh little fire, Sarah. Harmer`s new release is just what you would hope the Niagara Escarpment activist to present: thoughtful lyrics, clever melodies and, of course, her spirited voice. A collection of songs that is sure to start a fire in the hearts and minds of its listeners."

NEWS - OCT. 5 - JUST ANNOUNCED SPECIAL GUESTS HEY ROSETTA!
"Hey Rosetta!`s passionate rock songs, fuelled by emotion and poetry, grew and swelled, retreated and quieted down, and expanded again in just the right doses to make the sold-out crowd completely ecstatic." (NOW Magazine)

"The last notes of each of their epic songs was met with thunderous appreciation. It was a career-making performance from a very special Canadian band" (CBC3)
Since it was formed by Tim Baker after returning home to St. John's in 2005, Hey Rosetta! has quickly grown from a travelers suitcase full of lyrics and string parts to a critically acclaimed band hailed for their intelligent songs, powerful recordings, energized and evoking live shows. The band has created a layered sound by incorporating piano, violin and cello with traditional rock instrumentation with Tim's soaring vocals. They have toured extensively in Canada as well as in Australia, France, UK, and the US.
Hey Rosetta! won three East Coast Music Awards in 2009, as well as the CMW Indie Award for Best Album, XM's Verge Award for Best Album, and was shortlisted for the renowned Polaris Music Prize for their album -Into Your Lungs (and around in your heart and on through your blood).

Recorded in the dead of winter in two East Coast harbour towns with producer and singer-songwriter Hawksley Workman, Into Your Lungs began with a beautiful naivety and confidence. An "off the stage" feel and vigor reminiscent of the bands powerful live performances rooted the recording sessions.

REGULAR: $42
GOLD MEMBERS: $37
PLATINUM MEMBERS: $33
UNIVERSITY/COLLEGE STUDENTS: $20
HIGH SCHOOL STUDENTS: $5
Website: http://www.Arts.BrockU.ca
Email: bo[email protected]
Phone: 905-688-5550&3257