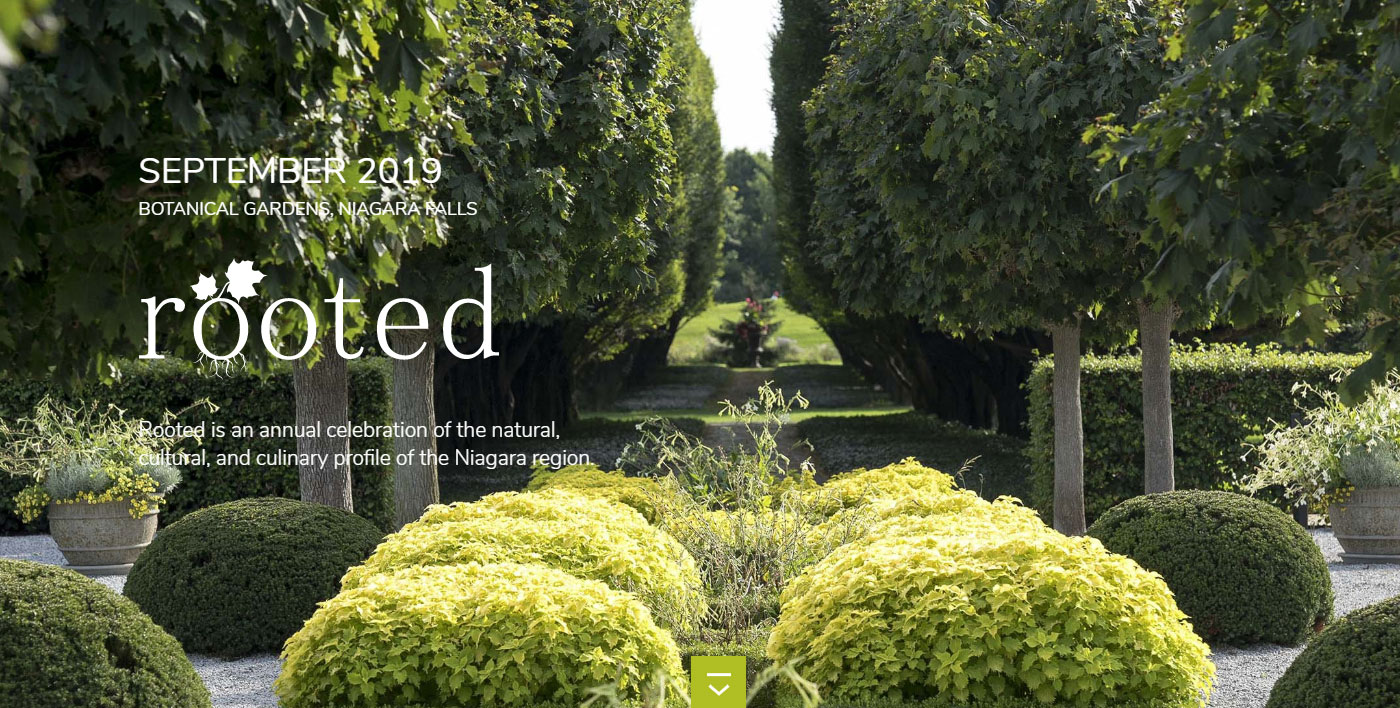 Rooted: Niagara Parks
Rooted is a celebration of the beauty and history of Niagara Parks. This annual event connects us to the natural, cultural and culinary stories surrounding the Niagara region. Throughout September, we invite you to explore our incredible gardens, learn from professional horticulturists, interact with local artisans, and savour delicious flavours from across Niagara.
With four specially-themed weekends, Rooted has something for everyone and is designed to provide you with unique experiences while spending time together in nature, building new traditions and a lifetime of memories. Explore the stunning natural spaces throughout the Botanical Gardens through a variety of nature-themed programs.
For full program details please visit: https://www.niagaraparks.com/rooted
Tickets: https://www.niagaraparks.com/events/event/rooted-2019
Date And Time
Sat, 7 Sep 2019, 11:00 AM – Sun, 29 Sep 2019, 12:00 PM EDT
Location
Botanical Gardens
2565 Niagara Parkway
Niagara Falls, ON L2E 2S7
Events:
Art in the Garden
September 14 & 15, 2019
Art is in the eye of the beholder and can be found in many forms throughout the Botanical Gardens. Whether it's the natural sound of the fountains, the birds singing, bees buzzing or, the glorious colours that bring our flowers to life, art is everywhere!
Edible Garden
September 21 & 22, 2019
Our environment, the gardens we grow and the food we cultivate connects us all! Learn how developing your own garden can inspire you to make better food choices to improve your well-being. Explore the Niagara Parks Botanical Gardens to find the vegetables and herbs nurtured by students at our School of Horticulture.
Mr. Plant Geek:
The Forbidden World of Plants
Sat Sept 21, 7pm-9pm – Niagara Parks School of Horticulture
Discover the cheeky side of the plant world with one of the UK's most influential horticulturalists and delve into the mysteriously sultry connections in our green world.
The Plant Magician
Sun Sept 22, 11am-12pm – Niagara Parks School of Horticulture
Join Michael Perry, Mr. Plant Geek's encore presentation for a morning of learning at the Niagara Parks School of Horticulture. Travel with Michael on his journey to far off places and discover how this has influenced his story. 
Creativity, Mindfulness & Well-being
September 28 & 29, 2019
Mindfulness is the ability to stay in the present moment. During this state of mind, you're relaxed and aware of yourself and your surroundings. We can achieve this during meditation, deep breathing techniques and yoga. Over time, the idea is to improve your overall sense of well-being.