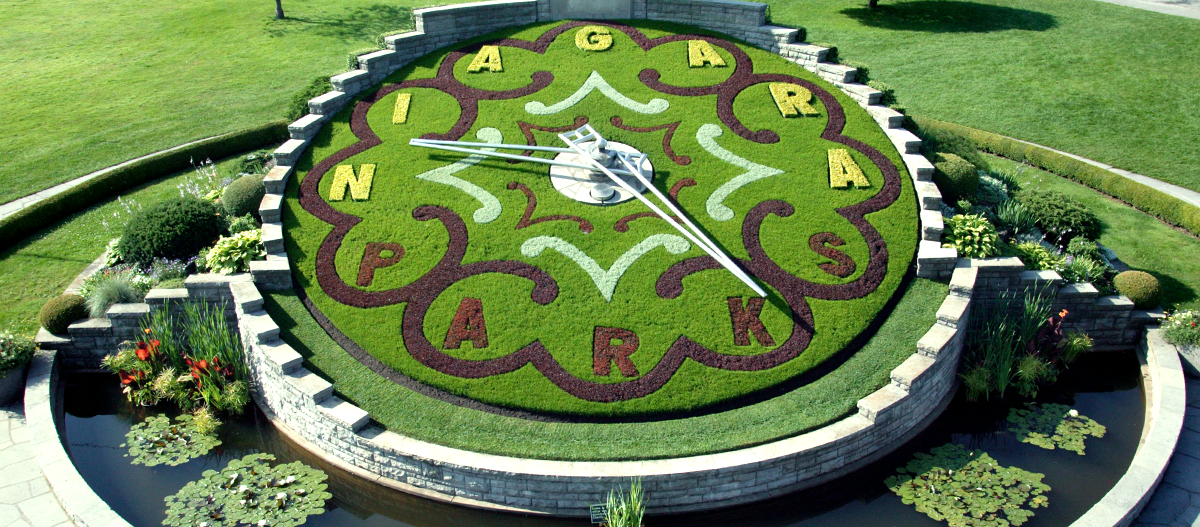 Floral Clock
14004 Niagara Pkwy, Niagara Falls, ON
This horticulture wonder is located 8.8km north of Clifton Hill adjacent to the Centennial Lilac Garden and Sir Adam Beck Generating Stations. Millions of tourists marvel at the beauty of nature and human creativity with this clock. It's also a great place to visit after eating a big lunch on Clifton Hill, where you can shave off some calories with a nice stroll through the nearby gardens.
The clock is based on one found at Princess Street Gardens in Edinburgh, Scotland, originally built in 1903. It was during a business trip there, Former Ontario Hydro chairman Dr. Richard L. Hearn, was inspired by the clock and petitioned to have one built in Niagara. 
Niagara's Floral Clock is 40 feet in diameter and the largest of its kind in the world. Launched in 1950, it was Ontario Hydro's floral show piece and featured the letters in "ONTARIO HYDRO" to mark each the twelve numeral locations. 
The clock consists of over 24,000 colourful carpet plants and sometimes during winter stones replace the flowers. The face of the clock is sloped at a 3:1 ratio, with a beautiful water feature surrounding the bottom third of the clock.