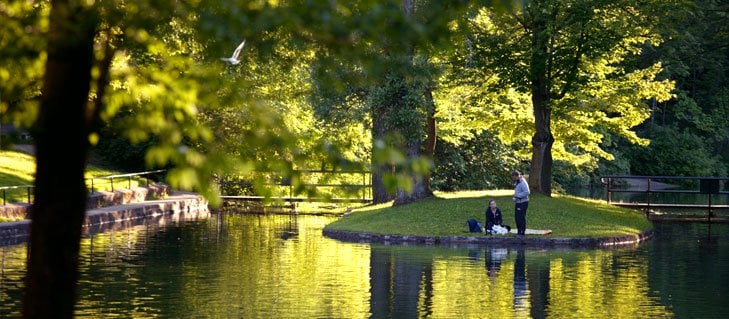 Dufferin Islands
6345 Dufferin Isle Rd, Niagara Falls, ON L0S 1A0
Dufferin Islands is a secluded park that is unique in that it houses a series of tiny islands. They are all fused together by bridges and footpaths. 
This area is a miniature paradise with the introduction of fish, bird feeding stations and bird boxes, as well as environmentally appropriate vegetation. The "catch and release" fish program has been incredibly popular with the public.
This area is a popular stop during the "Winter Festival of Lights" from November to January each year, with several animated lighting displays placed around the perimeter of the islands. Vehicles may drive through and witness the incredible atmosphere that highlights the Christmas season in Niagara Falls.
You will find this park along the Niagara Parkway between the Niagara Parks Floral Showhouse and the Rapidsview Parking Lot.
Picnicking opportunities are available.
Access to Dufferin Islands is free, though there is a charge for vehicle parking (metered.) 
History
Dating back to 1820, this area was once known as "The Burning Springs". It got this name due to natural gas that was leaking from along the ground by the Niagara River just above the Horseshoe Falls. A barrel with a pipe attached and a cork that covered the pipe was placed upon this natural leak. When the cork was removed and ignited, it created a phenomenom which was called a "burning spring". It soon became an attraction, and people from all over came to witness it in action. In 1902, water was diverted by the Ontario Power Company and resulted in transforming the site into a more natural setting as it looks today.