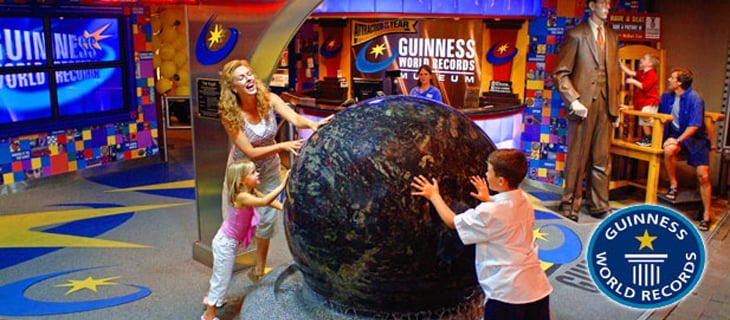 Guinness Museum
4943 Clifton Hill, Niagara Falls, ON L2G 3N5
After 42 Plus Years the Guinness Museum is now closed!
There is currently an online auction featuring remarkable rarities and famous artifacts which opened up January 22nd, 2021. 
Click here to bid and see more!
Some of the cool items up for bid are the following:
Atari Hercules Coin Op Pinball Game - World's Largest 1979 Guinness Museum Display
Wurlitzer One More Time Replica Jukebox - Vinyl, Model OMT 1015 Restored
Coin Op Animated Electric Chair Museum Crime Oddity Display Guinness World Records
Wayne Gretzky Los Angeles Kings Jersey Signed Photograph LOA Guinness Museum Display
Wayne Gretzky Framed Hockey Stick Puck LOA Guinness Museum Display
World's Smallest Bicycle artifact Guinness Museum
Miami Dolphins Helmet Signed Dan Marino Guinness World Records Museum Display
Signed Dan Marino Miami Dolphins Jersey Guinness World Records Museum Display
World's Longest Necked Woman Museum Display Circus Sideshow Character
Photo Op Display World's Heaviest Man Guinness World Records Museum
GUINNESS pylon sign letters. 
Encounter life-size models of the world's most extraordinary humans, from the tallest man (Robert Wadlow at 8 feet 11.1 inches), to the most tattooed woman.
Human achievements are displayed throughout the worlds of entertainment, arts, literature, and the natural world.