Reading Time: 
5
minutes -
With Family Day weekend and Mid Winter Recess in full bloom and then March Break riding on its coat tails, you may be looking for some family-oriented deals and savings to enjoy. How many of us have wanted to get out for the day, whether it be just the two of you or a little family mini-getaway, budgeted maybe $200 TOTAL (including gas) believing that would suffice…only to make multiple trips to the ATM? I know I'm guilty of that…and even the trip to the ATM costs you about $2.50 with every transaction. We live in a money hungry World…vultures and seagulls nipping at your wallet and unless you carry a designated amount of cash, you are probably like me and pull out the ol' debit and credit card because who wants the inconvenience of bank and ATM stops, right? That's when trouble lurks though…you think "that burger is only $3.99, why withdraw $20?"…next thing you know you purchased 4 burgers. Get my point? Most of us get caught up in the moment and see the excitement in our children's eyes and don't see the bigger picture…the financial stress you will feel when the bank statement comes in the mail. Believe it or not, there are corporations out there that know this and are willing to provide you the excitement of all the attractions you want to visit, for a discounted price and a for a full day's worth of activities, for the one on a budget.
One of the greatest savings that Niagara Falls has on a daily basis (not just over the Winter Holidays) is the Clifton Hill Fun Pass. Clifton Hill is the single greatest promenade of fun in Niagara Falls. The street contains a vast number of gift shops, museums, haunted houses, arcades, restaurants and hotels. The Fun Pass offers you savings on a wide variety of attractions at slashed prices. You get five great attractions for one low price of $25.95+tax for adults and $19.95+tax for children. It is worth noting that two of the attractions alone are $11.99 and $10.99 each, so basically combining those two attractions together and then for the price of buying a cup a coffee would be the equivilant of purchasing the Clifton Hill Fun Pass! Let me explain the attractions that you get…
MOVIELAND WAX MUSEUM OF THE STARS
At Movieland wax museum you see top movie, television and music celebrities up close and personal, all made out of wax!
Take your picture with Hollywood sensations like Johnny Depp as Captain Jack Sparrow, Harrison Ford as Indiana Jones and Tom Hanks as Forrest Gump, as well as Justin Bieber, Hannah Montana, Harry Potter, The Terminator, Marilyn Monroe, The Dark Night, Mr. T, Austin Powers, Freddy Krueger and Lara Croft to name a few.


NIAGARA SKYWHEEL
It is Canada's largest observation wheel. Enclosed, climate-controlled gondolas towering 175 feet (53 metres) over the Niagara Falls horizon, the Niagara SkyWheel is the newest, most exciting way to see Niagara Falls. From this vantage point you will be treated to memorable views of the Horseshoe and American Falls, the Niagara River, Niagara Parks and other landmarks. This is truly (in my opinion) one of the most remarkable, cost-friendly attractions. I love it, my son loves it, and it provides gorgeous views whether day or night as after dusk the Falls light up like a rainbow!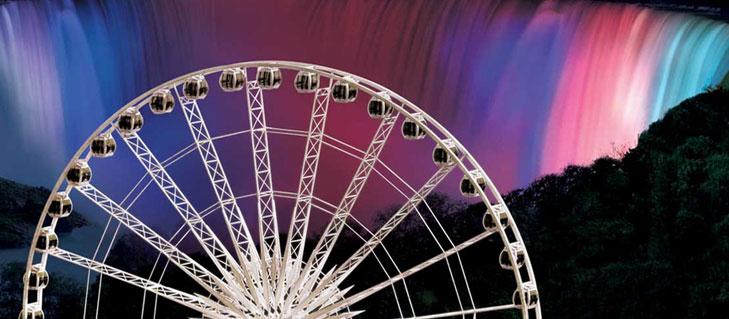 DINOSAUR ADVENTURE GOLF OR GALAXY GOLF
As one of the nation's largest outdoor miniature golf courses, Dinosaur Adventure Golf features two 18-hole courses: "Raptor" and "T-Rex" (A Total of 36 Holes); 3 distinct decorative ponds with fast-moving rapids and bubblers; and a 50 foot high "active" steam-erupting volcano that lets golfers play directly through a realistically eerie, cavernous volcanic interior on their way to the 18th hole.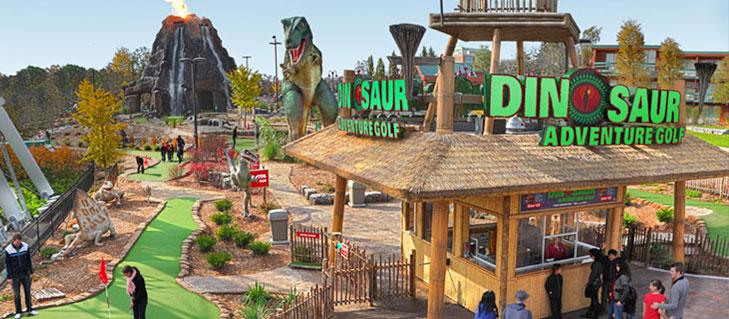 Galaxy Golf is a challenging 18-hole mini golf course that showcases brightly coloured exhibits of Galaxies, Atlantis, Time Travel and Retro 60's.  You'll golf around planets, astronauts and UFO's; see mermaids, sharks, and the god Poseidon, as well as vintage cars and rock guitars.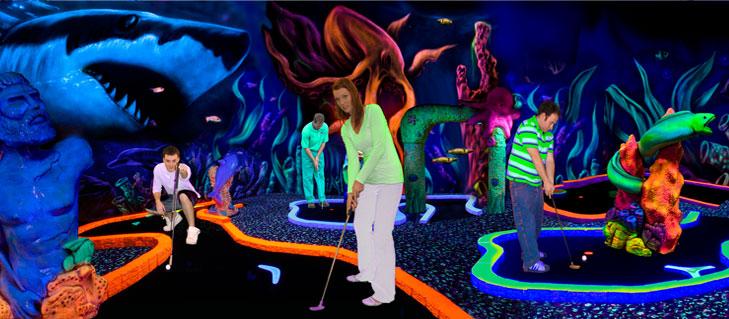 The thing I like best about these two options is just that…you get to CHOOSE which course is right for you! Being able to customize your own course of your choosing is perfect for weather-related issues that may come up, or to diffuse any child meltdowns if little Sarah wants to do the indoor course and little Jeff wants to do the outdoor course. Mom can take Sarah and Dad can take Jeff. Done. Everyone is happy…I love that!
GHOSTBLASTERS DARK RIDE
Your 3D adventure begins by entering the Bleakstone Manor in a two-person vehicle on a track where you'll be confronted by an army of ghosts, skeletons, ghouls and goblins riding from room to room in black-light darkness. Lucky for you, you'll have a laser gun to blast away these pesky phantoms that seem to pop out from every crack and crevice….and if you're up for the challenge you can try to get the highest score by blasting away ghosts with the most accuracy.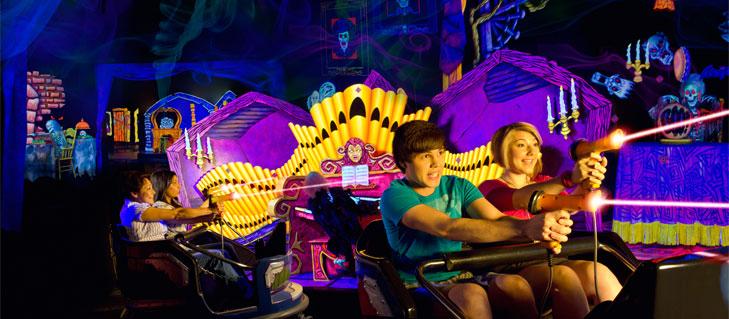 XD THEATRE
By combining modern special FX technology including fully immersive stereoscopic imaging, realistic motion with up to 2 G's of accelleration, special seats that bear 400 movements per second, plus intense wind effects and dazzling light effects, the XD Theater is a truly a state- of- the-art attraction! It's a 6-Dimensional Cosmic Coaster of thrills…a must see!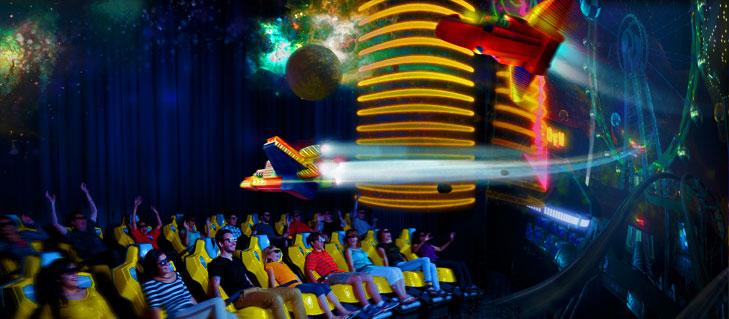 As an added bonus, with each Fun Pass that you purchase you get 5 tokens to use to your own liking at the GREAT CANADIAN MIDWAY. Enjoy playing over 300 arcade and redemption games, then cash in your tickets for merchandise at a massive prize center!
My family and I love this deal. It's a wide variety of things to do and we know that we get them all for less then anticipated. There is something for everyone and it's a day's worth of activities. You also save on travel and other added expenses because they are all located side by side to one another. It truly is the best way to go…every day of the year, 7 days a week.
Visit Niagara Falls Fun Pass for more information on the Fun Pass. You can also purchase it online.
Christine