Let's be honest, while Niagara Falls features one of the most beautiful natural wonders, it can also get quite expensive for travelers. When you begin to factor in accommodations, dining, transportation, and activities, you may find your finances stretched. Here are a few ways that staying at the Comfort Inn Clifton Hill will help you save more of your money, and allow you to enjoy your trip stress-free!
DINING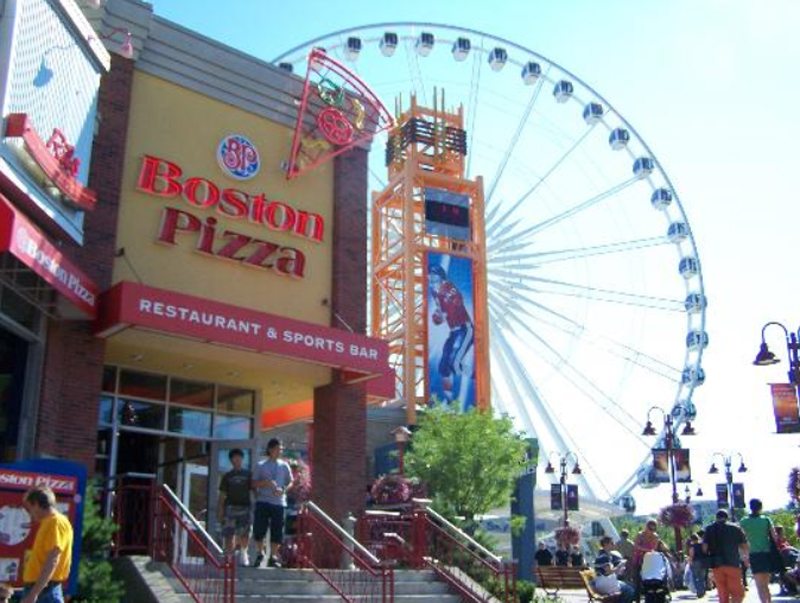 Hands down, the biggest seller to incoming travelers that make them choose the Comfort Inn Clifton Hill over other Niagara Falls hotels, is its location. Central to all the primary reasons as to why you would travel to Niagara Falls in the first place is made easy when staying at this hotel.
Starting with dining, some of the most popular Canadian and American chains, from fast food to sit-down family dining are literally just minutes from the lobby doors of the Comfort Inn Clifton Hill. Boston Pizza is just across the street, and Kelsey's Niagara is actually attached to the hotel. You don't even need to leave the building!
Choose from a few different options that this hotel offers which will offer you meal vouchers for up to a $40 savings. For example, packages such as the Niagara Couples Getaway, Family Fun Package, and the Casino 2-Night Stay Package offers these discounts on meals while staying here.
Additionally, a complimentary deluxe full breakfast buffet is served within the Poolside Café for every guest that stays at the Comfort Inn Clifton Hill. Right there you can eliminate the need to find a nearby restaurant that serves up local morning fare. Here you will get a wide variety of breakfast essentials: waffles, eggs, sausage, fresh fruit, yogurt, cereal, muffins, bagels, a variety of juices, milk, tea and coffee for starters.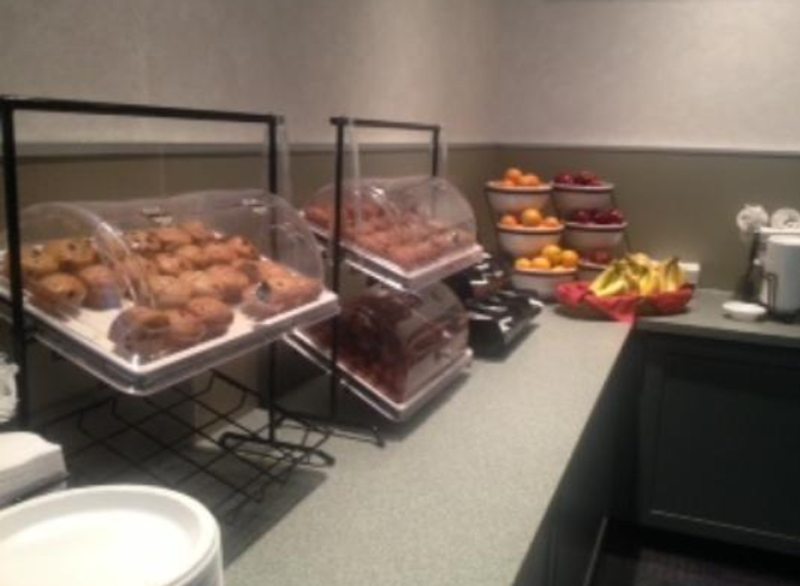 *Pictured Above: Enjoy a satisfying FREE breakfast at the Poolside Cafe within the Comfort Inn Clifton Hill
Need a list of restaurants within a 5 minute walk from this Niagara Falls hotel? Click here for a full list.
ENTERTAINMENT & ATTRACTIONS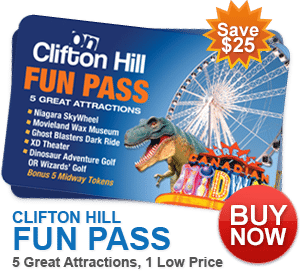 If you ask anyone that has been to Clifton Hill what we are most famous for on this street, the answer will always be "the attractions". The entire street is lit up with attractions and entertainment for the whole family to enjoy from top to bottom. Canada's largest observation wheel, the Niagara SkyWheel is found across the driveway from this Comfort Inn, along with a flurry of other popular Niagara attractions — and the most popular of them all, the majestic Niagara Falls is just a five-minute walk away.
The Clifton Hill Fun Pass is a money-saving attraction "must-do" with a 50% savings. This too is also offered within a package that you can include with your stay as a "Build-A-Package" option. Click here for details.
Ripley's Museum, Fallsview Indoor Waterpark, and Greg Frewin are just a few other attractions that you can visit on a discount when you choose from a selection of "Build-A-Package" options that the Comfort Inn Clifton Hill offers — savings of up to 70% in some cases.
If nightlife is your thing, Rumours Night Club is attached to the same building as the hotel, making a night out a breeze! Dining, attractions, and enjoying alcohol without worrying about cab fare is convenient. Save money on all these aspects, including transportation and parking fees. There is absolutely no need to move your car from the hotel lot during your stay here.
SHOPPING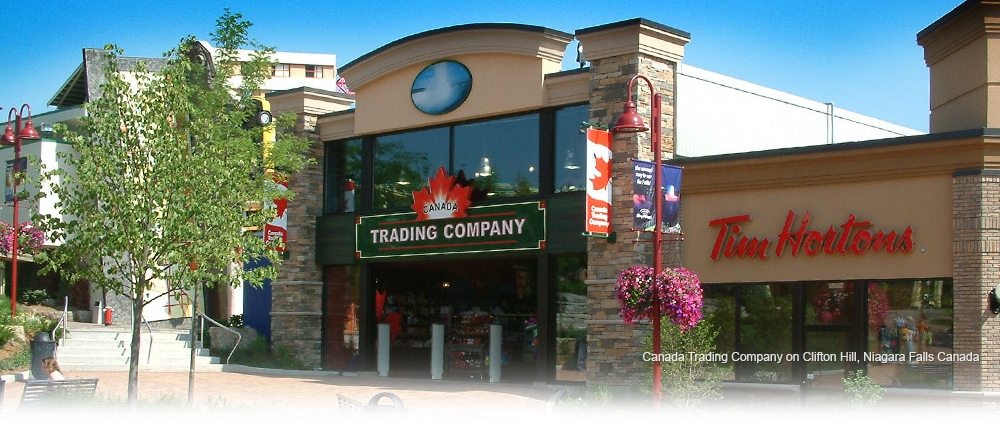 *Pictured Above: The Canada Trading Company. Located just outside the Comfort Inn Clifton Hill, you will find unique souvenirs here to commemorate your Niagara Falls trip.
Due to Clifton Hill being the central tourist destination for Niagara Falls travelers, you will finding shopping easy to do. There are discount stores, souvenir shops, and popular clothing stores on Clifton Hill and its other adjoining hot-spot streets, Falls Avenue and Victoria Avenue.
Only a few minutes by car will take you to the Canada One Outlets, in which you will find designer clothes at bargain prices (think Coach, Tommy Hilfiger, Danier Leather, Guess and Nine West), as well as the Fallsview Casino, that you can easily walk from the Comfort Inn Clifton Hill in 15 minutes. Here, there is a Galleria within this 180,000 square foot complex featuring unique finds, the "Avalon Ballroom" where the world's top entertainers perform, and of course, the chance to win some serious cash on its gaming floor.
Stay at the Comfort Inn Clifton Hill and receive 2 $25 game vouchers with the "Stay & Play" Package. Click the image below for details: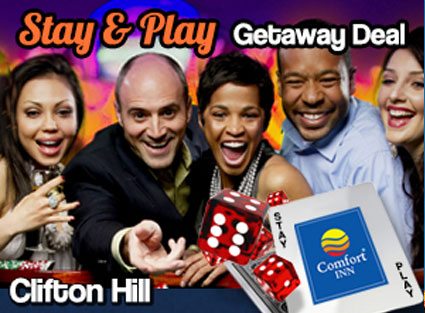 For more information on the Comfort Inn Clifton Hill, see for yourself the number of ways that this hotel will keep more cash in your wallet.
Visit the Comfort Inn Clifton Hill here.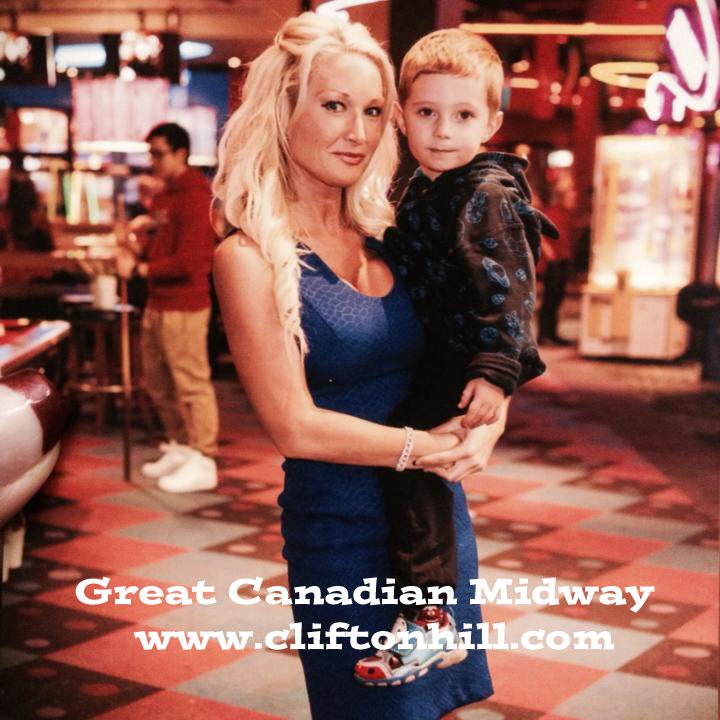 Christine Lynn
Facebook: www.CliftonHill.com/fb
Twitter: www.CliftonHill.com/twt
Google+: www.CliftonHill.com/gplus
Pinterest: www.CliftonHill.com/pin
Instagram: @cliftonhillfun