Victoria Day Weekend in Niagara Falls
Come to Niagara Falls for Victoria Day Weekend in 2014
Victoria Day: The kick off to summer, shake off the soggy spring and get out and enjoy beautiful Niagara Falls!
A Little History Behind the Holiday
Victoria Day is a federal Canadian public holiday celebrated on the last Monday before May 25, in honour of Queen Victoria's birthday. The date is also, simultaneously, that on which the current reigning Canadian sovereign's official birthday is recognized. It is sometimes informally considered as marking the beginning of the summer season in Canada.
The holiday has been observed since before Canada was formed, originally falling on the sovereign's actual birthday, and continues to be celebrated in various fashions across the country on the fixed date. In Quebec, the same day was, since the Quiet Revolution, unofficially known as Fête de Dollard until 2003, when provincial legislation officially named the same date as Victoria Day the National Patriots' Day. It is a statutory holiday federally, as well as in six of Canada's ten provinces and three of its territories.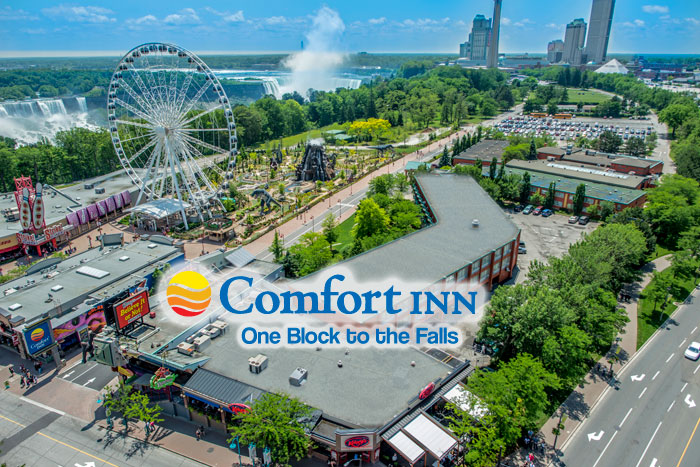 Comfort Inn offers the perfect hotel for Victoria Day Weekend, situated in the heart of Niagara Falls' entertainment and dining district!Victoria Day Weekend: from $100.00 per night

Enjoy a Prime Central Location 1 Block to the Falls
Complimentary deluxe breakfast buffet each morning
KIDS STAY FREE with an Adult (18 and Older)
Free Morning Newspaper available each morning
Free High Speed Wireless Internet access (Wi-Fi)
Add extras including tickets and passes to top Niagara Falls attractions with the Build a Package feature
Earn points with Choice Privileges Rewards
Your Satisfaction Guaranteed!
| | | |
| --- | --- | --- |
| Save 50% Off | Save 33% Off | All NEW! Save Over 50% Off |
| Save up to 70% Off | Save 46% Off | Save 50% Off |
| Save 45% Off | Save over $15 off | Save up to 11% Off |
Planning Your Trip
You may be packing up the car, but if you are letting someone else do the driving for you there is a great service called the GO train running from Toronto and Niagara Falls, with special hours for Victoria Day long weekend.  For the schedule click here.
If you are driving, Monday is Victoria Day in Ontario and Victoria Day Weekend has become one of the busier cross-border weekends in the Niagara–Fort Erie Region, with the busiest day being Victoria Day Monday. The Canada Border Services Agency (CBSA) anticipates higher than average volumes this year. Travellers cross-border shopping or taking advantage of the many cross-border destinations and activities on Victoria Day should consider some of the following border crossing tips to facilitate their return to Canada:
Ensure that you have proper identifications for yourself and everyone in the vehicle readily available when crossing the border. In compliance with the Western Hemisphere Travel Initiative, all travellers, including U.S. and Canadian citizens, need to present an approved travel document to enter the United States by land and sea such as a valid passport, U.S. Passport Card, a NEXUS card or an Enhanced Driver's License. These are also acceptable documents for entry into Canada.
All New! Wizards Golf!Niagara's newest attraction, play 18-holes in a medieval world of Wizards, Trolls, and Dragons. …more info
Niagara Falls FireworksSpecial Victoria Day Firework Events over the Falls will start a 10pm – weather permitting…more info
Hornblower Niagara CruisesOpen Thursday, May 15th, just in time for Victoria Day Weekend, Canada's only boat cruise… more
info
Niagara SkyWheelSoar 175 feet above the Falls for the most spectacular view you'll ever experience… more
info
Bodies RevealedThis striking Exhibition showcases real human bodies, dissected and preserved through a revolutionary process… more
info
Greg Frewin Show Imagine Magic! Come to Clifton Hill & see the International Grand Champion of Magic perform live… more
info
Canadian Midway70,000 square feet of fun located in the heart of Clifton Hill. Featuring over 300 games!… more
info
Rumours NightclubMay 18th: First 250 people in the door win a chance to see Justin Timberlake in concert …more info
Dancing QueenBlast back to the 1970′s with a show dedicated to disco!…more info
Butterfly ConservatoryExquisite butterflies floating in the warm air, spreading their iridescent wings… more
info
Niagara Falls IlluminationEvery Night the Falls are lit in the colours of the rainbow – see the beauty of the Falls at night!…more info
Fallsview CasinoEnjoy stunning views, exciting entertainment and a huge luxurious gaming floor… more info
Marineland CanadaOpen Victoria Day Weekend! Enjoy thrilling rides, live shows and interacting with marine animals… more
info
Food Truck EatsFood Truck Eats is parking at Peller Estates Winery for the May long weekend…more info
Spring in the GlenMay 17th: Free guided tours led by Parks Naturalists. Discover the beauty of the Glen… more info
Niagara Parks Annual Fireworks Display
Just like previous years you can count on the annual array of colourful explosions in the sky above the falls.
The Niagara Parks Commission (NPC) is pleased to announce a number of exciting events taking place over the Victoria Day Long Weekend as well.  The first long weekend of the summer marks the return of Canada's longest-running fireworks series. The fireworks will take place on Friday, May 16, Sunday, May 18, and Monday, May 19 at 10 p.m., and will continue every Friday, Sunday, and Holiday throughout the summer until November 30th. We are pleased to announce that additionally from June 18th to August 27th, 2014 there will be bonus fireworks displays and concerts on Wednesday's at 10:00pm and bonus firework shows nightly from August 24th – August 29th, 2014. The best views are in Queen Victoria Park overlooking Niagara Falls. Please note: all dates are subject to change and dependent upon weather and wind conditions.
Long Weekend Coca Cola Concert Series Lineup
Free concerts take place at 8 p.m. at the Illumination Tower Stage, located in Queen Victoria Park at the bottom of Murray Hill, next to Victoria Place.  Come out early and you can listen to some live entertainment before the fireworks countdown at 10 p.m.
Here is the BEST place to find parking for the Victoria Day Weekend!
Parking behind the Comfort Inn Clifton Hill is your best bet for not only the most inexpensive parking on a Holiday weekend, but also easy access to all our local attractions and a few minutes walk down to Queen Victoria Park to view the fireworks: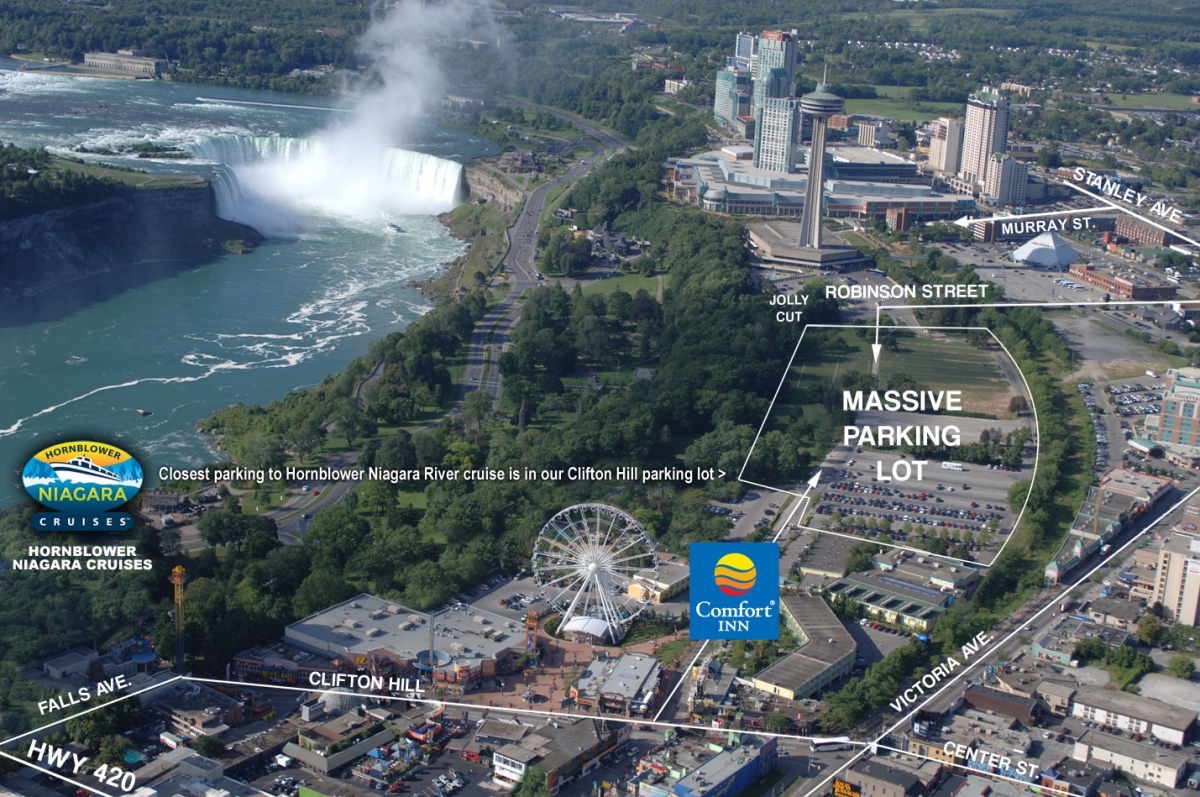 Route #1 From Highway 420
1.  Once you are on Highway 420 heading towards the Falls.
2.  Turn RIGHT onto Stanley Avenue.
3.  Take Stanley past Lundy's Lane.
4.  LEFT on Robinson Street.
5.  Continue Straight and before you hit the dead-end go LEFT into the Comfort Inn Clifton Hill back entrance.
Route #2 From Highway 20 (turns into Lundy's Lane)
1.  Follow Highway 20 past Thorold Townline Road (where it turns into Lundy's Lane).
2.  Turn RIGHT onto Stanley Avenue.
3.  Turn LEFT on Robinson Street.
4.  Continue Straight and before you hit the dead end go LEFT into the Comfort Inn Clifton Hill back entrance.
Route #3 From Thorold Stone Road
1.  If you are on the QEW heading south towards Niagara Falls you will see signs for Thorold Stone Road.
2.  Take the Thorold Stone Road exit and turn LEFT, continue all the way through to Stanley Avenue, slight right.
3.  Follow Stanley Ave past Highway 420 and Lundy's Lane.
4.  Turn LEFT on Robinson Street.
Continue Straight and before you hit the dead-end go LEFT into the Comfort Inn Clifton Hill back entrance.
Route #4 From McLeod Road
1. On the QEW, head south towards the Falls and take the McLeod Rd exit and turn left.
2. Travel through to the Marineland Parkway and turn LEFT on Stanley Avenue.
3. Turn RIGHT onto Robinson Street.
4. Continue Straight and before you hit the dead-end go LEFT into the Comfort Inn Clifton Hill back entrance.
What Are Some of the Top Attractions to Visit During the Victoria Day Long Weekend?
With the Victoria Day weekend drawing near, it's time to get out of hibernation and look forward to a getaway with the family. One of the most popular times to vacation to Niagara Falls, Victoria Day weekend presents gorgeous atmosphere along the Niagara Parkway; dozens of species of flowers transform the landscape with their vibrant and brilliant colors. It's a photographer's oasis as April showers have lightened up and Niagara Falls temperatures can peak at 20c, but generally stay situated as an average high of 13.9c.
For 2014, here are some highly anticipated attractions to visit:
The Niagara Skywheel:
Imagine being hovered 175 feet (53 meters) in the air over Niagara Falls and capturing the most beautiful pictures of the Horseshoe and American Falls. This is exactly what you get for an inexpensive fee of $10.99 + tax for adults and $6.99 + tax for children on an attraction set apart from the rest. It stands alone as one of the most spectacular aerial views you will ever experience for miles in every direction; all while you are comfortably encased in a climate controlled gondola that provides year-round sightseeing comfort, day and night.
The Niagara Skywheel varies from 8-12 minutes, with operating hours that extend from 9:00 am to 2:00 am on the Victoria Day weekend and then throughout the Summer (*weather permitting*). No need to worry about sun glare off the glass either as each gondola is constructed with specialty made anti-glare coating…for a perfect photo every time!
Wizard's Golf:
It just opened on Easter weekend and is Clifton Hill's most talked about attraction. This is one of North America's largest indoor glow-in-the-dark miniature golf courses that features 18-holes of challenging fun, and is showcased in a brightly coloured exhibit of Wizards, Trolls, and Dragons. Here, there's something interesting for everyone to enjoy. You'll golf among wizards, trolls, fairies, castles and dragons and get lost in a medieval story of fantasy and wonderment!

Click here to check out some of the amazing scenes that you will encounter in Wizard's Golf!
You'll find Wizard's Golf near the top of Clifton Hill, beside Ripley's Believe It or Not.
Call 905-358-3676 for hours of operation, ticket prices and other helpful information.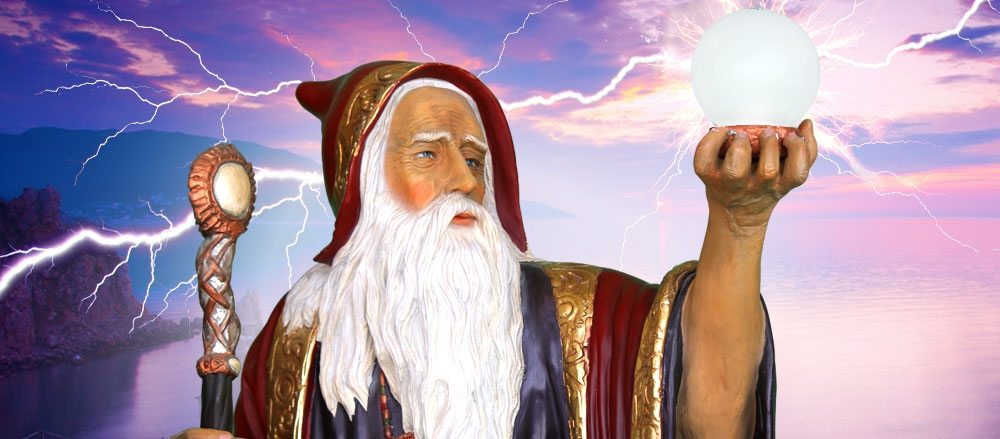 Whirlpool Jet Boats:
Victoria Day Weekend is the kick-off Holiday weekend of the Whirlpool Jet Boat Tours. Hundreds of thousands of gallons of water flow over the Falls every minute and as that water enters the narrow rock gorge, it is compressed into wild rapids. This makes for an exhilarating time when you can experience first-hand the power of the rapids in a completely safe, 40-54 passenger vessel. You must be at least 44 inches tall to ride, but there are no restrictions for seniors as long as you are in good health (free of heart, neck or back issues).
Hornblower Niagara Cruises:
May 15th, 2014 is the opening day of one of the most highly anticipated attractions to open in Niagara Falls. The Hornblower Niagara Cruises is a thrilling new way to experience Canada's most spectacular wonder of the world. They will take you on the ride of your life! An intimate tour that gets you as close as possible to the breathtaking flow of water, power and mist that is the magnificent Niagara Falls. Within the Niagara Great Gorge, the catamarans will journey past the American Falls, Bridal Veil Falls and into the very heart of the famous Horseshoe Falls.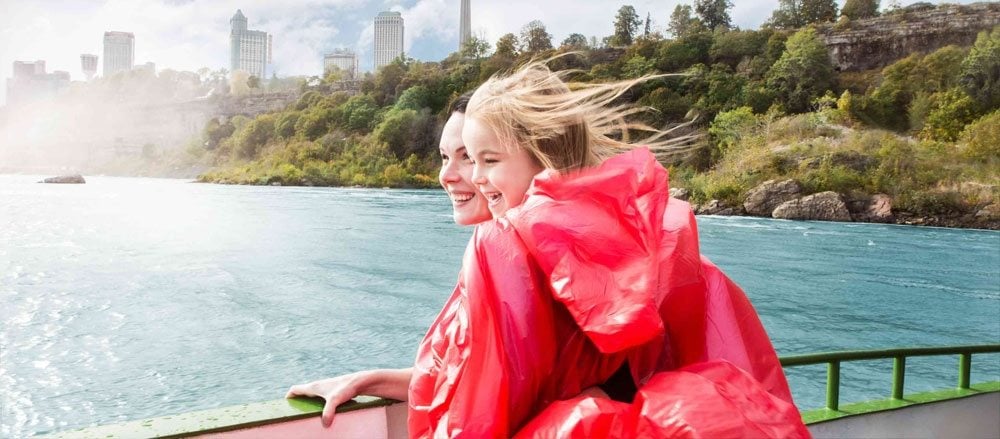 *Below is the hours of operation for HORNBLOWER NIAGARA CRUISES
Ticket booths will open daily at 9:30am
First Boat will board at 9:45am and will sail at 10am
For May 15th through May 19th, the last boat will leave the dock at 7:30pm.
For May 20th through May 22nd, the last boat will leave the dock at 5:30pm.
For May 23rd through May 26th, the last boat will leave the dock at 7:30pm.
For May 27th through May 29th, the last boat will leave the dock at 5:30pm.
For May 30th and May 31st, the last boat will leave the dock at 7:30pm.
 *NOTE: All dates and times are subject to change and dependent on weather conditions.
Niagara Helicopters:
With the Niagara Parks on bloom watch, what a view you will get with the Niagara Helicopter Tours! As the helicopter gently lifts off from the Victoria Avenue location, the awe-inspiring views of the Niagara Falls Region begin to appear below. Don't let any picture-taking opportunity be missed, so have your cameras out and ready to go right from the start! The helicopter holds up to 6 of your family members in a 12-minute spectacular flight over the Niagara Falls that spans 27 kilometers. There are 5 helicopters available and the wait times are usually 15 minutes max.
*Please Note: If you plan a weekend getaway to Niagara Falls on the Victoria Day weekend, your best savings option is to take advantage of the "Build-a-Package" selection when you book your stay at the Comfort Inn Clifton Hill. The Niagara Helicopter Tour is included in this fantastic package and saves you up to 46% off the retail price, among various other amazing promotions!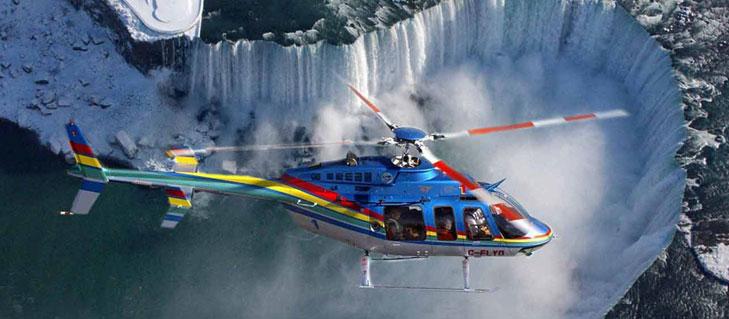 www.niagarahelicopters.ca
Outlet Collection at Niagara:
Victoria Day Weekend will also see the stampede of shoppers headed to Niagara-on-the-Lake to check out our newest shopping centre, the Outlet Collection at Niagara. It heralds a new concept among Ivanhoé Cambridge's array of shopping centre developments.  Anchored by Bass Pro Shops, Phase 1 of this open air, outlet shopping centre will feature a sophisticated architectural design in eight, single-level buildings totalling 520,000 sq ft. of retail space.  Upon completion, this unique property will be home to 100 renown and eclectic retail brands projected to open on May 15th, 2014.
www.outletcollectionatniagara.com
48th Annual Virgil Stampede:
Here's an amazing festival to bring the whole family! The Virgil Stampede takes place on Saturday, May 17th: 9:30am – 11:00pm, Sunday, May 18th: 11:00am – 11:00pm, and Monday, May 19th: 9:30am – 11:00pm. Carnival rides, London Reptiles, face painting, Kids' Pavilion and pony rides for the children — plus many more activities for the whole family to enjoy like the "Mud Run", the Niagara Spring Show and Gymnastics and Tae Kwon Doe demonstrations! Admission is $5.00 per Adult and Children under 15 are free. Admission is completely free for everyone on Sunday, May 17! Click the image below for their events schedule: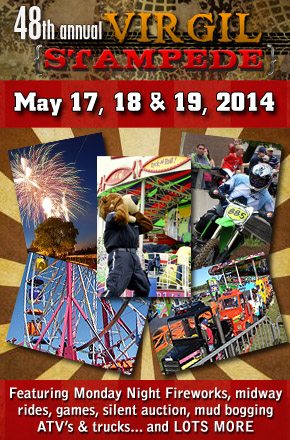 The Virgil Stampede will kick-off with the "Virgil Rocks" concert on Friday, May 16, 2014 starring Kim Mitchell! Tickets are $20 online (click here — until tickets are sold out) or at Phil's ValuMart in Virgil. Doors open at 6:00pm and the show starts at 7:30pm. The concert will take place as an all ages, licensed, outdoor event to be held in Ball Diamond B in the Virgil Sports Park.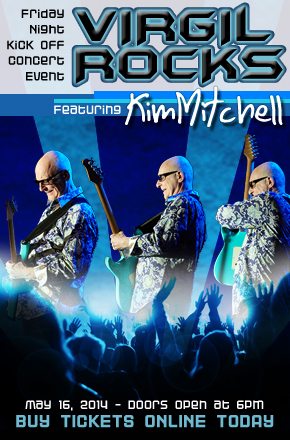 The Virgil Stampede in located at Virgil Sports Park, 1565 Four Mile Creek Road in Virgil, ON…just a hop, skip and a jump away from Niagara Falls. Please see the map below: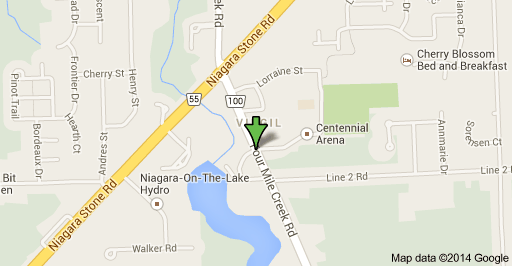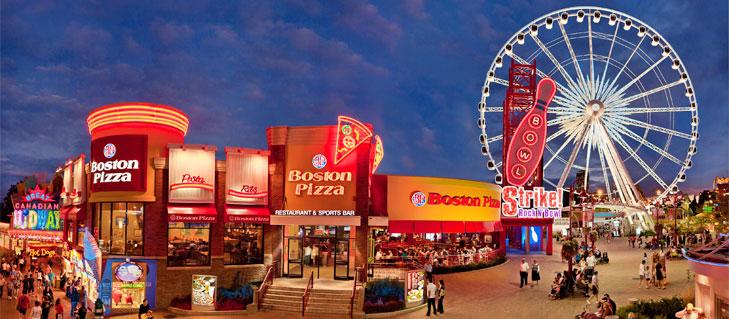 Clifton Hill The World Famous Street of Fun by the Falls
Clifton Hill is the one vacation destination where you'll find incredible experiences for the whole family to enjoy on your long weekend! Plan your day from the Niagara SkyWheel and be amazed by the spectacular views. Your vacation starts at Clifton Hill, where "FUN" happens everyday!  Between restaurants, gift shops, and the nightlife how can you possibly get bored?  Enjoy discounts on attractions as well when you pick up the Fun Pass and when you buy on-line you get an extra spin on the SkyWheel! Click on the image below to get started on purchasing your online pass: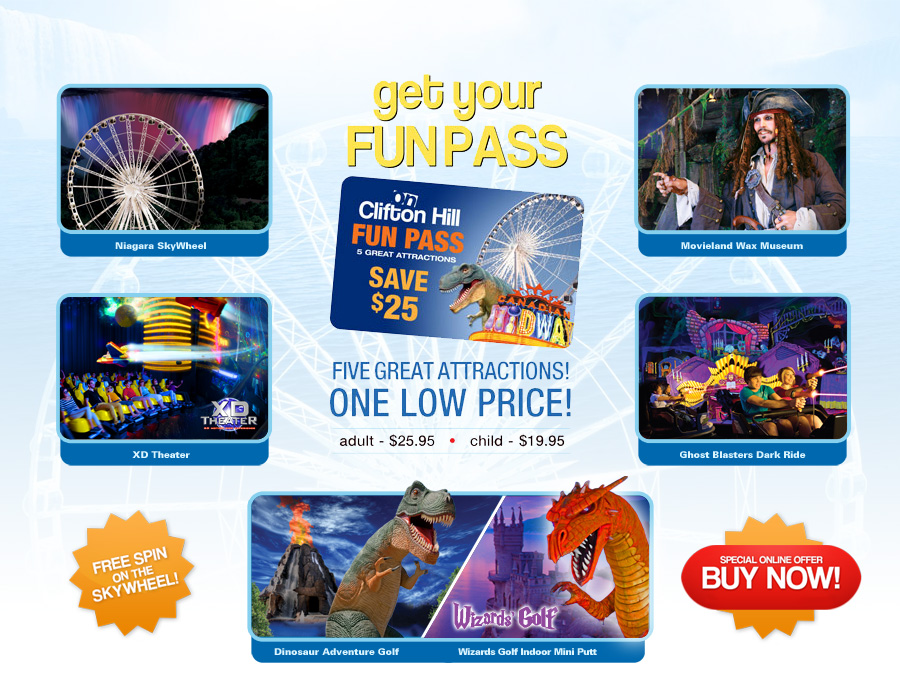 Victoria Day weekend is when Niagara Falls and the streets of Clifton Hill really begin to come to life for the summer, this is a great time to stay overnight and enjoy Niagara's best offerings.  To simplify your Niagara vacation plans; the Comfort Inn Clifton Hill offers some great packages to get you started on your trip.
Whatever your plans may be, we hope you have a happy and safe holiday weekend!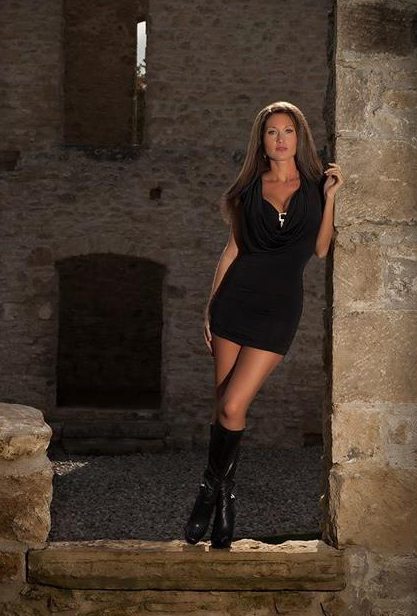 Christine Lynn
Facebook: www.CliftonHill.com/fb
Twitter: www.CliftonHill.com/twt
Google+: www.CliftonHill.com/gplus
Pinterest: www.CliftonHill.com/pin
Instagram: @cliftonhillfun
— clynn