6704 Views
Celebrate Memorial Day in Niagara Falls!
History Behind Memorial Day
The United States Celebrates Memorial Day on the last Monday of May.  Formerly known as Decoration Day, it originated after the American Civil War to commemorate the fallen Union soldiers of the Civil War.   By the 20th century, Memorial Day had been extended to honor all Americans who have died in all wars. Memorial Day is a day of remembering the men and women who died while serving in the United States Armed Forces.  As a marker, it is typically the start of the summer vacation season and also became a long weekend increasingly devoted to shopping, family gatherings, fireworks, and trips to the beach.
Celebrate Memorial Day on Clifton Hill!
Memorial Day is about spending time with family, friends and doing a little cross-border shopping — and we have all that here in Niagara Falls! Family friendly adventures can be found all along Clifton Hill — the "Street of Fun by the Falls" and beyond.  If you want to be right in the middle of all the action, waking up with all the attractions, and with the majestic Niagara Falls just 5 minutes from your hotel room, you can plan to stay at The Clifton Hill Niagara Falls Hotel.  Known as a great family location and voted in the top 10 for "Family Hotel" on Trip Advisor, most people enjoy the free continental breakfast and wi-fi, as well as the convenient access to the adjoining restaurant, Kelsey's.
http://www.youtube.com/watch?v=tnOSq0ZfCQk
Many package deals at amazing discounts are offered here with some big savings like attending the Greg Frewin Magic Show.  The Comfort Inn Clifton Hill is the only hotel in the area with the Build-A-Package option, allowing YOU to pick and choose what activities and attractions you want to do this Memorial Day weekend.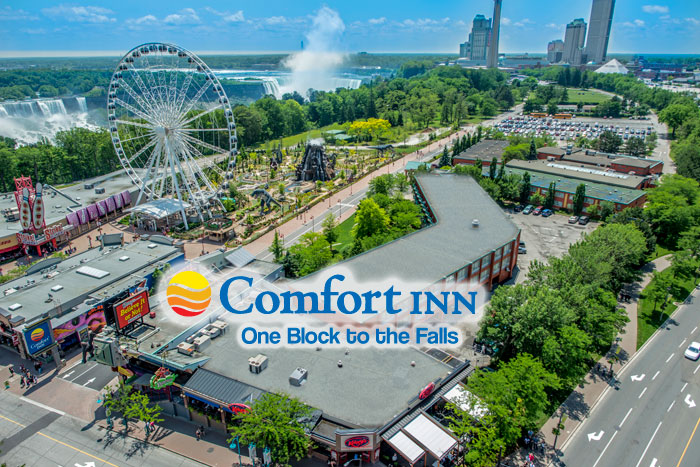 It is always a good idea to try to book your hotel in advance, especially when it comes to a long weekend such as Memorial Day weekend, as availability gets slim if you wait to the last minute. For more details on the convenience of our online reservation system, we can get you started by clicking here!
Build Your Own Niagara Falls Adventure:
Save by adding your favourite Niagara Falls theme rides, combo passes and restaurant specials directly to your reservation when you book online. Simply select all the attractions, combo passes, restaurant specials you want, and the quantity needed, and you'll be all set. Your order items will be held at our front desk until you arrive and check-in.

If you are driving your car you may need to know a few things before you cross the border:Getting Here from the United States
1. Know what ID is necessary:  All visitors arriving to Canada need a passport or passport equivalent.  If you are traveling soon, you can get a passport within 24 hours at Rushmypassport.com.
2. At the border be ready to address the officer:  Passengers should pass their passports and other ID to the driver before reaching the border services booth. In addition, take off your sunglasses, turn off radios and cellphones – don't start doing these tasks once you've arrived at the booth.
3. Have a note for children traveling without both parents:  Adults traveling over the border into Canada with children who are not their own, should have a written note from the parents or guardians giving permission for the children to leave the country. The permission should include the name and contact information of the parent / guardian.
(Children under the age of 16 can present an original copy of their birth certificate, passport or NEXUS card as preferred identification.  Anyone over 16 MUST have a passport to cross the border.)
4. Know what you can and can't bring into Canada.
5. Have your car registration available.
6. Check/empty your trunk:  Unnecessary items in your trunk may be a source of questioning by border officials and may add time to your border crossing.
7. Be prepared to answer questions.
9. Roll Down the Front and Back Car Windows When You Pull up to the border officer's window.
10. Check Out Border Wait Times Before Crossing.
Clifton Hill is the BEST place to find parking for the Memorial Day Weekend!
Parking behind the Comfort Inn Clifton Hill is your best bet for not only the most inexpensive parking on a Holiday weekend, but also easy access to all our local attractions and a few minutes walk down to Queen Victoria Park to view the fireworks: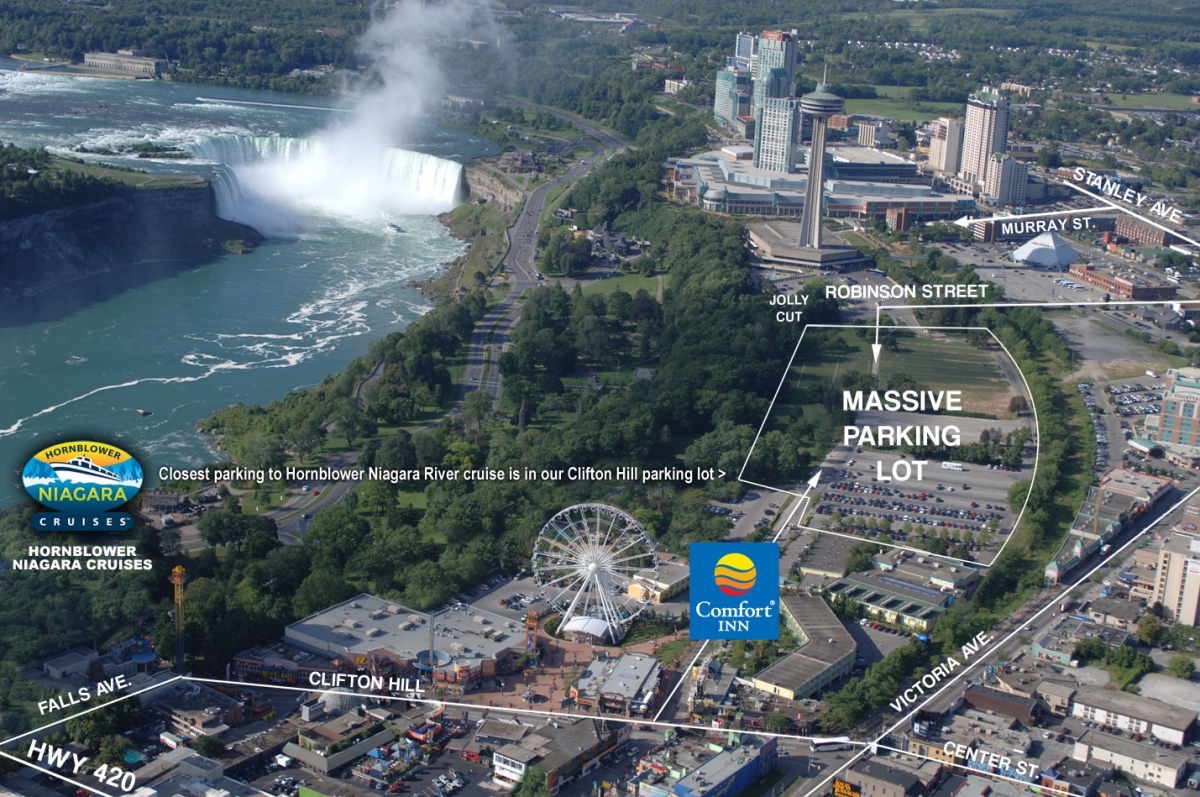 Add Excitement to Your Memorial Day weekend getaway!
As mentioned earlier, Clifton Hill has all the fun by the Falls that you need!  Grab a putter and play a prehistoric round of mini putt at the Dinosaur Adventure Golf, and afterwards, just steps away, is the world-famous Niagara SkyWheel.  This giant Niagara Falls attraction gives you an eagle's eye view of Clifton Hill, the Niagara Falls and the surrounding area and maybe an opportunity to view some amazing sites and plan a little bit of your itinerary for the weekend!  Come experience a 6D motion simulator on our brand-new Wild West Coaster! You can find it located in the Great Canadian Midway.  Don't forget you can get a great discount on all these attractions and more by picking up the Clifton Hill Fun Pass on-line, which also gives you an extra spin on the SkyWheel!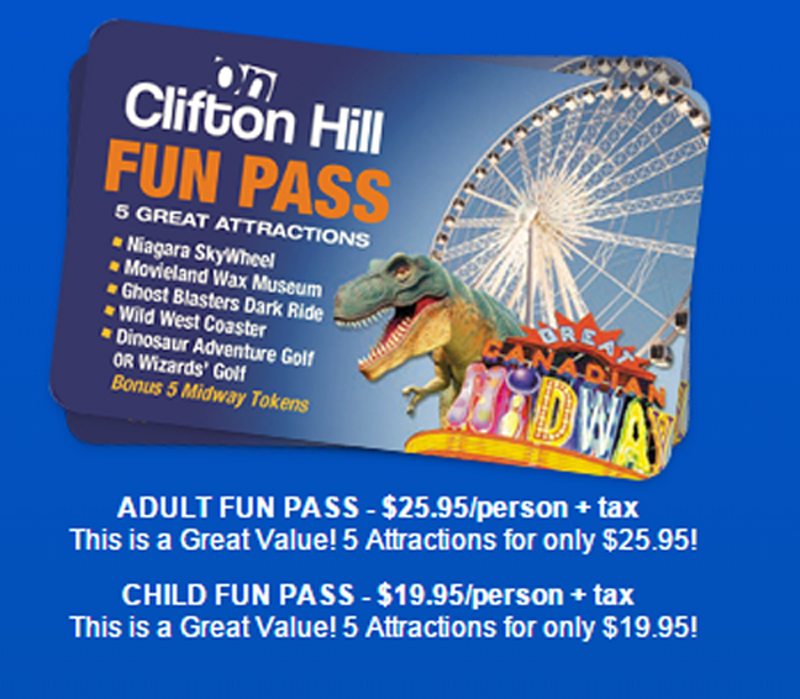 Niagara Boat Tours
Maid of the Mist: As you make your way to the bottom of the hill experiencing all this famous street has to offer you will find the Maid of the Mist. The boats depart from Niagara Reservation State Park at Prospect Point in Niagara Falls, New York.  Known as North America's oldest tourist attraction, millions of visitors have enjoyed the boat tours since 1846, and you can too!
Memorial Day hours for Maid of the Mist are as follows:  
Saturday, May 23rd: 9:00 a.m. to 8:00 p.m.
Sunday, May 24th: 9:00 a.m. to 8:00 p.m.
Monday, May 25th: 9:00 a.m. to 6:00 p.m. 
Prices: $17.00 US for Adults, $9.90 US for Children (6-12), and all children 5 and under are FREE (with accompanying Adult)!
Hornblower Niagara Cruises:  They will take you on the ride of your life! An intimate tour that gets you as close as possible to the breathtaking flow of water, power and mist that is the magnificent Niagara Falls. Within the Niagara Great Gorge, the catamarans will journey past the American Falls, Bridal Veil Falls and into the very heart of the famous Horseshoe Falls.
Memorial Day Hours for Hornblower Niagara Cruises are as follows:
May 15th – August 10th, 2015: 8:30 a.m. – 8:30 p.m. (Departures every 15 minutes)
Marineland also just opened a week prior on Victoria day weekend, and the park stays open from 10 a.m. – 5:00 p.m. daily. The Clifton Hill Niagara Falls Hotel  is also offering the Marineland Two Night Package! For information on this incredible deal and savings, click here.
Memorial Day Weekend Fireworks Schedule
View the Niagara Falls Fireworks display hosted by the Niagara Parks on Friday, May 22nd and Sunday, May 24th at 10:00pm. *All dates and times subject to change and dependent upon weather and wind conditions*.
http://www.youtube.com/watch?v=yujnoxEPF3A
 Memorial Day Events and Activities
Niagara Falls Fireworks
Memorial Day weekend offers 2 Shows: Friday & Sunday over the Falls, starting at 10pm…more info
Niagara Falls Illumination
Every Night the Falls are lit in the colours of the rainbow – see the beauty of the Falls at night!…more info
Hornblower Niagara
Open for the 2015 season just in time for Memorial Day Weekend, Canada's only boat cruise… more info
Niagara

SkyWheel


Soar 175 feet above the Falls for the most spectacular view you'll ever experience… more info
Bodies Revealed
Showcasing real human bodies, dissected and preserved through a revolutionary process… more info
Greg

Frewin

Show
Imagine Magic! Come to Clifton Hill & see the International Grand Champion of Magic perform live… more info

Marineland

Canada
Open Memorial Day Weekend! Enjoy thrilling rides, live shows and more… more info
Rumours Nightclub
Where your party begins every weekend at the top of Clifton Hill in Niagara Falls, Canada …more info
The 5th Dimension in Niagara Falls
Relive your favourite hits as pop icons, The 5th Dimension, take the stage with such hits as: "Up, Up and Away", and "Aquarius/Let the Sunshine In"...more info
Kelsey's Niagara Saturday Evening Entertainment
Let our local musicians entertain you every Saturday evening at Kelsey's Niagara on Clifton Hill….more info
Floral

Showhouse

Hydrangea Show
The Hydrangea Show at the Floral

Showhouse

runs for the month of May, featuring

hydrangeas

,

delphiniums

and foxgloves…. more info
Night Life on Clifton Hill during the Memorial Day weekend!

There is a spectacular nightlife along Clifton Hill when the sun sets and all the attractions are lighting up the sky.  You may even notice some street music making you want to move those hips.  There is enormous room to get your dance on at Rumours Nightclub and see one of Canada's hottest light shows.  If you are looking for a more laid-back setting, check out Kelsey's patio. It is bigger and better than ever, and will have more live entertainment this year!
Don't worry about running out of money here as there are plenty of ATM locations on Clifton Hill if you need to replenish the stash. If you are worried about loosing any valuables, there are also lockers available for you at the Great Canadian Midway, so you can relax and feel comfortable while you are checking everything out.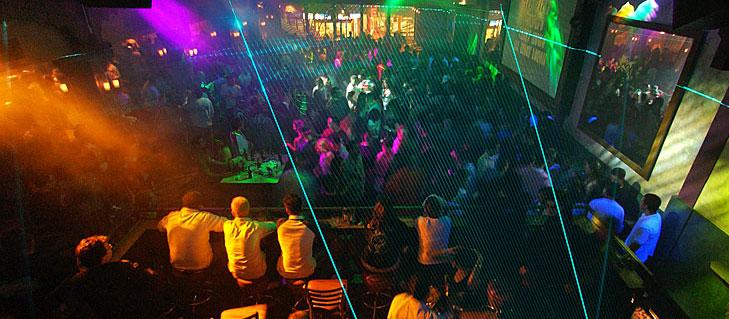 As you can see there is never a dull moment in Niagara Falls, so if you are looking for a fun time with the family on your Memorial Day long weekend, think about planning a trip to Niagara Falls and use Clifton Hill as your gateway to an amazing Memorial Day weekend!!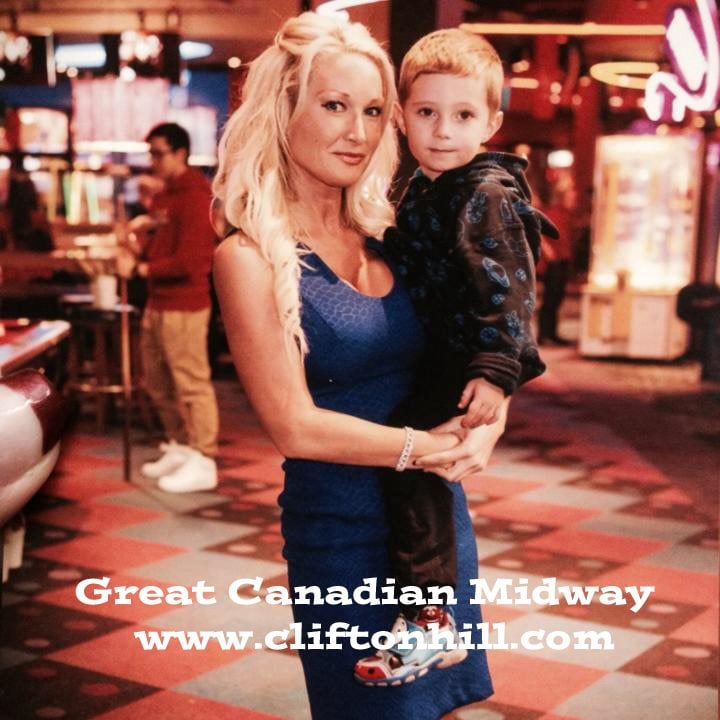 Christine Lynn
clynn@cliftonhill.com
Facebook: www.CliftonHill.com/fb
Twitter: www.CliftonHill.com/twt
Google+: www.CliftonHill.com/gplus
Pinterest: www.CliftonHill.com/pin
Instagram: @cliftonhillfun
— clynn