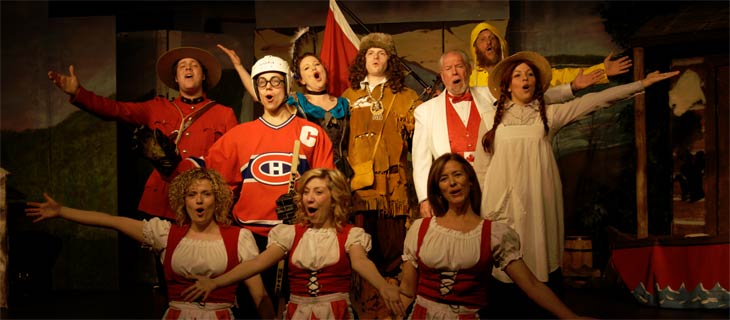 Meet singing Mounties, lumberjacks, a hockey player, Anne of Green Gables and many other Canadian characters as you enjoy the songs and scenes of Canada.
Multi-talented performers sing Canadian songs in a friendly, wilderness atmosphere inside a rustic log cabin. While you are enjoying the show, our performers also serve your meal. Both lunchtime (12:00 noon), and dinnertime (6:30 pm) meals are available.
Their dinner shows include:
French Canadian Pea Soup
Garden Salad
Fresh Bread
Alberta Grade A Roast Beef (Dinner only)
Fresh Atlantic Haddock
Manitoba Roast Chicken
New Brunswick Vegetable Medley
PEI Potatoes
Maple Chocolate Cake
Since opening in 1994, they have entertained over 750,000 guests from all over the world in this 248-seat rustic log cabin theatre.
They pride themselves on having a fully accessible theatre, including the lobby and restrooms. There are no stairs or ramps required.
This show can be enjoyed by all ages.
Our cast and crew are looking forward to making you feel welcome during your visit to Niagara Falls, Canada.