12572 Views
Niagara Falls Canada Day Long Weekend
Niagara Falls Canada Day Weekend
Join us for Niagara Falls Canada Day weekend to celebrate Canada's birthday on the first weekend of the summer! It's not necessarily a "long weekend" this year, as Canada Day falls on a Wednesday — but that's not going to stop a lot of people from taking an additional day or two off during the week and making it one.
Niagara Falls, Canada is the "place to be" for one of the biggest annual birthday celebrations on Wednesday, July 1st, 2015. It's a giant celebration throughout Niagara's tourist and entertainment areas.
The crowds start to gather in Downtown Niagara Falls at Queen Street for the city's official Canada Day Parade. Then followed by multiple concerts and performances in the evening. Plus our world-famous Niagara Falls fireworks show that you simply don't want to miss!
We will be buzzing with activity, as Canadians from across the country flock to the area to celebrate Canada's 148th birthday in style!
Canada Day Celebration Highlights
Niagara Falls Canada Day Fireworks!
Date: Sunday, June 28th and Wednesday, July 1st | Time: 10:00 pm
Fired from the base of the Niagara gorge, directly across from the American Falls, a spectacular pyrotechnic display will kick off the weekend celebrations in style! To get the best view, be sure to watch from the bottom of Clifton Hill. (Locals secret). These spectacular Canada Day fireworks are provided free for your viewing pleasure by the local hotel, attraction and restaurant owners of Niagara Falls, Canada.
Another fantastic way to view the fireworks and the beauty of the Niagara Falls is from the 175 foot Niagara SkyWheel. Each gondola can hold up to eight people with panoramic views of the Niagara skyline. Enjoy the comfort of climate-controlled enclosed gondolas. Wheelchair accessible gondolas are also available.
If you are sticking around Clifton Hill for the Fireworks show down at Queen Victoria Park at 10:00 pm, it is definitely worth it to stick around after to relax and enjoy the sites some more.  The hill will be busy, grab a seat at Kelsey's or Boston Pizza and do a little people watching!
Kelsey's Niagara:
Hornblower Niagara Cruises
It's easily one of Niagara's favourites! The Hornblower Niagara Cruises is a thrilling new way to experience Canada's most spectacular wonder of the world. They will take you on the ride of your life! An intimate tour that gets you as close as possible to the breathtaking flow of water, power and mist that is the magnificent Niagara Falls. Within the Niagara Great Gorge, the catamarans will journey past the American Falls, Bridal Veil Falls and into the very heart of the famous Horseshoe Falls.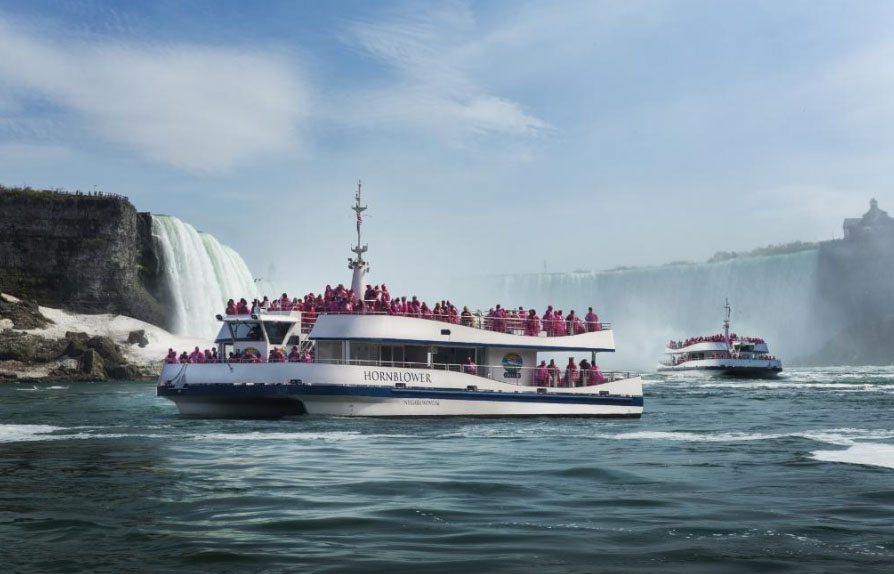 Hornblower Niagara Cruises is located on the Niagara Parkway at the north end of Queen Victoria Park, close to the Rainbow Bridge and the Oakes Garden Theatre at the foot of the Clifton Hill tourist area.

Build Your Own Niagara Falls Adventure: Add your favourite Niagara Falls theme rides, combo passes and restaurant specials directly to your reservation when you book online.
Simply select the attractions, combo passes, restaurants specials you want, and the quantity needed, and you'll be all set. Your order items will be held at our front desk until you arrive and check-in.
Niagara Falls Canada Day Celebrations!
3rd Annual 5K Run or Walk for St. John Ambulance at Oakes Park
Registration begins at 8:00 am
Prizes, fruit, & medals for age category winners
Entry forms are available at St. John Ambulance, 5734

Glenholme

Avenue, Niagara Falls or online at www.eventsonline.ca
11:00 am • Canada Day Parade begins! 
The Niagara Falls Canada Day parade begins on Victoria Av. at Armoury St., travels north to Valley Way, onto Queen St., ending at Queen and St. Clair. Our Niagara Falls Pan Am and Para Pan Torch Bearers will also be in the parade.
10:00 am – 11:00 am: Niagara Falls Concert Band performing out front of the Niagara Falls Public Library at 4848 Victoria Av.
11:00 am: Parade begins.
12:30 pm • Opening Ceremonies! The Canada Day Opening Ceremonies begins with the Canadian National Anthem at 12:30 pm on the City Hall Main Stage of Centennial Square on Queen Street. Entertainment and events for the Canada Day celebration include:
Free Birthday Cake from Portage Bakery (while quantities last)

Presentation of the Good Canadian Citizen Awards
Children's

Inflatables

Rock Climbing
Mini-Putt
Face Painting
Reptile Kingdom
Electronic Animal Rides
Car Show (1:00 – 5:00 pm) lined up along Queen St., between Victoria and

Crysler

Av. There is no entry fee this year, with 2 awards to be presented
Mad Science Fun Stations
Live Entertainment at the Main Stage at City Hall until 9:00 pm:
**Hosted by Oren Williamson and Pete Dychtiar**
1:00 pm  Night Fever
2:00 pm  Abbamania
3:00 pm  Brooklyn Roebuck
3:45 pm  Andrea Godin
4:15 pm  Roger Ortega
5:00 pm Thriller
6:30 pm  Rebel Coast
7:30 pm  Matt Wells
9:00 pm Entertainment concludes
NEW this year: Carmel Fine Art Show along Ontario Avenue (Art for Animals, a Kids Creative Zone, and interactive art areas)
EXTREME Music, Dance & Sports performances, showcasing a BMX stunt team
Slam Dunk basketball shows
skateboarding demos

hoola

hoop fun zone
Pepper Palace

WingFest

at Taps on Queen St.
*Temporary road closures will occur: Victoria Av. (from Jepson to Queen) closed 10:00 am – 1:00 pm. All of Queen Street will be closed from 7:00 am – 7:00 pm. Queen from Ontario to Erie will remain closed until 10:00 pm for entertainment at City Hall.
8:00 pm • Coca-Cola Concert Series! Starting at 8 pm is a free concert sponsored by Coca-Cola at the Illumination Stage in Queen Victoria Park.
10:00 pm • Fireworks! Niagara Falls Canada Day fireworks fired from the base of the gorge.
Fort George Canada Day Events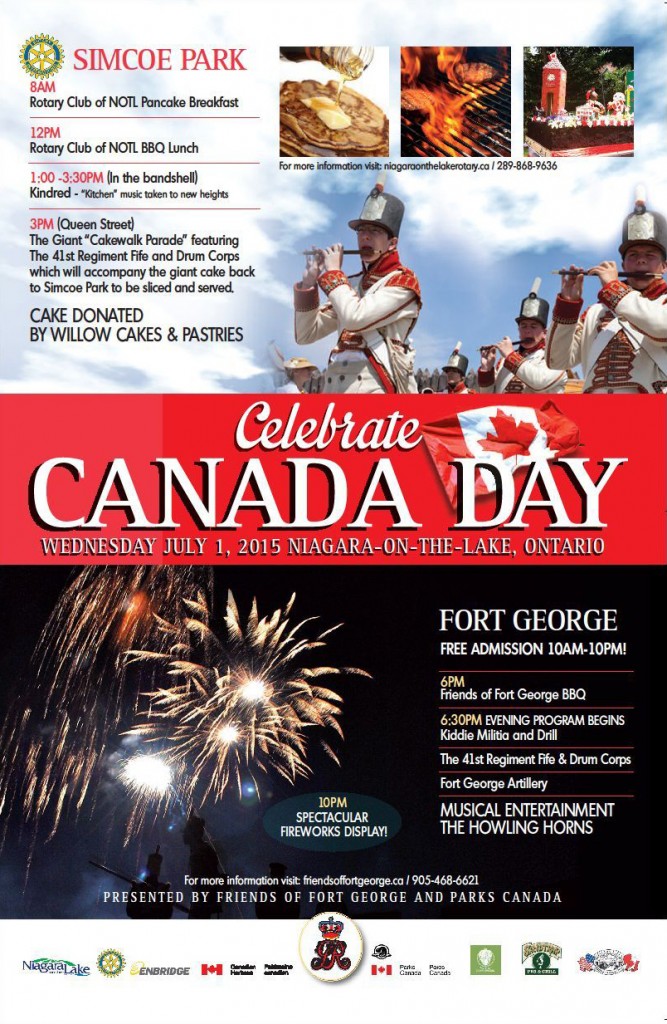 Free event at Fort George in Niagara-on-the-Lake at 10:00 am, but begins at 8:00 am with a pancake breakfast and BBQ lunch in Simcoe Park (8:00 am – 11:00 am), followed by a BBQ dinner at Fort George and fireworks in the evening.  It's a family fun day, which includes music, food, fireworks, muskets, cannon firings, local heritage group displays, antique auto displays and fireworks.
Call 905-468-6621 or visit them online at www.friendsoffortgeorge.ca.
Niagara Summer of Thrills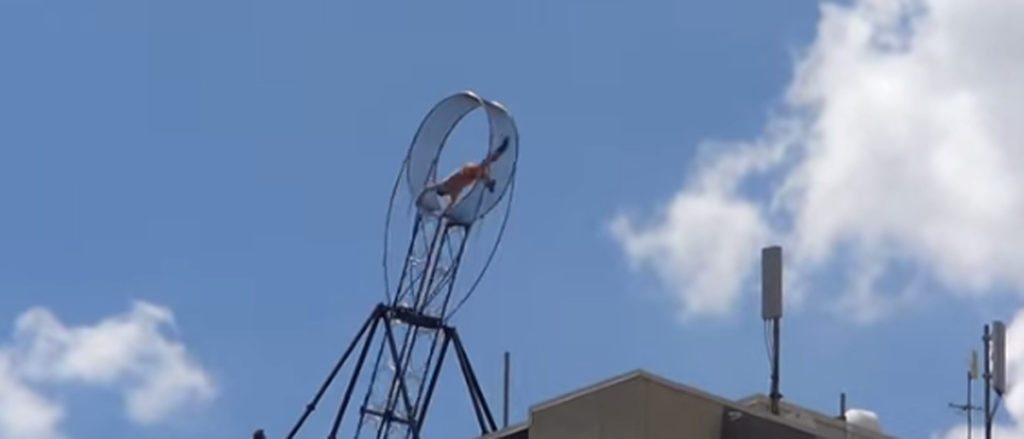 For only the 2nd year running, we welcome back the FREE Niagara Summer of Thrills shows! All of these acts will be located at the top of Clifton Hill on Victoria Avenue.
Thursday, July 2nd – Monday, September 7th, 2015 (with the exception of Tuesday's and Wednesday's)
Experience more events than the year previous with 9 Variety Acts and 4 Thrill Shows Daily!
Variety Acts
These are a wide range of versatile, professional performing artists who provide engaging, memorable entertainment. These acts will feature magic, unicycling, chain saw juggling, clowns, rola bola, escape acts, rope walking, etc.
Thrill Acts
Sky Scraping Sway Pole Act: Duo
Take in the unwavering courage of daredevil athletes atop 2 flexible slender poles. Aerial acrobatics, a jaw-dropping midair exchange, and a death-defying descent! This towers 70 feet tall above Victoria Av.!
Acrobatic Motorcycle High Wire: Duo
Witness a motorcycle balancing atop a thin steel cable with a trapeze aerialist beneath it. The motorcyclist completes several death-defying stunts, including free-standing on top of the motorcycle, as the aerialist performs various acrobatic stunts from the trapeze. They will then flip the bike and trapeze numerous revolutions around the cable.
This event is showcased at the Days Inn (5943 Victoria Av.), beginning at 30 feet high to approximately 100 feet high. The span is 330 feet long.
Wheel of Fate: Duo
This features an acrobatic daredevil on one end of a giant pendulum, while his beautiful partner counterbalances on the opposite end in an awesome display of balance and impeccable timing. They will build momentum while walking, running & jumping inside and outside of this revolving apparatus!
This event is showcased on the roof of the Imperial Hotel (5851 Victoria Av.)
Experience the very first Wheel of Fate show of 2014 all over again in this video:
Variety Act Performers: 1:30, 2:15, 3:30, 4:15, 5:30, 6:15, 7:30 pm (no shows on Tuesday's and Wednesday's)
Thrill Acts: 2:00 pm, 4:00 pm, 6:00 pm, and 8:00 pm (no shows on Tuesday's and Wednesday's)
28th Annual Friendship Festival
Date: June 26 – June 28, 2015

The Fort Erie Friendship Festival runs from Friday, June 26th to Sunday, June 28th and features many activities. Vendors, lots of food, a Midway and a great line up of entertainment is featured! Friday marks the opening day with the festival opening at 11:00 am. Live shows every night starting at 7:00 pm.
Visit www.friendshipfestival.com for more details.
Safari Niagara Canada Day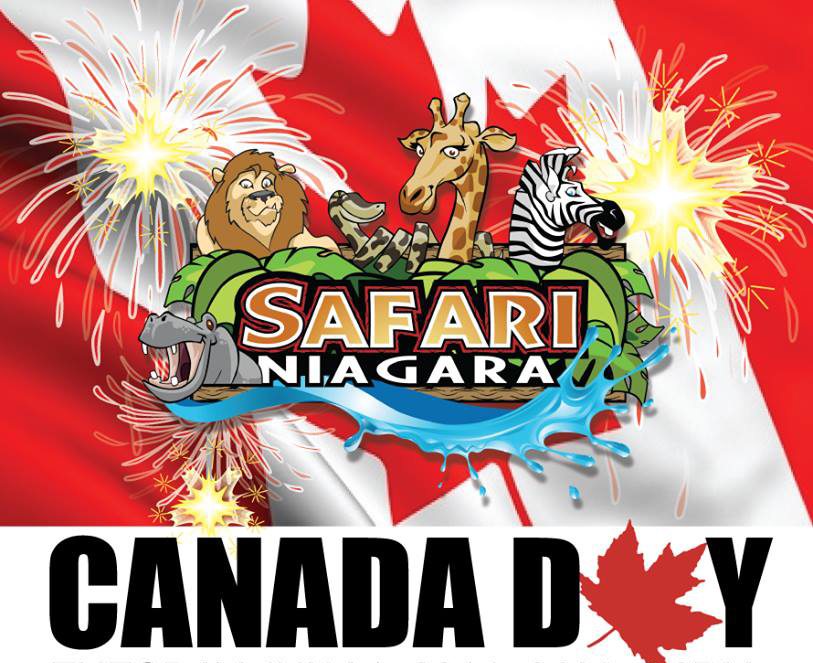 Safari Niagara will  be having a fun-filled day with safari rides, specials, face painting, animals and more! Come on out with the whole family for some fun in the sun, and awesome activities!
On any day, Safari Niagara will credit $3.00 off regular admission fees when you show your Clifton Hill Fun Passes at the gate.
Click on the image below for information on the Clifton Hill Fun Passes!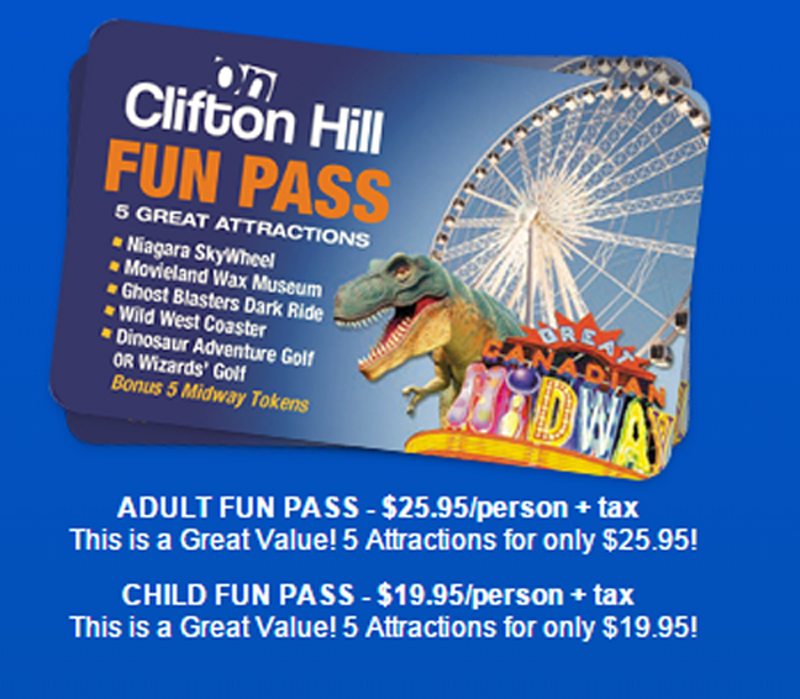 Parking for the Niagara Falls Canada Day 8:00 pm Concert and 10:00 pm Fireworks Show, plus quick access to the Hornblower Niagara Cruises!
You will find plenty of parking over the Niagara Falls Canada Day weekend at this lot pictured in the map below. Only a 5 minute walk down Clifton Hill to the fireworks show, complete with a jolly cut for those of you that are parked closer to the Skylon Tower. Remember, Niagara Falls be super busy for Canada Day — which means parking will be scarce. This lot is large, extending from the rear of the Clifton Hill Niagara Falls Hotel to the Skylon Tower. It's also a lot open for the public, and not just hotel guests: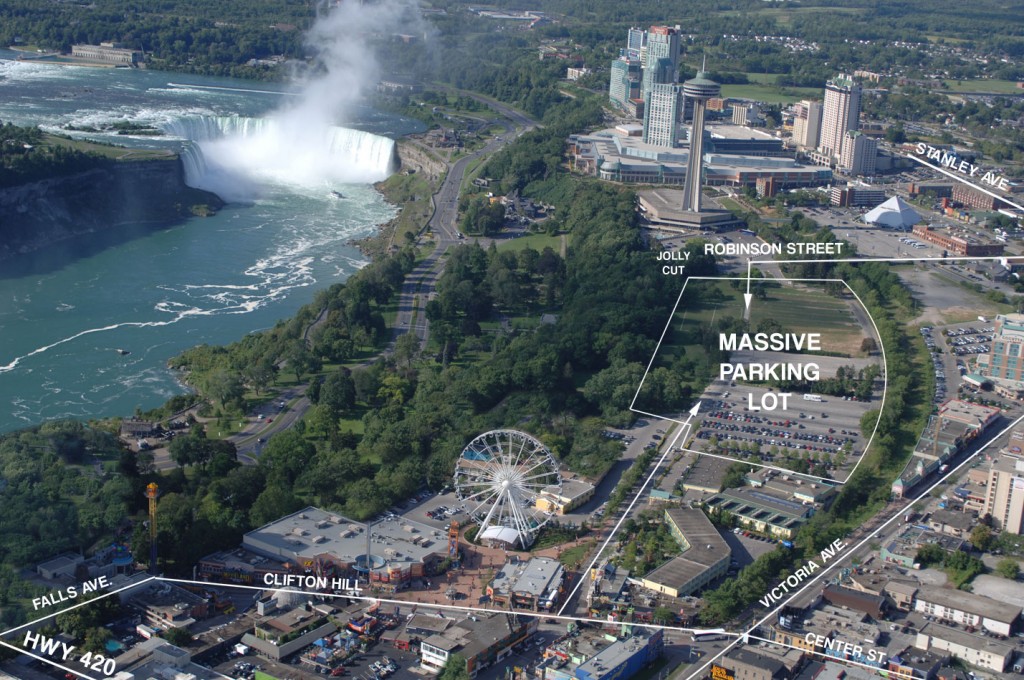 Here's the easiest way to get to this parking lot (via the back way at Robinson St.):
Route #1 From Highway 420
1.  Once you are on Highway 420 heading towards the Falls.
2.  Turn RIGHT onto Stanley Avenue.
3.  Take Stanley past Lundy's Lane.
4.  LEFT on Robinson Street.
5.  Continue Straight and before you hit the dead-end go LEFT into the Comfort Inn Clifton Hill back entrance.
Route #2 From Highway 20 (turns into Lundy's Lane)
1.  Follow Highway 20 past Thorold Townline Road (where it turns into Lundy's Lane).
2.  Turn RIGHT onto Stanley Avenue.
3.  Turn LEFT on Robinson Street.
4.  Continue Straight and before you hit the dead-end go LEFT into the Comfort Inn Clifton Hill back entrance.
Route #3 From Thorold Stone Road
1.  If you are on the QEW heading south towards Niagara Falls you will see signs for Thorold Stone Road.
2.  Take the Thorold Stone Road exit and turn LEFT, continue all the way through to Stanley Avenue, slight right.
3.  Follow Stanley Ave past Highway 420 and Lundy's Lane.
4.  Turn LEFT on Robinson Street.
Continue Straight and before you hit the dead-end go LEFT into the Comfort Inn Clifton Hill back entrance.
Route #4 From McLeod Road
1. On the QEW, head south towards the Falls and take the McLeod Rd exit and turn left.
2. Travel through to the Marineland Parkway and turn LEFT on Stanley Ave.
3. Turn RIGHT onto Robinson Street.
4. Continue Straight and before you hit the dead-end go LEFT into the Comfort Inn Clifton Hill back entrance.
For a video showing you visually how to get to this lot, check this out:
This will be an amazing weekend for the Niagara Falls Canada Day weekend!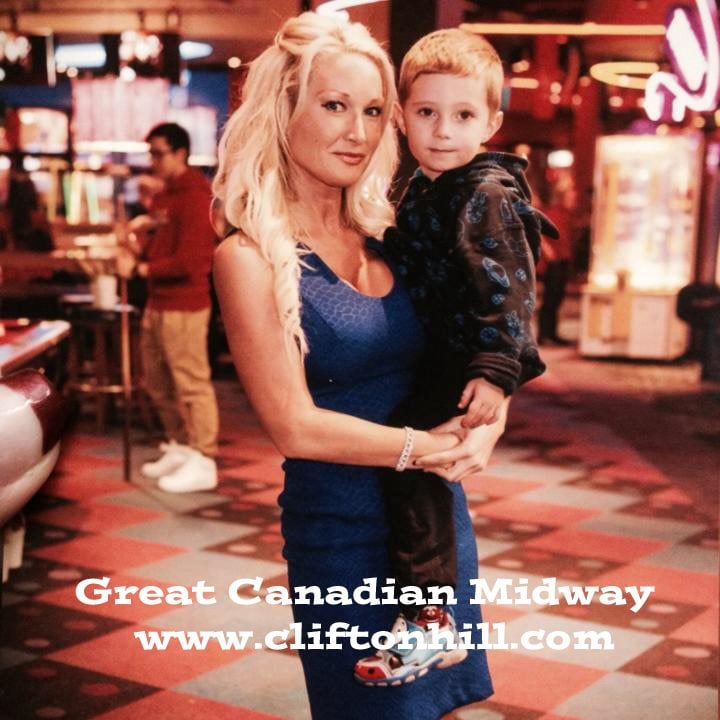 Christine Lynn
clynn@cliftonhill.com
Facebook: www.CliftonHill.com/fb
Twitter: www.CliftonHill.com/twt
Google+: www.CliftonHill.com/gplus
Pinterest: www.CliftonHill.com/pin
Instagram: @cliftonhillfun
— Falls_Blog