In the province of Quebec, the Construction Holiday is the most popular time for Summer vacations. In 1970, Quebec legislated an annual holiday for the construction industry which begins the second last Sunday of July (July 23rd, 2017) for a period of two weeks (ending August 6, 2017). The Construction Holiday is the busiest time for Quebec's tourism industry, accounting for a surge of up to 40% in sales. It is also the time when many people outside the construction business in Quebec decide to schedule their Summer vacations as well — many of which decide to come to Clifton Hill in Niagara Falls for some family fun adventures.
This street is alive with activity for the whole family. From hundreds of arcade games for every age to enjoy at the Great Canadian Midway and the new Niagara Speedway Game Zone, to riding North America's largest observation wheel, the Niagara SkyWheel — no one will be bored on the street labeled the "Street of Fun by the Falls!" Clifton Hill is full of attractions, shopping and dining, and best of all, we are located just steps away from the falls! The Clifton Hill Fun Pass gives you access into 6 of our most popular attractions at a $25 off individual retail savings. Also, when purchasing online, you'll be given a bonus admission to the Niagara SkyWheel x 2!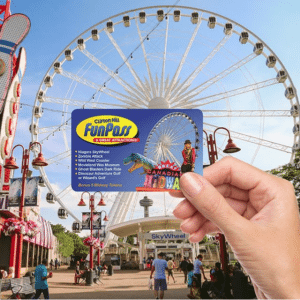 Start planning your vacation by choosing a Clifton Hill Hotel that will keep you situated in a location close to all of Niagara's top attractions, and within walking distance. For our suggestions of excellent choices that offer family packages at affordable rates, see our article: Top Niagara Falls Hotels 1 Block to the Falls and Clifton Hill.
World Class Attractions Within A Block of Niagara Falls: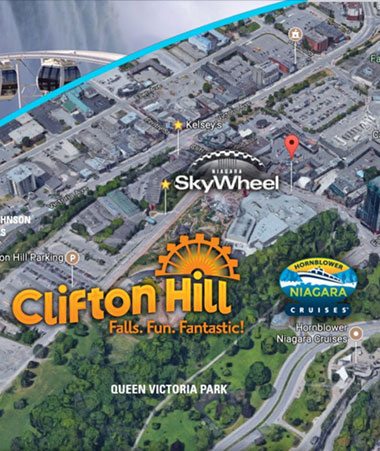 At the bottom of Clifton Hill, you can't help but notice the immaculate condition that the Niagara Parks takes to preserve the natural beauty surrounding the Niagara Falls. Take a stroll in the Oakes Garden Theatre, and capture some beautiful photos here.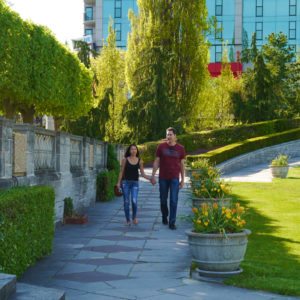 You most definitely will want to take in some nature during your Construction Holiday, such as touring the Niagara Glen. Guided hiking tours will depart from the Niagara Glen Nature Centre, taking visitors on a search for rare and unique spring blooms, birds and other wildlife found in our region. Tours require proper footwear suitable for rugged terrain.
If you are more of a viewer than a hiker, no worries! Hop on the Whirlpool Aero Car for a one of a kind tour of the Niagara Glen for some amazing photos!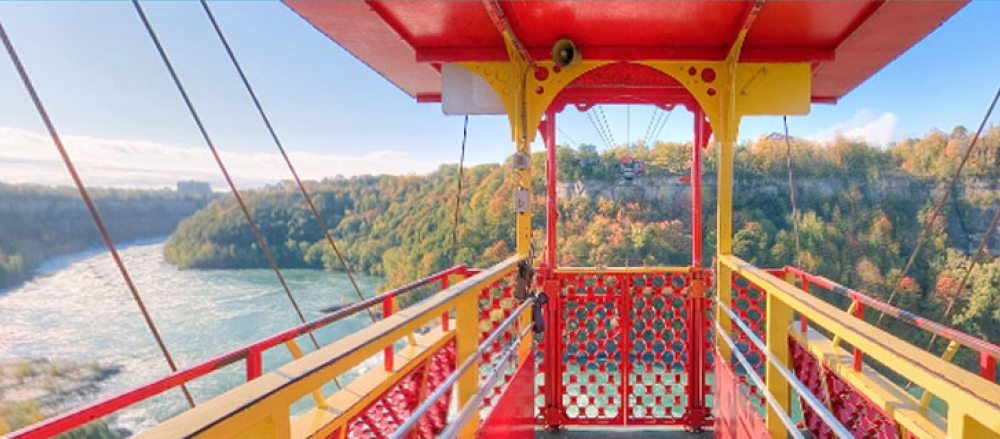 Every Monday through to Friday until September 4th, the skies above the Niagara Falls will light up with fireworks at 10:00 pm. Come early to Queen Victoria Park on these days, for the FREE concerts at 8:00 pm.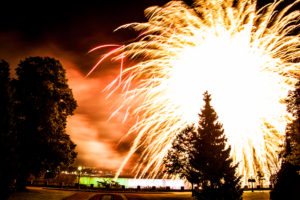 Exciting New Attractions
Zombie Attack
Survive brain-hungry zombies in the multi-sensory adventure, featuring real-time 6D graphics, located on Clifton Hill (across from the Niagara SkyWheel). Zombie Attack is a highly intense adventure that the whole family will talk about for the duration of your stay in Niagara Falls!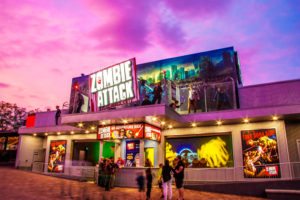 WildPlay Niagara Zipline & WildPlay Whirlpool Adventure Course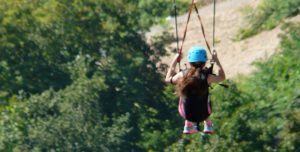 WildPlay's MistRider Zipline to the Falls soars high and fast above the gorge from the Grand View Marketplace (located at the the bottom of Clifton Hill and the Niagara Parkway), and will take you towards the Niagara Falls.  It includes four high-speed, side-by-side lines that will descend a distance of 670 metres (2200 feet) from the Grand View Marketplace into the Niagara Gorge below. It is suitable for ages 7 and older.
WildPlay's Whirlpool Adventure Course has three self-paced courses which include dozens of climbing, ziplining, jumping, and swinging obstacle games!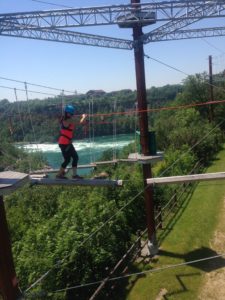 Hornblower Niagara Cruises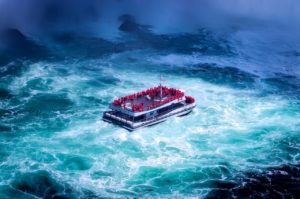 Still in its infancy, Hornblower Niagara Cruises is still a relatively new attraction that launches from the Canadian side of the border, and best of all, it's located just at the bottom of Clifton Hill.  You will get as close as possible to the breathtaking flow of water, power and mist that is the magnificent Niagara Falls.
See all our Clifton Hill, Niagara Falls deals on attractions, dining, fun and games, with our Build-A-Packages offerings. This is where you get to pick and choose discounts best suited to your family and start saving now:
We welcome all our friends from Quebec to Niagara Falls and we look forward to having you and your family come and experience everything that Niagara Falls has to offer for the Construction Holiday!