Niagara Falls Civic Holiday Long Weekend Activities
Civic Holiday makes a perfect long weekend getaway to Niagara Falls
Another Civic Holiday long weekend is just around the corner, are you ready for some well deserved extra time off?  Well here in Niagara Falls, we are gearing up along Clifton Hill to accommodate you and your family for a weekend filled with adventures on "The Street of Fun by the Falls."
Did you know?
The date of the Civic Holiday is historically linked to the abolition of slavery in the British Empire in 1834 but was chosen primarily for its timing: between Canada Day and Labor Day there were no recognizable holidays, one of the longest stretches on the Canadian calendar without a holiday.
What to do this Civic Holiday in Niagara Falls
Now you know why we celebrate the Civic Holiday, so let's get to the good stuff…what to do with your extended weekend away from work?  If you are coming to Niagara Falls to let loose you will not be disappointed, and if you are staying at the Comfort Inn Clifton Hill you are off to a good start because it is only minutes from the most exciting things to do in Niagara Falls.
You can start your day of early at the Dinosaur Adventure Golf which is right across from the hotel, moving onto the world-famous SkyWheel to get some amazing views of Niagara Falls.  If you start to get a little hungry, Boston Pizza is perfect for the entire family, an easy pick and most people's favourite is the pizza.
Niagara Summer of Thrills
The "Niagara Summer of Thrills" is a stunt show starring Texas native Enrique Valencia. For 10 weeks, he has temporarily moved to Niagara Falls to share his daredevil acts with us! Each day (with the exception of Wednesday's and Thursday's), he will perform 2 different stunts a day (10 minutes each time), four times a day. At 2:00 pm and 6:00 pm, Enrique will be perched upon the 10-storey Imperial Hotel on Victoria Avenue for the "Wheel of Fate". The wheel is situated on the roof of the Imperial Hotel and is a revolving wheel that Valencia will conduct stunts within — and on top of.
At 4:00 pm and 8:00 pm, he drives a motorcycle across a highwire that is strung together between the Days Inn Victoria Avenue and the Louis Tussaud's Wax Museum. Suspended beneath the highwire, his assistant will conduct acrobatic routines! This stunt is the "Highwire Sky Cycle" act.
Approximately a half hour before each and every routine, fire and chainsaw jugglers will entertain the audience and help to build and liven up the crowd for the main event. The "Niagara Summer of Thrills" is easy to find. Both stunt acts are located within 30 seconds of the corner of Victoria Avenue and Clifton Hill. Performances take place from June 27th to September 1st, 2014.
Here are some other fun things to do during the Civic Holiday weekend in Niagara Falls: 
Things to Do for Civic Holiday Weekend & Beyond!
The Four Tops
Fireworks
Elton Rohn
Darius Rucker
Greg

Frewin

Show
Theory of a Deadman

Rocketman

Niagara Cruises
Kevin James
Night Fever Live
Falls Illumination
George Lopez
Smokey Robinson
Niagara

SkyWheel

Dance Temptation
Civic Holiday Fireworks in Niagara Falls!
It wouldn't be an amazing Civic Holiday in Niagara Falls without Fireworks. Enjoy the best fireworks show in Niagara Falls on your long weekend. There will be fireworks on Friday and Sunday at 10pm. The bottom of the hill on Clifton Hill is one of the best spots to capture the fireworks.
Don't forget about the FREE Coca-Cola concerts occurring on Friday, Sunday and the Civic Holiday Monday at 8:00 pm! Friday, August 1st, 2014 features the critically acclaimed "Dragon Ritual Drummers" who perform amazing and unique music  which is creative, intense and powerful. They bring the audience to their feet dancing as they are swept away in the intense beat of music from around the world and through the ages. Ranked #1 on the Canadian MySpace music charts, in the top twenty on the U.S. MySpace music charts and ranked #1 on ReverbNation for their genre.
http://www.youtube.com/watch?v=3rf0CGkhsAI
Monday, August 4th, 2014: "The Madhatters" rock-esque quartet brings their clean sound that oozes with melodic instrumentals and larger-than-life vocals. They have mastered the live show with their beyond accurate portrayal of covers. Having earned a supportive following, they have taken on the role of original songwriters and are currently recording their own original music as well.  Having shared a bill with such artists as Bruce Springsteen, Dave Rave (Teenage Head), David Usher, Smash Mouth & Honeymoon Suite, The Madhatters have experienced the rush of playing in front of over 25,000 people.
http://www.youtube.com/watch?v=tZVuOTt5g6k
Rumours Nightclub

After the 10:00 pm Niagara Fireworks show, the party doesn't stop then! Head back up Clifton Hill to Rumours Nightclub on Sunday, August 3rd for their huge Civic Holiday event. Special guest "DJ Danny D" will be spinning the tunes all night long! This will be a packed event — get there early to avoid the lines and party hard!
Make it a family trip this Civic Holiday long-weekend!
There are so many great attractions to enjoy with the family in Niagara Falls. From Maid of the Mist to Niagara Parks to Marineland; so many great places for the family to enjoy. With so much to do in Niagara Falls you may want to look into a package deal, one of the most popular is Marineland! If you have kids I am sure you have heard them sing this famous jingle "Everyone LOVES Marineland." And words couldn't be truer! For package details click here.
Or the Clifton Hill Fun Pass - that includes tickets to some of Niagara Falls most popular attractions. Like the all new Wizards Golf,  XD Theater and the SkyWheel!
The All Wizards Golf! A Part of the FUN PASS!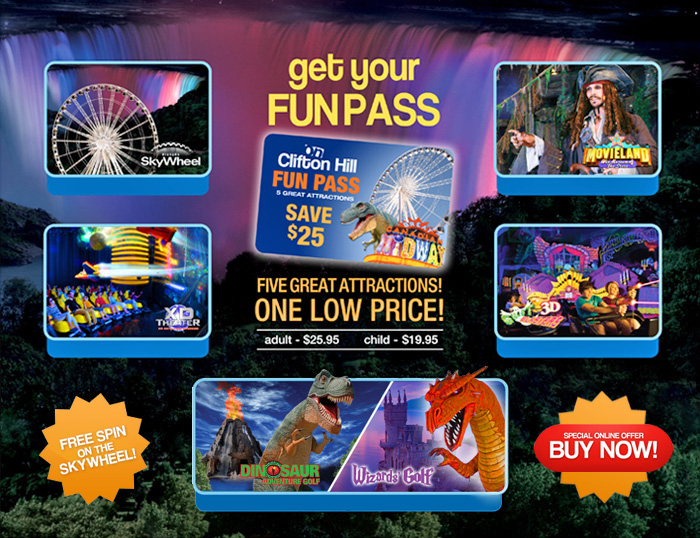 Or you may want to build your own Niagara Falls adventure this Civic Holiday long weekend! With Clifton Hill's special "Build-A-Package" offers.
Parking
Need to find an inexpensive lot with plenty of parking central to all the most popular amenities and attractions in Niagara Falls? Click on the map below for directions to this Niagara Falls lot located just off Clifton Hill and 5 minutes from Queen Victoria Park.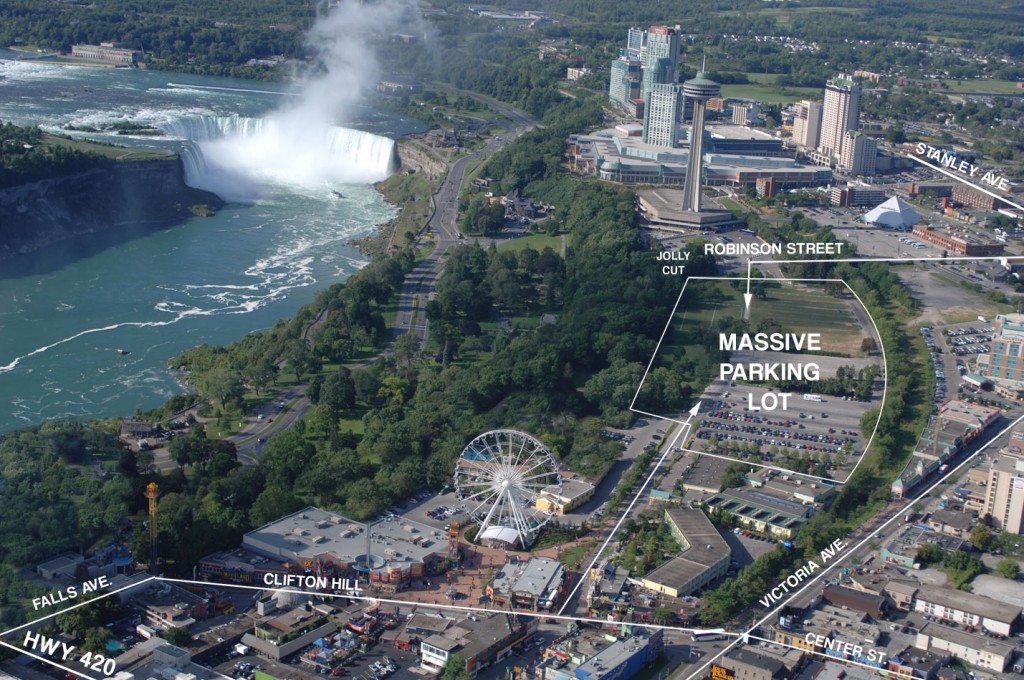 Other Local Events:
Canal Days Heritage Festival in Port Colborne – August 1st – 4th, 2014
The Canal Days Heritage Festival has the Tall Ships gather for a celebration of heritage at the height of summer that transforms the city into a four day festival over the Civic Holiday weekend. Thousands of people visit Port Colborne during this time — it has grown into a festival of roughly over 300,000 visitors each year. Come to Port Colborne, located at the Welland Canal and north of the Lake Erie for the four days grand festivity that runs from Friday, August 1st to Monday, August 4th, 2014. There will be lots of fun activities and events lined up including:
Royal Ontario Museum Travelling Starlab
Youth Area, Seaway Park
Historic West Street for food and shopping
Fireworks August 3, 2014 at 10:00 pm
Indoor Craft Show
Mountain Bike Race
Midway Ride and Games
Live entertainment
Car and Kite Show HH Knoll Lakeview Park
Bring your whole family for the Canal Days car and kite show. The daylong celebration at this beautiful lakeside setting includes huge collection of classic cars, live entertainment, food vendors, kid's competitions and lot more! The show is FREE.
FREE Canal Days Concerts at Market Square
August 1 – 7:30pm
August 2 – 7:30pm
August 4 – 12:00 noon
Elvis Tribute Act
*Guests may bring chairs. *Donations ($2 to $5) are appreciated and accepted
Hopefully you have enough information to plan your Civic Holiday in Niagara Falls.  We look forward to seeing you.  If you want to keep in touch you can socialize with us on our Facebook page or through Twitter @cliftonhillfun.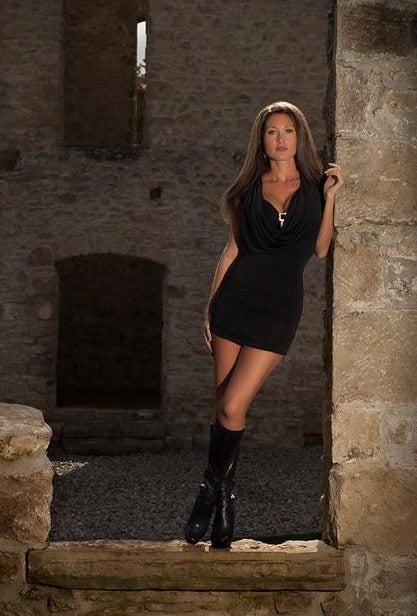 Christine Lynn
— editor