Sep 29, 2015
Spend a One-of-a-kind Thanksgiving Weekend In Niagara
NIAGARA FALLS, ON There is much to be thankful for in Niagara Falls. Finally, the hot muggy days and large Summer crowds have been replaced with crisp sweater-weather, vivid sunsets and spectacular autumn colours.
Thanksgiving is the perfect Niagara weekend! Visitors can still enjoy all their favourite area sites and attractions, without the crowds.
Whether you prefer to stroll through one of Niagara's colourful parks … enjoy the dazzle and excitement of Clifton Hill, or take in the natural wonder of the Horseshoe and American Falls, you won't be disappointed.
Niagara's countryside is bursting with colour … with Niagara fruit farmers harvesting what promises to be a bountiful crop … the morning grass is glistening with dew … and the air is full of a fruity freshness.
Not to mention, there is a ton of things to do!
Attraction seekers can still get the "Clifton Hill FUN PASS" – which gets you into FIVE of Niagara's most popular attractions: The 175-foot tall Niagara SkyWheel, Movieland Wax Museum, Ghost Blasters Dark Ride, Wild West Coaster, and your choice of Dinosaur Adventure Golf or Wizard's Golf. Click on the photo below for more details and/or to order them online. Ordering them online grants you 2 admissions to the Niagara SkyWheel for the same price as purchasing them on site.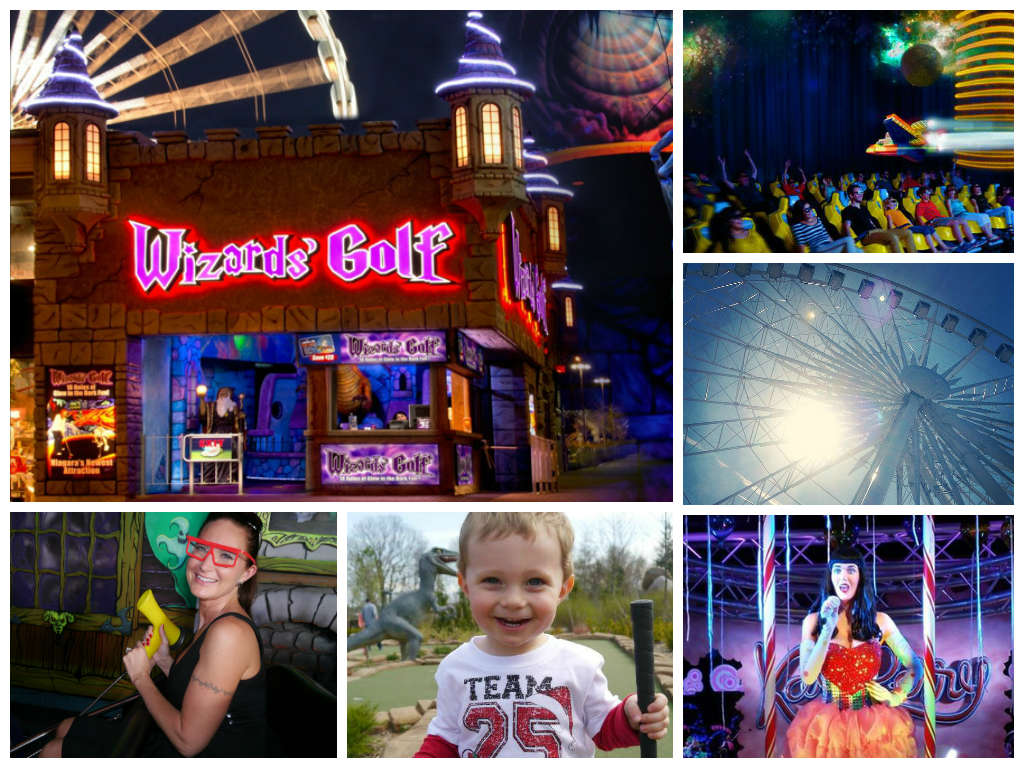 The Balls Falls Thanksgiving Festival in Vineland is the single biggest event for Niagara on Thanksgiving weekend. 
The 41st Annual Festival runs Friday, Oct. 9th to Monday, Oct. 12th, 9 am to 5 pm, and features over 150 selected artisans displaying and selling their creative wares such as pottery, paintings, jewelry, lawn ornaments and clothing.  Daily live entertainment, children's activities and numerous heritage displays will keep visitors engaged.
The Festival has become a long-standing, favourite tradition for both families and visitors who come from far and wide to experience the Ball's Falls Annual Festival and its natural setting. In addition to the arts, crafts and wares, you can enjoy the incredible beauty of this 19th Century hamlet, set amid the majestic Niagara Escarpment and Twenty Valley eco-system. The event is a major fundraiser for the Niagara Peninsula Conservation Authority (NPCA), with revenues from admission directed to a number of NPCA's conservation programs.
Click here for more info on the Balls Falls Thanksgiving Festival, plus some other exciting Festivals and Fairs coming up this Fall season in Niagara!
Howell Family Pumpkin Farm
Visit the popular Howell Family Pumpkin Farm this Thanksgiving, which provides a cornucopia of Fall activities, including an animal farm, wagon rides, a fun maze, and a large pumpkin patch, and an impressive nightly Jack-o-Lantern show.
Thanksgiving Weekend Hours (extended hours on Thanksgiving Monday):
Friday, October 9th: 10 am – 10 pm
Saturday, October 10th: 10 am – 10 pm
Sunday, October 11th: 11 am – 7 pm
Monday, October 12th: 10 am – 7 pm 
Address: 
2878 Holland Rd., Fonthill, ON. 905-892-3918
Boo at the Zoo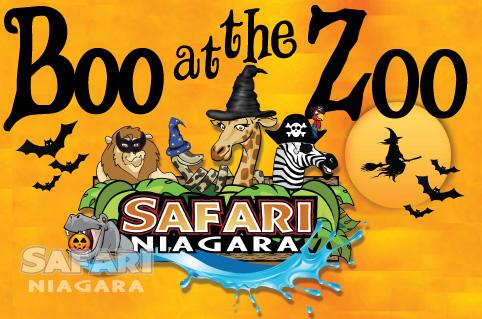 Trick or Treat your way around Safari Niagara brought to you by local businesses. This is a safe & unique Halloween Party you do not want to miss!
Date:
Saturday, October 10th, 2015 from 10:00 am to 4:00 pm 

Details:
*Children (0-12) dressed in costume will receive free entry into the park and free trick-or-treating!
*Adults (13+) pay a special rate of $15+tax
*Seasons Pass Member are FREE
*Donations of a non-perishable food item in support of COPE is appreciated
*Costume contests for age groups (0-5, 6-12, and even Adults!)
*Corn mazes
*Animal presentations
*Bouncies and Costume Contests
For more information please visit www.safariniagara.com or email  [email protected]
Steps away, the Clifton Hill Niagara Falls Hotel is offering deep discounts on Fallsview Waterpark passes, with their "Build a Package" booking option. Guests can save 40% off per person when they add Fallsview Waterpark Passes directly to their room reservation. Guests can also add many other attractions, entertainment and dining offers to their room, à la carte.
Whether you're looking for a fun family experience, or you're looking for a fun night of dancing, Niagara provides plenty of options to celebrate the Fall season.
Below are some great ideas to celebrate Autumn, Thanksgiving, and Halloween:
Warner Ranch
Dinosaur Adventure Golf
Legends in Concert
Greg Frewin Show
Nightmares Fear Factory
Howell Family Pumpkin Farm
Movieland Wax Museum
Falls Illumination
Fort George
Falls Fireworks
Ghost Blasters Darkride
Niagara SkyWheel
Wondering about finding plenty of parking close to all attractions, a 5 minute walk to view the Falls, quick access to the Hornblower Niagara Cruises, the Fallsview District and both casinos, plus the Niagara Falls fireworks shows? Niagara Falls Parking
Click the image below for the best Niagara Falls parking lot and the driving directions on how to get there: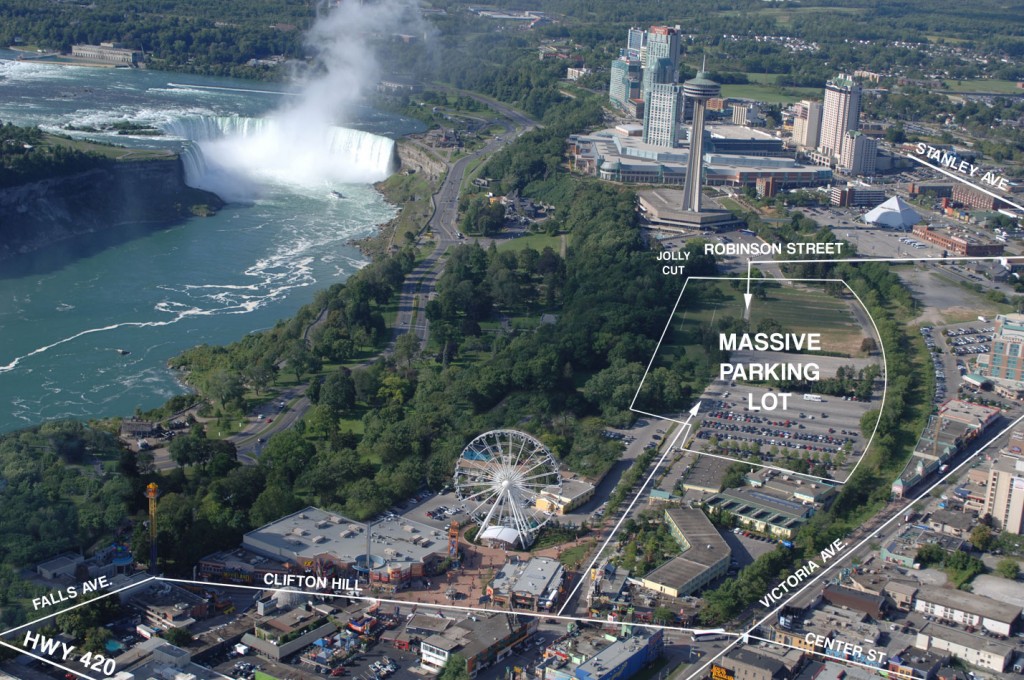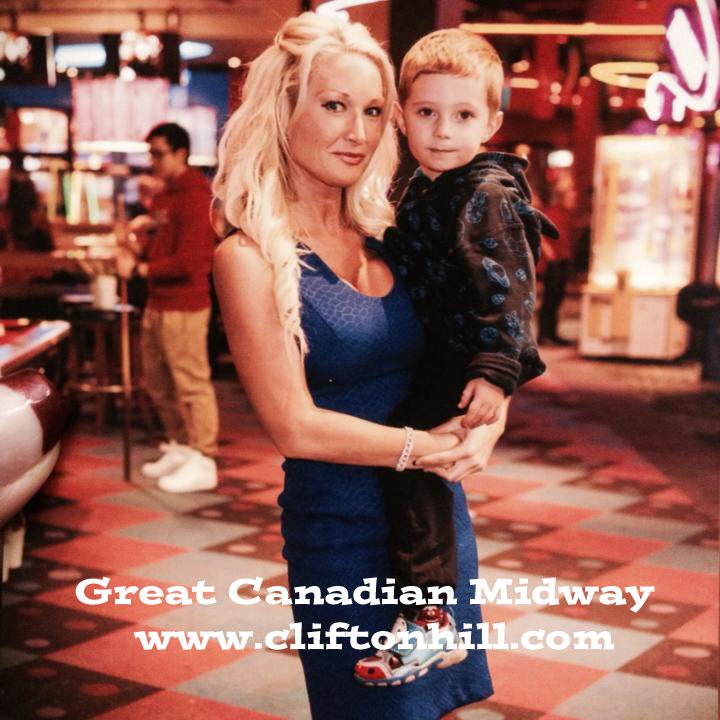 Christine Lynn
Facebook: www.CliftonHill.com/fb
Twitter: www.CliftonHill.com/twt
Google+: www.CliftonHill.com/gplus
Pinterest: www.CliftonHill.com/pin
Instagram: @cliftonhillfun
— Falls_Blog