Reading Time: 
6
minutes -
Why You Should Spend Family Day at Clifton Hill!
Family Day: February 18th, 2019
With Family Day just around the corner, parents are busy planning an adventure that the entire family will enjoy. It's not too late to make this year special and do more than your typical long weekend, family dinner at home situation. Packing up the kids in the car and making the trip down to Clifton Hill is sure to put you in your kid's "good book" and give you all a chance to relax and spend some quality time together.
360 ° of Indoor Fun
No matter what the temperature is outside, it's always 360 ° of fun inside here at Clifton Hill! It's not always easy coming up with ways to spend time with the family with the Canadian winters being so cold, but thankfully, our indoor attraction site is up for the challenge. We're home to Niagara's most famous world-class attractions that you and the kids can explore using the Fun Pass. Play a game of Wizard's Golf, a fantastical glow-in-the-dark mini golf game game set in a magical land filled with wizards and trolls. Then hop on our 6D adventure games like Zombie Attack, Ghost Blasters, and the Wild West Coaster that stimulates the senses and transports you to another place. The Fun Pass also get you into Movieland, a wax figure museum where you can spot all of your favorite stars and celebrities- the ultimate selfie opportunity! Buying your pass online also gets you an extra spin of the infamous Skywheel and 5 bonus tokens to be used at the Canadian Midway!
Beautiful Scenery and Central Location
You'll get to take two spins in the breathtaking Skywheel, a climate controlled private gondola that takes you up into the clouds. From way up here, you'll be able to show the kids the three falls that make up the Niagara Falls, Niagara River, Queen Victoria Park, and other remarkable landmarks. To access the Skywheel and other attraction on the Hill is rather nice too. You'll be able to park in one of our 750 parking spaces in a lot that just steps away from the fun. Restaurants, shopping, game, and rides are all walking distance away from each other and your car for maximum convenience.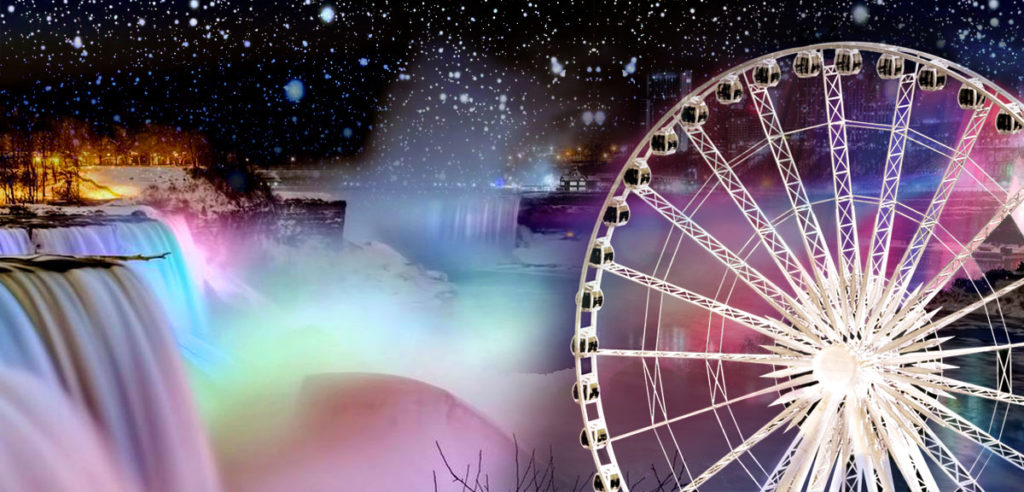 Please Picky Eaters
Oh picky eaters, a parents dream. Cooking for a family of so many different preferences and rules can be tiring, especially if one little one flat out refused to eat. To make your family day weekend just as enjoyable for you as it is for the kids, let us do the cooking and cleaning. Two family-friendly restaurants Kelsey's and Boston Pizza are located the top of the Hill. With menu items like plain pasta to chicken fingers for the kids and hundreds of fun options for you, you're sure to find something to satisfy every tummy.
If your hungry for savings, take advantage of our restaurant offers. Use the Boston Pizza Discount (available online only for the Clifton Hill location) towards a large pizza of your choice, and use the KELSEYS Clifton Hill Original Roadhouse coupon for FREE Fried Pickles when you purchase an entrée.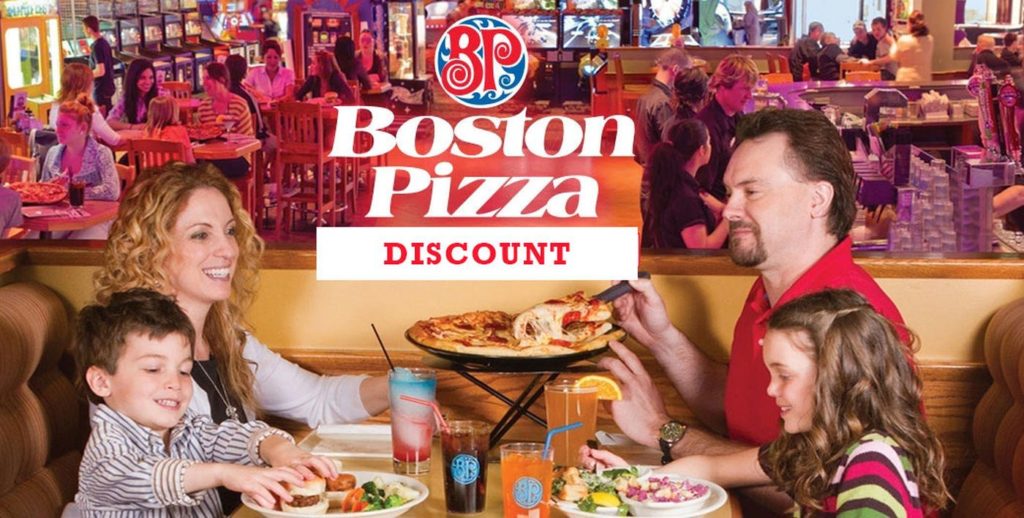 Healthy Competition
Nothing says family bonding like a few friendly but fiery competitive games! What'll it be? Kids vs. parents? Boys against girls? However you decide to divide the family into teams, the adventures are soon to come. Play classics like bowling and mini golf at our 14-alley bowling area and glow-in-the-dark mini golf. Then head over to the The Great Canadian Midway for an arcade game extravaganza! When you purchase a Fun Pass, you'll get 5-tokens to use at the Midway on arcade games like Pac-Man, Mario Kart, Air Hockey and more. Watch your kids enjoy all of the same things you did when you were a kid, and let the games begin!

Photos for the Albums
Clifton Hill is nothing short of photogenic. Use the landscape of Niagara Falls for a selfie with the family from up inside the Skywheel. Go on a hunt through the Clifton Hill to find the best photo spots and take a few for social media and to put into a photo album! Pssst, look for the giant ice cream cone and our prehistoric friends, the dinosaurs. The kids are sure to get a kick of all of this photo worthy features in the winter since slick icicles have been clinging on to everything. The winter has turned our dino's teeth into foot long, transparent daggers of death!
After a long day of fun, spend the night!
At the end of a fun-filled day, your family will be only a hop, skip and jump away from many different comfortable, "family-friendly" hotels on Clifton Hill. For example, the Howard Johnson Hotel by the Falls, Courtyard Marriott as well as the Travelodge by the Falls. Indeed we enjoy a prime central location on Clifton Hill, just 1 block to the Falls, Queen Victoria Park, Niagara Casinos, and much more.
Packages and Offers: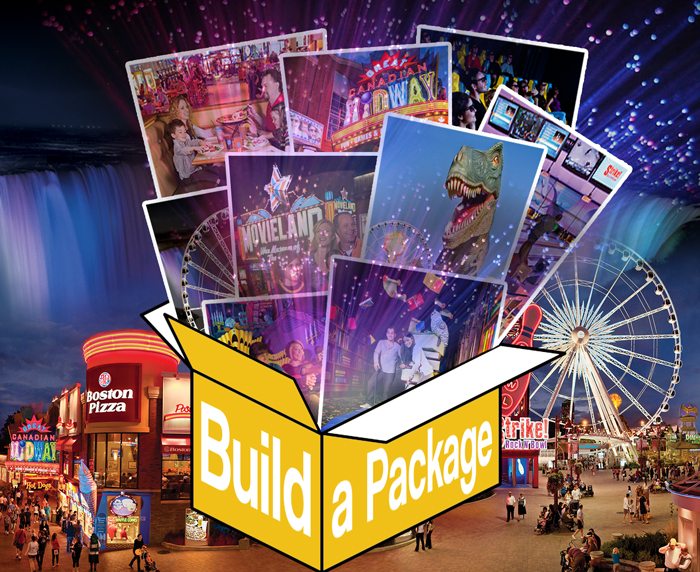 Check out our discount offers online and get in on some fantastic savings for a variety of Niagara's best attractions, entertainment and restaurants!
To start, simply select the all the offers you want, and the quantity needed, and then you'll be all set. Claim your order items at the Niagara SkyWheel upon arrival with the emailed confirmation slip that you will receive upon finalizing your order. To sum up, you can save hundreds of dollars on your next Family Day Niagara Falls vacation!​
Clifton Hill Fun Pass Deal!
Be sure to pick up the Fun Pass for 6 of our most popular attractions at a huge savings. It's the best value in town for attraction entertainment. Not only can your use it in one night, but also later in the weekend, or within a year of purchase.
**Online only: Get TWO admissions to the Niagara SkyWheel as a bonus!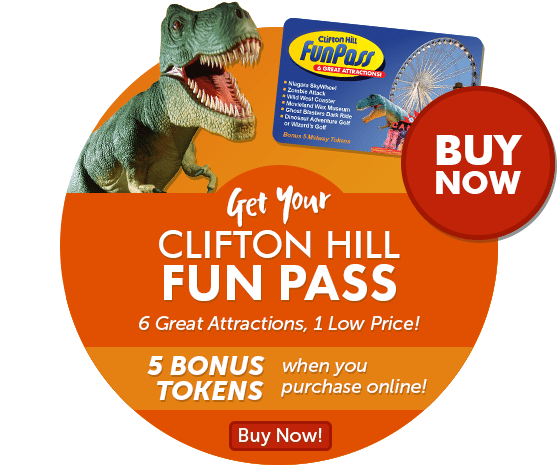 Since there's plenty to enjoy on Clifton Hill, families are therefore assured a funtastic time! Family Day Niagara Falls vacations are the best way for families to bond and unite as a family. Considering the pressures of families today, it's even more important to maintain a sense of togetherness with loved ones.
Clifton Hill provides convenient parking just 1 block to the Falls and right in between the Clifton Hill, Fallsview Boulevard, and Falls Avenue districts.