3480 Views
Tips for Celebrating New Years in Niagara Falls
If you plan on coming to Niagara Falls for the New Year's Eve festivities, I will provide you with some things you need to know about celebrating New Years in Niagara Falls. Having worked almost every New Year's Eve on Clifton Hill since 2002, I know what you need to expect during one of the busiest times in Niagara Falls.
Let's talk parking!
You may have been to the Falls 100 times, but have you ever came at the same time as over 100 thousand people?  New Years in Niagara Falls is insane traffic! Please, I can't stress enough, expect to arrive and be parked at your destination by 8:30pm at the latest. Choose a spot close enough to the New Year's festivities, that is also walking distance from wherever you plan on having dinner, etc. If you plan on seeing the New Year's Eve concert down at Queen Victoria Park,  hopefully you picked a hotel within walking distance to the show. If not, there are still a couple of rooms left at the Clifton Hill Niagara Falls Hotel, just a few minutes by foot to the park.
A parking lot that is close to not only the concert in the park, both casinos (Casino Niagara and Fallsview Casino), Fallsview Blvd. and all the main Clifton Hill attractions, is just off Robinson Street. If you enter the parking lot from the back, you will fare much better in getting in quickly — whereas entering at the front (off Clifton Hill) will be difficult depending on your time of arrival. Below, you will find a map of this lot. It is large and extends from the Comfort Inn Clifton Hill all the way to the Skylon Tower. You should have no problem finding a parking spot here, and the wait to leave the property afterwards will be far less than if you were able to find a parking spot along the Niagara Parkway.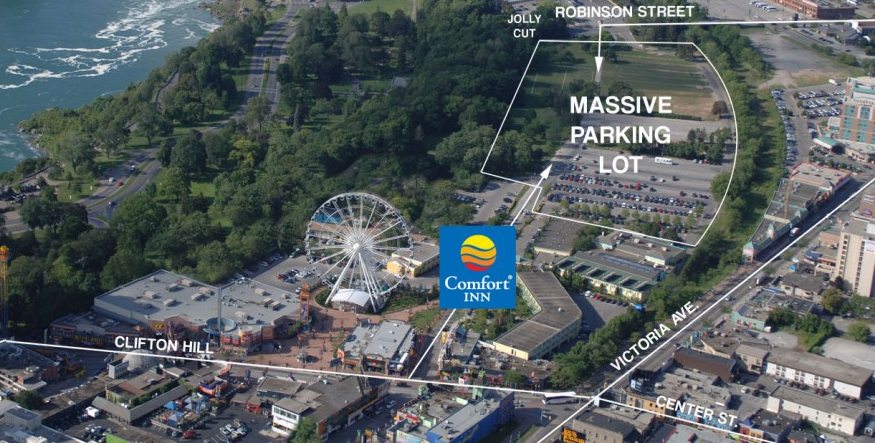 How to get here:
Route #1 From Highway 420
1. Once you are on Highway 420 head towards the Falls
2. Turn RIGHT onto Stanley Avenue
3.  Take Stanley past Lundy's Lane
4.  LEFT on Robinson Street.
5.  Continue Straight and before you hit the dead-end go LEFT into the Comfort Inn Clifton Hill back entrance.
Once parked, it's a quick walk to the main event.
Route #2 From Highway 20 (turns into Lundy's Lane)
1. Follow Highway 20 passed Thorold Townline Road (where it turns into Lundy's Lane)
2. Turn RIGHT onto Stanley Avenue
3. Turn LEFT on Robinson Street
4.  Continue straight and before you hit the dead-end go LEFT into the Comfort Inn Clifton Hill back entrance.
Once you're here, you will find parking spots and a quick walk to the Jolly Cut which takes you down to the event.
Route #3 From Thorold Stone Road
1.  If you are on the QEW heading south towards Niagara Falls you will see signs for Thorold Stone Road.
2.  Take the Thorold Stone Road exit and turn LEFT, continue all the way through to Stanley Avenue, slight right.
3.  Follow Stanley Ave past Highway 420 and Lundy's Lane
4.  Turn LEFT on Robinson Street
5.  Continue straight and before you hit the dead-end go LEFT into the Comfort Inn Clifton Hill back entrance.
Once parked, it's a quick walk to the main event.
Route #4 From McLeod Road
1. On the QEW, head south towards the Falls and take the McLeod Rd exit and turn left.
2. Travel through to the Marineland Parkway and turn LEFT on Stanley Ave
3. Turn RIGHT onto Robinson Street
4.  Continue straight and before you hit the dead-end go LEFT into the Comfort Inn Clifton Hill back entrance.
Once parked, it's a quick walk to the main event.
*Please note that exiting off the 420 onto Stanley Avenue will most surely be backed up all the way to Lundy's Lane. Your best bet would be to stay on the QEW Niagara and then get off at McLeod Road and backtrack (Route#4). You will be less likely to hit heavy traffic then.*
Here's a quick video featuring the parking lot described above so that you can physically see what has been described to you (including a look at the jolly cut — for fast and easy access to Queen Victoria Park for the New Years Eve show):
Public Transportation
WEGO buses will run from 10:00 am to 3:30 am.
The Falls Incline Railway located across from the Table Rock Centre will also run from 10:00 am to 1:00 am.
For more information on the WEGO system, plus numbers for Niagara Falls taxi services, click here.
Avoid long lines if you can when you want to check out the Niagara Falls attractions!
The Weather Network is calling for -5°c this New Years in Niagara Falls. It will seem even colder next to the Falls, so not only should you remember to dress warmly, but think about what attractions you plan on visiting while you are down here, and try to avoid standing out in the cold for a long period of time.
The free concert festivities will begin at 7:45 pm tonight, with local pop-rock quartet XPRIME, and indie-folk artist Beth Moore performing before Keith Urban, Nick Jonas, Lights and Shawn Mendes hit the stage.
Click on the image below for information on the main performers: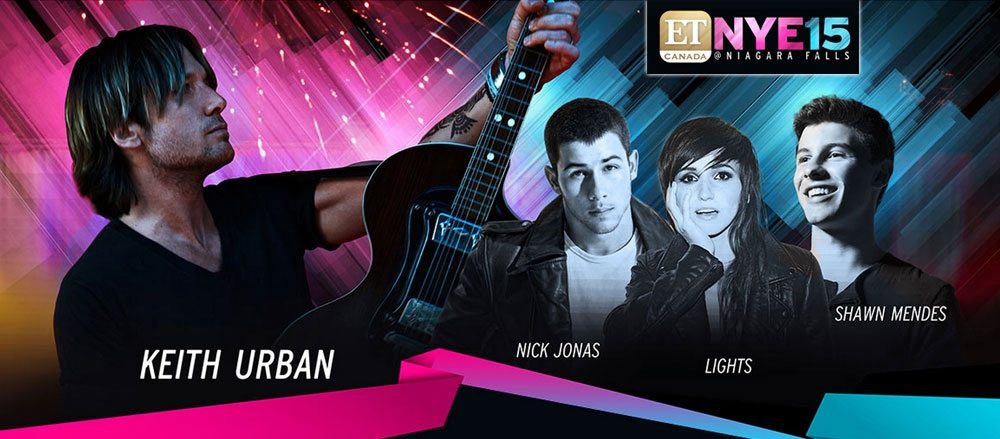 Click here for an update on Niagara Falls weather conditions.
Popular attractions such as the Niagara SkyWheel start getting really busy by 8:30 pm. The first set of fireworks will go off at 9:00 pm (and last set at Midnight), so people will begin to think the same thing and want to be on the SkyWheel to watch the fireworks show. Try to do most of the attractions that you will most likely encounter heavy lines first, if lineups aren't your thing. So if it's the Niagara SkyWheel you wish to see, then the best time to arrive is before 8:00 pm, or right after the first fireworks show at approximately 9:30 pm-10:30 pm. Attractions that take a while to finish (such as miniature golf) are definitely attractions to knock off your list first and foremost. Keep in mind, once the firework shows are over and the New Years Eve concert is over, there is always thousands of visitors headed up Clifton Hill at the same time. To lineup for attractions then, or to choose to eat then, will mean longer than usual waits.
Our Clifton Hill attractions will close no earlier than 2:00 am tonight. Click here to find the Hours of Operation for the attractions that you wish to visit.
If you can purchase tickets ahead of time, please do so. This is the beauty of the Clifton Hill Fun Pass. You can purchase it online for the exact same price as buying it at the attractions themselves ($25.95+tax for Adults and $19.95+tax for Children), but you have the added benefit of skipping the cashier lineups, so that you can just go right ahead and lineup at the turnstiles. Also, as an added incentive, you will receive another additional ride on the Niagara Skywheel for free just for going online to do so. Keep in mind that if you choose to go this route, you will need to print off your confirmation slip and bring a piece of photo ID of the person who bought the passes. You will need this to show only once when you redeem your receipt for the fun pass cards on your first attractions visit. Take the slip to any of the attractions listed in the Clifton Hill Fun Pass to receive your cards. The Clifton Hill Fun Pass includes: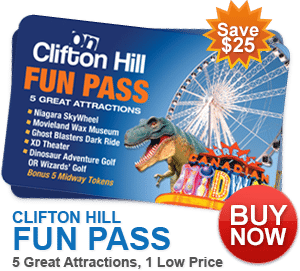 Have a designated "spot"
Upon arrival, choose a unique spot to go in case you get separated by family or friends that you can meet at. This can be like in front of the Pharoah at Movieland Wax Museum on Clifton Hill, or in front of "Skeeball" in the Great Canadian Midway. It is better to do it this way rather than saying "Stand in front of Tim Hortons", due to hundreds of people who will probably be standing in the same area. This being said, I will state the obvious: Keep your eye on your kids. I've seen it all before. Children get so excited by all the lights and action that they can not stand still. All it takes is to simply dig into your wallet to pay for something and *boom* they are gone. Lost in the sea of people. Always hold their hand or supply them with a cellphone or a walky-talky in case they get lost. If they do get lost, please keep in mind that the Niagara Parkway and the Clifton Hill area in particular are heavily guarded with police officers and Clifton Hill security patrol at all times. They can easily be found, and if for some reason you can not find an officer, one of the cashiers at any of the attractions have been trained on how to contact them. Let your children know to ask one of them for assistance this New Years in Niagara Falls.
 Carry the bare minimum

If you are headed down to watch the concert at Queen Victoria Park, remember how big the crowds will be down there. There will literally be thousands and thousands of people watching this spectacular show, so if you can avoid carrying a purse or a wallet with every piece of ID you own in it — DON'T! Leave it somewhere safe, like locked up in your hotel room or at home. Carry the bare minimum such as the money you need, ONE credit card and your Drivers License. This will avoid it getting lost or stolen.
 Lastly, be patient and have FUN!
You will have tall people blocking your view. You will have someone step on your feet. You will have someone walk into you. Be patient. Relax, take a deep breath and don't let little things irritate you. Not many people will get the privilege to be standing next to one of the most beautiful natural wonders of the world, so take it all in and enjoy it! New Years in Niagara Falls is an exciting time to be with your family and friends.
No matter where you are, I wish you a Happy New Years Eve and a fantastic beginning to 2015! Stay safe and have FUN!!
Christine Lynn
clynn@cliftonhill.com
Facebook: www.CliftonHill.com/fb
Twitter: www.CliftonHill.com/twt
Google+: www.CliftonHill.com/gplus
Pinterest: www.CliftonHill.com/pin
Instagram: @cliftonhillfun
— clynn