Things To Do In Niagara Falls This Weekend
*Pictured Above: Hotel California – A Tribute to the Eagles: Will be performing live at the Niagara Wine Festival Friday, September 19th, 2014*
Friday, September 19th – Sunday, September 21st, 2014
Looking for some fun things to do in Niagara Falls this weekend? Kids may be back to school, but there is still plenty of events and activities to enjoy this weekend. Here is a list:
Niagara Wine Festival:
he Niagara Wine Festival is one of Niagara's largest and longest going events, with this year's 63rd annual event beginning on Saturday, September 13th, until Sunday, September 28, 2014. September's Niagara Wine Festival features more than 100 events, which include concerts, one of Canada's largest street parades, and of course our region's finest winery and tasting tours.
Don't forget all the exciting festivities that go on at Montebello Park (64 Ontario St.) in Downtown St.Catharines! Montebello Park will have a variety of wine tasting and food pairing vendors lined up that are participating in the Niagara Wine Festival. Wristbands will be in effect for those wishing to drink, however families are welcome as there will be a stroller and wagon entrance through the Lake St. entrance. Apart from the obvious celebration of Niagara's finest wines, there will be plenty of live entertainment with a full list of concerts — here's a list of the concerts happening this weekend:
Friday, September 19th, 2014
Hotel California – A Tribute to the Eagles – 7:20 – 10:30 pm
Saturday, September 20th, 2014
Garden of Eden – 12:00 – 12:45 pm
Soul Jam – 1:00 – 2:45 pm
Stereoflavour – 3:00 – 4:45 pm
Trouble & Daughter – 5:00 – 6:45 pm
Desire – A Tribute to U2 – 7:30 – 10:30 pm
Sunday, September 21st, 2014
S.C.E.N.E. People's Choice Winner: Cardinals – 12:30 – 2:30 pm
Royal Wood – 3:00 – 4:45 pm
Elton Rohn – A Tribute to Elton John - 5:00 -8:00 pm
For more information on the Niagara Wine Festival and its locations and events, click here.
Heartland Forest "Hoedown":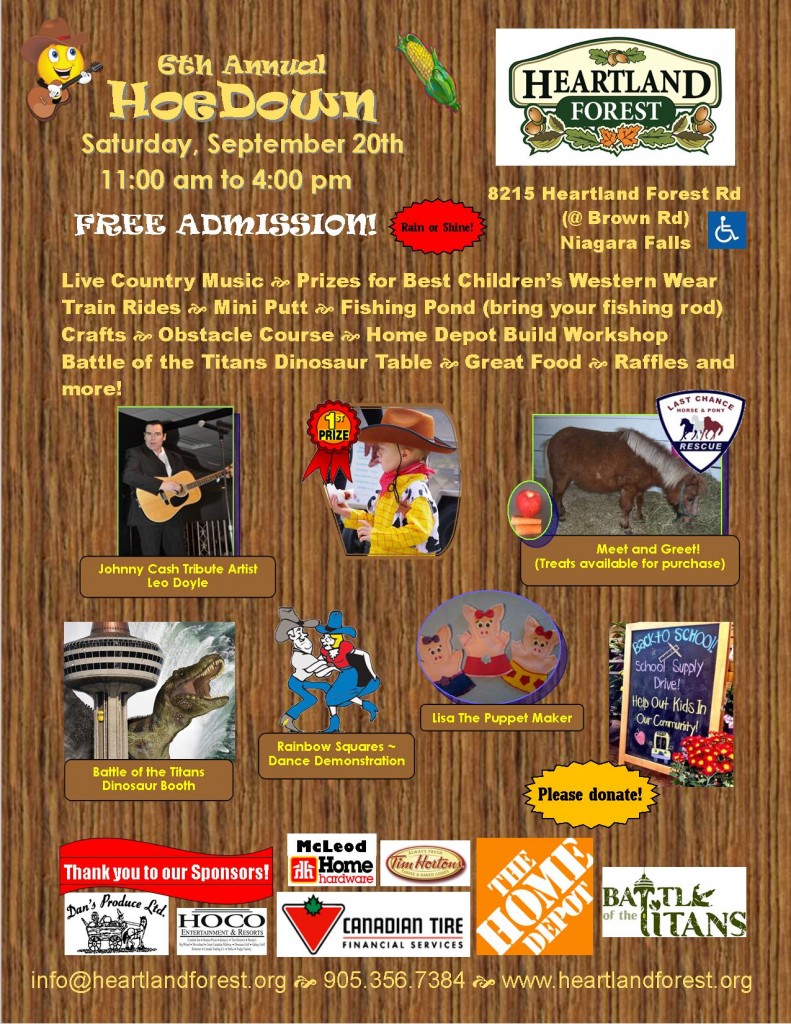 Le Grand Cirque: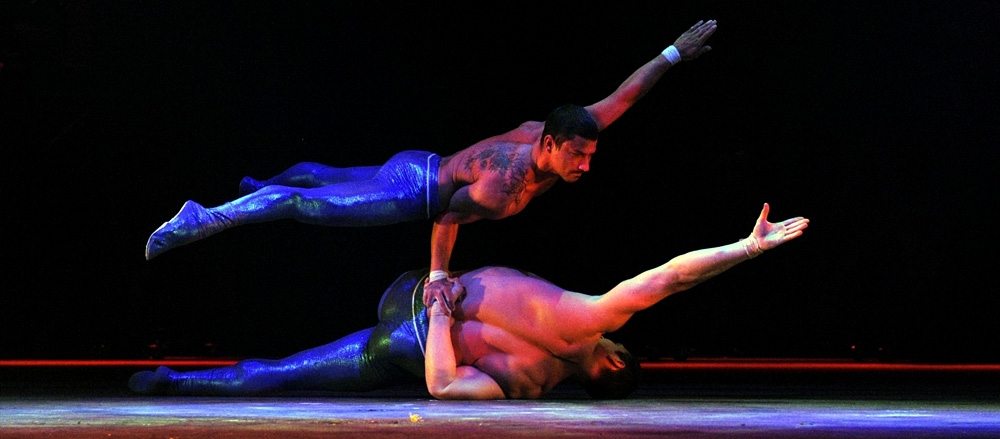 Discover the magic and imagination in a spellbinding performance of feats, strength, and agility with Le Grand Cirque – Adrenaline. Watch over 40 international daredevil stuntmen, trapeze artists and dancers soars through the audience and leap on stage, all live at Fallsview Casino Resort.
Dates Time 
September 18, 23, 25, 30
October 2  8:30 PM
September 19, 20, 26, 27
October 3, 4  9:00 PM
September 20, 21, 22, 23, 25, 27, 28, 29, 30
October 2, 4, 5  3:00 PM
September 21, 28
October 5  7:00 PM
Buy your tickets at

Fallsview

Casino Resort's Box Office (open Noon on show days), at all Ticketmaster locations, by calling Ticketmaster at
1 (877) 833-3110 or online at www.ticketmaster.ca.
http://youtu.be/2rPCCekXq4Q
The
Niagara Falls

Barrelman
is an epic new & beautiful course starting with a calm sheltered swim in the Welland Canal, a fast and flat winding bike course through the Niagara Peninsula, and finishing up with a spectacular run that takes you past the Niagara Falls twice.
SWIM TO BIKE
A canal swim in clean clear water. The canal is a recreational canal with no boat traffic. The water temperature should be in the
68F
to
72F
range. A 2,000m single loop swim that passes under two bridges with great viewing for spectators. This will be a wave start race with a maximum of 250 athletes per wave. The first wave will go off at 9:00AM and the swim course will close at 10:25AM.
BIKE COURSE
After exiting the swim athletes will run up to Transition. Your bike gear bag will be laid out in numerical order on the path leading into Transition. PLEASE NOTE: This bag will also be used to put your wetsuit, goggles etc in. Our crew will transport it to the Finish. If you do not use the numbered gear bag we cannot be responsible for your wetsuit or other gear.
Well paved roads that wind through the Niagara Peninsula, along the shores of Lake Erie and into Niagara Falls. The bike course travels south-west from Welland, completes a small loop and returns north-east until just south of Welland. At this point the bike travels from Welland to Niagara Falls.  The bike will enter Niagara Falls along the scenic Niagara Parkway with minimal vehicular traffic.
TRANSITION AREA #2: RUN COURSE AND FINISH
Located in beautiful
Kingsbridge
Park on the shores of the Niagara River at Chippewa Creek.
T2
will be protected by a
6ft
high security fence and will be monitored at all times by contracted security services.  You will be able to remove your bike from
T2
once the Bike Course is officially closed at 2PM on race day.
T2
is on smooth pavement and will have a bank of portable toilets just outside for use both leaving
T2
as well as finishing the 1
st
Loop of the Run Course.
This run course will be the most scenic of any Half Triathlon in Canada. Looping twice through the City of Niagara Falls and past the American and Canadian (Horseshoe) Falls with a finish in a beautiful park setting at
Kingsbridge
Park. The run will take you through a wooded area (Burning Springs Hill), through the City of Niagara Falls, past the
Fallsview
Casino, to the top of Murray Hill with a beautiful view of the American Falls and along the Niagara Parkway past the Canadian Horseshoe Falls to the Finish in
Kingsbridge
Park.
For online registration and entry fees
click here
 (online registration will close at noon on Wednesday, September 18th).
For more information on this event, please go to www.niagarafallstriathalon.com 
Rumours Night Club:
Join us at Rumours Night Club on Friday night for "Ladies Night", where cover is free for all the women, and Top 40, Hip Hop and Dance are pumping all night long beginning at 9:00 pm. Then, Saturday night features our resident DJ Oz-E spinning the tunes until the wee hours of the morning — Rumours is always the place to be to unwind and party the weekend away!

While you're on Clifton Hill, don't miss out on some of Niagara's most popular attractions that only the Clifton Hill Fun Pass provides with savings at 50% off the retail price! Click the image below for details: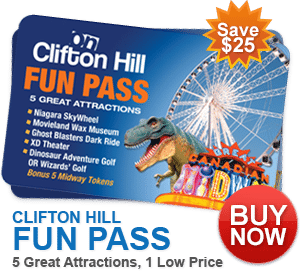 Check out our brand new Wizard's Golf now included in the Clifton Hill Fun Pass!
This challenging 18-hole mini golf course showcases brightly coloured exhibits of Wizards, Trolls, Dragons, Fairies and Mystical Castles. Here, there's something interesting for everyone to enjoy. Get lost in a medieval story of fantasy and wonderment.
Coca-Cola Concert series and Niagara Falls Fireworks:
Free Coca-Cola sponsored concerts take place on the Queen Victoria Park Stage at 8:00 pm before every fireworks show (every Friday, Sunday and Holiday until November 30th, 2014). This Friday, September 19th "Eldorado Bound" hits the stage and on Sunday, September 21st, "Max Hillier and Gatorbait" steps up to rock the house down!
Here's a clip of "Eldorado Bound":
Here's a clip from "Max Hiller and Gatorbait":
Afterwards, stick around for the Niagara Falls free fireworks shows at Queen Victoria Park at 10:00 pm!
Free Live Music at Casino Niagara: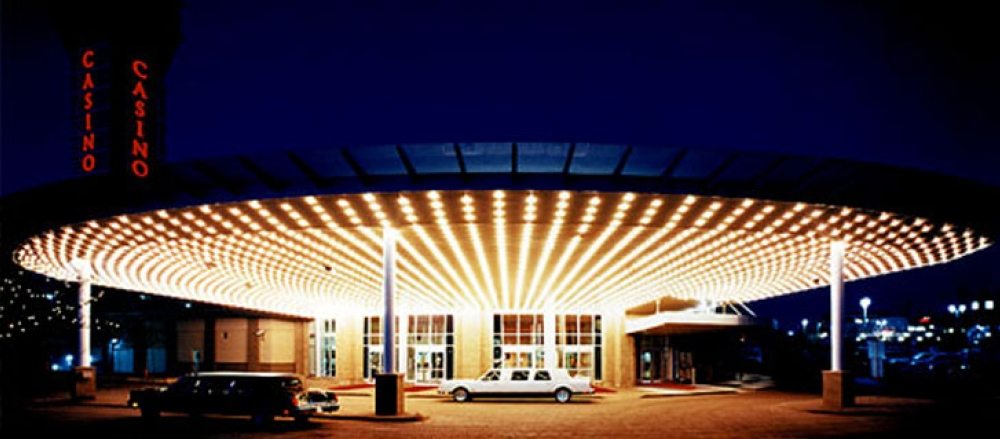 If gambling isn't your thing, here's another reason to head to Casino Niagara – Friday's and Saturday's in September from 8:00 pm – 12:00 am has live music on the level 3 stage located near the Market restaurant. This upcoming Friday and Saturday night (19th & 20th) has "The Madhatters" performing.
Here is a clip from "The Madhatters":
These are just a few things to do in Niagara Falls this weekend. Whatever you decide to do, there is always something happening in Niagara Falls. Stay connected to me for more information on Niagara Falls events, news and upcoming contests.
hese are just a few things to do in Niagara Falls this weekend. Whatever you decide to do, there is always something happening in Niagara Falls. Stay connected to me for more information on Niagara Falls events, news and upcoming contests.
Christine Lynn
Facebook: www.CliftonHill.com/fb
Twitter: www.CliftonHill.com/twt
Google+: www.CliftonHill.com/gplus
Pinterest: www.CliftonHill.com/pin
Instagram: @cliftonhillfun
— clynn