Things To Do In Niagara Falls This Weekend
Eli Young Band with Special Guest Kira Isabella
Okay, this one is technically NOT on the weekend — but sooner! On Thursday, July 24th, head to Safari Niagara for this Double Bill (2 Full Shows), outdoor country concert party licensed for 4500 people – RAIN or SHINE!
The doors open at 7:00 pm and the show begins at 8:00 pm. To purchase your tickets online click here.
For more information visit Safari Niagara at www.safariniagara.com. 
Friday, July 25 – Sunday, July 27, 2014
Looking for some fun things to do in Niagara Falls this weekend? Here is a list:
Niagara Summer of Thrills
This is a brand new free event to arrive in Niagara Falls. The "Niagara Summer of Thrills" is a stunt show starring Texas native Enrique Valencia. For 10 weeks, he has temporarily moved to Niagara Falls to share his daredevil acts with us! Each day (with the exception of Wednesday's and Thursday's), he will perform 2 different stunts a day (10 minutes each time), four times a day. At 2:00 pm and 6:00 pm, Enrique will be perched upon the 10-storey Imperial Hotel on Victoria Avenue for the "Wheel of Fate". The wheel is situated on the roof of the Imperial Hotel and is a revolving wheel that Valencia will conduct stunts within — and on top of.
At 4:00 pm and 8:00 pm, he drives a motorcycle across a highwire that is strung together between the Days Inn Victoria Avenue and the Louis Tussaud's Wax Museum. Suspended beneath the highwire, his assistant will conduct acrobatic routines! This stunt is the "Highwire Sky Cycle" act.
Approximately a half hour before each and every routine, fire and chainsaw jugglers will entertain the audience and help to build and liven up the crowd for the main event. The "Niagara Summer of Thrills" is easy to find. Both stunt acts are located within 30 seconds of the corner of Victoria Avenue and Clifton Hill. Performances take place from June 27th to September 1st, 2014.
While you're on Clifton Hill, don't miss out on some of Niagara's most popular attractions that only the Clifton Hill Fun Pass provides with savings at 50% off the retail price! Click the image below for details: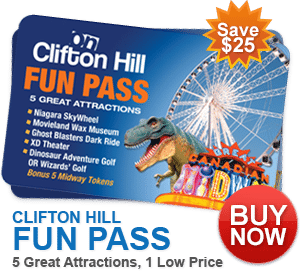 Check out our brand new Wizard's Golf now included in the Clifton Hill Fun Pass!
This challenging 18-hole mini golf course showcases brightly coloured exhibits of Wizards, Trolls, Dragons, Fairies and Mystical Castles. Here, there's something interesting for everyone to enjoy. Get lost in a medieval story of fantasy and wonderment.
 "Music in the Park" Friday Night Concert Series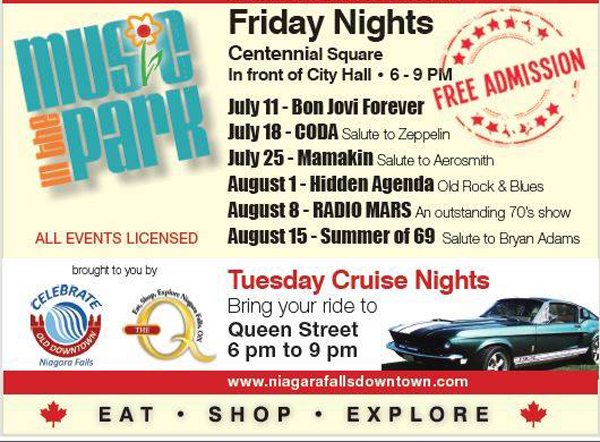 If you are looking for some free things to do in Niagara Falls this weekend than you are in luck! Friday nights in Downtown Niagara Falls from 6:00 pm to 9:00 pm at Centennial Square in front of City Hall is the "Music in the Park" FREE concert series. This Friday, July 25th, "Mamakin" performs (a tribute to Aerosmith).
Before the concert, do some shopping along the Queen Street District and don't forget to keep the free shows coming afterwards, by checking out the Niagara Falls free fireworks shows at Queen Victoria Park at 10:00 pm!
Free Coca-Cola sponsored concerts also take place on the Queen Victoria Park Stage at 8:00 pm before every fireworks show. This Friday, July 25th "Stacey Renee" hits the stage and on Sunday, July 27th "Blue Rodeo tribute" will perform.
A video of "Stacey Renee" performing live:
A video of "Blue Rodeo Tribute" performing:
 Do some Shopping at the Canada One Factory Outlet Mall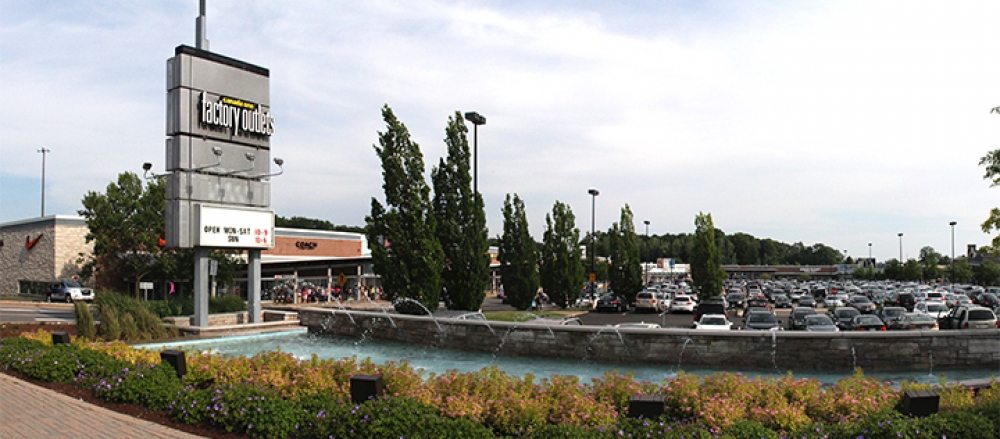 The Canada One Factory Outlet Mall has some store-wide sales still happening!
Sales such as:
Laura – Sales of up to 60% off on select merchandise
Danier Leather – Final Clearance of up to 50% off
Nine West – Up to 70% off select styles
Levi's  – Jeans starting at $29.99 on select items (on Saturday, July 26th and Sunday, July 27th only)
**Now Open! Toys R Us Express**
For a full list of all promotions click here.
RCMP Officer Meet & Greet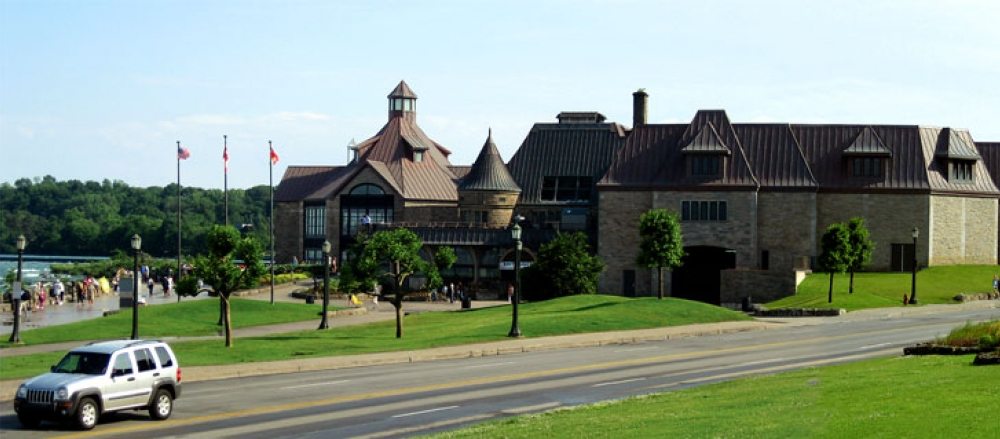 On Friday, July 25th to Sunday, July 27th from 10:00 am to 4:00 pm, head to the Table Rock Welcome Centre, near the brink of the falls, to meet a real RCMP Officer for photos and to answer questions. Don't forget your camera!
200th Anniversary of the Battle of Lundy's Lane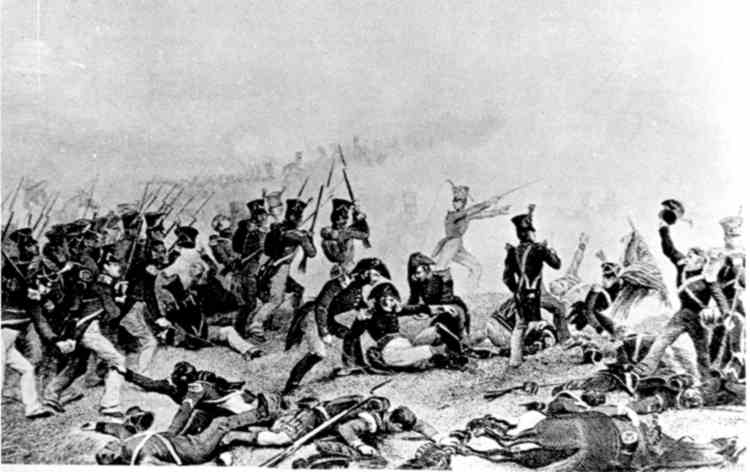 On Friday, July 25th, starting at 1:00 pm, there will be the unveiling of the new Gateway over Lundy's Lane that commemorates the bicentennial of the Battle of Lundy's Lane. Following this, from 4:00 pm – 5:00 pm up at the Soldiers Monument, the 5th U.S. Infantry will be hosting a reunion and commemorative service that remembers their regiments role at the Battle.
The Lundy's Lane Historical Society will be holding their commemorative service at 7:30 p.m. Attendees to this event are encouraged to bring a lawn chair or blanket to the event.

A participatory event will start at 8:30 p.m. from two points in the city. With starting points approximately 2.5 km (1.5 miles) from the battlefield, participants will walk through the streets and converge on the Battlefield at dusk, following the old Portage Road like the combatants on that horrendous night 200 years ago. Once there, a unique experience will overtake you, where you will be involved in the remembrance of the bloodiest battle of the War of 1812. Next Company Theatre will provide an immersive performance that puts you at the center of the action and will leave you with an experience that will allow you to remember war and the peace that followed.

The event will take place on the former Battlefield School field – access via Drummond Hill Cemetery and Lundy's Lane.
In conjunction with this event, both the Niagara Falls History Museum and the Battle Ground Hotel Museum will have free admission!

Visit the Niagara Falls History Museum – open 10:00 a.m. – 5:00 p.m. 

Visit the Battle Ground Hotel Museum – open 1:00 p.m. – 5:00 p.m.
For more information, please visit www.niagarafallsmuseums.ca 
These are just a few things to do in Niagara Falls this weekend. Whatever you decide to do, there is always something happening in Niagara Falls. Stay connected to me for more information on Niagara Falls events, news and upcoming contests!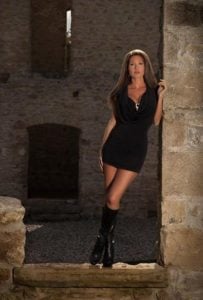 Christine Lynn