Things To Do In Niagara Falls This Weekend
*Pictured Above: Head to the Outlet Collection at Niagara for BIG savings during their Black Friday event!*
Looking for some fun things to do in Niagara Falls this weekend? There are plenty of events and activities to enjoy this weekend. Here is a list:
Friday, November 28th – Sunday, November 30th, 2014
**NOTE**: The American Thanksgiving in this Thursday, November 27th, 2014. See our American Thanksgiving blog by clicking here for more detailed information on things to do in Niagara Falls over this weekend that are not covered in this post. 
Black Friday – Niagara Falls Shopping 
Niagara Falls will be ripe with savings throughout this entire weekend in order to get on-board with our American friends for Black Friday. Head to the Outlet Collection at Niagara for their first year prepping for that, so big things are in store for 2014. Also rolling out the deals? The Pen Centre and the Canada One Outlet Mall!
For information on what each of these shopping malls has in store for you this year, click here to read about their promotional events, offers and contests!
Ontario Power Generation Winter Festival of Lights 

There is a lot of excitement building up for the 32nd annual Ontario Power Generation Winter Festival of Lights! This festival attracts 1.5 million annual visitors, and features millions of sparkling lights that transforms the Niagara Parks into 5KM of a Winter Wonderland for the entire family to enjoy. This includes the world's largest illuminated Canadian-American flag, a fully lit Skylon Tower reaching 775 feet above the Falls, the Zimmerman fountain, Dufferin Islands, Religions of the World Displays, and much more.
There is plenty new this year in Niagara Falls with the addition of $300,000 of new lights, including water displays, tree installations, new 3D Canadian Wildlife displays and DMX Projection Lighting choreographed to music. 
Zero Gravity Circus performers will put on special shows at the base of Clifton Hill (near Mowat Gate) and in front of Edgewaters Restaurant throughout the season. These will include LED Manipulators, Fire Artist & Stilt Characters.
Join them here on Friday, November 28th and Saturday, November 29th, 2014 from 6:00 pm – 9:00 pm!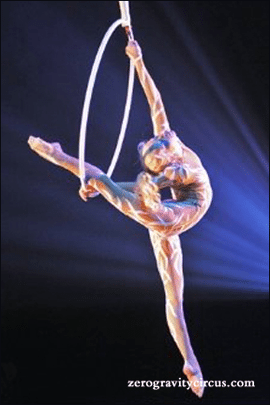 For more detailed information on the Winter Festival of Lights, including new additions to this year's Festival, click here.
www.WFOL.com
Rumours Night Club


Friday and Saturday nights at Rumours Night Club on Clifton Hill features our resident DJ Oz-E spinning the tunes until the wee hours of the morning — Rumours is always the place to be to unwind and party the weekend away! Friday's are always free cover for ladies all night long — but whichever night you choose, it's always a wild party!
While you're on Clifton Hill, don't miss out on some of Niagara's most popular attractions that only the Clifton Hill Fun Pass provides with savings at 50% off the retail price! Click the image below for details: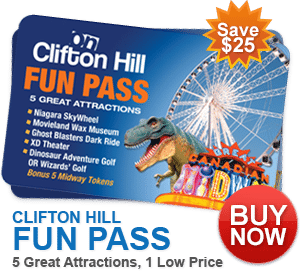 Check out our brand new Wizard's Golf now included in the Clifton Hill Fun Pass!
This challenging 18-hole mini golf course showcases brightly coloured exhibits of Wizards, Trolls, Dragons, Fairies and Mystical Castles. Here, there's something interesting for everyone to enjoy. Get lost in a medieval story of fantasy and wonderment.
Niagara Falls Fireworks
New to 2014, extended Niagara Falls fireworks shows take place every Friday, Sunday and Holiday until November 30th at 10:00 pm. Come early and grab a bite to eat at one of our restaurants on Clifton Hill and then make your way to Queen Victoria Park to watch the skies light up. Bring your own lawn chair and blankets.
**This week, we have added firework shows for the American Thanksgiving. Join us on Thursday, November 27th as well as Friday the 28th and Sunday the 30th at 10:00 pm to witness the amazing fireworks in the sky!**
Niagara Falls and the Ontario Power Generation Winter Festival of Lights is pleased to offer the addition of added fireworks during the month of December in celebration of one of Canada's premiere illumination festivals.
December Fireworks:
*Fridays: December 5, 12 & 19 at 9:00 pm
**Nightly: Monday, December 22 to Friday, December 26 except at 9:00 pm**
*Thursday, December 31st at 9:00 pm & 12:00 am
*Fridays: January 2 & 9 at 9:00 pm
It's never too early to think about how you will be spending New Years Eve in Niagara Falls. Book a room with us early to avoid any increased prices. We are literally a 5 minute walk from Queen Victoria Park — the place to be to celebrate the kick-off of 2015 with the BIG concert! Stay tuned to www.cliftonhill.com and our Facebook page to stay up-to-date with the news of this year's big announcement. Who will it be?? Click the photo below to be directed to our room bookings: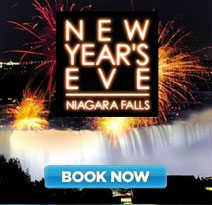 Free Live Music at Casino Niagara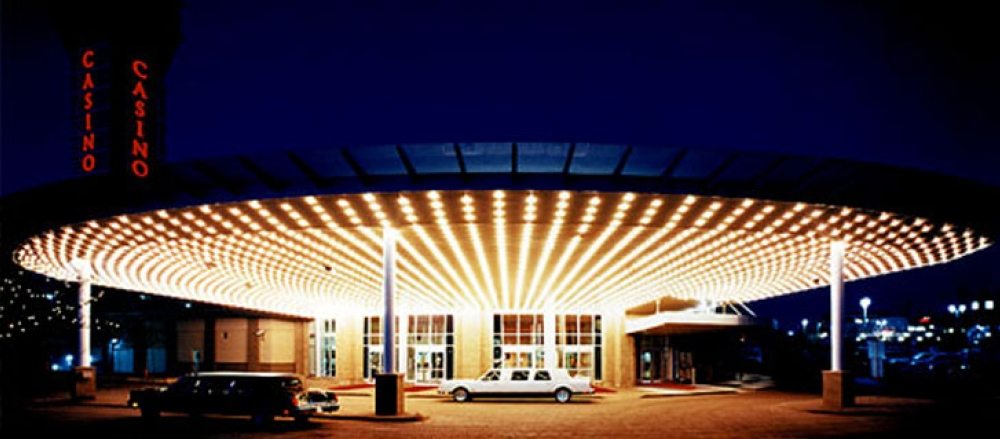 If gambling isn't your thing, here's another reason to head to Casino Niagara – Friday's and Saturday's in November from 8:00 pm – 12:00 am has live music on the level 3 stage located near the Market restaurant. This upcoming Friday and Saturday night (28th & 29th) has "Crush" performing.
Oh Canada Eh? presents "Swingin' Little Sleigh Ride!"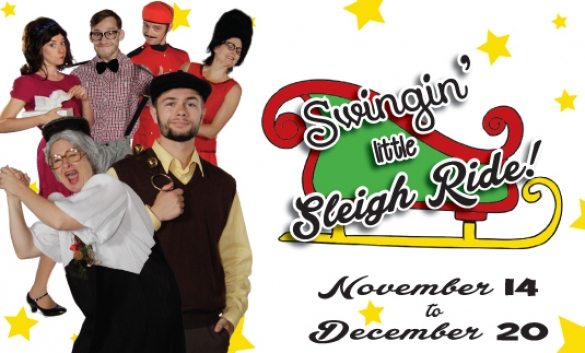 When: Friday, November 14th to Saturday, December 20th, 2014 
 Dinner & Show Arrival time 6:15 pm.
Matinee Lunch and Show Arrival time 12:15 pm.
Head to the Oh Canada Eh? Theatre in which their talented cast of characters will enchant you with a show full of holiday inspired tunes that will warm your heart and have you laughing out loud! It's a musical show filled with all the memories and mayhem the holidays (and life) can bring!
Between all the songs and laughter, guests will also enjoy our five-course, festive meal. Enjoy soup, salad, roasted turkey, holiday baked ham, fried Atlantic Haddock, a festive dessert and more.
Tickets can be purchased be calling 1-800-467-2071, visiting their Niagara Falls Box Office at 8585 Lundy'sLane, or online at www.ohcanadaeh.com
2014 Thorold Santa Claus Parade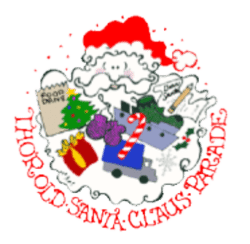 On Saturday, November 29th at 4:00 pm head to the little town of Thorold within the Niagara Region for its 24th annual Santa Claus Parade! Every year, it has delighted and entertained the citizens of Thorold and surrounding areas with its display of bands, floats, marching units, and – of course – Jolly St. Nick himself.
"Dear Santa" Letters are being collected from some his special helpers along the parade route, so be sure to have your little ones write up their wish lists before the big day!
Following the parade, head to the Thorold Firehall for photo opportunities with Santa. Parents don't forget your camera! Free refreshments and treats will be available for everyone to enjoy.
Parade Route: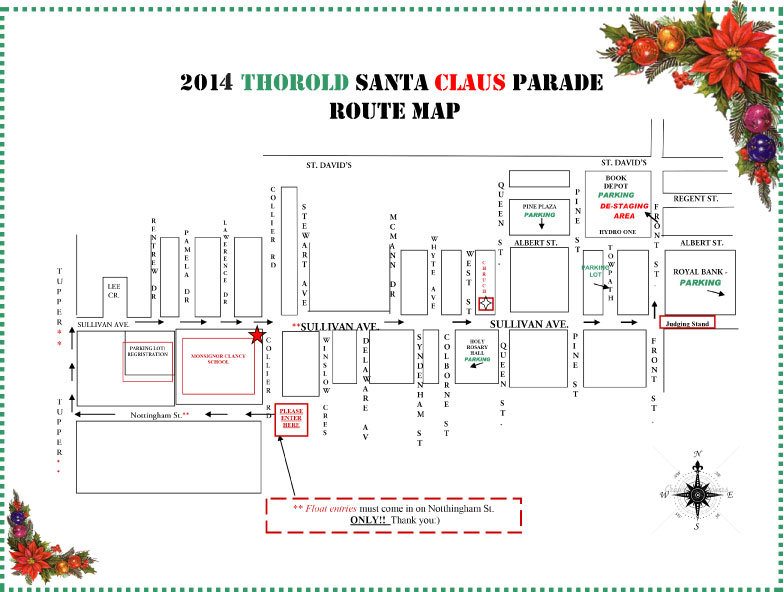 These are just a few things to do in Niagara Falls this weekend. Whatever you decide to do, there is always something happening in Niagara Falls. Stay connected to me for more information on Niagara Falls events, news and upcoming contests.
Need accommodations? The Comfort Inn Clifton Hill has you covered! We even have a new package deal — "Stay & Play"! Hotel accommodations, attractions & dining discounts, AND casino vouchers all included…click the image below for details!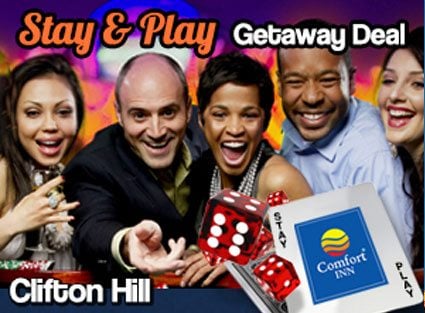 Christine Lynn
clynn@cliftonhill.com
Facebook: www.CliftonHill.com/fb
Twitter: www.CliftonHill.com/twt
Google+: www.CliftonHill.com/gplus
Pinterest: www.CliftonHill.com/pin
Instagram: @cliftonhillfun
— clynn