Things To Do In Niagara Falls This Weekend
*Pictured Above: The Skate Niagara Ice Show, coming to the Meridian Centre on January 30th, 2015*
Looking for some fun things to do in Niagara Falls this weekend? There are plenty of events and activities to enjoy this weekend. Here is a list:
Friday, January 30th, 2015 - Sunday, February 1st, 2015
Skate Niagara Ice Show
Head to the Meridian Centre this Friday, January 30th at 7:30 pm for the inaugural Skate Niagara Ice Show! This show has brought together a star-studded ensemble of Canada's Olympic and World Champion skating icons who will hit the ice for a night of entertainment and artistry. Stars such as our hometown favourite Kirsten Moore-Towers and partner Michael Marinaro, Tessa Virtue and Scott Moir, Kurt Browning, Ekaterina Gordeeva, Kaitlyn Weaver and Andrew Poje, and Nam Nguyen. Emmy Award Winning Choreographer Sandra Bezic is set to Produce and Direct the performance that will be sure to dazzle and amaze everyone of all ages!
Tickets
Tickets for the Skate Niagara Ice Show are available at Ticketmaster.ca and at the Meridian Centre Box Office.
For the Ticketmaster link click here.
For more information please visit them online at www.skateniagaraiceshow.com
Hotel California: The Original Eagles Tribute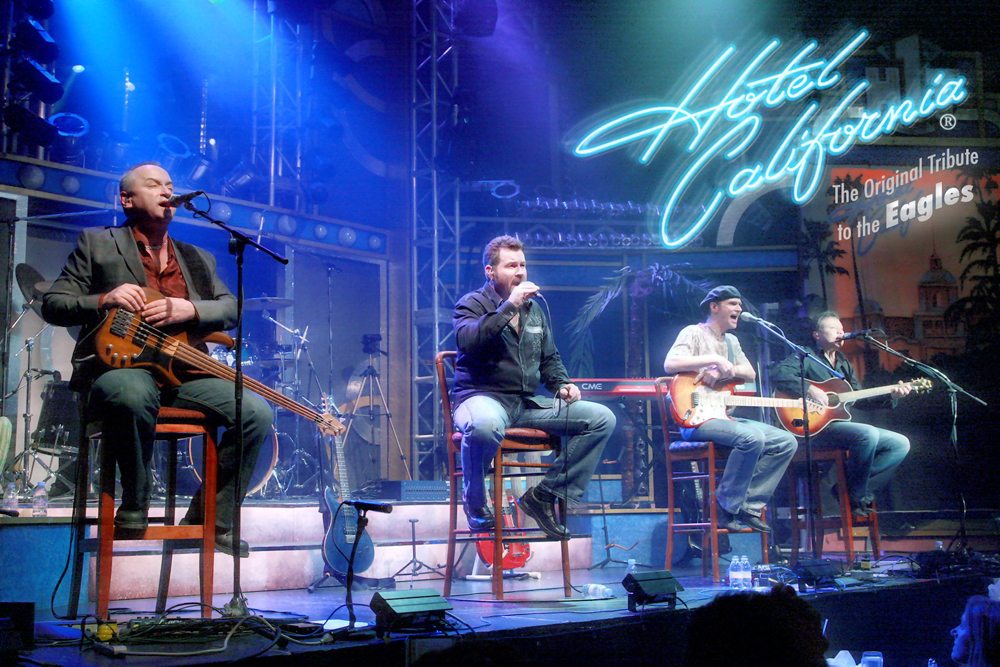 The original tribute to the THE EAGLES, Hotel California prides itself on creating the illusion that you are listening to the actual Eagles. They've shared the stage with the Doobie Brothers, Lynyrd Skynyrd, Styx, REO Speedwagon, Gretchen Wilson and many more international artists. They've performed in Dubai, Japan, India, Bermuda and all over North America. Don't miss this incredible tribute to one of the most respected rock bands in history!
Where: Greg Frewin Theatre 
When: Friday Jan 30th, 2015
Show Time – 6:15 PM Dinner / 7:30 PM Show
Ticket prices: $24.95 – $44.95 + HST Ticket processing fee: $3.90 per ticket
Dinner: Adults $24.80 + grat & HST Children $14.80 + grat & HST
For tickets visit www.gregfrewintheatre.com
Fresh Horses: A Tribute to Garth Brooks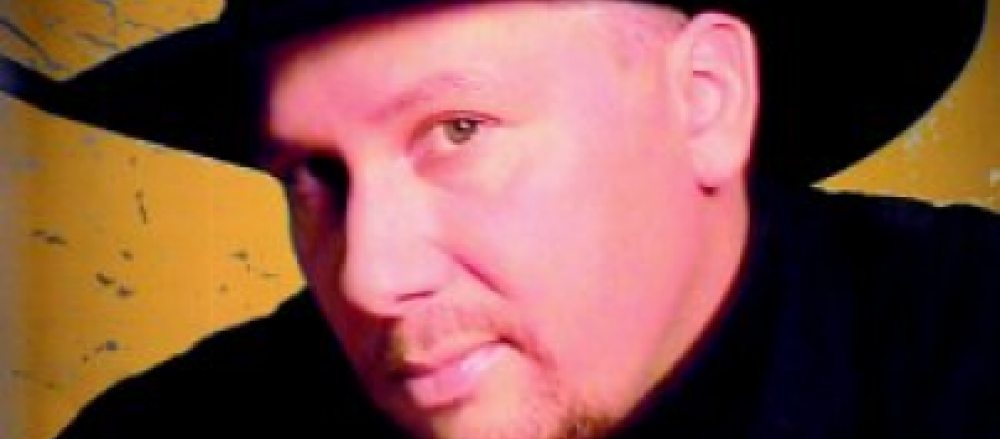 Fresh Horses is a high energy show band that performs all the hits of Garth Brooks. Fresh Horses tours North America and has received excellent reviews along with a great following of fans. Les Smith the Band Leader looks and sounds so much like Brooks that people comment that they forget they are watching a Tribute Act.
Fresh Horses please crowds of all ages with their music and entertaining show. All music lovers can enjoy the songs of Garth Brooks as the music crosses all barriers. Fresh Horses is known for their professional attitude and excellent showmanship. They will leave you with a sense of "more than your money's worth!"
Where: Greg Frewin Theatre 
When: Saturday Jan 31st, 2015
Dinner 6:15 PM / Show 7:30 PM
Ticket Prices: $24.95 – $44.95 + HST Ticket Processing Fee: $3.90 per ticket
Dinner: Adults $24.80 + grat & HST Children $14.80 + grat & HST
For ticket information please visit www.gregfrewintheatre.com
Considered one of the premier comedy dens, Yuk Yuk's Niagara showcases some of the best comedic talent, and the funniest rising stars. Here you'll be entertained with hilarious, uncensored material all night long.
On Friday, January 30th & Saturday, January 31st, 2015, Yuk Yuk's has Mike Wilmot performing on both nights.
Shows start at 9:00 pm on Friday and Saturday's at 8:00 pm & 10:30 pm.
Tickets prices: $16.19
Get your tickets at the PAC Booth in Casino Niagara or by calling 1-877-YOU-LAFF (968-5233).
Shaw Festival Winter Film Series 
Head to historic Niagara-on-the-Lake and enjoy a film at the Shaw Theatre.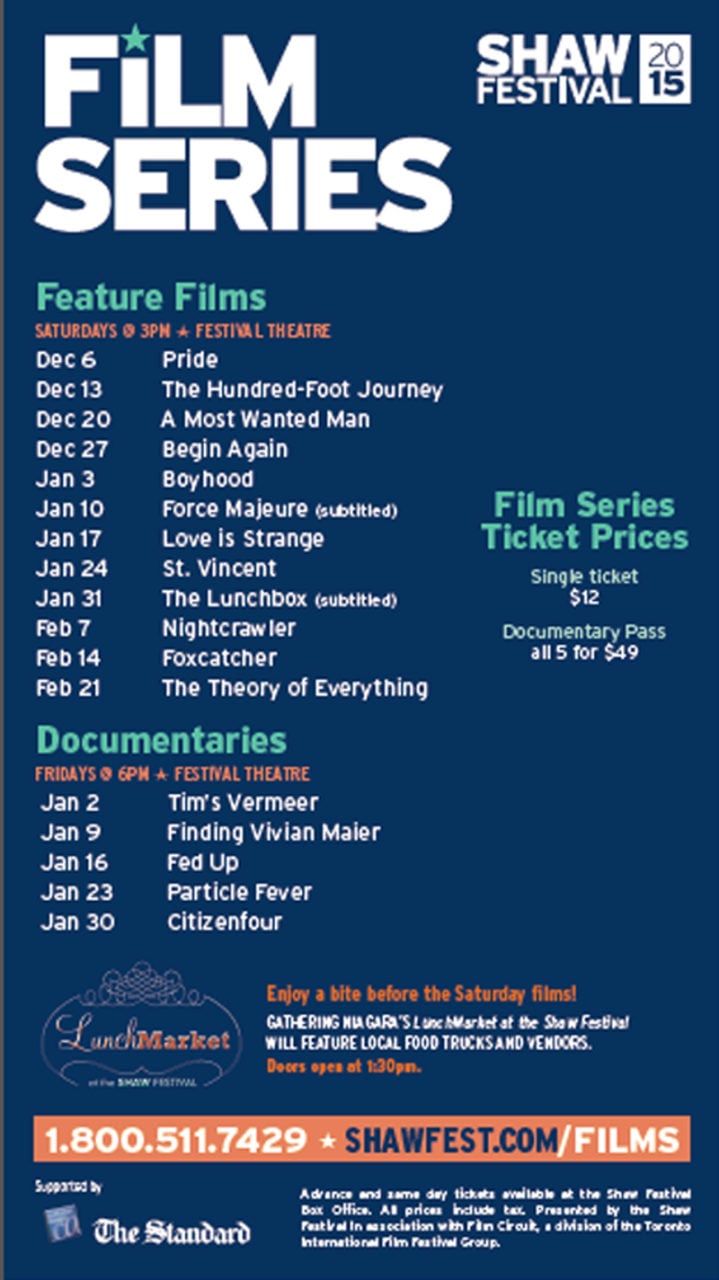 NEW: Nature Exhibit at the Niagara Falls History Museum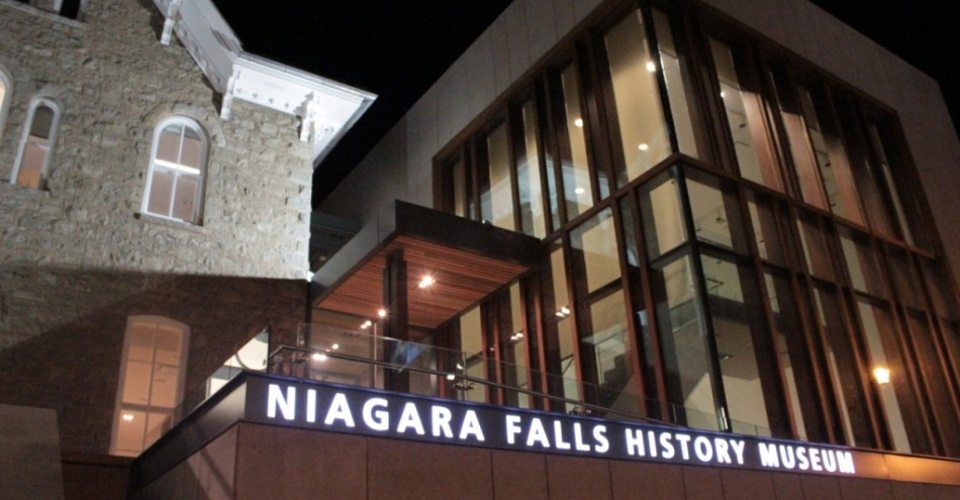 Preserving the diversity of life on earth is not only beneficial but essential to humanity. The Niagara Falls History Museum has a new exhibit entitled "Nature", in which you will learn about biodiversity, the relationships between species within food webs, and the gene pools of particular species.
Habitat destruction is the most serious threat to biodiversity, but there are others as well. Fortunately, there are people and organizations that strive to preserve or restore native habitats and species, and "Nature" encourages participation in these efforts.
This exhibition also examines the experience of owls with eleven beautiful owl specimens that examine the fascinating and less well-known aspects of owl behaviour, biology and lifestyle.
When: January 14th – April 19th, 2015
Hours: Tuesday to Sunday: 10:00 am – 5:00 pm, Thursday extended hours to 9:00 pm
For more information call 905-358-5082 or visit them online at www.niagarafallsmuseums.ca 
Rumours Night Club


Friday and Saturday nights at Rumours Night Club on Clifton Hill features our resident DJ Oz-E spinning the tunes until the wee hours of the morning — Rumours is always the place to be to unwind and party the weekend away! Friday's are always free cover for ladies all night long — but whichever night you choose, it's always a wild party!
While you're on Clifton Hill, don't miss out on some of Niagara's most popular attractions that only the Clifton Hill Fun Pass provides with savings at 50% off the retail price! Click the image below for details: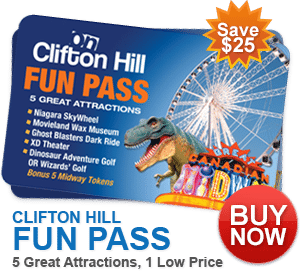 Check out our brand new Wizard's Golf now included in the Clifton Hill Fun Pass!
This challenging 18-hole mini golf course showcases brightly coloured exhibits of Wizards, Trolls, Dragons, Fairies and Mystical Castles. Here, there's something interesting for everyone to enjoy. Get lost in a medieval story of fantasy and wonderment.
Free Live Music at Casino Niagara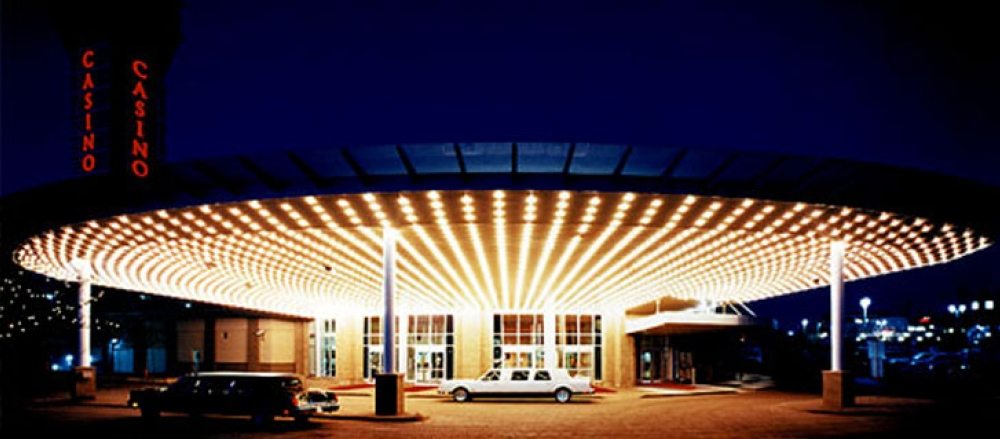 If gambling isn't your thing, here's another reason to head to Casino Niagara – Friday's and Saturday's in January from 8:00 pm – 12:00 am has live music on the level 3 stage located near the Market restaurant. This upcoming Friday and Saturday night (30th & 31st) has "Vinyl Flux" performing.
These are just a few things to do in Niagara Falls this weekend. Whatever you decide to do, there is always something happening in Niagara Falls. Stay connected to me for more information on Niagara Falls events, news and upcoming contests.
Need accommodations? The Comfort Inn Clifton Hill has you covered! We even have a new package deal — "Stay & Play"! Hotel accommodations, attractions & dining discounts, AND casino vouchers all included…click the image below for details!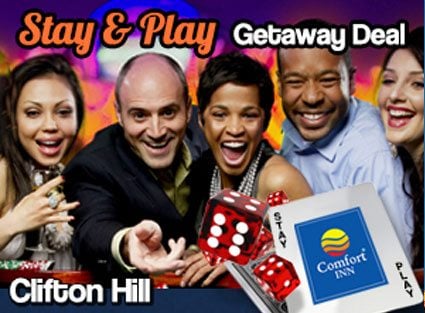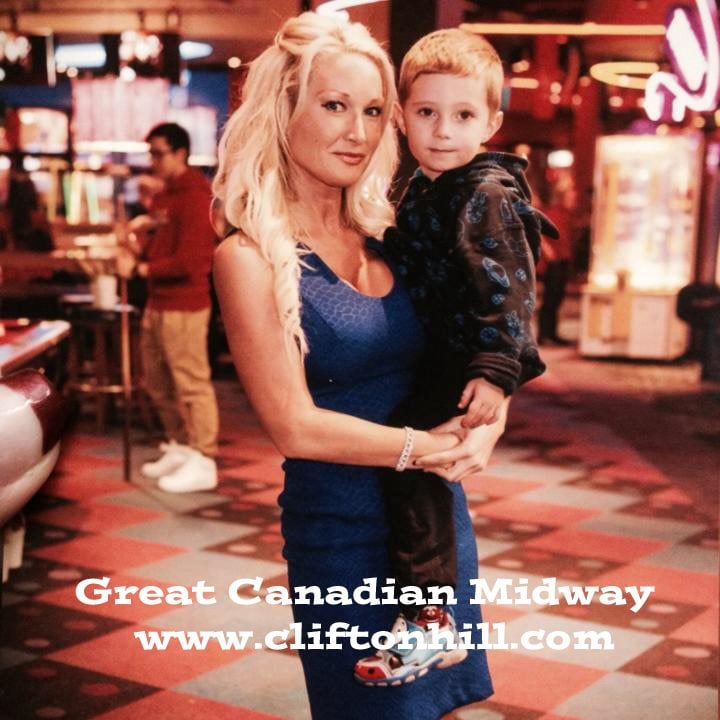 Christine Lynn
clynn@cliftonhill.com
Facebook: www.CliftonHill.com/fb
Twitter: www.CliftonHill.com/twt
Google+: www.CliftonHill.com/gplus
Pinterest: www.CliftonHill.com/pin
Instagram: @cliftonhillfun
— clynn