Niagara Falls March Break on Clifton Hill Offers Fun for the Whole Family
Niagara Falls March Break on Clifton Hill Offers Fun for the Whole Family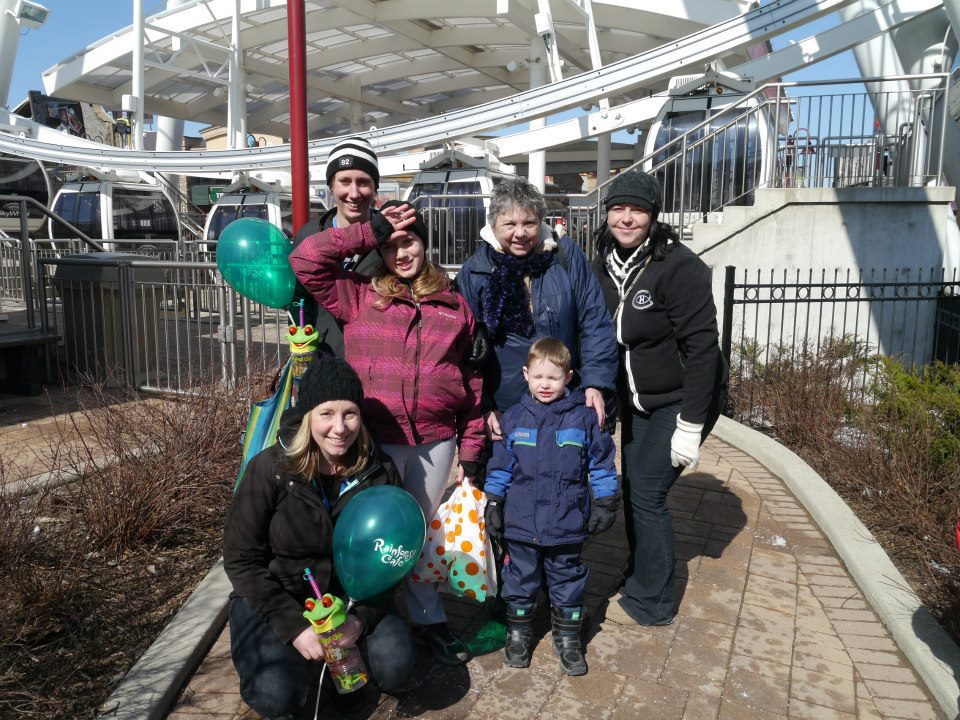 *Pictured Above: The Lucas Family exiting the Niagara SkyWheel during March Break 2013*
It's that time of year again, when Canadians plan March Break activities for the whole family. Many parents take time to plan a special getaway closer to home, usually to an interesting local destination filled with fun and friendly activities.
Families looking for entertainment and attractions have many great options to choose a Niagara Falls March Break. After traveling with family and getting settled in the cataract city, be sure to plan several sightseeing excursions and quality time — most specifically on Clifton Hill, to keep the fun going all week-long!
Comfort Inn Clifton Hill is a family friendly resort, located in a prime location 1 block to the Falls, near many attractions, restaurants, and more. Two-night feature Packages are available at the hotel, including the popular Family Fun Package. This exclusive package includes a two night Niagara Falls family accommodation, a gourmet dining voucher of $40 at Boston Pizza Clifton Hill or Kelsey's  and three Clifton Hill FUN PASSES, which includes the Niagara SkyWheel (Canada's largest giant wheel), Movieland Wax Museum, Ghostblasters Dark Ride, the XD Ride Theater (featuring "Safari Adventure"), Galaxy Golf or Dinosaur Adventure Golf (*weather permitting) and tokens for the Great Canadian Midway.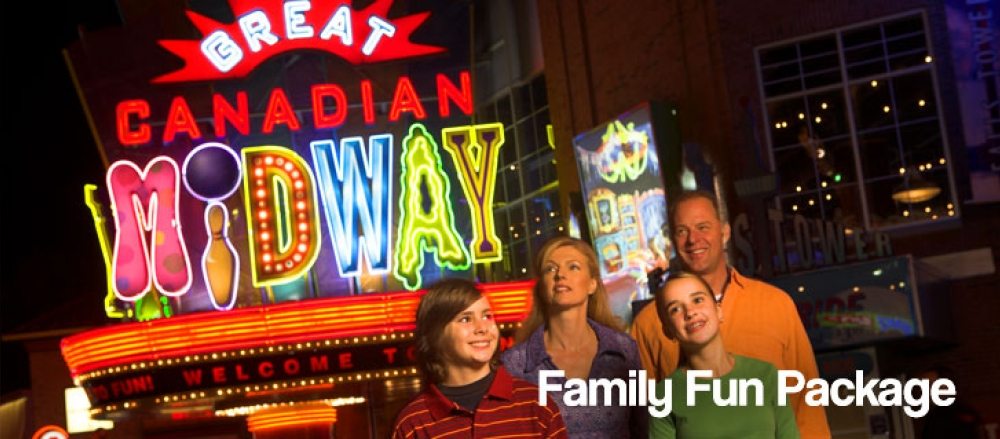 For couples searching for a two-night Niagara Falls March Break package, the Comfort Inn Clifton Hill can also offer a romantic option with the Niagara Couples Getaway Package. Have dinner for two at the newly remodeled Kelsey's Restaurant and full use of the hotel facilities including the indoor pool/whirlpool hot-tub, and free deluxe continental breakfast each morning. The hotel also offers easy walking access to several of Niagara's Parks for a romantic stroll, to the Falls, and of course to Clifton Hill, which offers plenty of fun things to do for couples in Niagara Falls.



Build Your Own Niagara Falls Adventure:
Save by adding your favourite Niagara Falls theme rides, combo passes and restaurant specials directly to your reservation when you book online at Comfort Inn Clifton Hill. Simply select all the attractions, combo passes, restaurant specials you want, and the quantity needed, and you'll be all set. Your order items will be held at our front desk until you arrive and check-in.
March Break Week Mar 12-14: From $322.76, taxes in, you can get a two bed Standard room for 2 nights, 2 Clifton Hill Fun Passes, 120 Midway Tokens, plus 2 Niagara Parks Wonder passes for an amazing Niagara Falls experience…. Saving over $85 Off individual attraction pricing.
| | | |
| --- | --- | --- |
| Save 50% Off | Save 33% Off | Save 50% Off |
| Room Deals up to 20% Off! | Save Over 15% Off | Save 40% Off |
| Save up to 70% Off | Save 46% Off | Save 45% Off |
| Save 50% Off | | Save over $15 off |
Several Niagara Falls attractions have combo specials available during March Break. Families looking for the biggest value on attractions will want to take advantage of the Clifton Hill FUN PASS, which offers 5 great attractions at one low price. These passes will save you 50% from the individual ticketed prices of each attraction. Adults are $25.95 and Children are $19.95. Buying these passes online is the best way to go, in order to get the added value of a BONUS SkyWheel admission — go twice!
Click the Fun Pass below to get started on your online order: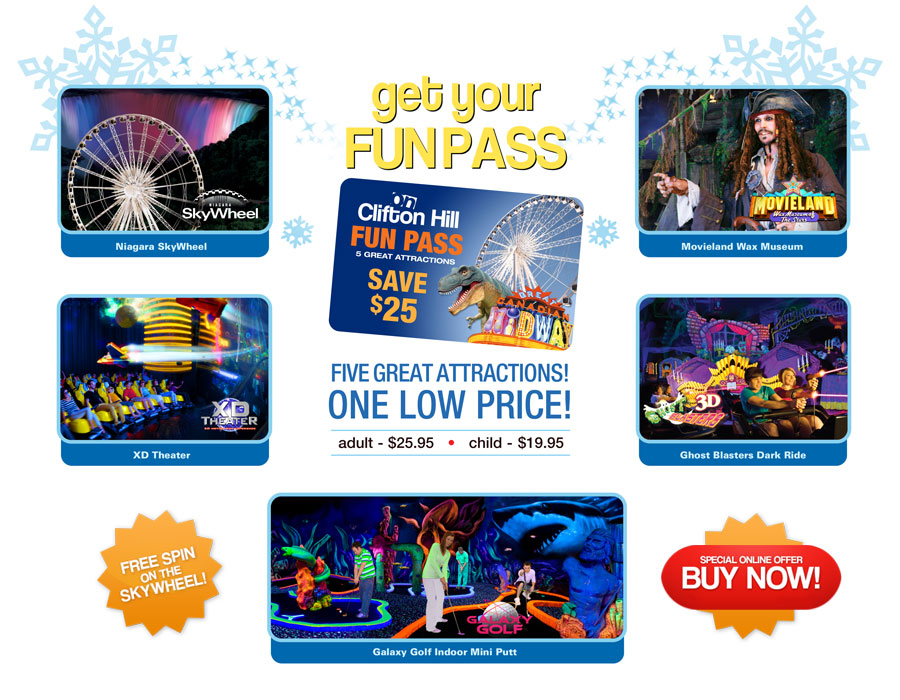 To help with your March Break vacation plans, below is a list of activities and events happening during March Break in Niagara:
Niagara Falls Illumination:
Every evening beginning at dusk the Falls are lit in the colours of the rainbow – don't miss the unmatched beauty of the Falls at night
* March 1 to March 8 Mon-Thurs 7:00 p.m. 10:00 p.m.
* March 9 to March 31 Mon-Thurs 8:30 p.m. 10:00 p.m.
*In the month of March, the Niagara Falls are lit until MIDNIGHT on Fri-Sun.
Greg Frewin Theatre:
The incomparable Greg Frewin will be performing his IMAGINE Magic Show twice a day at 3PM and 7:30PM starting March 10th to March 15th, 2014. Head to www.gregfrewintheatre.com for ticket information.
Fallsview Casino Entertainment
60′s folk rock sensations The Lovin' Spoonful take the stage with fan favourite singles such as "Do You Believe In Magic", "Summer In The City", "You Didn't Have To Be So Nice", "Did You Ever Have To Make Up Your Mind?" and "Daydream" on March 7th to 8th at 9:00pm.
Renowned former lead guitarist of the Eagles and writer of the iconic Grammy-studded hit "Hotel California", Don Felder takes the stage to perform singles such as "Tequila Sunrise", "Peaceful Easy Feeling" and "Witchy Woman" March 13th (8:30pm), and March 14th and 15th (9:00pm).
For more information on ticket prices and availability go to www.fallsviewcasinoresort.com
Butterfly Conservatory's new Swamp Creatures Exhibit!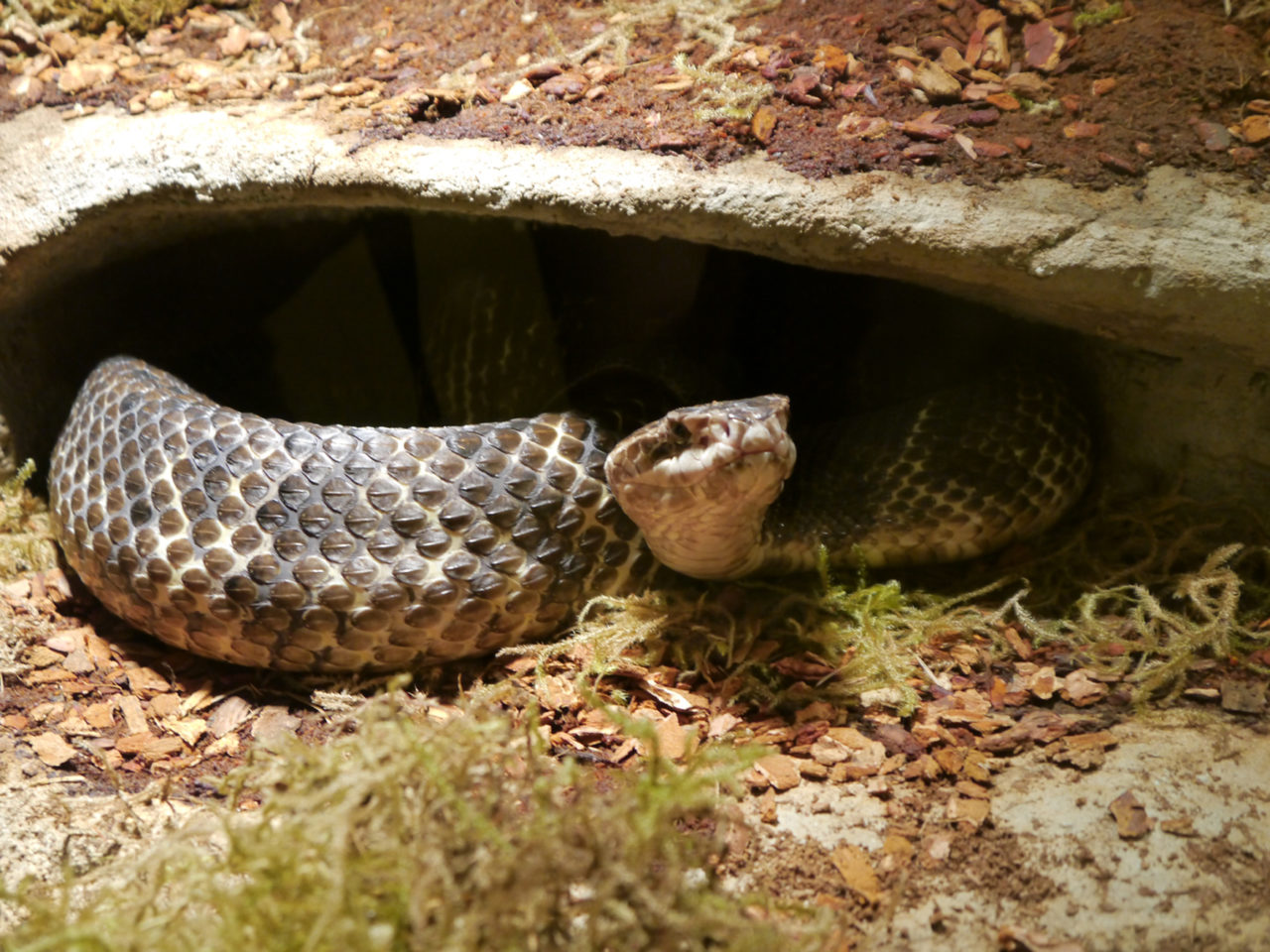 The Niagara Parks Butterfly Conservatory has a new exhibit on top of its regular spectacular feature of over 2000 tropical butterflies. Bring the whole family this March Break and check out its "Swamp Creatures"! Snakes, spiders, turtles and rats are just a few new additions (running from February 8th, 2014 to May 11th, 2014) that you will find here — for no added cost to the regular admission of $13.50 for Adults and $8.80 for Children (ages 6-12). 5 and under is free.
I recently visited this attraction with my son. To read about our experience click here.
Falls Illumination
Every Night the Falls are lit in the colours of the rainbow – see the beauty of the Falls at night!… more
Niagara Historic Sites


Aside from the Falls, there is still so much to experience with regards to

Niagara Falls' History

…

more
Strike Rock N Bowl
Top family entertainment complex featuring 25,000 sq ft of gaming fun plus Boston Pizza… more

Niagara SkyWheel
Soar 175 feet above the Falls for the most spectacular view you'll ever experience… more

Swamp Creatures
Featured exhibit at the Niagara Parks Butterfly Conservatory Is A Blast for Kids!… more

Greg Frewin Show
Imagine Magic! Come to Clifton Hill & see the Int. Grand Champion of Magic perform … more

Canadian Midway
70,000 square feet of fun located in the heart of Clifton Hill; Featuring over 300 games!… more

Songwriter's Night
Marti Frederiksen, David Cook and Bob DiPiero share their creative journey… more
Rumours Nightclub
Where your party begins every weekend at the top of Clifton Hill in Niagara Falls, Canada… more
Don Felder
Renowned former lead guitarist of the Eagles and writer of the iconic Grammy-studded hit "Hotel California"!… more

Sportsman Show
Exhibitors displaying endless products for fishing, boating, camping, hunting and the great outdoors, all under one roof!… more
Jenny Tseng
Acclaimed Cantonese & Mandarin pop singer has built an international repertoire for her captivating performances…. more
Ghost Blasters
Your adventure begins by entering the Bleakstone Manor where you'll be confronted by an army of ghosts…. more
Bodies Revealed
See inside carefully preserved anatomical specimens and learn the structure & function of the human body …more
XD Theater
Imagine being whooshed into a virtual world, where you lift and turn and move and twist into elaborate scenery…. more
If you decide on a Niagara Falls March Break, you can be sure it will busy and the weather can be very unpredictable this time of the year (hello, polar vortex!). Finding parking close to all of the Clifton Hill amenities and the Niagara Falls can be tricky — but not at this somewhat hidden — but LARGE — parking lot. You are right on Clifton Hill and only a couple of minutes from viewing the Falls. Best of all, the parking rates are nearly half of what you will find anywhere else even remotely close to the Niagara Falls.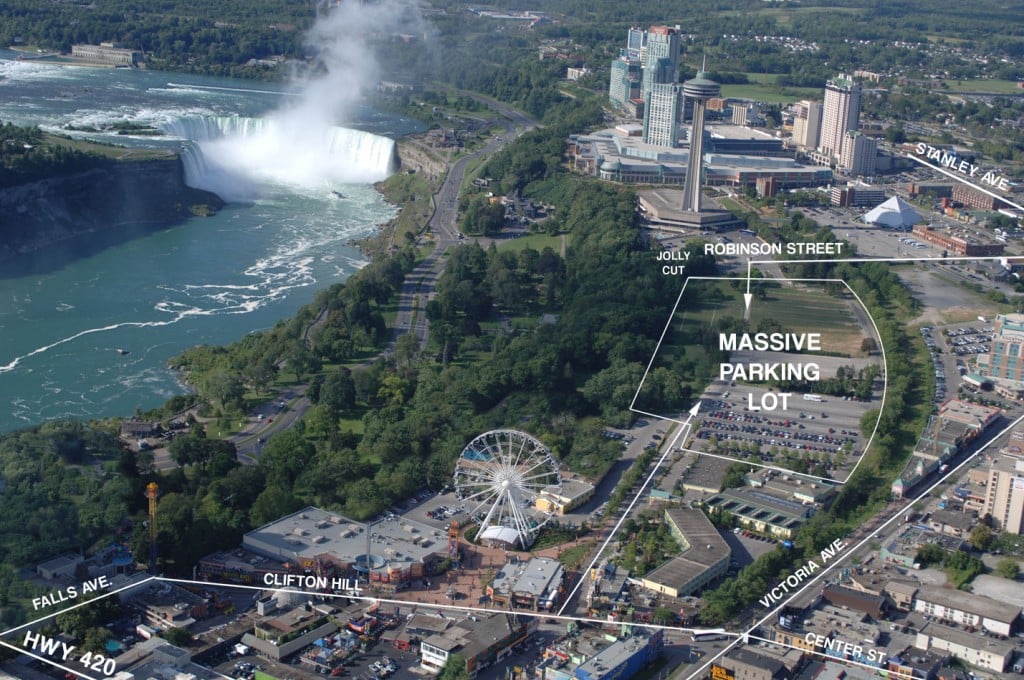 From Toronto:
-QEW toward East Hamilton/Niagara/Fort Erie.
-Keep left to take Hwy 420 E via exit 30A toward The Falls/Niagara Falls U.S.A.
-Take Stanley Ave/RR-102 towards "Alternate To Falls".
-Turn left onto Robinson St.
-At the end of Robinson Street is a dead end. There is a huge parking lot on the left-hand side with plenty of parking.
From Buffalo:
-I-190 N/New York State Thruway toward Peace Bridge/Ft. Erie, Canada.
-Take exit 9 towards the Peace Bridge.
-left onto Peace Bridge Plz/Peace Bridge.
-Peace Bridge becomes QEW.
-Marge onto Hwy 420 E via exit 30 towards Niagara Falls/Niagara Falls U.S.A.
-Take Stanley Av./RR-102 towards "Alternate to the Falls".
-Turn left onto Robinson Street.
-At the end of Robinson Street is a dead end. There is a huge parking lot on the left-hand side with plenty of parking.
There is plenty to do on a Niagara Falls March Break vacation. Stay connected to me for more things to do in Niagara Falls for families in March — and year round!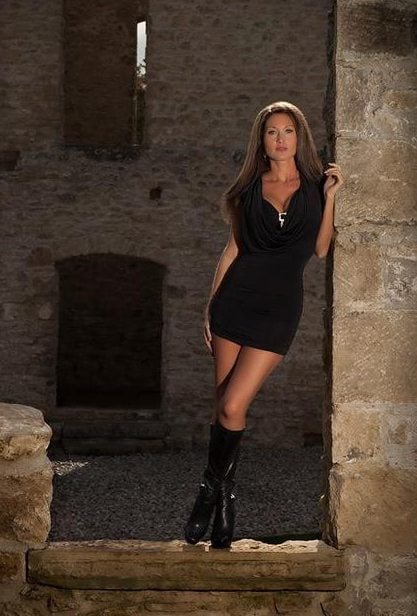 Christine Lynn
Facebook: www.CliftonHill.com/fb
Twitter: www.CliftonHill.com/twt
Google+: www.CliftonHill.com/gplus
Pinterest: www.CliftonHill.com/pin
— Falls_Blog