8168 Views
Independence Day in Niagara Falls

Independence Day is a federal holiday in the United States commemorating the adoption of the Declaration of Independence on July 4th 1776.   Today, Independence Day means family getaways, backyard bbq's, and a whole lot of partying!
Independence Day is a reason to get away, let loose and have fun! Just across the border from Niagara Falls, USA is the "Street of Fun by the Falls", Clifton Hill in Niagara Falls, Canada.  With attractions, games, dining and entertainment, you are guaranteed to have a great time no matter what age you are.  Everything is open early and closes in the wee hours of the morning, so you won't have to miss out on any good times. Curious about the Hours of Operation? Click here to check on your favourite Clifton Hill attraction.
One of the main events people come to see in Niagara Falls for Independence Day is the Holiday Fireworks Display.  Check out previous years displays, and if you notice the 175 foot giant wheel in the background known as the Niagara SkyWheel, it is a great spot to get amazing views of the fireworks!
Other attractions you will find to entertain you for Independence Day on Clifton Hill is the Dinosaur Adventure Golf — a 36 hole prehistoric miniature golf adventure featuring 2 distinct 18 hole courses to choose from — T-Rex Trek, a family fun adventure OR Raptor Run, a challenging course for your competitive streak! Here you can enjoy a relaxing tropical setting, complete with a 50 foot tall volcano and waterfall! Just watch out for the towering dinosaurs that come complete with sound effects! The Wild West Coaster, features an exciting 6D rollercoaster, and of course all the games you can imagine at the Great Canadian Midway! All these attractions mentioned are included in one of the best package deals within Niagara Falls, Canada — the Clifton Hill Fun Pass. This pass features the Niagara SkyWheel, Dinosaur Adventure Golf OR  Wizard's Golf (an indoor 18 hole glow-in-the-dark magical, fantasy adventure), the Wild West Coaster, tokens to play in the Great Canadian Midway, the Movieland Wax Museum and the Ghostblasters Dark Ride.
This entire package is only $25.95 for Adults and $19.95 for Children and if you purchase it online, the value is incredible at more than half off as you will receive two Niagara SkyWheel admissions as a bonus. Click the image below for details: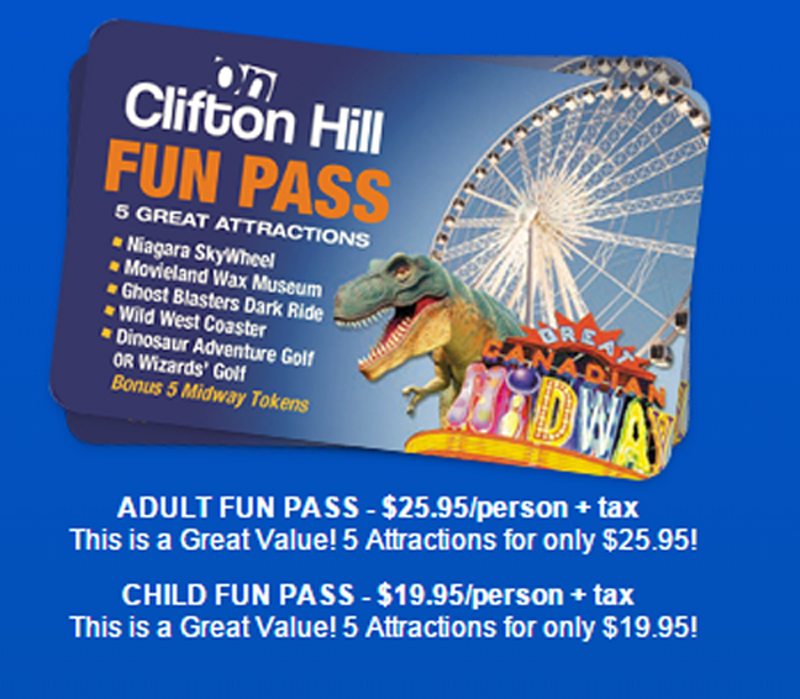 Independence Day Events
Concerts and Fireworks: Join us this Saturday, July 4th for a FREE Coca-Cola concert at the Queen Victoria Stage at 8:00 pm. This year, enjoy the sounds of "Monkley Cascade". The group plays a variety of music including Motown, Classic Rock, Blues and Pop.  Then, stick around at 10:00 pm for an amazing fireworks show put on by the Niagara Parks.
Getting hungry waiting for the fireworks to begin? Grab a late night snack at Boston Pizza or Kelsey's, both only minutes away from Queen Victoria Park. Both have a great selection of appetizers and entrees perfect for sharing, with new additions to the menu including cool, Summer beverages to enjoy while sitting out on the patio overlooking Clifton Hill.
 Choose Boston Pizza to watch your favorite team (click here to view our daily sports schedule), or Kelsey's to take advantage of our daily drink specials. Independence Day will feature $15 1/2 litres of our house wine.
Kelsey's:
Kelsey's also has free daily entertainment out on the patio. You can always stay up-to-date on who is playing on what date by checking out our weekly entertainment schedule here.
On Independence Day enjoy the sounds of Christian DiCienzo from 12 pm – 4 pm, Ashlynne Vince from 5 pm -9 pm, followed by the talented Brian Barber from 10 pm – 2 am.
Niagara Summer of Thrills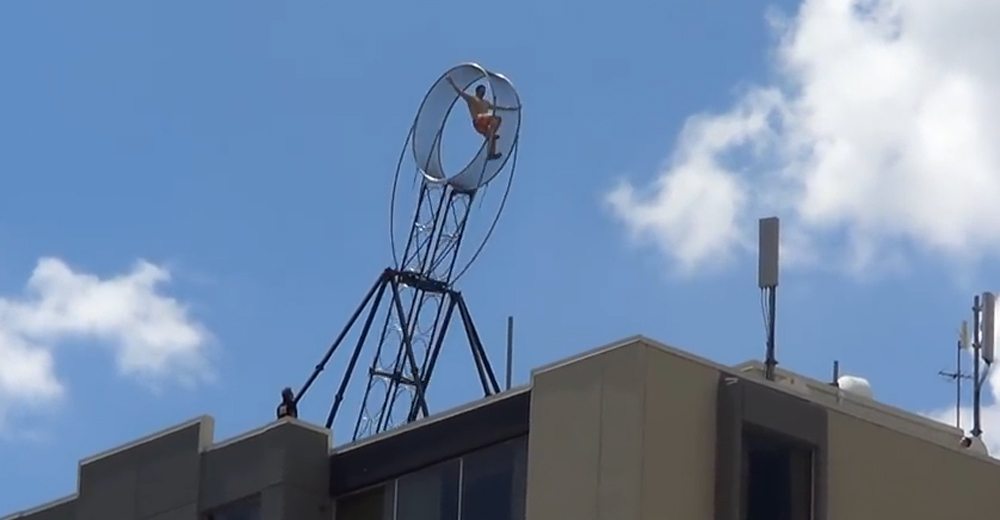 For only the 2nd year running, we welcome back the Niagara Summer of Thrills shows! All of these acts will be located at the top of Clifton Hill on Victoria Avenue.
Thursday, July 2nd – Monday, September 7th, 2015 (with the exception of Tuesday's and Wednesday's)
Experience more events than the year previous with 9 Variety Acts and 4 Thrill Shows Daily!
Variety Acts
These are a wide range of versatile, professional performing artists who provide engaging, memorable entertainment. These acts will feature magic, unicycling, chain saw juggling, clowns, rola bola, escape acts, rope walking, etc.
Thrill Acts
Sky Scraping Sway Pole Act: Duo
Take in the unwavering courage of daredevil athletes atop 2 flexible slender poles. Aerial acrobatics, a jaw-dropping midair exchange, and a death-defying descent! This towers 70 feet tall above Victoria Av.!
Acrobatic Motorcycle High Wire: Duo
Witness a motorcycle balancing atop a thin steel cable with a trapeze aerialist beneath it. The motorcyclist completes several death-defying stunts, including free-standing on top of the motorcycle, as the aerialist performs various acrobatic stunts from the trapeze. They will then flip the bike and trapeze numerous revolutions around the cable.
This event is showcased at the Days Inn (5943 Victoria Av.), beginning at 30 feet high to approximately 100 feet high. The span is 330 feet long.
Wheel of Fate: Duo
This features an acrobatic daredevil on one end of a giant pendulum, while his beautiful partner counterbalances on the opposite end in an awesome display of balance and impeccable timing. They will build momentum while walking, running & jumping inside and outside of this revolving apparatus!
This event is showcased on the roof of the Imperial Hotel (5851 Victoria Av.)
This show will be going on for Independence Day. Have a look at this video I shot from the very first show of the "Wheel of Fate" last year:
Fallsview Casino live performances!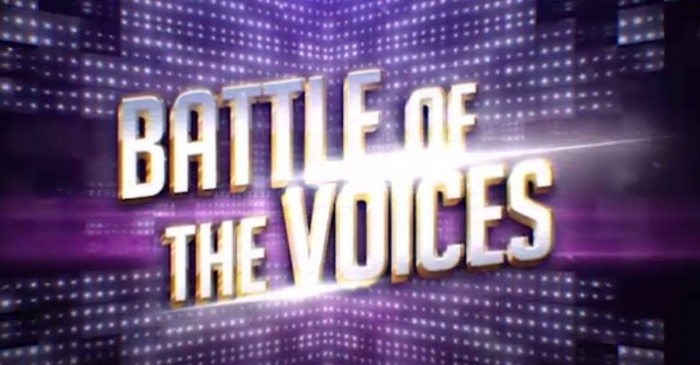 A new epic vocal showdown like never before, hosted by 98 Degrees' band member Drew Lachey, Battle Of The Voices is a knockout music event featuring artists from American Idol, The Voice and America's Got Talent. Become part of the battle where you choose the champion!
July 1, 2, 4, 5, 6, 7, 8 at 3:00 pm
July 1, 2 at 8:30 pm
July 3, 4 at 9:00 pm
July 5 at 7:00 pm
Buy your tickets at Fallsview Casino Resort's Box Office (open Noon on show days), at all Ticketmaster locations, by calling Ticketmaster at 1-877-833-3110.
Hornblower Niagara Cruises
It's easily one of Niagara's favourites! The Hornblower Niagara Cruises is a thrilling new way to experience Canada's most spectacular wonder of the world. They will take you on the ride of your life! An intimate tour that gets you as close as possible to the breathtaking flow of water, power and mist that is the magnificent Niagara Falls. Within the Niagara Great Gorge, the catamarans will journey past the American Falls, Bridal Veil Falls and into the very heart of the famous Horseshoe Falls.
Hornblower Niagara Cruises is located on the Niagara Parkway at the north end of Queen Victoria Park, close to the Rainbow Bridge and the Oakes Garden Theatre at the foot of the Clifton Hill tourist area.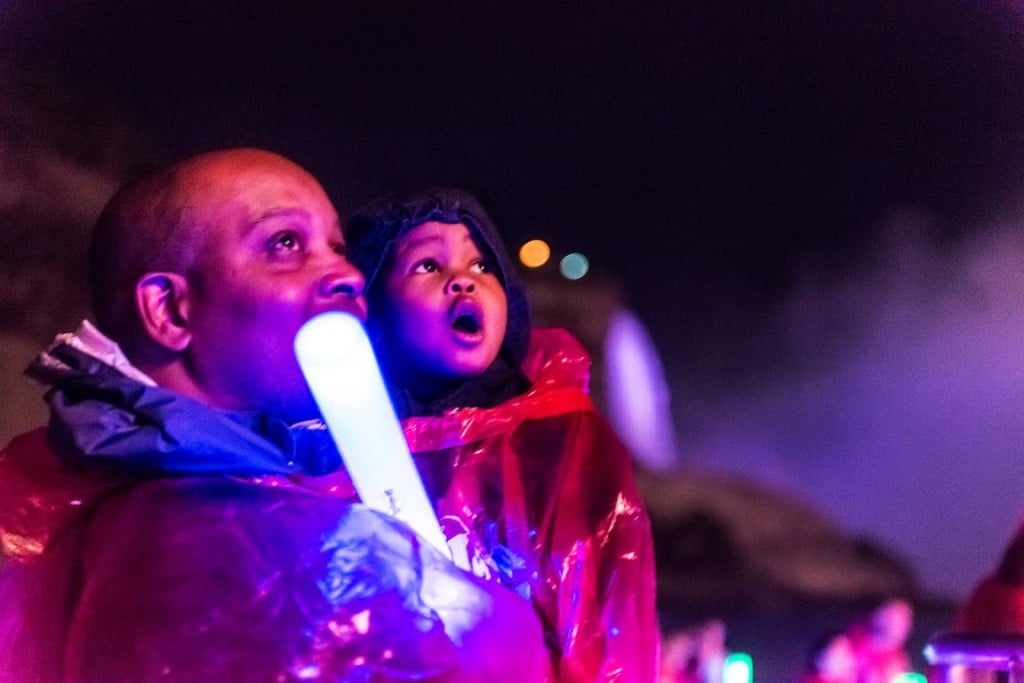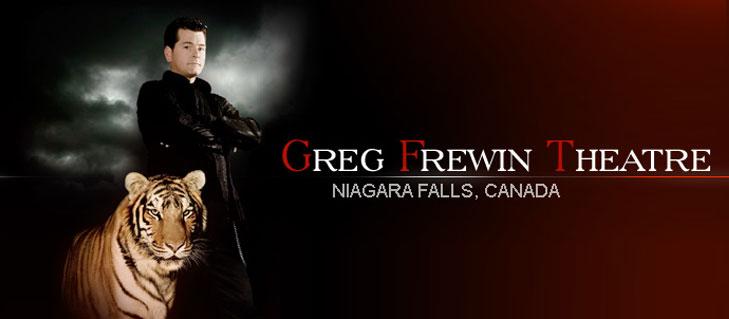 The Greg Frewin Theatre features a true Las Vegas style show, and just a 5-minute walk from Clifton Hill, the "Imagine Magic Show" runs at 7:30 pm on Independence Day, July 4th. Click here for ticket information and pricing.
Discounted tickets are also available if you are staying at the Comfort Inn Clifton Hill through the Greg Frewin Imagine Magic Package, as well as several other great savings.

Build Your Own Niagara Falls Adventure: Add your favourite Niagara Falls theme rides, combo passes and restaurant specials directly to your reservation when you book online.
Simply select the attractions, combo passes, restaurants specials you want, and the quantity needed, and you'll be all set. Your order items will be held at our front desk until you arrive and check-in.
We can help you prepare for crossing the border into Niagara Falls, Canada! A little preparation will go a long way, helping to simplify the process of entering from the United States.
Know What ID is Necessary:
All visitors arriving to Canada need a passport or passport equivalent. (If you are traveling soon, you can get a passport within 24 hrs with Rushmypassport.com.)
U.S. citizens ages 15 or younger with parental consent will be allowed to cross the borders at land and sea entry points with certified copies of their birth certificates rather than passports.
Have a Note for Children Traveling without Both Parents:
Adults traveling over the border into Canada with children who are not their own should have a written note from the parents or guardians giving permission for the children to leave the country. The permission should include the name and contact information of the parent / guardian.
Borders where you can enter into Niagara Falls, Canada:
1.       The Lewiston Queenston Bridge connects Lewiston, New York and Queenston, a community in the town of Niagara-on-the-Lake, 5 km north of Niagara Falls, Canada.
2.  The Whirlpool Bridge is a dedicated NEXUS-only crossing so everyone in the car will need to have a NEXUS card to use this crossing.  The Whirlpool Bridge connects downtown Niagara Falls, N.Y. and the old downtown of Niagara Falls, Canada.
3.       The Rainbow Bridge is for non-commercial-use only, so this is a popular tourist crossing.  The main U.S. highway leading to the Rainbow Bridge is Interstate 190. The primary Canadian feeder is the QEW (Queen Elizabeth Way), exit 420.
4.       The Peace Bridge remains popular with travelers and is close enough to the other area border crossings that you can switch border crossings as soon as you determine how long your wait is by signs, listening to 1610 AM radio, or checking the Canada Border Services website.
Tips for crossing at the world-famous Rainbow Bridge in Niagara Falls:
1.) Enroll in NEXUS and E-ZPass to expedite your border crossing.
NEXUS expedites the border clearance process for low-risk, pre-approved travelers into Canada and the United States. NEXUS dedicated customs inspection lanes are available in the Niagara Region at the Rainbow Bridge.
E-ZPass is an electronic toll collection technology that makes traveling more convenient, helps reduce traffic congestion, and saves you money at the Peace Bridge by reducing fuel consumption and saving you 10% off the cash toll rate.
2.) Choose which bridge to take. Make an informed decision when deciding which bridge to cross by checking the CBSA website or CBP website to see what their posted wait times are for Niagara Region international bridges or http://www.niagarafallsbridges.com/. You can also call 1-800-715-6722 to get the wait times for Niagara Region international bridges. These options are updated hourly. Have proper identification ready to present to the Customs agent. Click here to view border identification requirements.
3.) If traveling with children who are not part of your immediate family, have a note from the parents that their child has permission to cross the border with you. The note should include telephone numbers where the children's parents can be reached.
4.) Turn off radios and cell phones when talking to Customs agents.
5.) Declare all fruits, vegetables, plants and plant products, animals, birds, eggs, meat and meat products.
6.) Declare all items acquired for personal use.
7.) Do not fool around. Customs and Immigration agents on both sides of the border are law enforcement officials who take their duties very seriously. Approach inspection booths slowly and follow signage instructions.
8.) Do not drive under the influence of drugs or alcohol.
9.) Be patient. Customs agents are responsible for protecting our nations' borders and public safety.
*Don't struggle to find a parking spot going into this VERY busy upcoming weekend in Niagara Falls. Click here to find a spot with ample parking close to all the Niagara Falls events featured in this post*!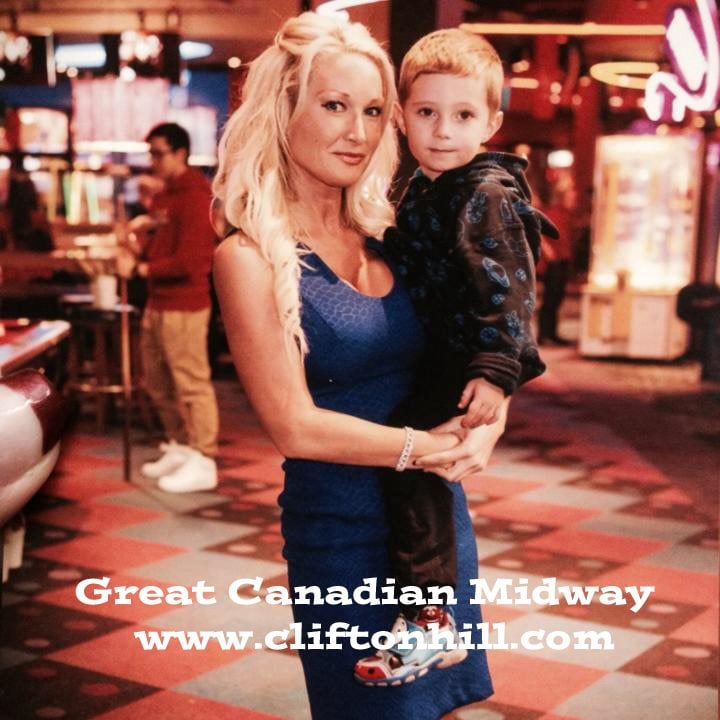 Christine Lynn
clynn@cliftonhill.com
Facebook: www.CliftonHill.com/fb
Twitter: www.CliftonHill.com/twt
Google+: www.CliftonHill.com/gplus
Pinterest: www.CliftonHill.com/pin
Instagram: @cliftonhillfun
— dhowe