Independence Day is a federal holiday in the United States commemorating the adoption of the Declaration of Independence on July 4th 1776.   Today, Independe
nce Day means family getaways, backyard bbq's, and a whole lot of partying!
Independence Day is a reason to get away, let loose and have fun! Just across the border from Niagara Falls, USA is the "Street of Fun by the Falls", Clifton Hill in Niagara Falls, Canada.  With attractions, games, dining and entertainment, you are guaranteed to have a great time no matter what age you are.  Everything is open early and closes in the wee hours of the morning, so you won't have to miss out on any good times. Grab ahold of the Clifton Hill Fun Pass for 6 of our amazing attractions! Buy online in order to get another bonus admission to the Niagara SkyWheel. Two times the fun!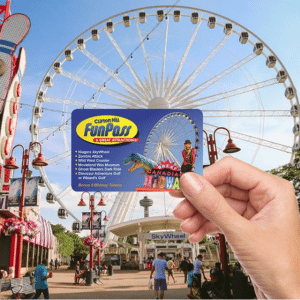 One of the main events people come to see in Niagara Falls for Independence Day is the Holiday Fireworks Display.  If you time if right, you may be able to catch this spectacular show from the Niagara SkyWheel — 175 feet from the ground, and at the peak of Clifton Hill for a memorable view! The fireworks start at 10:00 pm sharp in Queen Victoria Park, but be there for 8:00 pm to catch the free concerts sponsored by Coca Cola featuring local bands.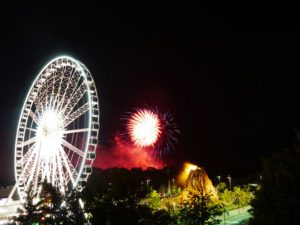 Beside the SkyWheel is the Dinosaur Adventure Golf; a 36 hole prehistoric miniature golf adventure featuring 2 distinct 18 hole courses to choose from — T-Rex Trek, which is a family fun adventure OR Raptor Run, a challenging course for your competitive streak! Here you can enjoy a relaxing tropical setting, complete with50 foot tall volcano and waterfall! Just watch out for the towering dinosaurs that come complete with sound effects!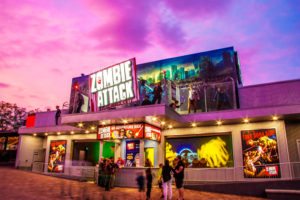 The Zombies Are Here!
Take dead aim! Try out our newest and most talked about attraction, "Zombie Attack". Also part of our Clifton Hill Fun Pass, this challenges you to survive brain-hungry zombies in a multi-sensory adventure, featuring real-time 6D graphics. Challenge your family and friends in the scoring battle to prove who is champion of mankind!
Getting hungry waiting for the fireworks to begin? You need to check out our newly renovated and expanded KELSEYS Original Roadhouse, located only minutes away from Queen Victoria Park. We now feature Niagara's largest patio bar with live entertainment all day and evening long.
Our KELSEYS features a menu with a great selection of appetizers and entrees perfect for sharing. Signature beverages to cool you down such as the two-handed sangrias, and milk bottle shakes (which include Ontario craft beer and spirits) are just a few Summer beverages to enjoy that are unique to KELSEYS.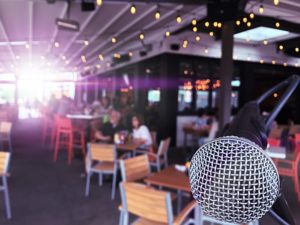 Hornblower Niagara Cruises
It's easily one of Niagara's favourites! The Hornblower Niagara Cruises is a thrilling new way to experience Canada's most spectacular wonder of the world. They will take you on the ride of your life! An intimate tour that gets you as close as possible to the breathtaking flow of water, power and mist that is the magnificent Niagara Falls. Within the Niagara Great Gorge, the catamarans will journey past the American Falls, Bridal Veil Falls and into the very heart of the famous Horseshoe Falls.
Hornblower Niagara Cruises is located on the Niagara Parkway at the north end of Queen Victoria Park, close to the Rainbow Bridge and the Oakes Garden Theatre at the foot of the Clifton Hill tourist area.
Catch a Day Cruise with the VOYAGE TO THE FALLS Boat Tour, or catch a FALLS ILLUMINATION/FIREWORKS Boat Tour, which shows the Niagara Falls illuminated brighter than before, with its new LED lights. This is part of a $4-million dollar revitalization project featuring the latest technology to light the Horseshoe and American Falls.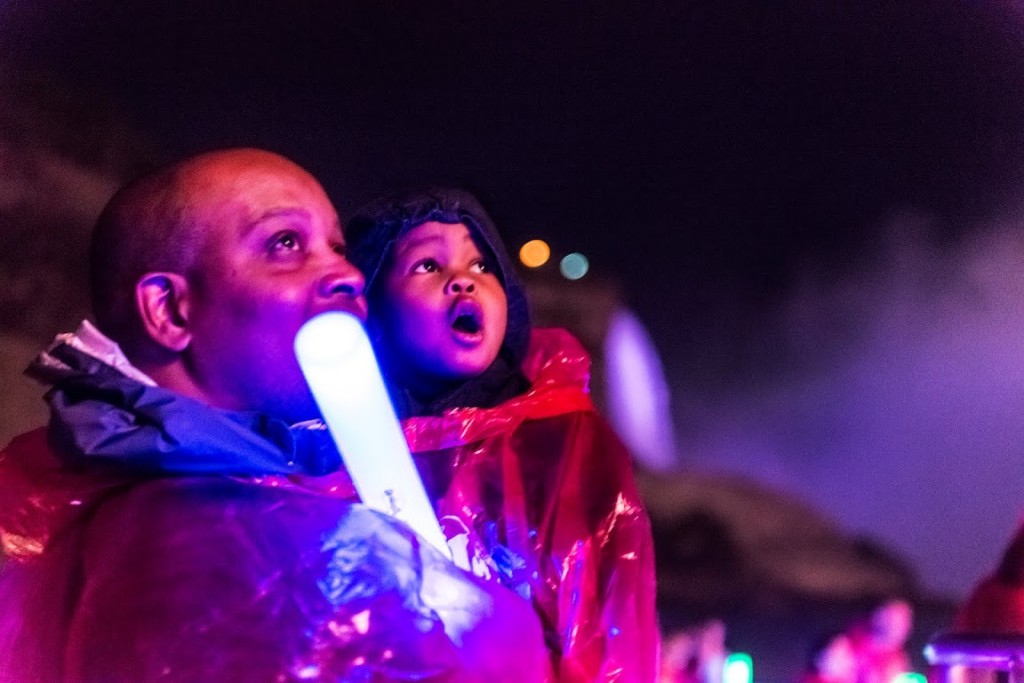 The Greg Frewin Theatre features a true Las Vegas style show, and just a 5-minute walk from Clifton Hill, the "Wild Magic Show" runs at 7:30 pm on Independence Day, July 4th. Click here for ticket information and pricing.
The anticipation of traveling to Niagara Falls is high for 2017 as we have many new and exciting additions that have arrived just in time for Independence Day such as the Niagara Speedway's "Game Zone", new concession stands, and WildPlay Niagara's MistRider Zipline to the Falls & the Whirlpool Adventure Course.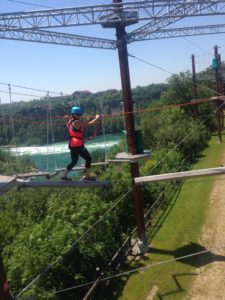 Save BIG on attractions and dining on Clifton Hill, Niagara Falls by picking out the savings that you wish online with our Build-A-Package options.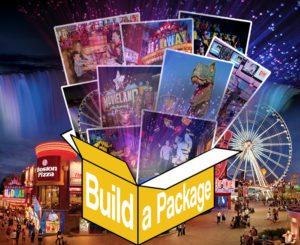 Parking for Independence Day 
You will find plenty of parking over the Independence Day weekend at this lot pictured in the map below. This parking lot has recently been expanded to hold 700+ vehicles! It's only a 5 minute walk down Clifton Hill to the fireworks show, complete with a jolly cut for those of you that are parked closer to the Skylon Tower and want quick access to view the majestic Horseshoe Falls.
Niagara Falls will be busy on Independence Day, and this lot can accommodate plenty of vehicles, and is just steps away from the Fallsview district for those of you who wish to do a little gambling at the Fallsview Casino Resort.
Key Features:
Wheelchair accessible parking
Security patrolled
2 ways in, 3 way out of this lot
Central to viewing the Niagara Falls, Clifton Hill, and the Fallsview District.
Well illuminated Parking lot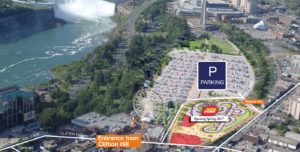 Niagara Falls Border Crossing
We can help you prepare for crossing the border into Niagara Falls, Canada! A little preparation will go a long way, helping to simplify the process of entering from the United States.
Know What ID is Necessary:
All visitors arriving to Canada need a passport or passport equivalent. (If you are traveling soon, you can get a passport within 24 hrs with Rushmypassport.com.)
U.S. citizens ages 15 or younger with parental consent will be allowed to cross the borders at land and sea entry points with certified copies of their birth certificates rather than passports.
Have a Note for Children Traveling without Both Parents:
Adults traveling over the border into Canada with children who are not their own should have a written note from the parents or guardians giving permission for the children to leave the country. The permission should include the name and contact information of the parent / guardian.
Borders where you can enter into Niagara Falls, Canada:
The Lewiston

Queenston

Bridge connects Lewiston, New York and

Queenston

, a community in the town of Niagara-on-the-Lake, 5 km north of Niagara Falls, Canada.
The Whirlpool Bridge is a dedicated NEXUS-only crossing so everyone in the car will need to have a NEXUS card to use this crossing.  The Whirlpool Bridge connects downtown Niagara Falls, N.Y. and the old downtown of Niagara Falls, Canada.
The Rainbow Bridge is for non-commercial-use only, so this is a popular tourist crossing.  The main U.S. highway leading to the Rainbow Bridge is Interstate 190. The primary Canadian feeder is the

QEW

(Queen Elizabeth Way), exit 420.
The Peace Bridge remains popular with travelers and is close enough to the other area border crossings that you can switch border crossings as soon as you determine how long your wait is by signs, listening to 1610 AM radio, or checking the Canada Border Services website.
Tips for crossing at the world-famous Rainbow Bridge in Niagara Falls:
1.) Enroll in NEXUS and E-ZPass to expedite your border crossing.
NEXUS expedites the border clearance process for low-risk, pre-approved travelers into Canada and the United States. NEXUS dedicated customs inspection lanes are available in the Niagara Region at the Rainbow Bridge.
E-ZPassis an electronic toll collection technology that makes traveling more convenient, helps reduce traffic congestion, and saves you money at the Peace Bridge by reducing fuel consumption and saving you 10% off the cash toll rate.
2.) Choose which bridge to take. Make an informed decision when deciding which bridge to cross by checking the CBSA website or CBP website to see what their posted wait times are for Niagara Region international bridges or http://www.niagarafallsbridges.com/. You can also call 1-800-715-6722 to get the wait times for Niagara Region international bridges. These options are updated hourly. Have proper identification ready to present to the Customs agent. Click here to view border identification requirements.
3.) If traveling with children who are not part of your immediate family, have a note from the parents that their child has permission to cross the border with you. The note should include telephone numbers where the children's parents can be reached.
4.) Turn off radios and cell phones when talking to Customs agents.
5.) Declare all fruits, vegetables, plants and plant products, animals, birds, eggs, meat and meat products.
6.) Declare all items acquired for personal use.
7.) Do not fool around. Customs and Immigration agents on both sides of the border are law enforcement officials who take their duties very seriously. Approach inspection booths slowly and follow signage instructions.
8.) Do not drive under the influence of drugs or alcohol.
9.) Be patient. Customs agents are responsible for protecting our nations' borders and public safety.