Reading Time: 
5
minutes -
Finally, we have a made-up holiday that all us ladies (single or not) can appreciate! Galentine's Day is the day that precedes Valentine's Day, and Clifton Hill has all the fun that you and your ladies can possibly have.
So what is Galentine's Day, you ask? It was a day that was recognized by Leslie Knope on the hit TV show, "Parks and Recreation." Celebrated on February 13th, it is now an unofficial holiday in which ladies celebrate each other with love, gifts, and of course…FUN!
On Clifton Hill we have everything you need to make this day the best time that you can have with the special leading ladies in your life. Whether you are married, in a relationship, single, young, old, or just want an excuse to take your mom or your daughter out for a fun time, here are six fun things to do on Clifton Hill for Galentine's Day.
Did Someone Say Arcade Games?!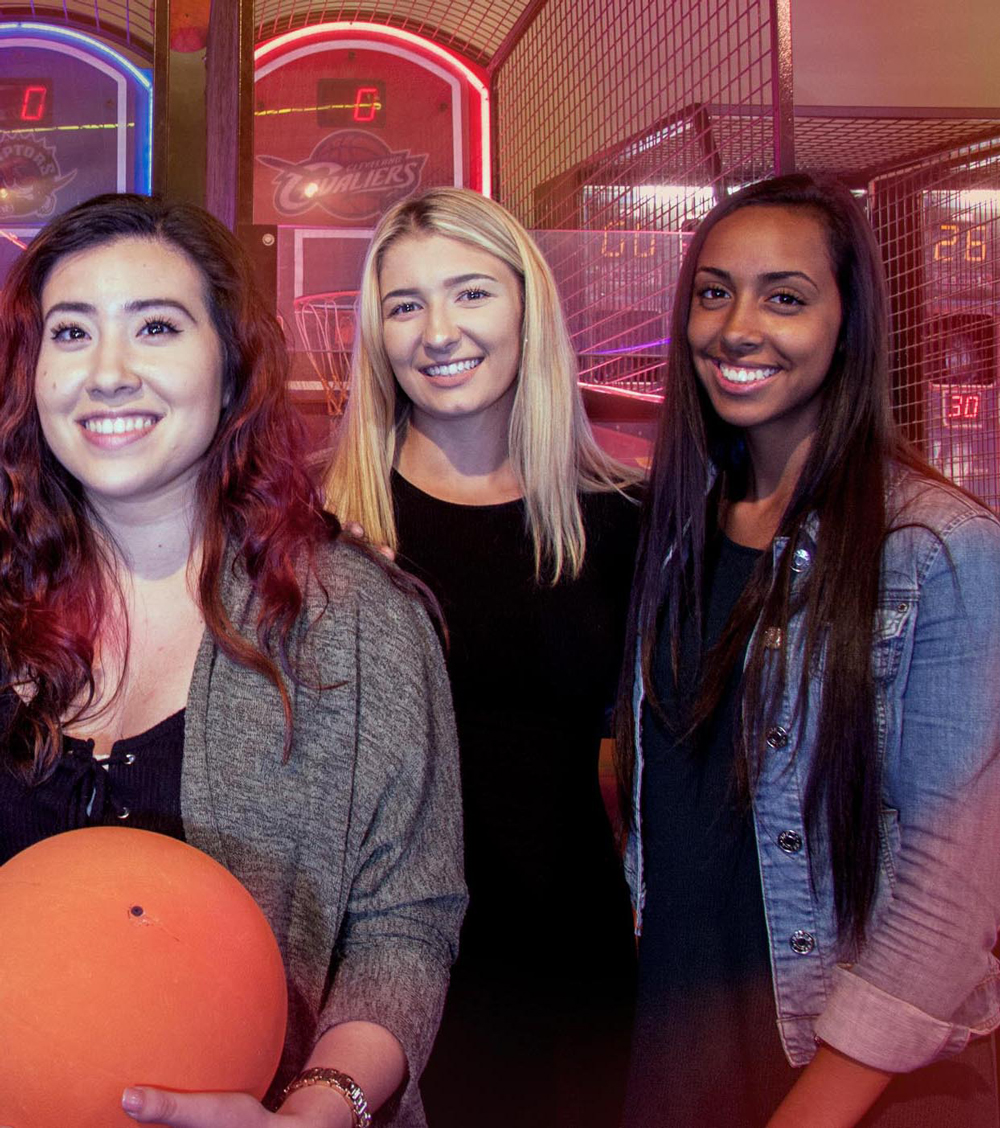 You know you are lying to yourself if you don't admit that you are at least a little competitive with your female counterparts. The Great Canadian Midway is THE spot in Niagara Falls to showcase how much better you are at a friendly game of Skee Ball, Deal or No Deal, or Flying Tickets. With over 300 games to choose from, you'll have plenty of ways to play "best of 5". The person that loses the most has to buy the drinks upstairs at Boston Pizza.
**Tip: Buy the online Midway Token Offer and split the tokens between all of you.
It's Always Wine Time 😉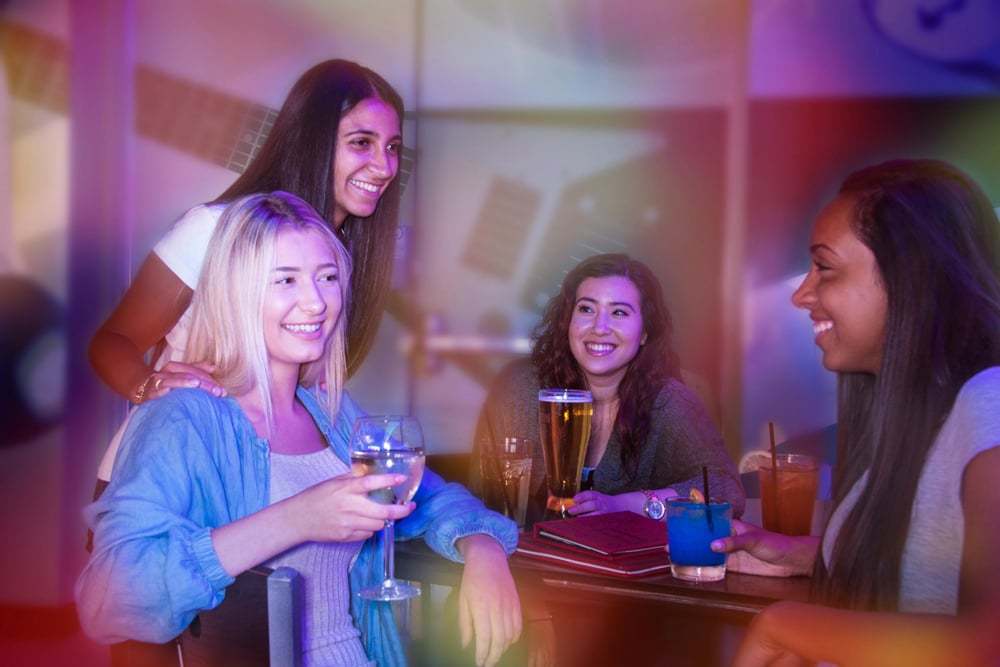 You are already in Ontario's wine country, so you can't celebrate Galentine's Day without heading upstairs after playing games to Boston Pizza Clifton Hill. Carrying white, red, rose, and sparkling wines from around the world, we also feature a couple of Niagara's local favourites. Jackson-Triggs and Inniskillin wines you will find here. Not a wine person? Try a Boston Pizza Sangria, Frozen Cocktail, Specialty Cocktail, Mixed Drink, or a nice, cold Beer. Now that you are feeling all warm and fuzzy (and maybe a little tipsy), it's time to bring the fun up a notch and challenge your friends to some bowling!
**Tip: Share a delicious appetizer. Here are 10 best dishes to share.
SSSttttrrrriiikkkeee!!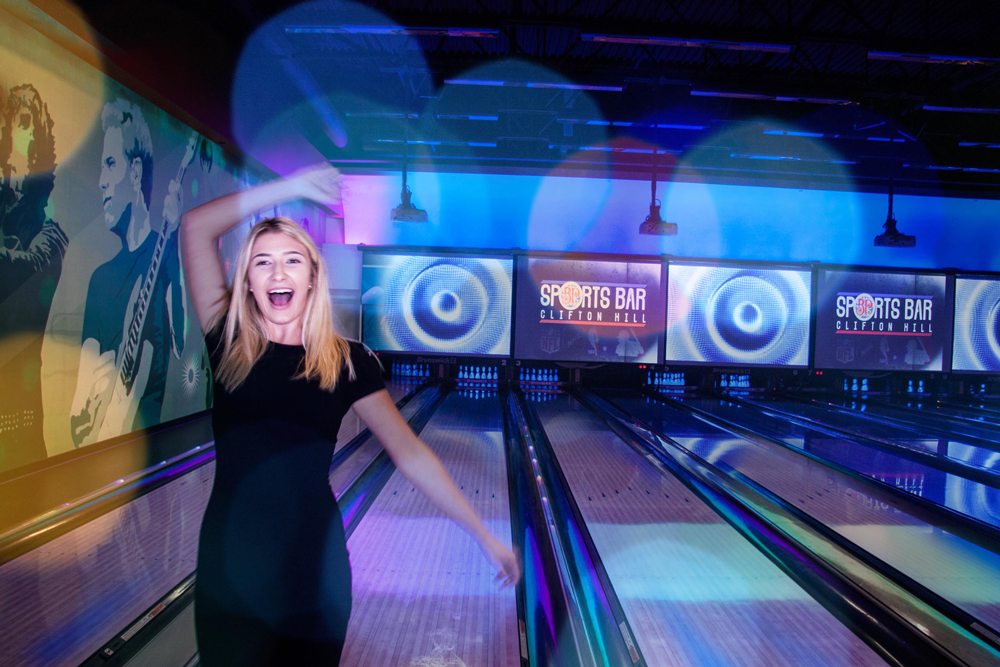 Do you brag about your bowling skills improving after a couple glasses of wine? Now's your chance to prove it! Strike! Rock N' Bowl is 14 lanes of 10-pin bowling excitement connected within our Boston Pizza. We also have 8 billiard tables to compete against your lady friends if bowling isn't for you. Either way, you are bound to share a few laughs here and have a great time. After 9:00 pm you must be 19+. Strike! at Night is open until 2:00 am 7 days a week. Looking for redemption? Time to blast some Zombies…
**Tip: Plan ahead and make it a group outing! Check out the Ultimate Package and book with us for a great meal, bowling, and tokens at a discounted rate. Call 1-800-801-8557 for added details.
The Apocalypse Is Coming!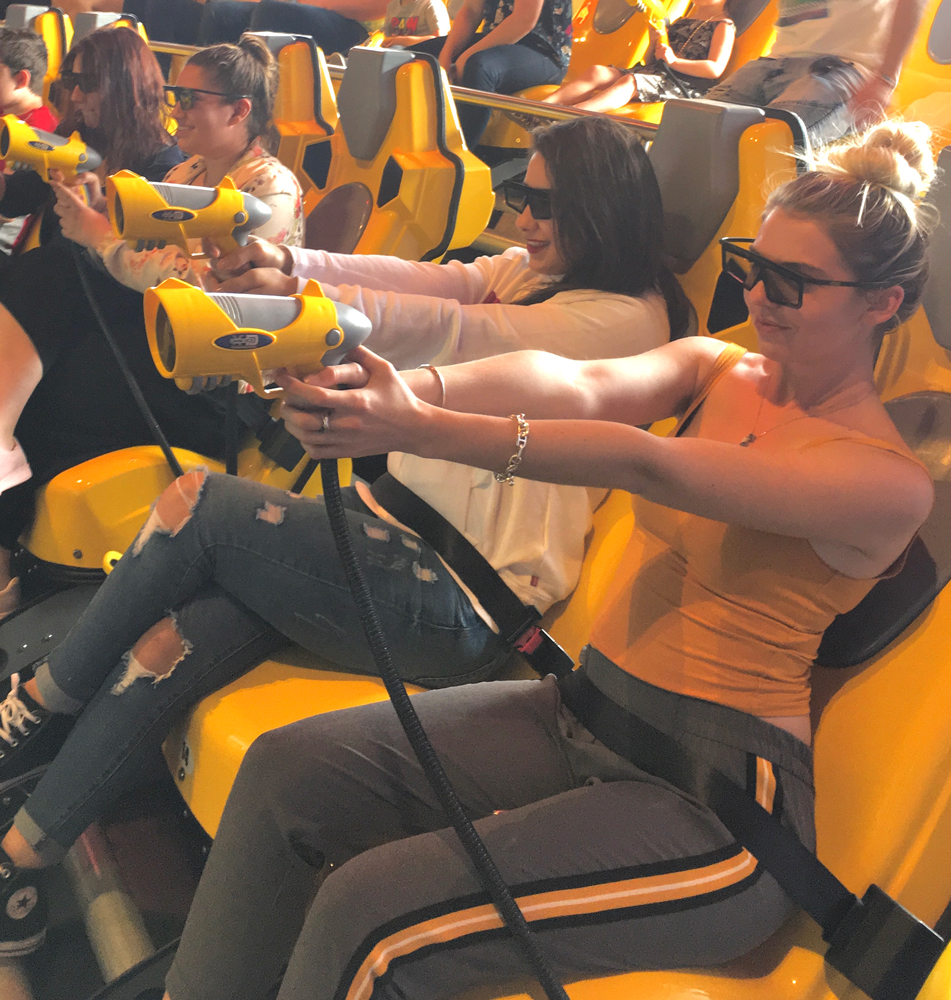 …Well not really an apocalypse per se, but it is inside Clifton Hill's newest 6D, multi-sensory adventure ride. Step outside Strike! Rock N Bowl and across from the Niagara Speedway, and you'll find "Guy" the resident zombie ready to greet you. Get your trigger finger ready and blast some walking dead in Zombie Attack! This is the ultimate group experience with an individual scoring system. At the end of the ride, one of the lucky ladies in your group will have their picture plastered on screen to see who gets the best score. However, because you are competing against everyone in the theatre, there is a chance little Johnny could outblast all of you in this game of skill. 😉 Are you tired yet? Take some time to rest 175 feet above ground level.
**Tip: Purchase the Clifton Hill Fun Pass to experience all of our top exciting attractions for one low price of $29.95+tax.
The View Is Everything Up Here!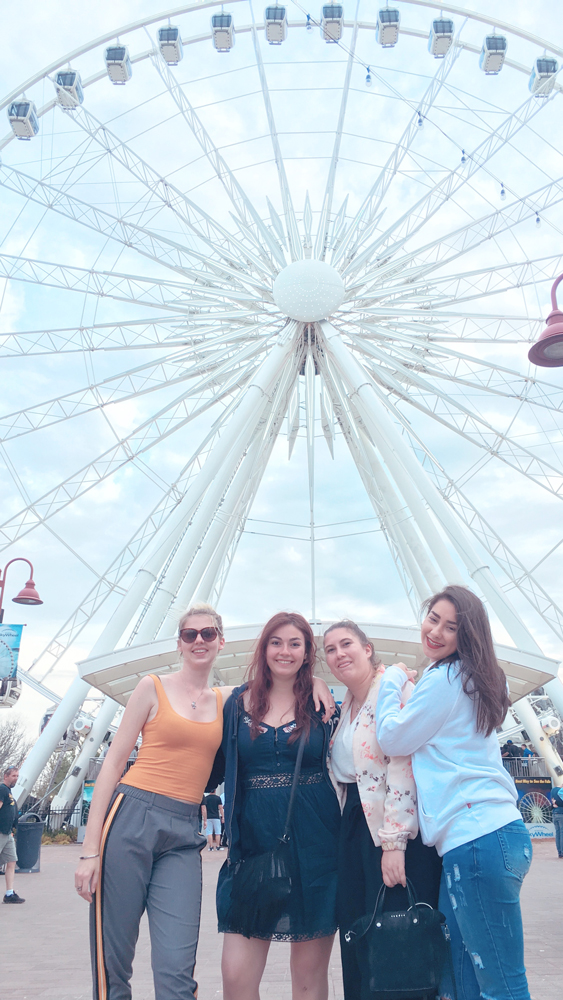 You can't miss the Niagara SkyWheel no matter where you are situated on Clifton Hill. Since its inception in 2006, this observation wheel has quickly become a staple in Niagara Falls. From 175 feet high above ground level at the peak of Clifton Hill, the view is impeccable and undeterred from visual obstructions. The gondolas are climate-controlled and seats up to 8 of your closest lady friends for the ultimate in comfort and unparalleled beauty. Experience 360 degrees of panoramic views of the Niagara Falls, Clifton Hill, the Niagara River, and the Niagara skyline from up here. Be sure to have your phones fully charged, because you will want some pictures with your girls for your Instagram accounts. Ready for the real thing now? Take a short stroll down the see the Niagara Falls up close and personal.
**Tip: Follow us on Instagram @CliftonHillFun and tag us for a chance to be featured. We do frequent contest giveaways!
The Most Beautiful Backdrop Of All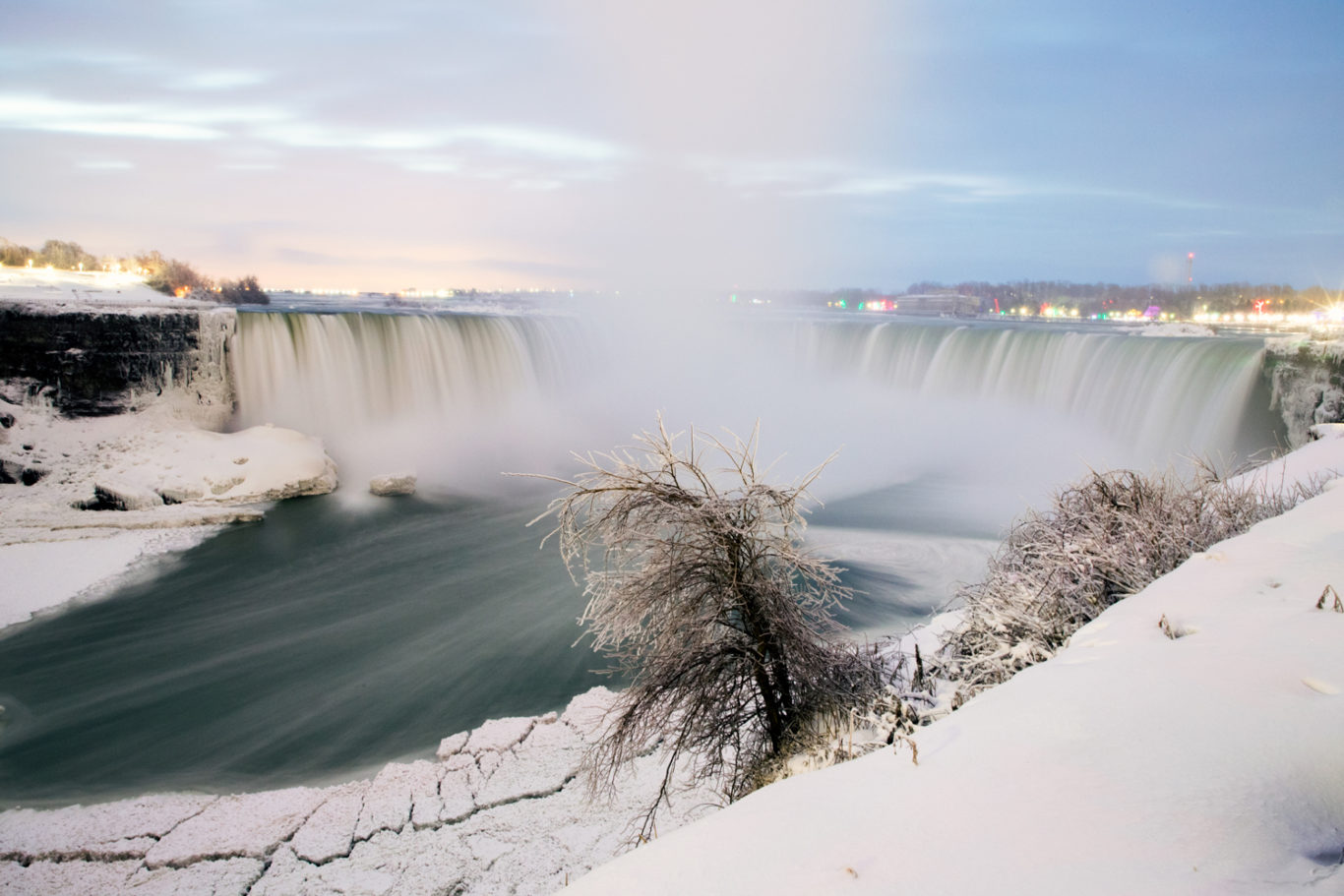 After exiting the Niagara SkyWheel, it's just a 5-minute stroll down Clifton Hill before you witness the ultimate view of all — the majestic Niagara Falls! At night, the falls are illuminated with LED lights, and in the Winter, it transforms the frozen falls through a rainbow of colours. Since you are already in the vicinity, take a some photo opportunities through Queen Victoria Park and the Oakes Garden Theatre. Both offer incredible backdrops for making memories…only secondary to standing right next to the Niagara Falls.
Ready to warm up? Access to all the games and entertainment within Casino Niagara is just a one-minute walk from the Sheraton On The Falls Hotel — located right beside the Oakes Garden Theatre!
**Tip: Plan ahead, and you will find the perfect accommodations to suit your girl tribe. Need help? Here is a list of Clifton Hill hotels. Whether it's a day trip or an overnight extravaganza, get planning the perfect getaway this February 13th for Galentine's Day!