Reading Time: 
4
minutes -
Go on a Ghost Tour
Niagara is the full of history — which means load of haunted tales!
Here are some top Niagara Ghost Tours to check out around Halloween. From Drummond Hill Cemetery Tours to Ghost Tours of Fort George, click the image below for a list of spooky tours to attend:
Visit Nightmares Fear Factory
Legend has it that at this site of the once industrious "Cataract Coffin Factory", proprietor Abraham Mortimer dedicated every waking hour to surveying the progress of his domain.
At night, the old man was tormented and taunted by young hooligans. Abraham would chase the riff-raff from their pranks and dares. They always laughed at his threats… until one fateful night Abraham confronted a rowdy group of thrill-seekers. In the ensuing struggle, a stack of solid oak coffins overturned, and Abraham was crushed to death! The guilty ran off and were never apprehended for their part in the gruesome murder.
Soon after the funeral, Abraham Mortimer's coffin was found unearthed and empty…
To this day it is said, he walks the halls for revenge on those who dare trespass on his beloved, and now abandoned factory.
Nightmares Fear Factory is located at the top of Clifton Hill, at 5631 Victoria Avenue, Niagara Falls. This popular and truly frightening haunted attraction is famous for the number of visitors that 'chicken out'…will you be next?
Ride the Ghost Blasters Dark Ride and/or Zombie Attack on Clifton Hill 
Taking down the fear factor a notch, you'll find a family friendly "Haunted Hotel" located inside the Great Canadian Midway on Clifton Hill, Niagara Falls. At Ghost Blasters Dark Ride, you will have a "blast" shooting ghosts and challenging an opponent with your laser gun skills!
This is an interactive "black-light" adventure which features many different animatronic characters, animated props, and set pieces, giving it a whimsical spookiness unlike anything you've experienced before.
Your adventure begins by entering the "Bleakstone Manor" where you'll be confronted by an army of ghosts, skeletons, ghouls and goblins riding from room to room in velvety black-light darkness. Lucky for you, you'll have a laser gun to blast away these pesky phantoms that seem to pop out from every crack and crevice….and if you're up for the challenge you can try to get the highest score by blasting away ghosts with the most accuracy.

Feeling a little more daring? Try your trigger hand at one of Clifton Hill's newest attractions, Zombie Attack! This is a 36-seat interactive XD Dark Ride Theater that is the largest XD Dark Ride in North America. Survive brain-hungry zombies in the multi-sensory adventure, featuring real-time 6D graphics. Challenge your friends in the scoring battle to prove who is champion of mankind.
Visit Tunnel of Terror
The 9th annual "Tunnel of Terror for Project Share & Kids with Cancer" is a Halloween charity event held in Niagara Falls, Ontario at 3007 Loyalist Avenue in Niagara Falls. Every year, the Torbett family raises money for a local child with Cancer and food for the local food bank, Project Share.
The Tunnel of Terror is a handmade haunted tunnel made of wood and tarps, built in the backyard of David and Karyn Torbett. It's over 1000 sq ft of walk through haunted tunnels, hallways and rooms with live actors inside and a few spooks and surprises around every corner and behind every door.
This year the theme is a Witches House named "Hazel's House". You will tour her hair raising potion and spell chamber, a disturbing and threatening tea room among other sinister and eerie areas of her habitat along with spooks, surprises and scares around every corner and through every creaky door. You will also encounter real life witches and warlocks inside the compound.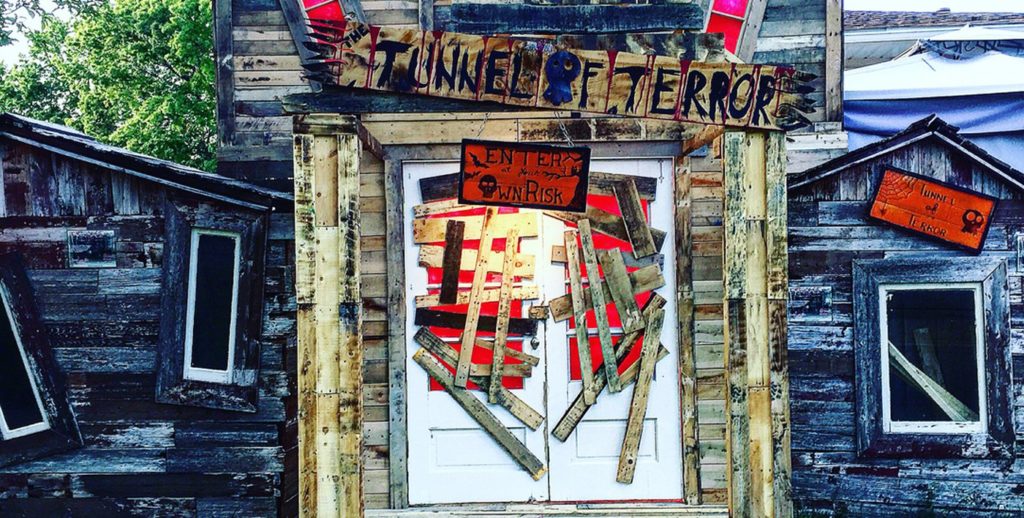 Haunt Manor Hayrides and Haunted Houses
Haunt Manor Hayrides and Haunted Houses is located at 9387 Lundy's Lane, Niagara Falls and was named Canada's scariest Haunted Attraction by Fangoria Magazine.  It has been featured on CHCH TV on Morning Live and on numerous paranormal TV shows and has been the front page story in the Niagara Falls Review, Saint Catharines Standard, Welland Tribune, Niagara This Week and the Hamilton Spectator.
There is a theatrical hayride, corn maze and 7 separately themed haunted houses. Each year the overall theme changes and the Haunted Houses and characters give you a new experience, so yearly you will get immersed in a whole new world of creepiness.
*Due to the nature of this attraction, it is NOT recommended for children under the age of 13.*
Halloween on the Hill
Continuing with tradition, Clifton Hill, Niagara Falls will be celebrating Halloween with the annual "Halloween on the Hill" located at Boston Pizza Clifton Hill. This year, the party will be on Saturday, October 27th from 9:00 pm – 2:00 am.
They will be giving away a prize pack valued at $500 for best costume.
DJ Pete will be setting the mood with the killer Halloween beats!
NO COVER CHARGE!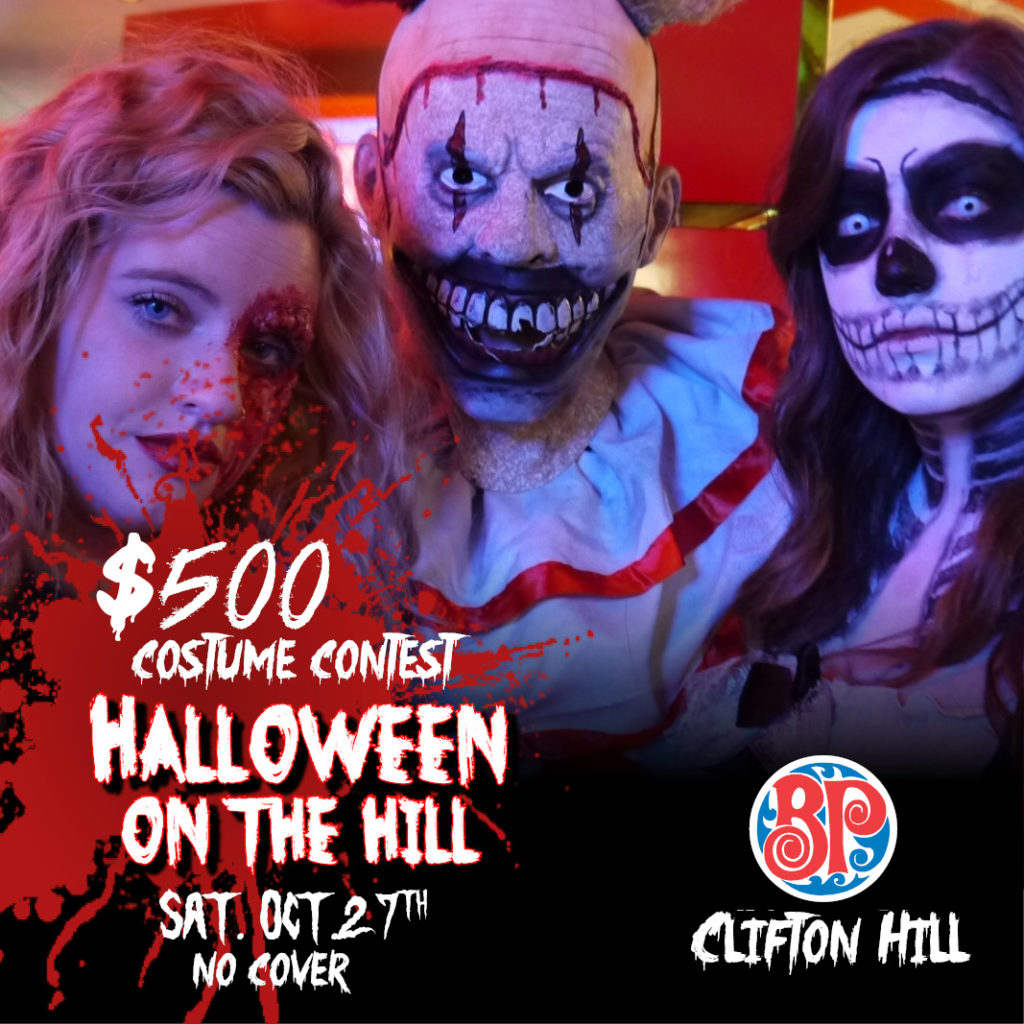 Rocky Horror Show (Adults Only 18+)
Raising more than $110,000 for Positive Living Niagara (formerly AIDS Niagara) over the past 15 years, Oh Canada Eh? Productions are pleased to bring "Rocky" back to life every Halloween Season.
Bursting at the seams with timeless classics including "I'm Just a Sweet Transvestite", "Damn It Janet" and the pelvic-thrusting "Time Warp", the biggest and best rock n' roll musical of them all swings back into Niagara Falls!
Dates run from  Friday, October 26th – Saturday, November 3rd, 2018 at 7:00 pm.
Visit www.ohcanadaeh.com for online ticket sales or call 1-800-467-2071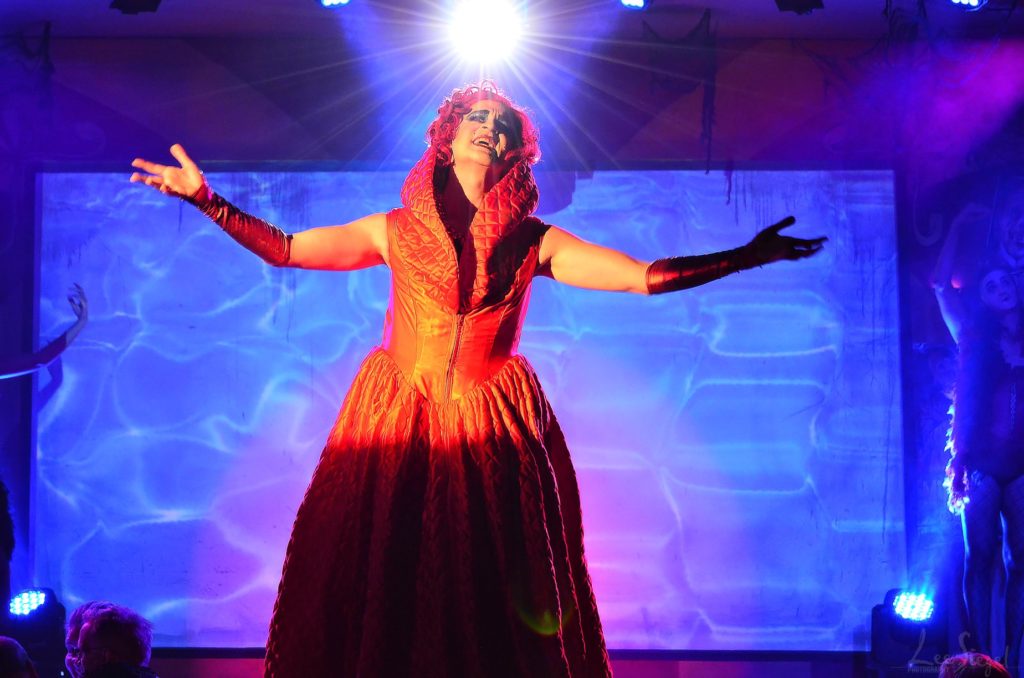 Photo cred Oh Canada Eh? Productions