Thinking of traveling this Summer? Here are 10 reasons why you should visit Niagara Falls, Ontario this Summer.
Ripley's Believe It or Not! Museum 
The Ripley's Believe It or Not! Museum on Clifton Hill, Niagara Falls has undertaken a huge six month renovation that increased to over 1100 exhibits and cost millions to construct. It has been totally revamped and modernized. Families will love how interactive the sets are now, whereas before many of the sets were enclosed by glass.
Kelsey's Original Roadhouse

Also on Clifton Hill, the original Kelsey's Niagara has been completely transformed into a newer design. Kelsey's is much larger, having expanded into a lot of the old Rumours Nightclub space. It also has a much larger patio space that in one of Niagara's largest. Enjoy the beautiful Summer weather while musicians will perform live daily from lunch time straight through until closing time.
Oakes Garden Theatre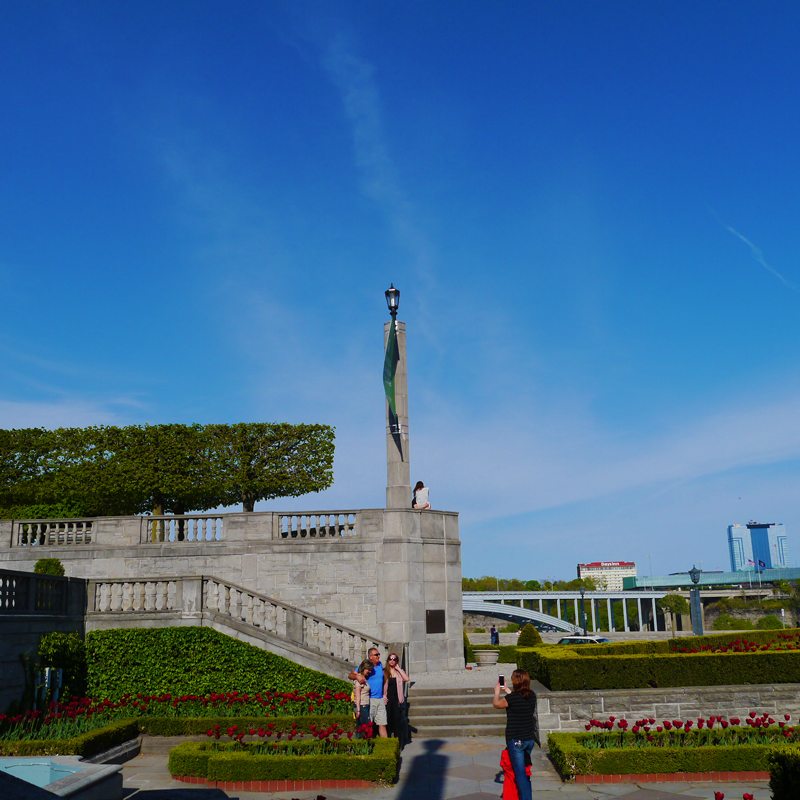 The Oakes Garden Theatre undertook a $1.1 million renovation to bring it back to its former glory with the restoration of the former pergola wall. It was dismantled in 2012 due to safety concerns and this takes it back to its original look right back to 1937 when it was first constructed. The Oakes Garden Theatre is located at the bottom of Clifton Hill next to Queen Victoria Park.
WildPlay Niagara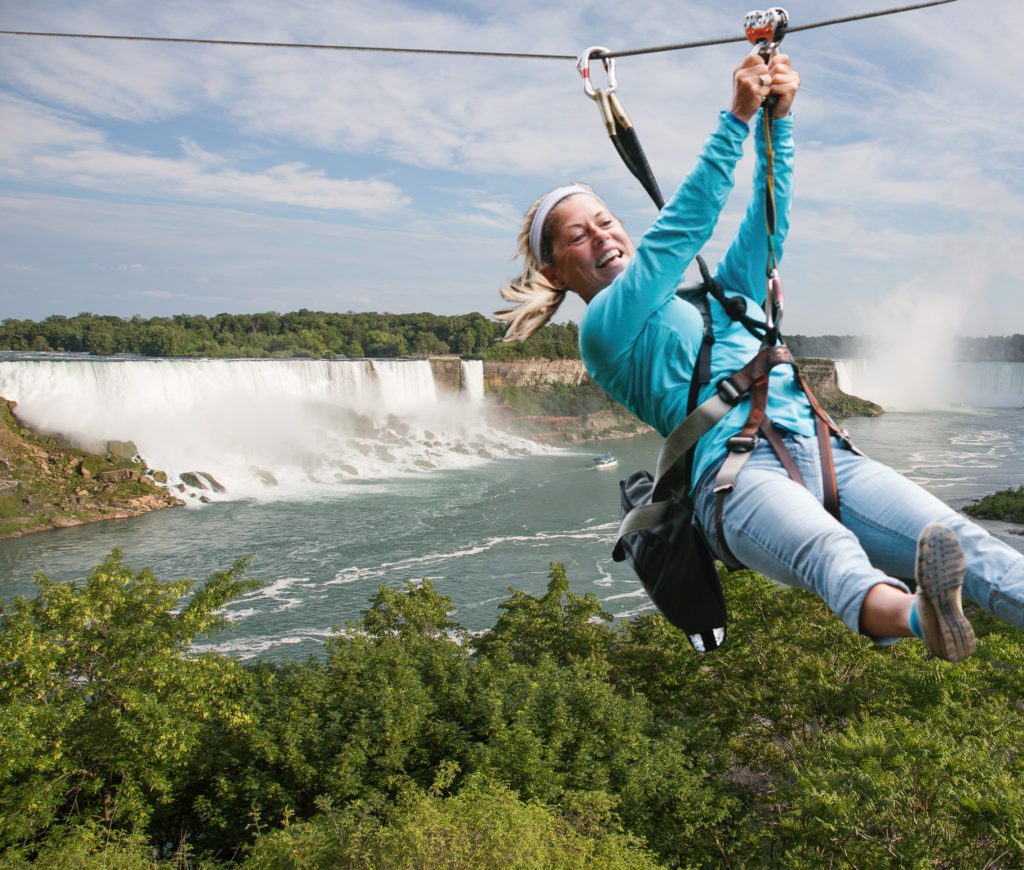 Perhaps the most anticipated addition to Niagara Falls just in time for the Summer holidays is the opening of WildPlay Niagara! This features two courses: "MistRider Ziplining to the Falls" which soars high and fast above the gorge from the Grand View Marketplace toward the Niagara Falls. It's a guided, human-powered Element that's suitable to ages seven and older. It includes four high-speed, side-by-side lines that will descend a distance of 670 metres (2200 feet) from the Grand View Marketplace into the Niagara Gorge below.
The second attraction is Wildplay's "Whirlpool Adventure Course" which is a fun and thrilling experience of suspended obstacles and ziplines in the midst of nature. Three self-paced courses include dozens of climbing, ziplining, log ladders, monkey bars, jumping, and swinging aerial games for guests aged five and older. It will be located at the north side of the Whirlpool at Thompson Point.  As the course moves on, the level of intensity gets more difficult.
Wednesday, July 20th is the Grand Opening event date for this.
100 Year Anniversary of the Whirlpool Aero Car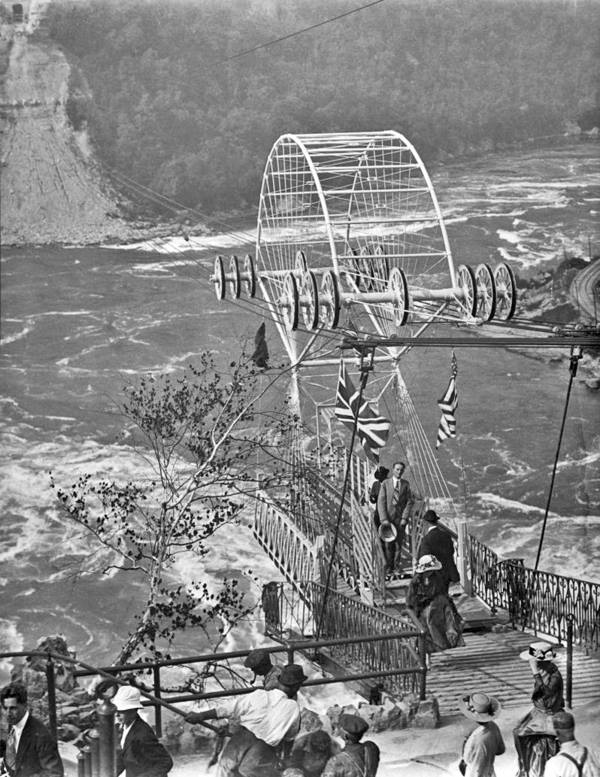 One of Niagara's oldest attractions, the Whirlpool Aero Car, will be celebrating its 100th year on August 8th, 2016.
The cable car is made up of six sturdy cables and offers a wonderful view of the Niagara Whirlpool. Far below the torrent of water abruptly changes direction, creating one of the world's most frightening natural phenomena's – The Niagara Whirlpool.
Upgrades in design and function occurred in 1961, 1967 and 1984. The aerial cable car travels safely between two different points of the Canadian shore of the Niagara River over the spectacular Whirlpool. A round trip is about one kilometre (3,600 feet) and takes about 10 minutes to navigate. The capacity of the car is 40 standing passengers.
10 Year Anniversary of the Niagara SkyWheel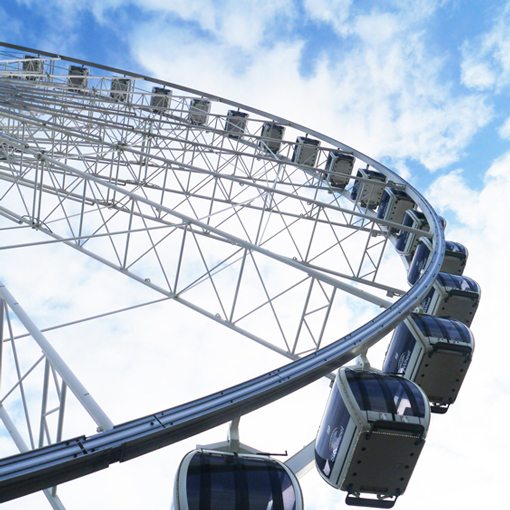 Also celebrating an anniversary is Clifton Hill's Niagara SkyWheel! Canada's largest observation wheel opened on June 17th, 2006 and has been one of Niagara Falls' most popular attractions ever since.
Towering 175 feet (53 metres) over the Niagara Falls horizon, the Niagara SkyWheel gives you panoramic views of the city! From this vantage point you will be treated to memorable views of the Horseshoe and American Falls, the Niagara River, Niagara Parks and other landmarks. Not to worry about the outdoor elements; the Niagara SkyWheel is fully enclosed and climate controlled sitting 6-8 people per gondola. It is wheelchair accessible as well.
Niagara Falls Fireworks Shows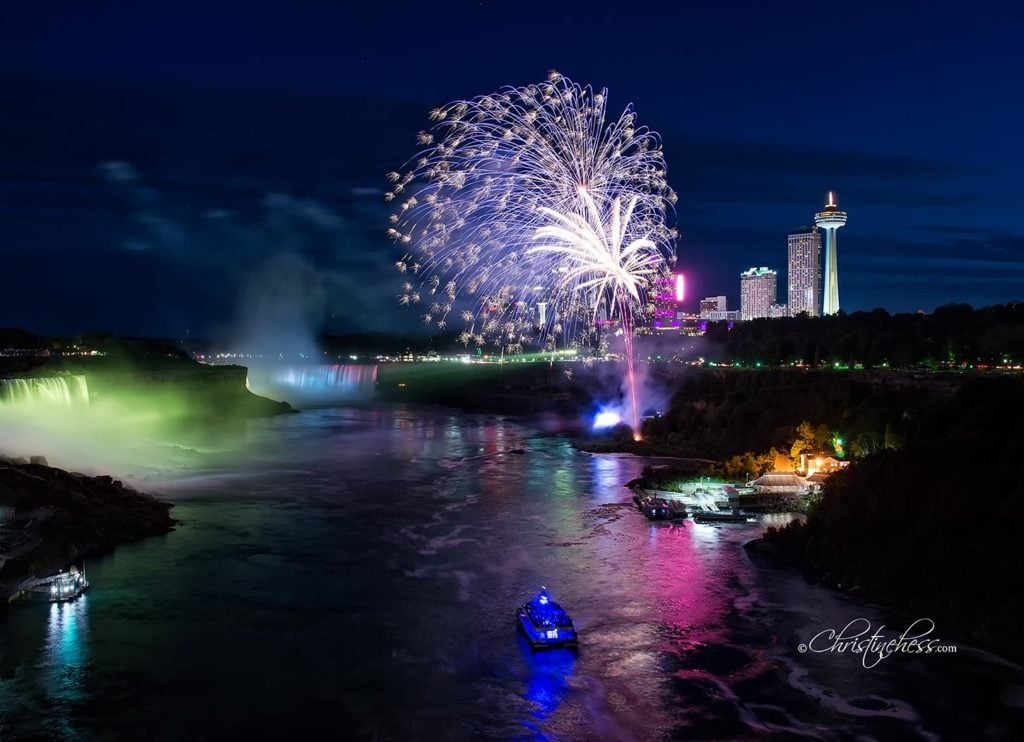 Where else can you witness magnificent fireworks over one of nature's greatest creations THREE nights a week, plus on Holidays? The Niagara Falls fireworks shows happen throughout the Summer from May 1st until October 30th, 2016 on Wednesday's, Friday's, and Sunday's at 10:00 pm.
Come early on fireworks evenings to enjoy free concerts in Queen Victoria Park before the fireworks shows at 8 p.m. on Friday's and Sunday's. They happen at the Queen Victoria Park Stage at the foot of the Illumination Tower.
Marineland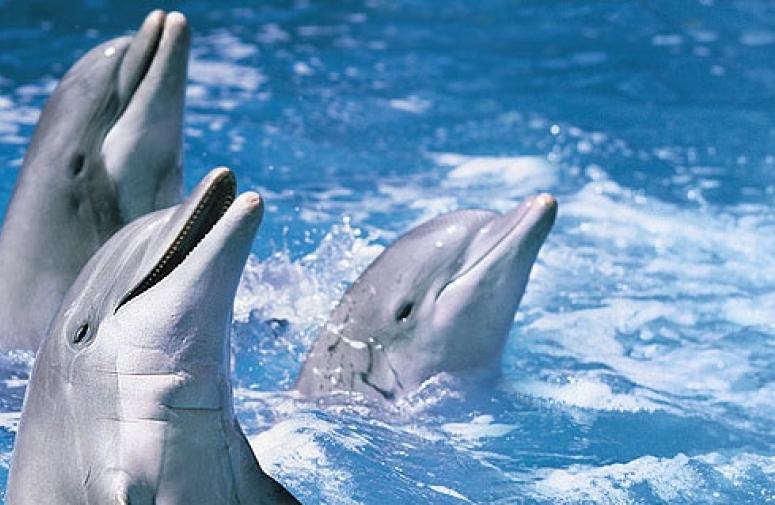 It is Canada's marine park, and it is located right here in Niagara Falls.
At Marineland you'll experience an awesome encounter with a killer whale, beluga whales, sea lions and dolphins, plus many more. With underwater viewing stations and a special Beluga Encounter (touching and feeding sessions) you can get up close and personal with these fascinating creatures of the sea. They have the largest collection of beluga whales in the world.
Hornblower Niagara Cruises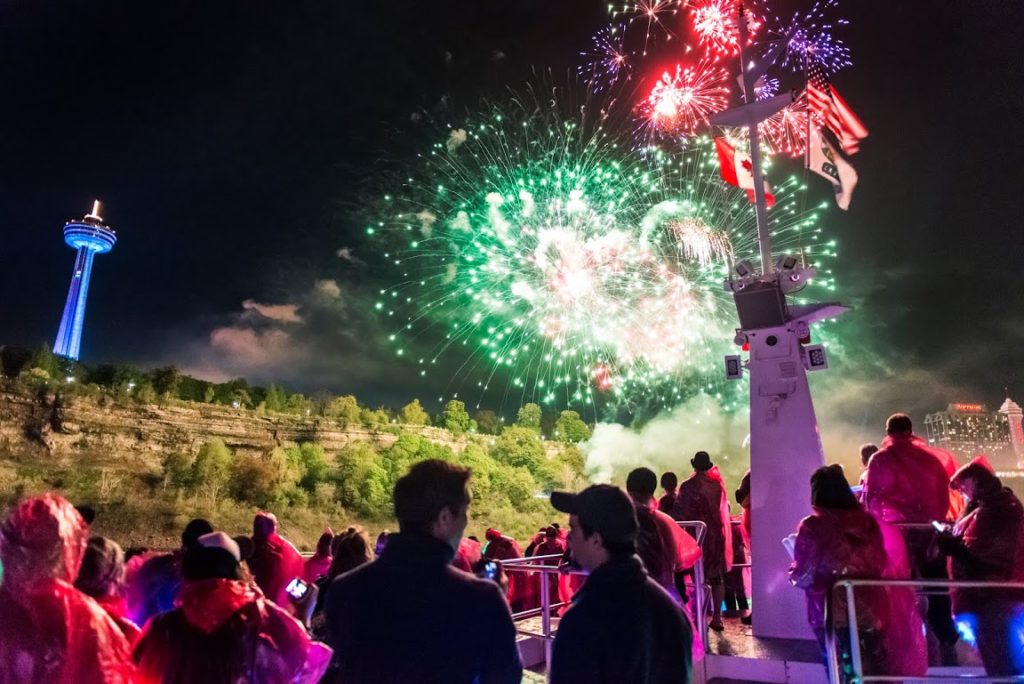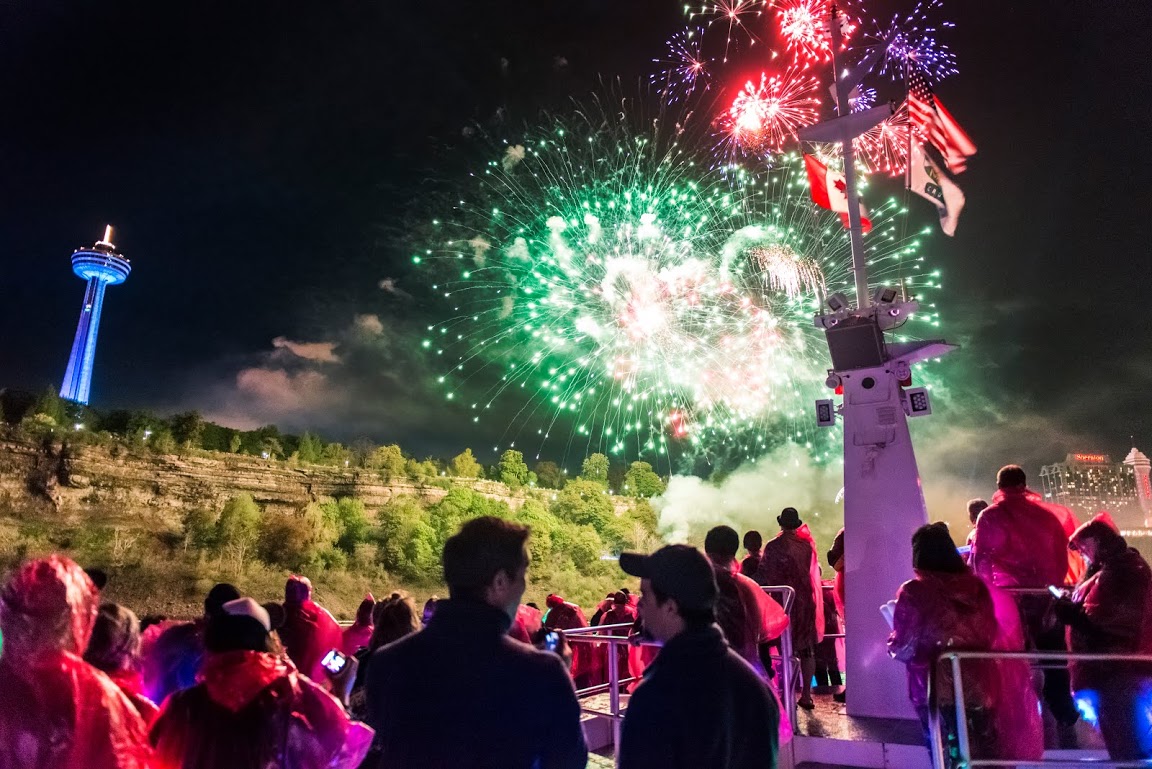 The Hornblower Niagara Cruises is only into its third season, and it is a thrilling new way to experience Canada's most spectacular wonder of the world.
It's an intimate tour that gets you as close as possible to the breathtaking flow of water, power and mist that is the magnificent Niagara Falls. Within the Niagara Great Gorge, the catamaran will journey past the American Falls, Bridal Veil Falls and into the very heart of the famous Horseshoe Falls.
Choose from three exciting boating options: "Voyage to the Falls", "Falls Illumination", and the "Falls Fireworks" cruise.
We Can Accommodate More Vehicles Close to the Falls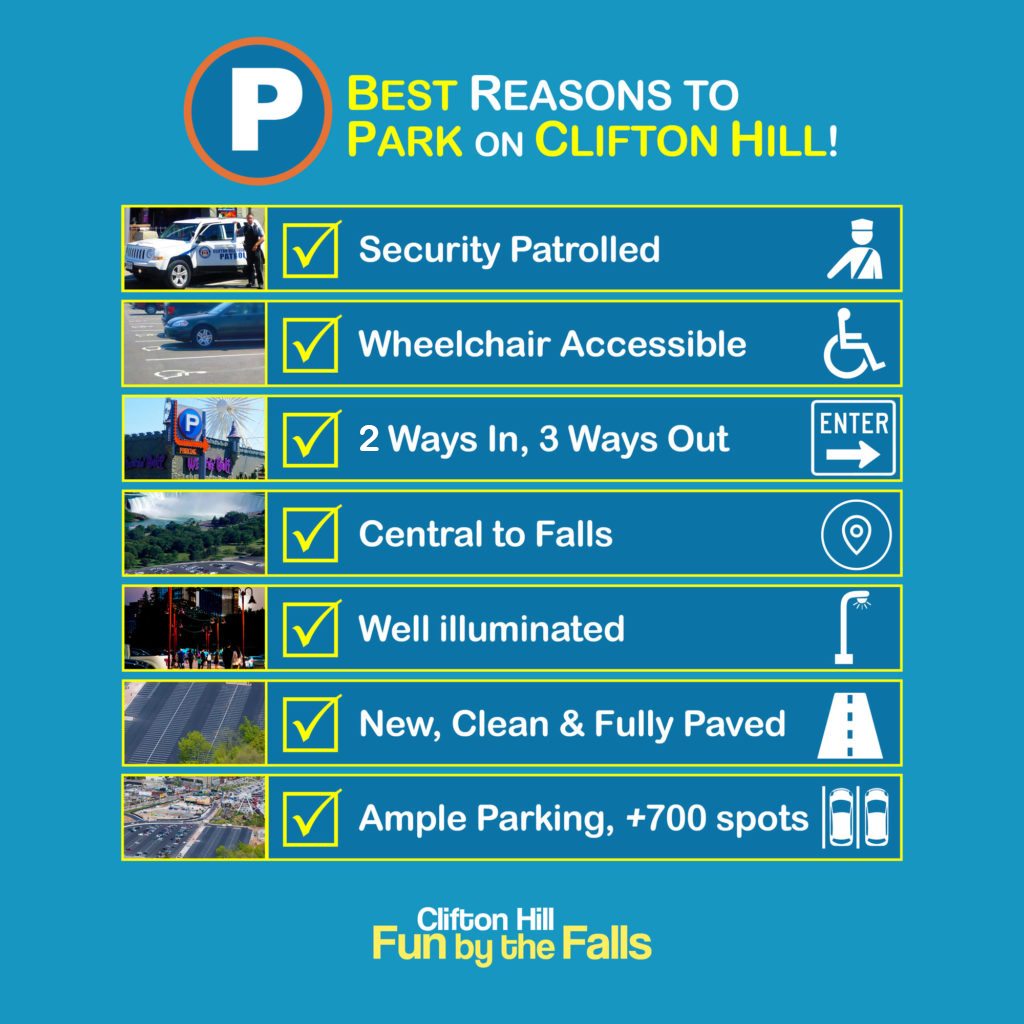 This Clifton Hill parking lot has been expanded to service the Niagara Falls traveler with even more parking spaces at 700+. This lot gives direct access to Clifton Hill attractions, plus it is only a short walk to the Fallsview Casino and their adjoining restaurants. Visiting Queen Victoria Park to witness the Niagara Falls fireworks is made easy with a jolly cut that allows you to bypass the crowds easily from the rear of the lot down a staircase to the heart of the park. Please note that if you have mobility issues you should take Clifton Hill to the fireworks site. It is here that you will also be able to access the Hornblower Niagara Cruises.
This parking lot is only a short 5-10 minute walk to view the majestic Niagara Falls.
You're sure to get sleepy after exploring all that there is to do in Niagara Falls this Summer, so you're going to need a hotel! If you are bringing the family, you'll find the best selection of accommodations in the main tourist areas. You are going to want to find a location close to Clifton Hill's World Famous Street of Fun by the Falls, so let us assist you with the planning with our page that focuses on lists of great Niagara Falls Hotels within these three categories:
Clifton Hill Hotels, Fallsview Hotels, and Lundy's Lane Hotels.
No matter how you plan on spending your Summer Holidays in Niagara Falls, there will surely be no shortage of things to do!
Grab a Clifton Hill Fun Pass for the BEST way and the cheapest way to explore our Clifton Hill attractions at a bundled discount!