You can't visit Clifton Hill without taking a snap of your exciting adventure on your Instagram page! Discover the best places to take a selfie on Clifton Hill with our list of most popular spots and remember to tag @cliftonhillfunto be featured!
Selfie header photo in the Niagara SkyWheel by @darrenatics1.id

1
Niagara SkyWheel
The Niagara SkyWheel is Canada's largest observation wheel that provides amazing views of the Horseshoe and American Falls. It goes without saying that it takes the top spot in Clifton Hill's most popular place to take a selfie. Whether it be on the ride, or just beside the 175-foot wonder, a selfie here is a must!
Tag @cliftonhillfun or @niagaraskywheel with your snap!
2
Oakes Garden Theatre
The Oakes Garden Theatre is located at the bottom of Clifton Hill where it intersects with the Niagara Parkway. Not only are the gardens meticulously maintained throughout the year providing astonishing beauty, but the backdrop of the falls can't be beat! Not only is it highly photographed by selfie-takers, but one of the top gardens to take wedding photos as well.
Tag @cliftonhillfun

3
Giant Ice Cream Cone
One of our most popular Summer treats is our freshly made waffle cones, served with "Crunchi Creme" ice cream to suit your cravings — and it's easy to spot with the giant ice cream cone hung on the building. It turns into selfie central as people line-up for their refreshing treats.
Tag @cliftonhillfun
4
Zombie Attack and the resident "Zombie Guy"
Clifton Hill's newest and most talked about attraction, Zombie Attack, is causing quite the uproar! It's hard to miss the zombies hanging from the roof, and with the popularity of zombie tv shows, movies, and video games, every Clifton Hill goer (including animals!) wants to share the spotlight with the resident "Zombie Guy" just hanging out on the bench.
Tag @cliftonhillfun

5
"The Joker"
Walk past Movieland Wax Museum (located towards the bottom of Clifton Hill on the south side), and you will be met with the grimacing face of Heath Ledger's "The Joker". Taking a photo beside him is almost a staple and an expectation here.
Tag @cliftonhillfun
6
Dinosaur Adventure Golf
Heads up for the erupting volcano on Clifton Hill! That's the home of Canada's famous 36-hole outdoorDinosaur Adventure Golf course. It's also the home of 50 astonishingly realistic and life-size dinosaurs — making these differing species of our oldest reptilian friends a popular source of selfie users!
Tag @cliftonhillfun
7
Popcorn, anyone?
Falling along the lines of the "Giant Ice Cream Cone", the new giant bag of Popcorn is becoming another popular selfie hotspot. It's hard not to miss this massive bag of goodies. Whether standing under it, or "holding it", it's quickly making its rounds — especially with its location next to the hugely popular Great Canadian Midwayarcade.
Tag @cliftonhillfun
8
King Kong
If you miss the Empire State Building toppled on its side with King Kong on the top, you clearly haven't made your way all the way to the top of Clifton Hill. Kids and Adults alike make their way to Ripleys Believe It or Not! Museum, just to get that photo op with this popular 1933 Sci-Fi classic film iconic character.
Tag @cliftonhillfun
9
The Friendly Dragon
Our family-friendly 18th hole dragon is hard to miss when walking past Wizards Golf (Glow-in-the-Dark Mini Putt). He moves about and spews smokey breath while you try not to miss your putt into that final hole. Don't let him distract you, but definitely take the opportunity to pose next to our magical and mystical friend!
Tag @cliftonhillfun
10
Clifton Hill Streetscape at Night
Whether you're a honeymooner or on a family vacay, to see Clifton Hill's dazzling nightlife is something you will never forget! All the lights and excitement packed together along the "Street of Fun by the Falls", is the perfect vantage point for a one-of-a-kind selfie opportunity to commemorate your trip here.
**Tip: Stand in the Niagara SkyWheel Courtyard Plaza to capture all the best lights — from the wheel, to the volcano erupting, to the possibility of the fireworks going off! (*fireworks happen during the Summer, special holidays, and/or corresponding with the Winter Festival of Lights).
Tag @cliftonhillfun
Clifton Hill Fun Pass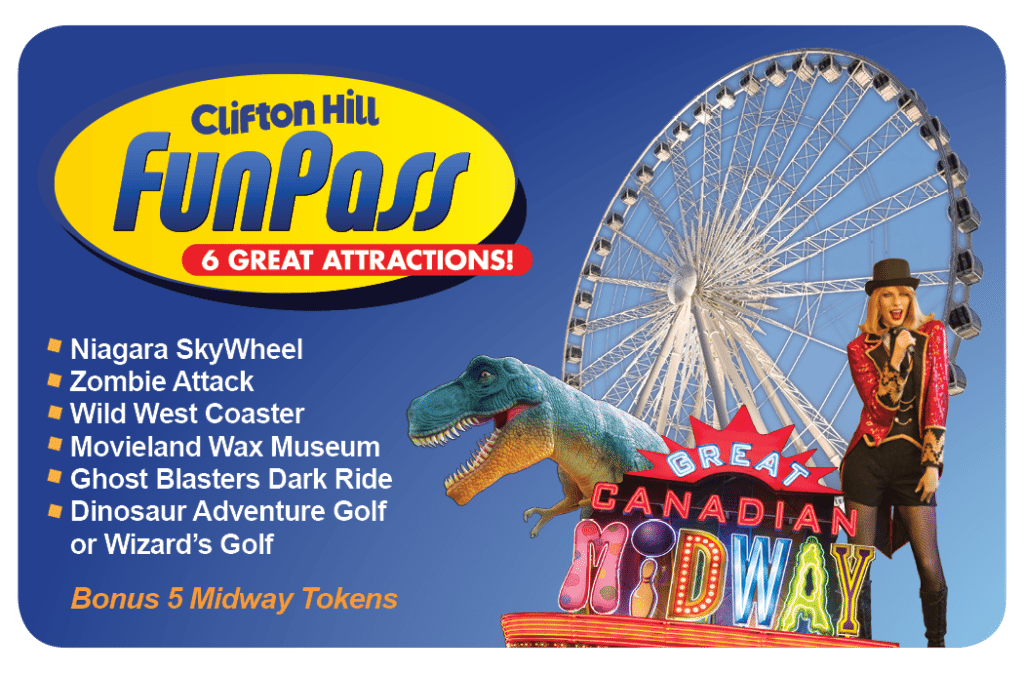 Purchase the Clifton Hill Fun Pass and take a selfie in every one of these attractions! Remember to tag @cliftonhillfun or hashtag #cliftonhillfun for your chance to be featured.
Follow @cliftonhillfun for the best pictures on Clifton Hill and for frequent contests.
#FallsFunFantastic #cliftonhillfun