Reading Time: 
4
minutes -
#1 Go Tobogganing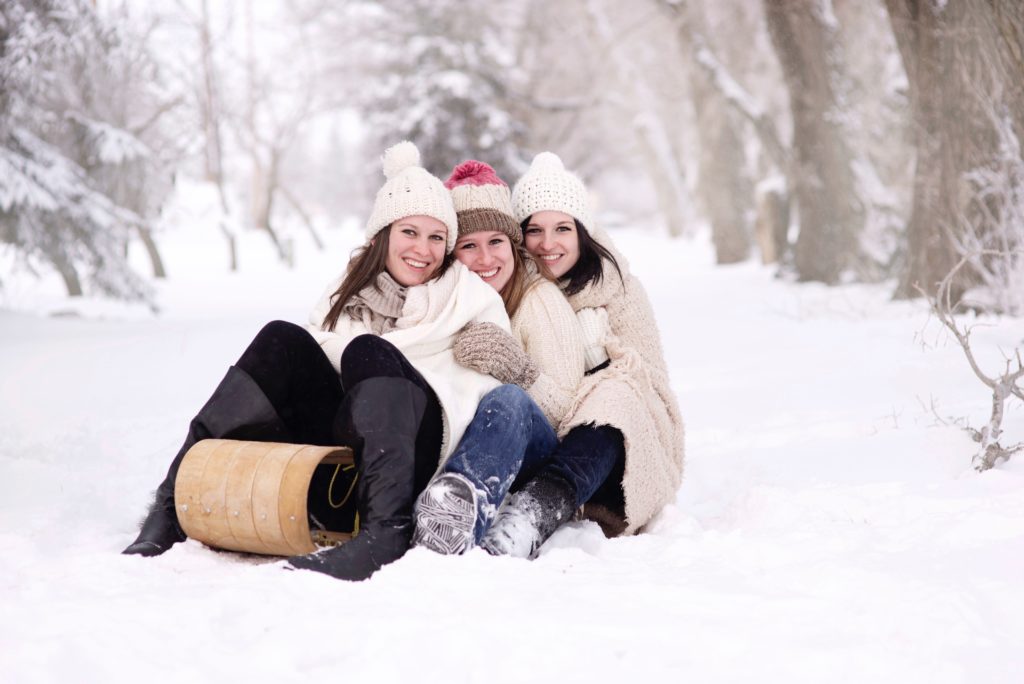 There are plenty of areas to fully enjoy a Canadian Winter in Niagara Falls doing this fun, family-friendly activity. Take advantage of the snow at any of these locations:
Stamford Collegiate High School: 5775 Drummond Road, Niagara Falls.
Firemen's Park: 2275 Dorchester Rd, Niagara Falls.
For smaller kids FH Leslie Park: 5250 Valley Way, Niagara Falls.
A couple of places located just outside this city:
Burgoyne Woods Park: 30 Edgedale Road, St. Catharines.
Chippawa Park: 128 Fitch St., Welland.
HH Knoll Lakeview Park: located at Sugar Loaf Street and Elm Street, Port Colborne.
Jaycee Park: 543 Ontario St., St. Catharines.
Sugar Bowl Park:  100 Gilmore Road, Fort Erie.
#2 Try some Icewine

It's Canada's most cherished Winter delight — Icewine! And here in Niagara Falls, we have plenty of it. Niagara-on-the-Lake has world famous icewine. Sweet and decedant, our Niagara wineries offer a variety to try out and take home. Grapes are naturally frozen on the vine and picked when the thermometer dips to -8° C or lower. They are then handpicked and pressed immediately to gently release thick, rich, yellow-gold liquid, highly concentrated in natural sugars and acidity.
Niagara's Icewine Festival begins January 11th to 27th. Don't miss it!
#3 Go Outdoor Skating at Fort George

Free to the community, a 7,200-square-foot rink was built at the Fort George parking lot (adjacent to the Agora at Fort George). The rink will operate through the end of March (*weather dependent). Skating is free, but there is a fee for renting skates and anything ordered at the concession stands.
Ice Rink Hours
Operating season and hours are subject to weather conditions. 
Open Skate
During these hours, there are no dedicated staff, concessions, rentals, or music available:
Monday to Thursday: 10 am to 5 pm
Friday: 10 am to 4 pm
Family and Evening Skating
During these hours, there are dedicated rink staff, skate and helmet rentals, music, and programming available:
Friday: 5 pm to 9 pm
Saturday: 10 am to 1 pm, 2 pm to 5 pm, 6 pm to 9 pm
Sunday: 10 am to 1 pm, 2 pm to 5 pm
Concessions and Skate and Helmet Rentals 
On Friday, Saturday, and Sunday, Vintage Hotels will offer concessions, skate rentals and helmets within our operating hours. Skate rentals include size 7 girls and 11 boys to size 12 adult.
Friday: 5 pm to 9 pm
Saturday: 10 am to 9 pm
Sunday: 10 am to 5 pm
#4 Grab a Timmies coffee after riding Canada's Largest Observation Wheel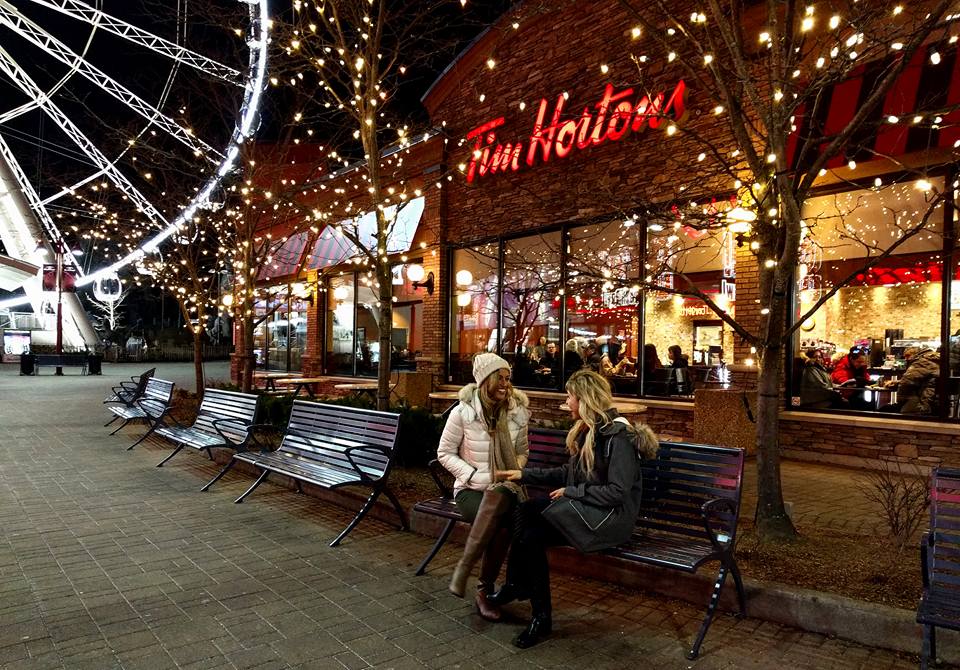 Only on Clifton Hill in Niagara Falls, can you find two Canadian icons side-by-side; Tim Hortons and the Niagara SkyWheel. First, soar 175 feet high at the peak of Clifton Hill in Canada's largest observation wheel. You'll stay warm in one of our climate-controlled gondolas and you'll get some incredible pictures on the Niagara Falls (during the Winter Festival of Lights too!). Afterwards, walk next door and take a break at Tim Hortons — for Canada's favourite cup of coffee and a snack.
#5 Spend New Year's Eve at Queen Victoria Park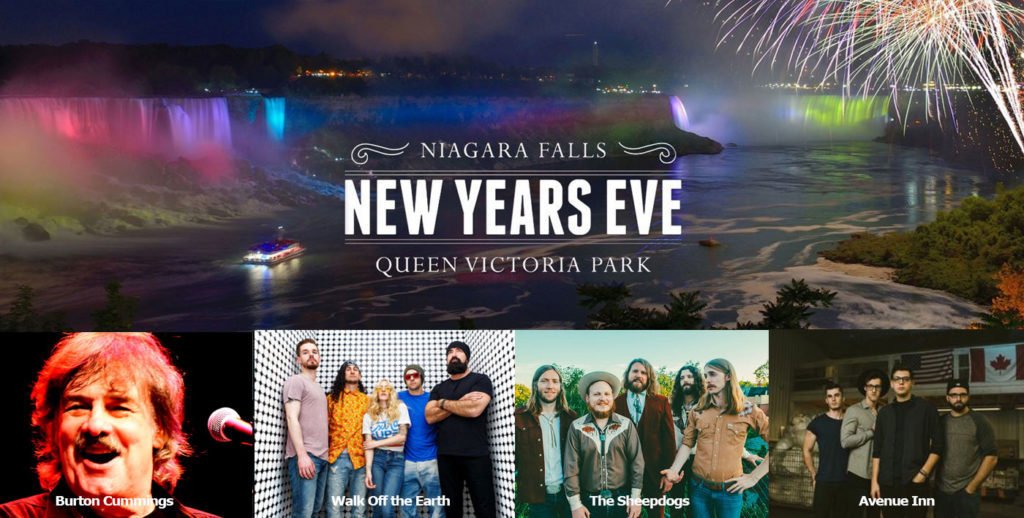 Celebrate NYE in Queen Victoria Park, Niagara Falls for another year. It all began in 1991 with Bobbi Curtola, a Canadian teen pop star in the '60s. Since then, we have seen performers such as Glass Tiger, Colin James, Blue Rodeo, Tom Cochrane, the Great Big Sea, Jeff Healey, SoulDecision, Styx, Barenaked Ladies, and in recent years, Hedley, Nelly Furtado, Demi Lovato, Keith Urban, Sam Roberts Band and Serena Ryder. Last year we had: James Barker Band, Simple Plan, Marianas Trench and Jess Moskaluke; and this year we have: Burton Cummings, Walk Off the Earth, The Sheepdogs and Avenue Inn.
#6 Check out the Frozen Waterfalls!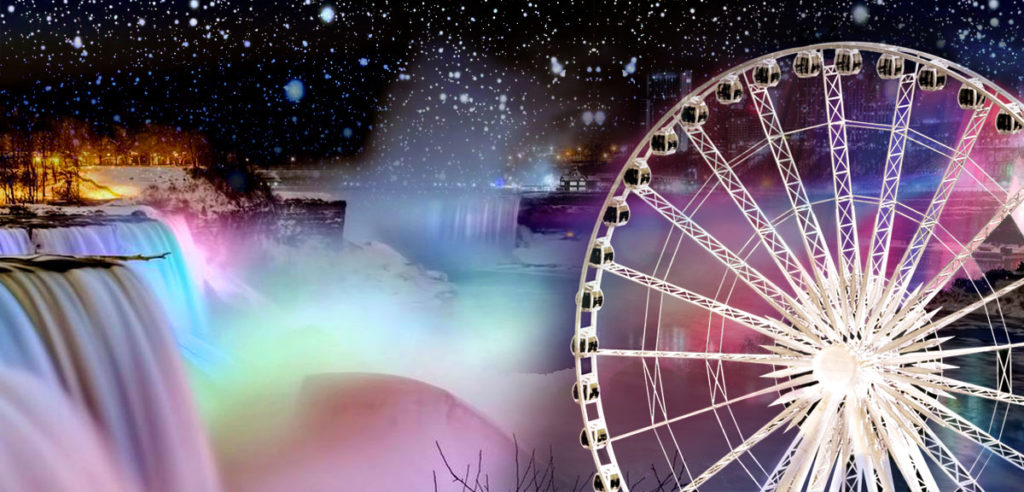 Weeks of temperatures falling well below the freezing mark has left the Niagara Falls and its surroundings a beautiful icicle-ridden Winter Wonderland. While the Falls itself hasn't completely frozen, it's surroundings have. It has left the Falls looking like something out of the pages of a fantasy novel. Here are a few stunning shots taken recently.