Reading Time: 
2
minutes -
The Ontario Power Generation Winter Festival of Lights invites you to join them as they kick-off the 2018-2019 season on Saturday, November 3rd, 2018!

The family friendly Opening Ceremonies of the WFOL will take place in  Queen Victoria Park just steps from Niagara Falls' brink where Murray Street meets the Niagara Parkway just steps from the Falls.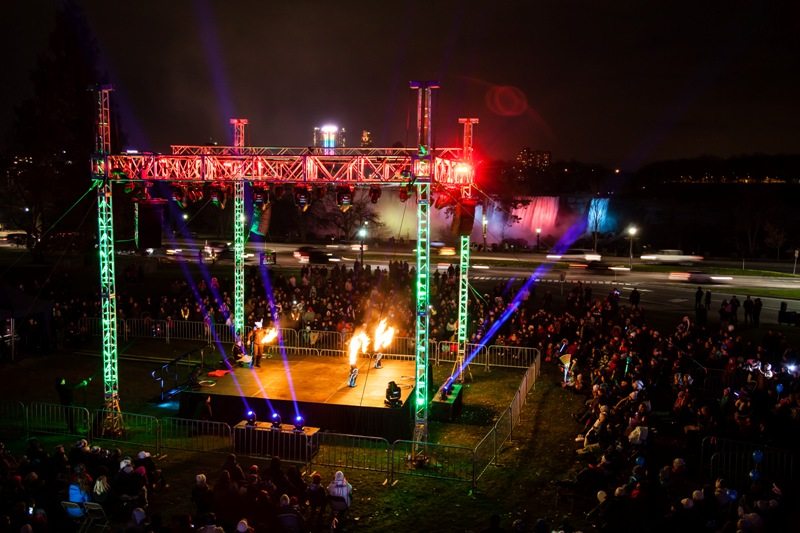 The Opening Ceremonies of the Winter Festival of Lights will officially kicks off at 11:00 am and run until 8pm with fireworks launching at 8pm and 9pm. Come out to enjoy live entertainment, food trucks, interactive displays and special guests over the course of the event. Children's entertainment runs from 11:00AM to 4:00PM with special guests from the Paw Patrol, live music by MiniPop Kids, a Home Depot kids workshop, the Heartland Forest train, air brush face painting and more!
Starting at 4:00PM WFOL feature shows start at the main stage with country music star: Beverley Mahood & Friends including performances by The Julian Taylor Band, Brad Battle, Mac Sheppard, Jamie Warren, Leah Daniels & Beverley Mahood. Firework shows will also light up the sky at Opening Ceremonies at 8:00 & 9:00PM.
OPENING CEREMONIES SCHEDULE
All Day Activities (11AM – 8PM): Niagara Face Paints, Food Trucks, Tim Hortons Coffee Truck, RBC Mobile Truck (Kids colouring sheets, Leo the Lion, Plinko game & meet Canadian Olympians), Life-sized Games (Chess, X's & O's), Impulse illuminated See-Saws, Betty Lou PhotoBooth, Hamburg Honda, Hug a Coke Machine and the Misty Kids
11 AM – 4PM: Therapy Tails, White Meadows Farms Maple Syrup Tasting, Heartland Forest Tootsie Express Train Rides (11AM-3PM), demonstrations by the Niagara Woodcarvers Association
11:00AM – 11:30AM: Hammer Quest 2, live music on the main stage
Starting at 11AM: A live ice-sculpting demonstration in the park
11:35AM – 12 noon: Storytime with Oliver Raccoon
12 noon – 4:00PM: Meet Chase, Marshall, Skye and Rubble from the Paw Patrol!
1:00PM – 1:30PM: Mini-Pop Kids Live on the main stage
1:35PM – 2:05PM: 283PAC live entertainment
2:05PM – 2:25PM: Storytime with Oliver Raccoon
2:25PM – 3:30PM: 283PAC live entertainment
3:30PM – 3:55PM: Mini-Pop Kids Live on the main stage
4:15PM – 5:00PM: Leah Daniels Live on the main stage
5:00PM -6:15PM: Beverley Mahood & Friends Live on the main stage
6:30PM – 7:45PM: Julian Taylor Band Live on the main stage
7:45PM – 8:00PM – Flip the Switch Ceremony
8:00 PM – Grande finale fireworks show
After Opening Ceremonies tour the 8km long illumination route featuring over 3 million lights throughout the Niagara Parks, Dufferin Islands and surrounding areas!
WFOL Opening Ceremony FAQ's