Reading Time: 
4
minutes -
Niagara is known for its historical richness and heritage (ie. Old Fort Erie, Battle of Lundy's Lane, etc.), and with these unique stories come both horror and heroism, ghost stories and Niagara ghost tours. Here is a list of tours throughout the Niagara region that feature some haunted places and are enormous fun to tour this time of year!
Niagara-on-the-Lake Ghost Walks
Niagara-on-the-Lake is known as Canada's most haunted town. This Niagara ghost tour will take you to a variety of locations, featuring stories at the Olde Angel Inn, iconic Courthouse and Prince of Wales Hotel. With North America's oldest legend, a mystery at the Apothecary, the theatre ghost scaring audiences and a mansion that makes cameras go crazy. Séances, secrets and dark history at the centre of the only war fought in Canada.
Upcoming Dates:
Every Night in September 2019, Tours at 8:00pm
SPECIAL 7pm & 8:30pm TIMES SEP 21 & 28!
Every Night in October 2019, Tours at 8:00pm
SPECIAL 7P & 830P TIMES EVERY SATURDAY!
Every Fri & Sat in Nov & Dec, 2019, Tours at 8:00pm
SPECIAL NEW YEARS DEC 29 & DEC 30!
Starts from the Ghost Walks Gift Shop
126 Queen Street, Niagara-on-the-Lake, Canada
Adults: $16.00, Kids 13 & under: $7.00, Seniors 60 & over: $13.00
---
Niagara Ghost Tours of Fort George
Niagara Ghost Tours of Fort George: Established in 1994, we are the longest-running ghost tour and walk in the Niagara Region! Candlelight ghost tours of Fort George are offered throughout the spring and summer, from May to September. Special Halloween ghost tours are also offered at the end of October. Experience the most haunted site in the most haunted town in Canada!
September:
Sundays – 7:30 pm
Adults: $20.00 Children under 13: $10.00

Halloween Tour dates for 2019:
October 11, 12, 13
October 18, 19, 20
October 25, 26, 27
October 30, 31
Halloween Tours start at:
7:00, 7:15 & 7:30 pm
10:00, 10:15 & 10:30 pm (excluding Sunday tours)
All tickets: $25.00.
Tickets must be purchased in advance. Tickets will go on sale July 2nd. Please call the Friends of Fort George Gift Shop at 905-468-6621 to order.
---
Haunted Ghost Walks of Niagara Falls
One of the closest Niagara ghost tours near Clifton Hill. Just 5 minutes from the Falls and the Clifton Hill tourist district. This ghost walk begins at the Old Crow Bar & Bistro 4337 Queen St., Niagara Falls, ON.
Take a lantern-lit stroll through Niagara's most haunted corridors. Travel back in time to the Village of Elgin and the most haunted streets of downtown Niagara Falls. You will hear stories of mayhem, murder and paranormal activity. Experience the energies given off by the ions of the mighty Niagara Falls! Learn how the allure of the Cataracts draws victims that refuse to leave, even after death. A Haunted Ghost Walk of Niagara Falls is a must do for visitors and locals alike and runs year round.
NIAGARA GHOST WALKS MEETS AT THE Tesla House 4337 Queen St., NIAGARA FALLS, ON
Wednesday through Saturday at 8:30 pm
Book Now
For more information please visit www.niagaraghostwalks.com or call 289-241-0424
---
Old Fort Erie – All Hallow's Eve Tour
All Hallows' Eve Tours at Old Fort Erie: October 19, 25 & 26
Experience a chilling historical ghost tour at Old Fort Erie, learn about the traditions of Halloween, and watch the Burning of Guy Fawkes! Explore Canada's bloodiest battlefield at Niagara Parks. Listen to ghost stories and learn about period traditions of Halloween within the stone and timber walls of the fort, then watch the Burning of Guy Fawkes effigy! Tour times are available 7:30 p.m., 7:45 p.m., and 8:00 p.m.
PRICE: ADULT $15.00, CHILD $9.50 Get tickets online
Old Fort Erie is located at 350 Lakeshore Rd. in Fort Erie, ON.
---
Drummond Hill Cemetery Tours
Niagara ghost tours of Drummond Hill offers a unique opportunity to discover Niagara Falls through an evening visit to one of the most historic cemeteries in Canada. Led by a costumed guide, the human drama unfolds as you wander the grounds and happen upon theatrical performances that provide a glimpse into the lives of some of the people from our City's history.
October 18, 19, 25, 26 @ 7, 8pm
Located at Drummond Hill Cemetery | 6110 Lundy's Lane, Niagara Falls, ON
Tickets are $12 per person and go on sale in the early Fall.
---
Full Moon Ghost Walks St. Catharines
Did you know that lurking spirits cause the shivers one experiences when hearing ghost stories? Don't believe it? Reserve your spot on one of our St. Catharines Downtown Ghost Walks and explore the history and haunted tales of Downtown St. Catharines. These guided tours will delve into the haunted tales of the past and the present day while also sharing historical commentary about the unique buildings and happenings in Downtown St. Catharines. Walks are 60 to 90 minutes in length and we walk at an easy comfortable pace. Walks proceed rain or shine; please dress for the weather. All Ghost Walks depart from the King Street doors of Market Square (91 King Street).
MULTIPLE DATES IN LATE OCTOBER 2019
THURSDAY OCTOBER 17, 2019 AT 7:00PM led by Carolyn – SINGLES GHOST WALK (for ages 35+) with post-walk visit to The Mansion House
FRIDAY OCTOBER 18, 2019 AT 7:00PM led by Ghost Walk Guide David
SATURDAY OCTOBER 19, 2019 AT 7:00PM led by Ghost Walk Guide David
THURSDAY OCTOBER 24, 2019 AT 7:00PM led by Ghost Walk Guide David
FRIDAY OCTOBER 25, 2019 AT 7:00PM led by Ghost Walk Guide David
SATURDAY OCTOBER 26, 2019 AT 7:00PM led by Ghost Walk Guide David
Tickets are $10.00 each. Advance tickets are required and may be purchased online or at the St. Catharines Downtown Association office, 80 King Street, main floor, St. Catharines, during office hours Monday to Friday 8:30 to 4:30 (cash only for in person ticket sales). Group rates (minimum 8 persons) and private bookings are available – a great idea for an office or group outing! Please phone (905) 685-8424 or contact us by email for more information.
---
Clifton Hill's Top Scary Attraction: Zombie Attack!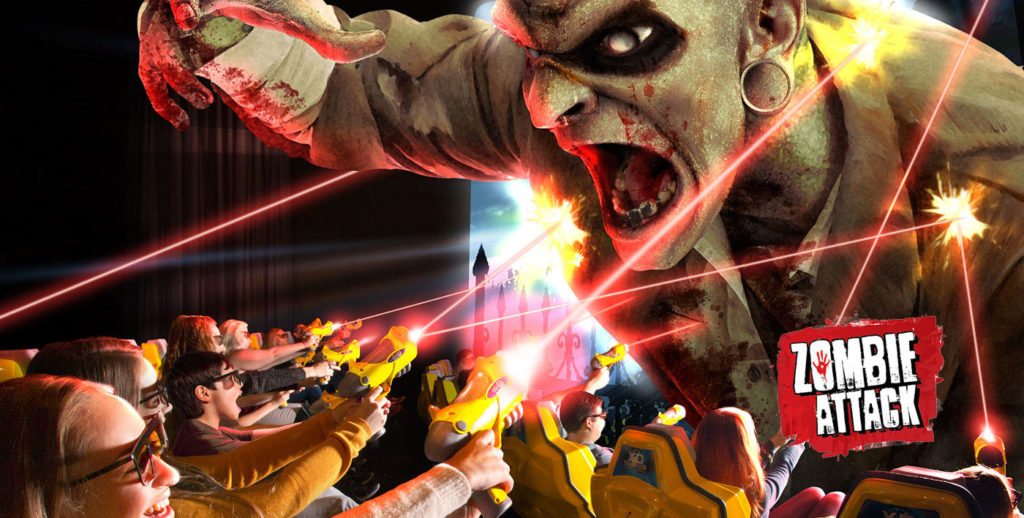 Don't forget to try the Zombie Attack tour of duty! The Zombie apocalypse is upon us all – and only you can save the world! Survive brain-hungry zombies in the multi-sensory adventure, featuring real-time 6D graphics. Challenge your friends in the scoring battle to prove who is champion of mankind in Zombie Attack! Zombie Attack is include on the the Clifton Hill Fun Pass, where you can save over $30 off!
Order the Clifton Hill Fun Pass online to get TWO admissions to the Niagara SkyWheel as a BONUS!