Currently and upcoming, Niagara Falls has crisp apples, Fall raspberries, and juicy peaches, nectarines, and plums in season — and the picking is plentiful and delicious! Here is a list of some "Pick Your Own" Farms in the Niagara Region.

1
Parkway Orchards
Location: 15000 Niagara Parkway, Niagara-on-the-Lake
Contact: 905-262-5097
There's nothing like a beautiful drive along the Niagara Parkway on a sunny weekend to brighten your day. Parkway Orchards is one of Niagara's favourite locations to stop by for a visit and pick up some fresh fruits from their farm.
Call ahead to see what is in season and available.
Hours of Operation:
11:00 am to 5:00 pm (weekdays) and 11:00 am to 6:00 pm (weekends)
2
Windwood Farms
Location: 4198 King Street, Beamsville
Contact: 905-401-0515
Windwood Farms grows over twenty varieties of apples, plus families are able to pick themselves some pears & plums. You may also purchase pre-picked fruit, seasonal vegetables, and Windwood's famous Apple Cider!
Hours of Operation:
10:00 am – 5:00 pm on weekends

3
Mathias Farms
Location: 1909 Effingham St, Ridgeville
Contact: 905-892-6166
Mathias Farms specializes in the growing of cherries, blackberries, and raspberries. They offer pick your own fruit, or you can grab ready-to-go fruit from the fruit stand located on the property.
Call ahead to see what is in season and available.
Hours of Operation:
8:00 am – 8:00 pm (*weather permitting starting June 22nd, 2017) Monday – Sunday
4
Duffin Farms
Location: 1541 Rice Rd., Welland
Contact: 905-892-5387
Duffin Farms offers pick your own apples, cherries, pears, peaches, plums, rhubarb, and pumpkins.
Hours of Operation: 8:00 am to 8:00 pm Daily

5
Cherry Avenue Farms
Location: 4303 Cherry Avenue, Beamsville
Contact: 905-562-5481
Pick your own sweet cherries, plums, peaches, nectarines, apricots or pears depending upon what is in season at Cherry Avenue Farms. They are dedicated to providing excellent fruit and service to all of their customers. The orchards are wheelchair accessible.
Hours of Operation:
8:00 am to 7:00 pm Monday to Saturday, and Sunday/Holidays from 8:00 am-6:00 pm.
6
Silmaril Farm
Location: 144 Russ Rd., Grimsby
Contact: 905-945-7963
Silmaril Farm lets your pick your own apples! They produce 7 varieties of apples which begin to ripen in September. MacIntosh, Honey Crisp, Empire, Red and Golden Delicious, Mutsu (Crispin) and Ida Red apples are available for your family to pick and enjoy for months to come.
Hours of Operation:
Change from week to week, so you must call ahead at the number provided.
7
Two Century Farm
Location: 400 Main Street West, Grimsby
Contact: 905-945-4294
Family harvested by the Smiths since 1787, Two Century Farm is 200+ years old!
Hours of Operation:
8:00 am – 5:00 pm Monday to Friday, and Saturday from 8:00 am – Noon.
8
Puddicombe Estate and Farm
Location: 1468 #8 Highway, Winona, ON
Contact:  905-643-1015
They harvest their own fruits to provide fresh produce and a wide variety of value added products such as hand-baked pies, jams, jellies, cookies, tarts, strudels, cider, fudge and wines.
Puddicombe Estate allows you to pick: Sweet & Sour Cherries, Blueberries, Apples, Pears and Pumpkins.
Hours of Operation:
Market is open 9:00 am – 5:00 pm Daily, pick-your-own dates and times vary. Call ahead.
After Fruit Picking — Pick Your Own Package!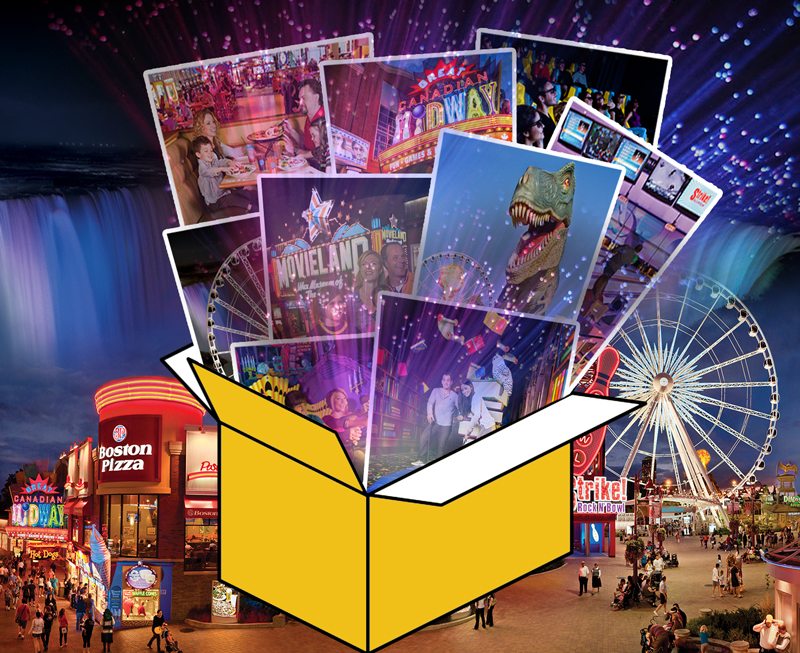 After all this family fun, stop by Clifton Hill for some more bonding time. Save big and create a package that you and your family with love.