Reading Time: 
3
minutes -
In Remembrance of Niagara Falls War Veteran, Russell Sanderson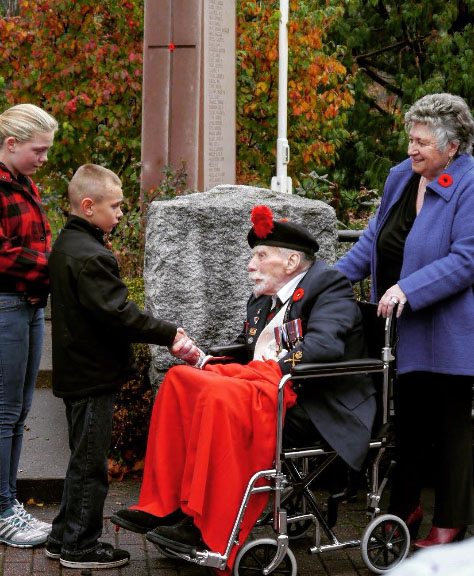 A very familiar face will be missing this Remembrance Day at the Clifton Hill Cenotaph. Russell Sanderson, who lived in Niagara Falls most of his life, passed away on February 10th, 2016 at the age of 90. Russell was a veteran of the Second World War and a former sniper and scout of The Black Watch Royal Highland Regiment of Canada.
His wife, Marie, will still carry on the tradition of visiting the war memorial (located at the bottom of Clifton Hill at the entrance of Queen Victoria Park). He visited every year since 1986 to pay respects to the friends that he lost in his regiment.
One of the benches near the Cenotaph is named in honour of Russell Sanderson and those who have served their country, donated by Bob Gale who is involved in many volunteer and philanthropic endeavors to benefit the community.
Sanderson was one of the few veterans alive that was able to mark the 70th anniversary of the liberation of the Netherlands by making the trip to the Holten Canadian War Cemetery, near Arnhem, Netherlands in 2015.
More than 7,600 Canadians lost their lives freeing the Netherlands from Nazi oppression in the months and weeks leading up to the Germans' Second World War surrender on May 5, 1945, and each year there are Canadian veterans that visit Holland to commemorate the sacrifices they made, plus receive gratitude from the Dutch people. Sanderson was one of those people.
Russell remembers one day in April, 1945 in Groningen, Netherlands, that he stumbled face-to-face all alone with dozens of German soldiers with no Canadian help around. He had to persevere in order to trick the Germans into thinking there was a Canadian force approaching. He ran out into the streets waving his arms and hollering as if he had all the support just around the corner. It worked, and the German group turned away — in turn saving his life.
Sanderson spent the last 10 years living in Hamilton (but still visited the Clifton Hill Cenotaph annually on Remembrance Day), and passed away at St. Peter's Hospital. He was the cherished husband of Marie Sanderson, father of Gary and step-father of Tony, Paul and Maria. He was the grandfather of Kyler and great-grandfather of Russell. He is sadly missed by his extended family in both Canada and The Netherlands. He was predeceased by his first wife Rose Marie.
Service will continue as usual on Remembrance Day to commemorate all our past and living veterans, including remembering Russell Sanderson, at the Clifton Hill Cenotaph at 11:00 am on Friday, November 11th. Please feel free to attend.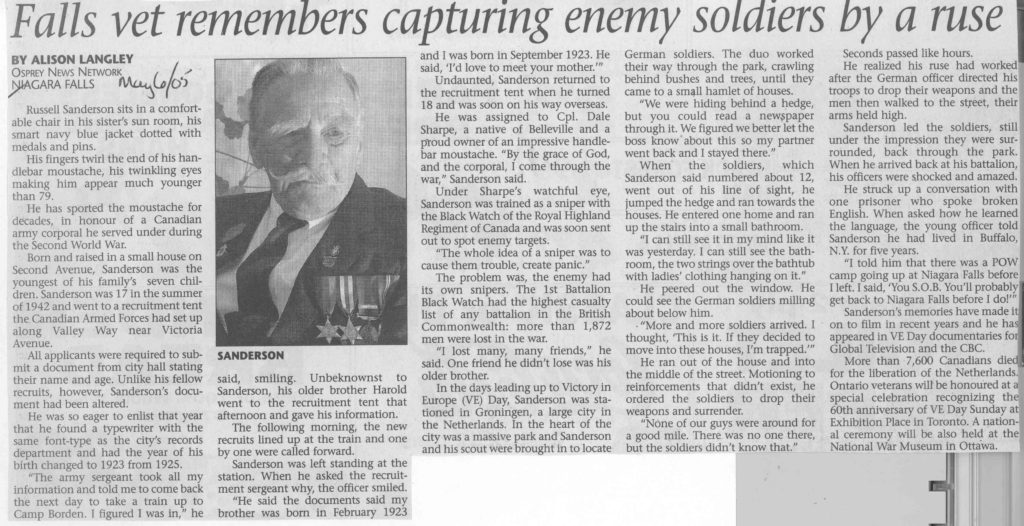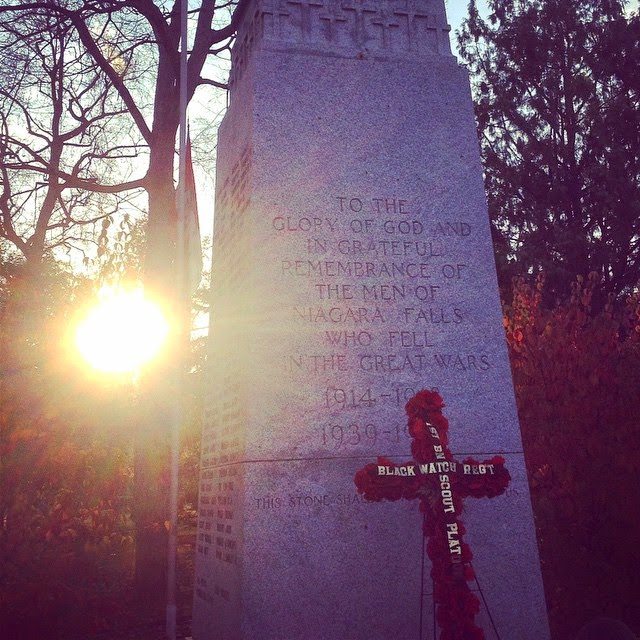 *Pictured Above: Clifton Hill Cenotaph*