Lion Dance at the Fallsview Casino
Friday, February 16th, 2018 at 2:00 pm
Fallsview Casino will kick off the Year of the Dog on Friday, February 16th with a traditional Lion Dance performance in the main entrance lobby. Free for guests to watch.
The President of Niagara Casinos, Richard Taylor, will bring the lion to life with a traditional "eye-dotting" ceremony before the dance begins.
In addition, Fallsview Casino will recognize the holiday with property-wide decorations and Chinese New Year dishes served in the Golden Lotus from February 16th through to February 22nd.
Main Entrance Lobby – Hydro Teslatron, Fallsview Casino Resort, 6380 Fallsview Blvd., Niagara Falls, ON.
Visit www.fallsviewcasinoresort.com for upcoming details
Lion Dance Parade at the Seneca Casino
Saturday, February 24th, 2018 at 7:00 pm and 9:00 pm
Join the Seneca Casino for their annual Lion Dance Parade starting in the hotel lobby at both 7:00 pm and 9:00 pm and continues onto the gaming floor. Free for the public.
Visit www.senecaniagaracasino.com for upcoming details
2018 Chinese New Year: Gala
Friday, February 16th, 2018 (7:30 pm – 10:00 pm)
Greg Frewin Theatre proudly presents a special gala for this traditional festival.
The 2018 Chinese New Year Gala includes:
– Delicious gourmet buffet dinner with featured Seafood dishes
– 120 minute show w/ intermission (normal show length = 90 min.)
– New Year's Gift: Niagara Ice Wine
– Traditional Chinese Lion Dance
– Decorated Theatre in Festival Tradition
– Gratuity included for those who help make your night magical
For tickets and pricing details please visit www.gregfrewintheatre.com
Fashion Outlets of Niagara Falls, USA
Friday, February 16th, 2018 – Sunday, March 4th, 2018 (All Day)
Visit Guest Services located at Mall Entrance 6, near Saks Fifth Avenue OFF 5TH to receive a celebratory red envelope containing a complimentary Year of the Dog Savings Card with up to $800 in savings at some of their stores.
Sunday, February 16th:
Enjoy a cultural performance starting at 1:00pm near Polo Ralph Lauren, presented by Gold Summit Martial Arts Institute, which will include a Dragon Dance, Lion Dancing, and Martial Arts Demonstrations.
Visit www.fashionoutletsniagara.com for details
Mandarin's Dumpling Festival
Monday, January 22nd – Sunday, March 4th, 2018
Ring in the Chinese New Year with their special dishes including Har Gow, Siu Mai, Beef Potstickers, Sticky Rice in Lotus Leaf, Egg Custard Tarts and much more.
Locations in Niagara: 7555 Montrose Road, Niagara Falls & 366 Bunting Road, St.Catharines
Visit www.mandarinrestaurant.com for details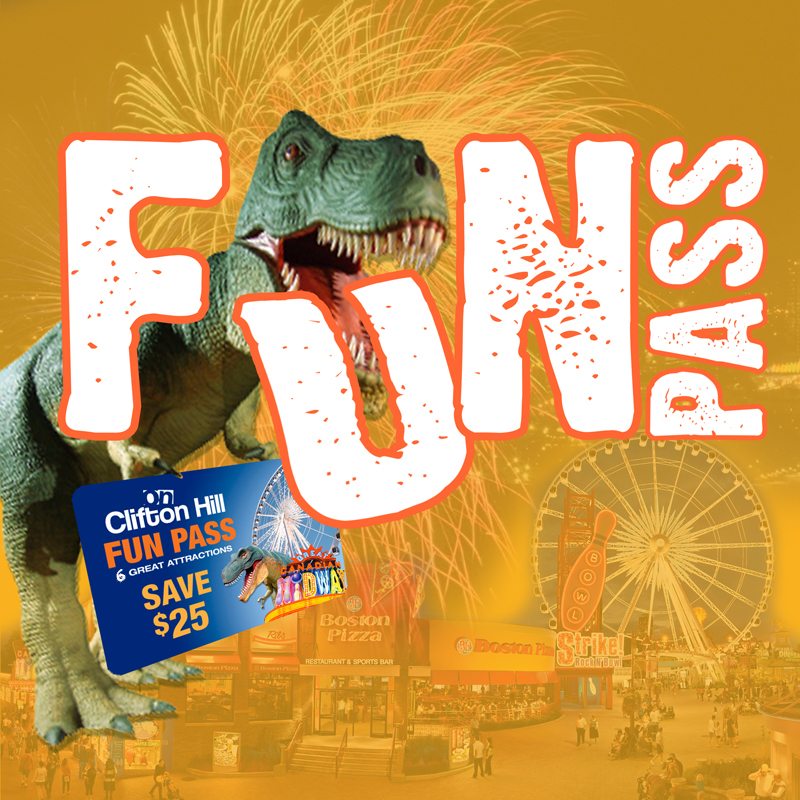 Celebrate the Chinese New Year by visiting Clifton Hill for more dazzling entertainment and family fun! Our attractions will be an extension of the fun you will have and a great way to conclude the day.
Purchase the Clifton Hill Fun Pass for the best savings on SIX of our most popular attractions.