Part of the best part of the holiday season is finding the perfect tree. For some people fake just doesn't cut it (literally). Here is a list of places to pick real Christmas trees in Niagara, and start the season off with that fresh festive smell of a real tree!

1
DiMartile Farms
Location: 257 Chantler Road, Fenwick, ON LOS 1C0, 905-734-4870
They have been selling Christmas trees for over 50 years. They offer Fraser Firs, Balsam Firs, and Scotch Pine.
2
Piller 'N' Pines Christmas Tree Farm
Location: 171 Metler Road, Fonthill, ON L0S 1E0, 289-213-8838
They have approximately 7,000 trees of the different varieties. Prices are $60 for any tree (cash only). They offer their guests free hot chocolate and candy canes!

3
Smith's Christmas Trees
Location: 105 Orchard Hill Road, RR#1, Ridgeville, ON L0S 1M0, 905-892-3410
This is a strictly cut-your-own Christmas tree farm. There are no pre-cut trees available. All tress are cash only, and all trees are $40 (tax included). They offer Norway Spruce, Colorado Blue Spruce, Meyer Spruce, and Balsam Fir.
4
Piott Christmas Tree Farm
Location: 4331 Sann Rd., Beamsville, ON L0R 1B1, 905-563-5493
Opening November 25th, 2017 on weekends from 9:30-5 you and your family get the opportunity to cut down your own tree.

5
Twinkle Trees
Location: 3906 Mountain Street, Beamsville, ON L0R 1B0, 905-563-7717
This is a 30-acre cut-your-own tree farm open from 9:30 – 4:00 pm Saturday and Sunday only. Maximum tree price is $60. They have hot cider, hot chocolate and wagon rides for the kids.
6
Bridgewater Creek Tree Farm
Location: 61786 Niagara Regional Road 27, Wainfleet, ON L3B 5N6, 905-899-4812 
They offer White Spruce (up to 8 ft.) and Balsam Fir (up to 6 ft.). Saws are provided or bring your own. Tree cost $40.00 cash only. They are open on the weekends from 10:00 am to 5:00 pm, or by appointment only from Monday to Friday.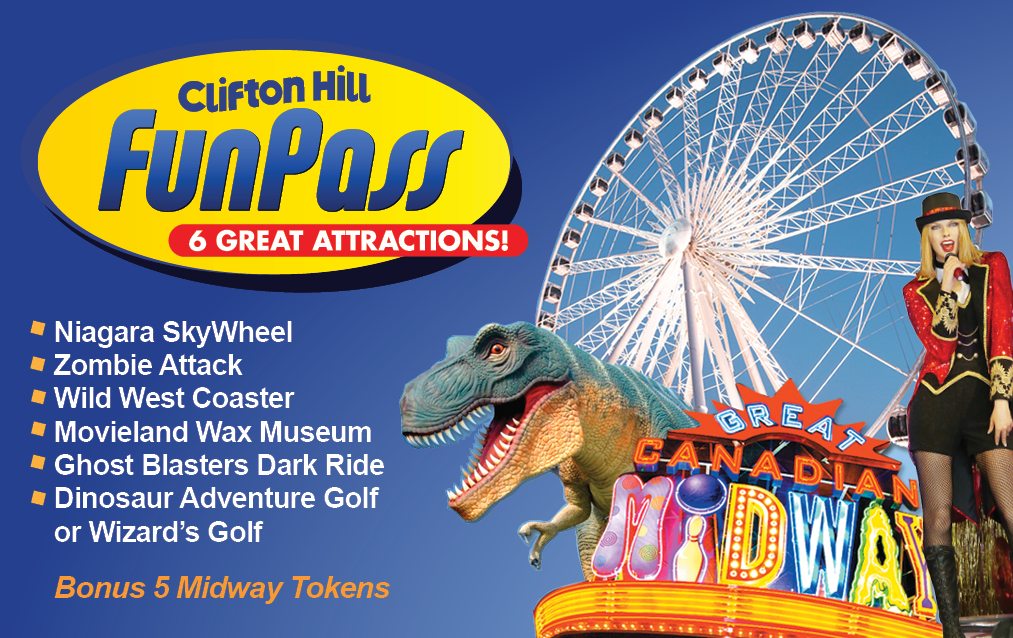 Looking for a great stocking stuffer? Choose our Clifton Hill Fun Pass. Only $29.95+HST for Adults and $19.95+HST for Children. Buy online in order to take advantage of the BONUS Niagara SkyWheel (so you get TWO admissions).
*Online purchaser must be present when picking them up.*