Mini Golf as a recreational activity has been around now "officially" for 101 years as of 2017. It's amazing how an activity went from something so simple, to the elaborate and intricate courses of today. Here's a look into the crazy and zany history of mini golf!

Ladies Putting Club 1894 at St. Andrew's Links in Scotland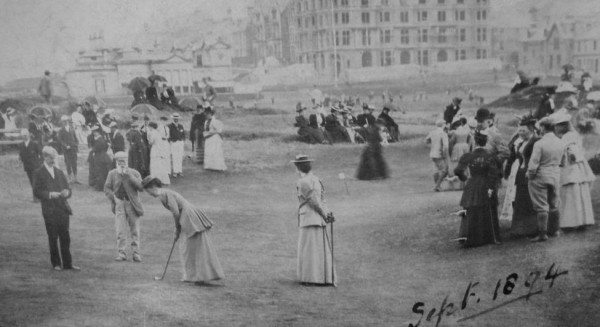 Mini golf started off in Scotland in 1867 with the "Ladie's Putting Club". While golfers waited to play a round, there was a putting green nearby in which people could practice their swing while they waited. This included many bored women who liked to burn of steam waiting for their fathers and husbands to finish. This distracted many men, so a smaller course titled the 'Himalayas' (an 18-hole putting green) was formed near the visitors' clubhouse for the women to play at. It was simple with no man-made obstacles; just the natural hills of the course to add some complexity to the game…
"Thistle Dhu"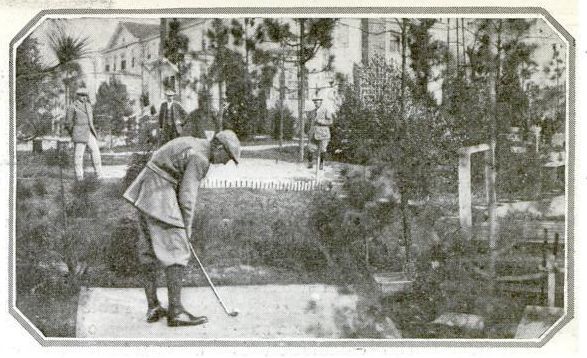 The first golf course recorded in America was in 1916, by a North Carolina man named James Barber. He hired a designer and landscaper to create a small golf course which he named "Thistle Dhu" ("This Will Do"). Unlike St.Andrew's Links, it features hazards such as trees, water and sand traps…

A "Tom Thumb" Golf Course (1930)
In 1922, a gentleman named Thomas McCulloch Fairbairn (who was a cotton processing plant owner), noticed that cottonseed hulls would compact and fuse when crushed, so he revolutionized the game when he formuled "artificial green". Suddenly, playing mini golf became much more entertaining to "regular folk". Before this time mini golf was more of a sport for golf fanatics and the wealthy as a way to pass time.
In 1928, Garnet Carter, a traveling salesman, needed something to entertain his guests at the Fairyland Inn at Lookout Mountain in Tennessee. Carter had a fascination with European folklore (hence the name of the Inn), so he built the first "Tom Thumb" mini golf course after the miniature boy (no bigger than his Dad's "thumb"). It included gnomes and hollowed-out tree trunks. Carter patented and sold franchise licenses of his Tom Thumb Golf Courses. Soon "Tom Thumb" golf courses were popping up all over the U.S. and Canada…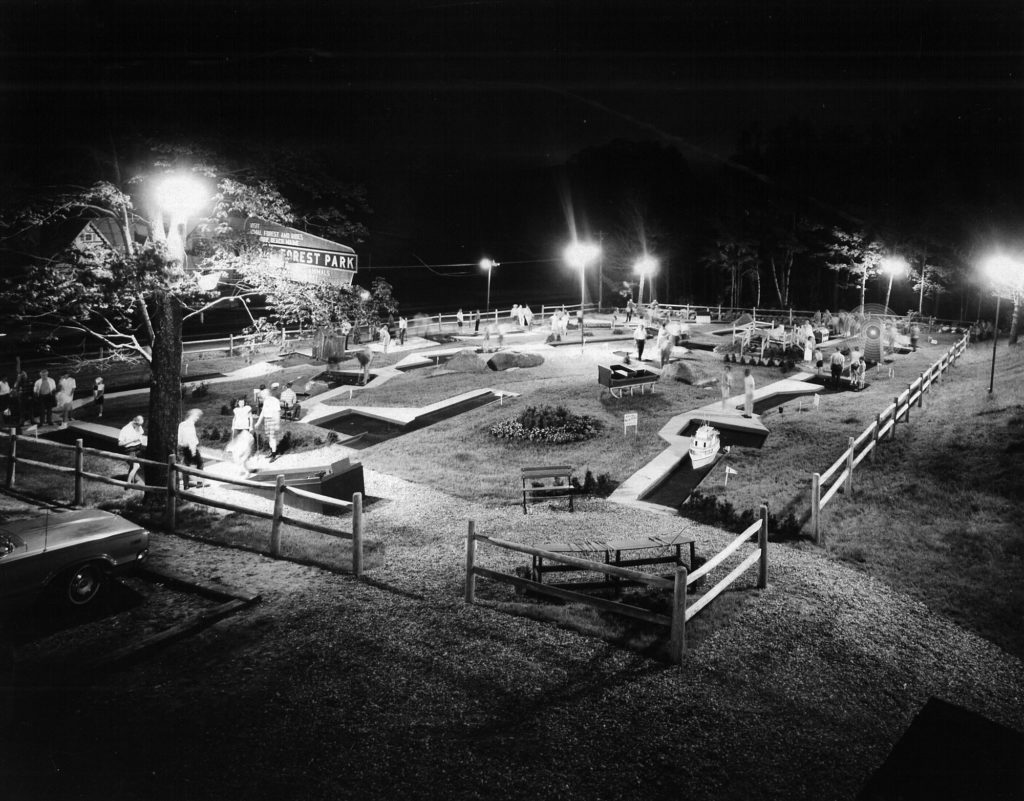 The game of miniature golf took a hit during the Great Depression, as people couldn't afford to play. It stayed stagnant until 1938 when the Taylor brothers began to build their own miniature golf courses, but also started adding landscaping, and eye-catching obstacles such as windmills, and castles. By the early 1940's, Joe and Bob Taylor were in the business of building miniature golf courses and supplying obstacles to companies, and were even sent overseas to entertain soldiers in WWII and Korea.
Fast forward to the miniature golf courses of today, and it has become a favourite family and friends pastime.
Above is a photo of "Funspot's Mini Golf" (August 1964), New Hampshire that started featuring all these "bells" and "whistles"…

Dinosaur Adventure Golf, Clifton Hill, Niagara Falls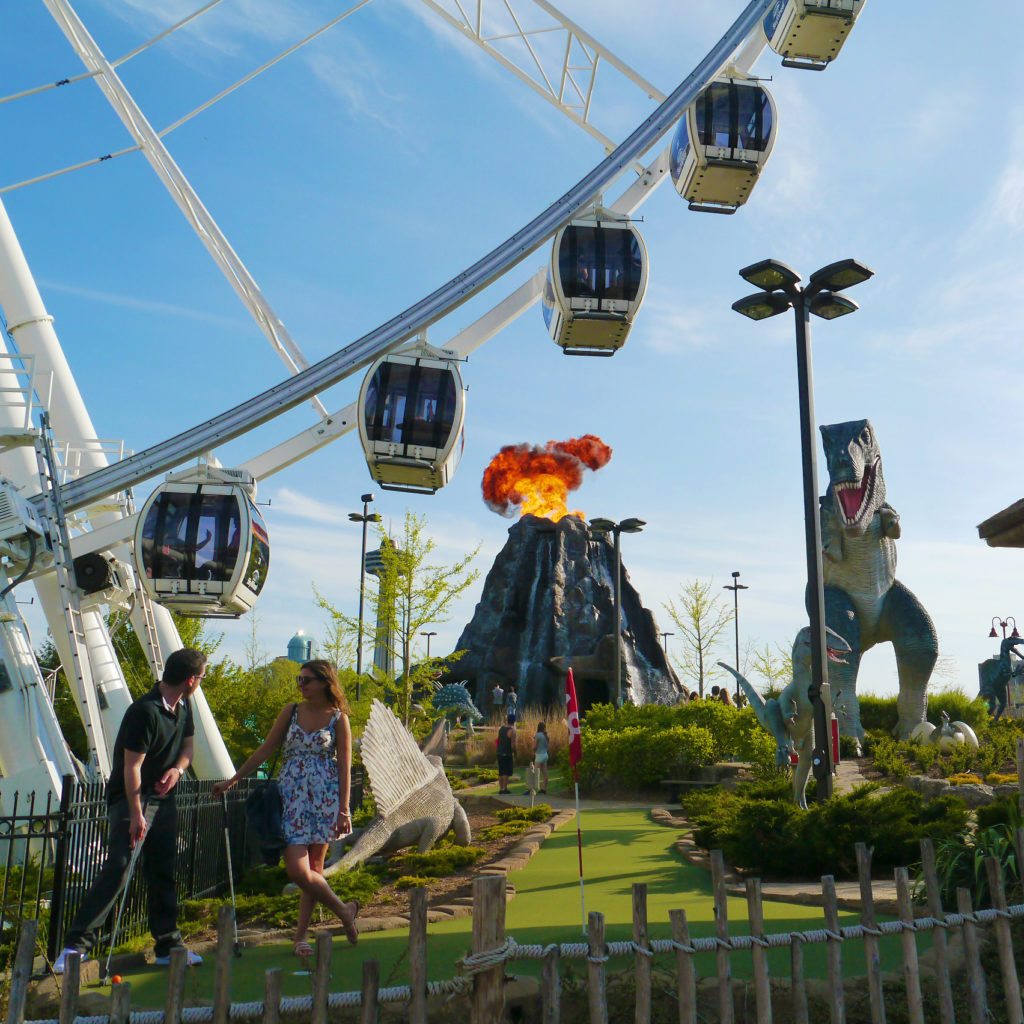 See just how much mini golf has progressed here on Clifton Hill, Niagara Falls at Dinosaur Adventure Golf. It features a 50 foot high "active" volcano, 3 ponds, a series of difficult obstacles at each and every hole, all laid out over 70,000 square feet. 36 holes of golf make this course unique, where you get to choose one of two 18-hole courses to play.
The course is populated by 50 realistic and life-sized dinosaurs, complete with sound effects and photo opportunities…
Print off this coupon for $1 admission (for up to 6 people) on your visit to Dinosaur Adventure Golf