Halloween is next week and I'm sure there are other parents (not just myself and my husband) that are scrambling to find Halloween costume ideas for kids that are cute and engaging, but also doesn't cost a fortune. Last week I was at a mall, and my son (who is 2) quickly managed to zone in on a "Thomas the Tank" costume that cost $29.99. It was cute enough, and he loves Thomas, but there was no way I was spending that amount of money on a costume that he would outgrow and only wear once. And honestly, do we want them to wear the same costume again? No! We want to be able to take pictures of our kids in new costumes every year because we want to show them off. Let's be honest, Halloween is just as exciting for us as it is for our children.
It is because of this, I have decided to compile some Halloween costume ideas for kids that cost very little or in some cases, nothing at all! Last year, I waited until the last-minute and I ended up going to Once Upon A Child here in Niagara Falls, the day before Halloween, and found a Superman costume for $5.99. I threw on one of his dress shirts and I went to the Dollar Store and bought a cheap pair of glasses and popped out the lenses and ta-da! he was Clark Kent turning into Superman! The grand total of this costume cost me $7.99+taxes (see featured picture).
Here are some more ideas:
Costume#1: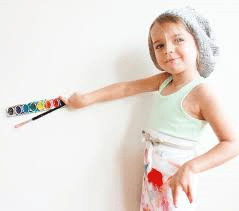 Go to the Dollar Store and purchase a paintbrush and some paint. Go into your child's closet and find a beret (or buy one at Once Upon A Child or Value Village) for next to nothing, a tank top, an apron, then smudge paint all over it and instantly you have a costume–for cheap!
Costume #2:
If you are looking for truly unique Halloween costume ideas for kids, this costume is amazing by www.thirtyhandmadedays.com. I had to share! This is actually so easy to make and the only expense may be to find a bucket large enough for your child's head! For Salty Bison's a full tutorial on how-to make this costume click here.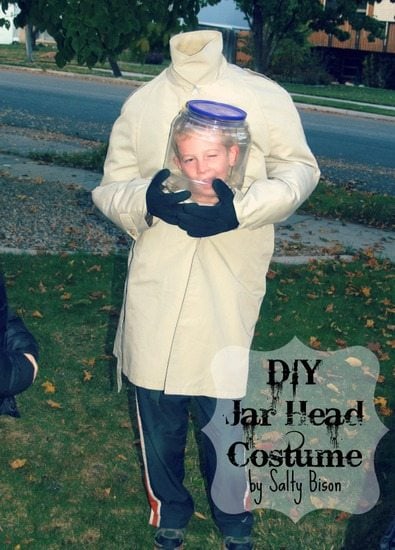 Costume#3:
With the exception of the red, curly wig, you may already have this in your child's closet. All you need is a red dress, white tights and a cute pair of Mary Jane shoes or any black dress shoes for that matter.  If you have a plain red dress, just tie a white ribbon or belt around the waist and suddenly your little girl is now "Little Orphan Annie".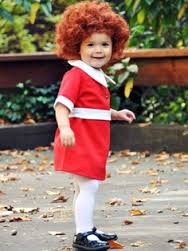 Costume#4:
Charlie Brown! Just a bald head and a black marker! lol. You don't even need to find a yellow shirt with a black swiggle on it. Just a yellow shirt will do and you can just buy black felt and cut out the shape for the swiggle. Bonus points if you can find a stuffed Snoopy.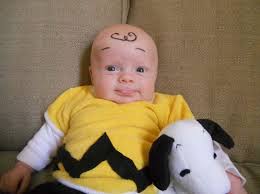 Costume #5:
Find a basket and cut out the bottom (make sure that it's tight enough that it can fit around your child's waist). Poke four holes in the top of the basket and tie string through it and attached it to a large size helium balloon. Decorate the balloon as you wish!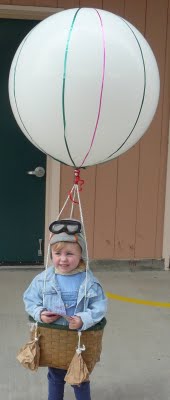 Costume#6:
I found this one on www.coolest-homemade-costumes.com. I thought it was adorable, and basically just requires some grungy looking outfit and a marker or face paint to draw on a beard. Done.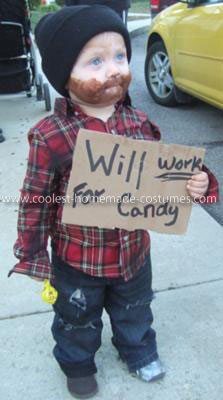 Costume#7:
This is for the infant that can't walk yet lol. Go door-to-door in this. Clearly the candy will be for you, but you get to show off how cute your baby is! All the baby needs is a red jacket with a hood and then you can stick on red pipe cleaners on the hood and a pair of eyeballs. Love it!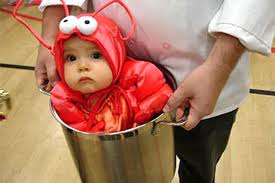 Okay, so there is a few super cheap Halloween costume ideas for kids! If you have a small baby and don't wish to go out for Halloween, the Fun Factory on Clifton Hill here in Niagara Falls has bibs for $12.99+tax that feature different costume patterns on them called "Add A Kid". You can answer the door and hand out candy holding your infant wearing that — and all you had to do was tie on a bib!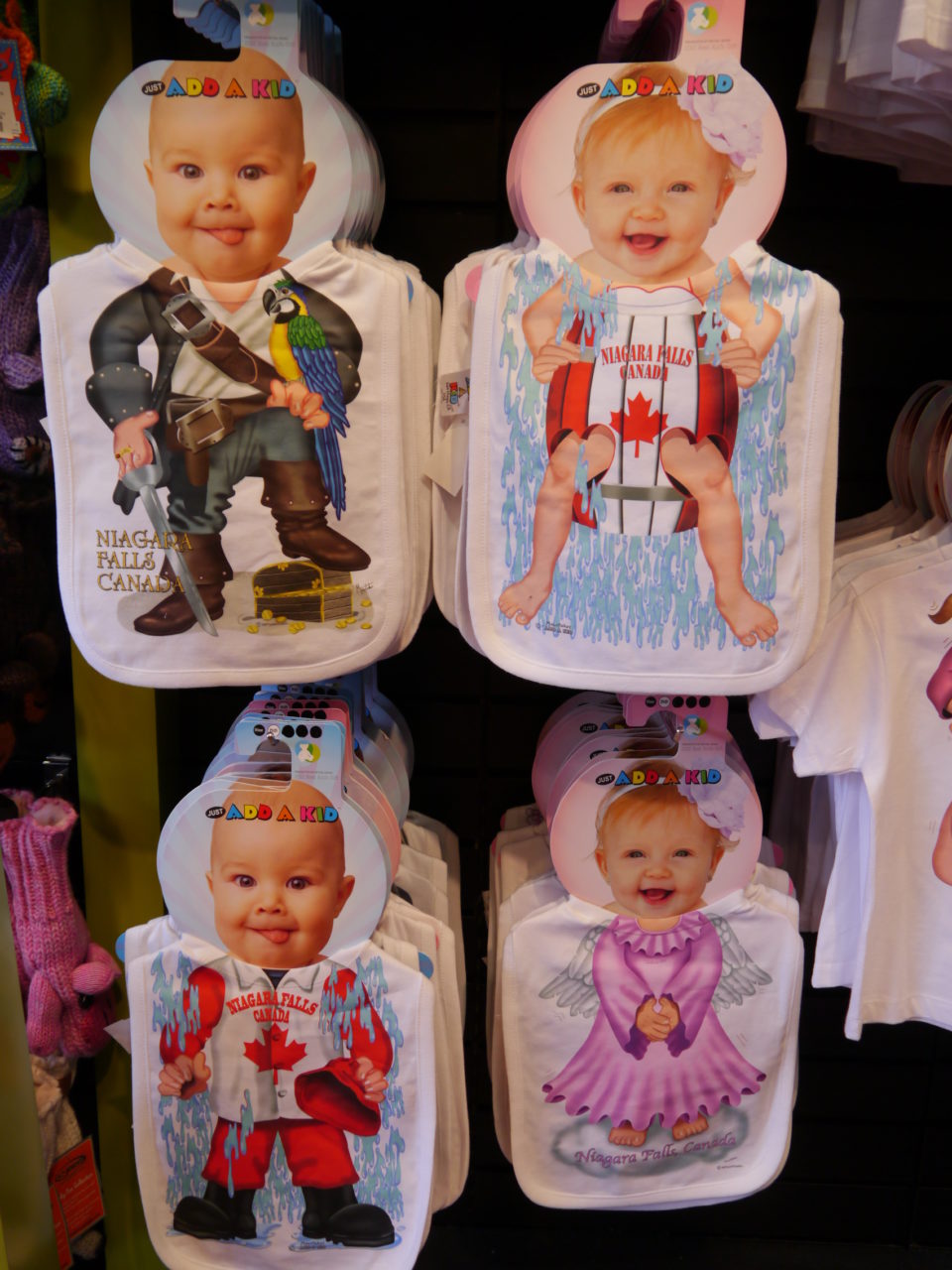 Contest time!!
We want to see your child(ren) in their costumes! After Halloween, email me your child in costume at clynn@cliftonhill.com and I will add them to an album on our Clifton Hill – Niagara Falls Fun Facebook page. Deadline for entry is Friday, November 8th, 2013 at 5:00pm. Get your family and friends to "like" our page and "like" your child's photo in our album! The winner will still be chosen by us so the number of "likes" won't technically matter, but it doesn't hurt to have bragging rights!
The winner will receive a family photo shoot on Clifton Hill by Robert Deak Photography.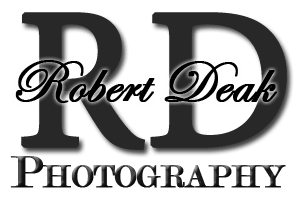 This includes:
- One hour photo session on Clifton Hill
- 10 retouched digital images (printing options are available)
*Winner will be announced on Monday, November 11th, 2013*.
Good luck!