World Autism Awareness Day: What Niagara Falls is Doing
World Autism Awareness Day is on Wednesday, April 2nd, 2014 this year and it is the seventh annual time that autism organizations around the world celebrate the day with fundraising and awareness-raising events.
What is Autism?
Autism Ontario defines it as "a neurological developmental disorder that affects an individual's ability to communicate and interact with others. It is diagnosed 4:1 in a boys to girls
ratio and now affects 1 in 94 individuals in Canada. ASD typically affects three areas of development: Language, social interaction and behaviour."
World Autism Awareness Day is a day that is dedicated to educating and shedding light to a growing global health crisis. It was brought about to increase knowledge of the autism epidemic and, since it is an increasingly common disorder, educating oneself on early diagnosis and early intervention may be helpful. Additionally, WAAD celebrates the unique talents and skills of persons with autism and is a day when individuals with autism are warmly welcomed and embraced in community events around the globe. Many structures, landmarks, and buildings are among the hundreds of thousands of homes and communities that take part to "Light It Up Blue" in honor of kicking off World Autism Awareness Day and Autism Awareness month.
I had a couple of people ask me what Niagara Falls is doing for World Autism Awareness Day, so here are a few things:
Periodically, the Niagara Parks conducts special illumination days for charitable organizations only. This year for World Autism Awareness Day the Niagara Falls will be lit blue on April 2nd at 9:00pm for 15 minutes and at 10:00pm for 15 minutes. If you are unfamiliar with the Illumination of the Falls and would like to know the yearly duration times for 2014, please click the photo below.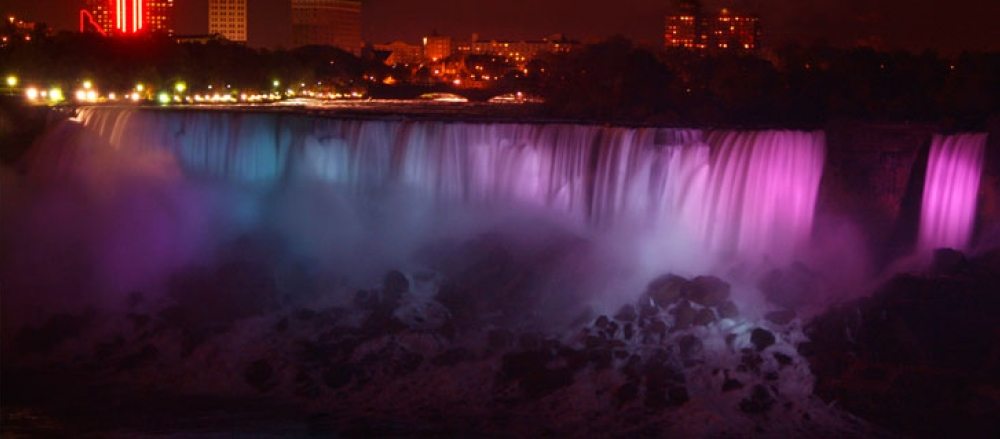 *Above: Click for 2014 Niagara Falls Illumination times*
Niagara Region Chapter Open House: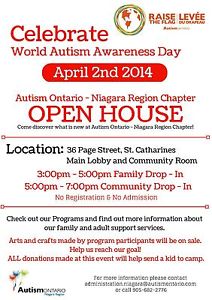 There is no registration or admission fees. For more information please contact administration.niagara@autismontario.com or call 905-682-2776.
Municipal flag-raising ceremonies in Niagara:
There are various Flag Raising ceremonies across the Niagara Region at these municipal City Halls on April 2nd:
Port Colborne – 8:30am
Welland (Civic Centre) – 8:30am
Wainfleet – 9:30am
St. Catharines – 10:30am
Niagara Falls (Old City Hall, at Queen St.
& Erie Ave.) – 1:00pm
Grimsby – 1:15pm
Niagara-on-the-Lake – 1:30pm
Niagara College – NOTL Campus Display Booth 9:30am – 2:30pm
Niagara College – Welland Campus Display Booth 12:30-4:30pm
Niagara College is doing something extra special this year in regards to World Autism Awareness Day:
A variety of events are planned for the NOTL (9:30 a.m.-2:30 p.m.) and Welland Niagara College campuses (8:30 a.m. to-4:30 p.m.). There will be a sensory booth to showcase various items that individuals with ASD use or are sensitive too such as sound and smell, allowing individuals to experience autism for a brief moment. There will also be trivia with prizes awarded.
Look out for a group of people wearing blue to take part in a flash mob at 12:20 p.m. (courtyard at the NOTL Campus and main AHI entrance at the Welland Campus).
Donations for the Niagara Chapter of Autism Ontario will also be accepted.
If you wish to donate to Autism Ontario, please click here.
If you are a parent of a child with Special Needs, whether it be Autism or CP, here is a link to a great online resource for parents at every stage of the journey of caring for their special needs children. From learning more about special needs to picking a school, planning a financial future, and getting past the bullying and discrimination that so often plague people with special needs, click here.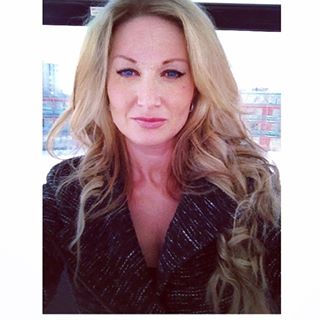 Christine Lynn
Facebook: www.CliftonHill.com/fb
Twitter: www.CliftonHill.com/twt
Google+: www.CliftonHill.com/gplus
Pinterest: www.CliftonHill.com/pin
Instagram: @cliftonhillfun
— clynn