It's back! The 20th Annual Niagara Icewine Festival will be underway from January 9th-25th, 2015. For three weekends in January (9th-11th, 16th-18th & 23rd-25th), you have the opportunity to taste this Ontario specialty made from grapes left to freeze naturally on the vine. The Niagara Region is recognized as producing some of the world's finest icewine, and now is your chance to try it out during the Niagara Icewine Festival.
What does it taste like?
Icewine is an ultra-rich flavoured wine, boasting rich aromas and flavours of ripe tropical fruits, made from the intense liquid of naturally frozen grapes. All varieties are sweet, making it a "dessert" wine.  Icewine was traditionally rooted in Austria and Germany (locally known as "eiswein"); however, Canada has got the current claim to ice wine-making fame, with the majority of the market's ice wine offerings coming from British Columbia and Ontario. The wines are chilled and also go perfectly paired with rich flavoured food (such as aged blue cheese). Add a splash of icewine to sparkling wine or cocktails to enhance the flavour.
About the Niagara Icewine Festival:
Once again, the Niagara Icewine Festival will feature the Discovery Pass. For $40 (plus HST) you will be able to tour the wintry wine route and enjoy eight award-winning wines and food pairings throughout all three weekends of the Niagara Icewine Festival.
To ensure that all designated drivers are having a good time as well, the Festival is offering the Driver's Discovery Pass. Enjoy eight non-alcoholic winery experiences throughout the Festival for just $30 (plus HST).
Click here for a list of all the Niagara-on-the-Lake wineries and Twenty Valley wineries featured during this event.
*To order your Discovery Passes please call the Niagara Grape & Wine Festival office at 905-688-0212.
Kick-off the Niagara Icewine Festival!
There is no better way to celebrate the arrival of the Festival with a gala!
The Xerox

Icewine

Gala: Twenty Years of Red and Gold
Friday, January 9, 2015
This evening showcases wines from 35 Niagara wineries, and features Canada's largest tasting of internationally acclaimed VQA Icewines and table wines. Combined with the best of Niagara cuisine prepared by Fallsview Casino's top chefs as well as live entertainment, this is an unforgettable evening!
Experience Canada's largest tasting of internationally acclaimed VQA wines for $185+HST.
Call 905-688-0212 for more information and tickets to the gala.
*Formal Attire Only*
Niagara Icewine Festival at the Scotiabank Convention Centre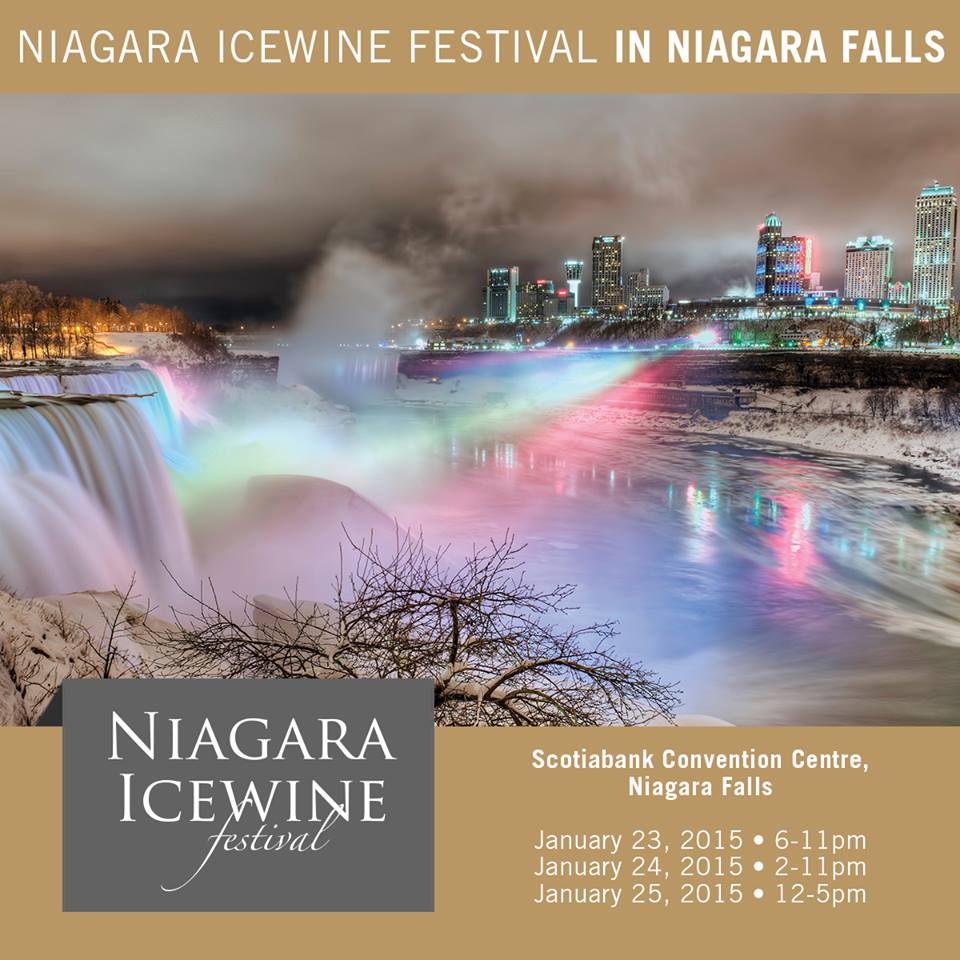 This spectacular event will take place both indoors & outdoors at the Scotiabank Convention Centre, just steps away from the magnificent Niagara Falls.
Enjoy an outdoor winter wonderland featuring fire pits, icewine marshmallows, amazing ice sculptures and signature icewine bars.
Step inside the glass doors to sip, sample & savour seasonal vintages and delicious culinary creations.
Over 15 of Niagara's best wineries will highlight award-winning icewines and sparkling wines that will pair perfectly with the savoury dishes created by 12 of Niagara's best restaurants & culinary masters.
Tickets • $10 plus HST in advance • $15 plus HST at the door
Tickets include admission for one day, a commemorative wine glass, one token ($3.25 value) and Wine Tasting Passes to be redeemed at Jackson Triggs & Inniskillin Wineries.
Tokens can be used towards wine and food at the event.
Onsite self parking is available.
This Event is 19+
Click here if you wish to purchase tickets online.
Accommodations
The beginning of the Niagara Icewine Festival runs alongside another popular Niagara Falls festival — the Ontario Power Generation's Winter Festival of Lights!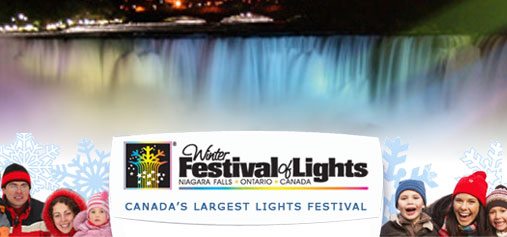 This festival runs until January 12th, 2015 and is within easy access to the Niagara-on-the-Lake wineries and only a 5 minute walk from the Clifton Hill Niagara Falls Hotel , located right where all the action happens, on Clifton Hill! There is no better way to visit Winter in the Niagara Region than to experience both the countryside wineries and the excitement of Niagara's best attractions.
The Comfort Inn Clifton Hill offers inexpensive rates and a prime location for all Niagara Falls fun. It's close proximity to the Falls and unbeatable access to Clifton Hill and Niagara Parks attractions. This hotel also features the "Build-A-Package" selection in which when you make a reservation online, you have the opportunity to select additional add-on's at a discounted price of attractions and dining that you wish to experience.
Get 50% off Clifton Hill Attractions, 40% off the Fallsview Indoor Water Park, 46% off Niagara Falls Helicopter Tours, and 45% off the Ripley's Museum Pass, plus many more!
Click image for more information: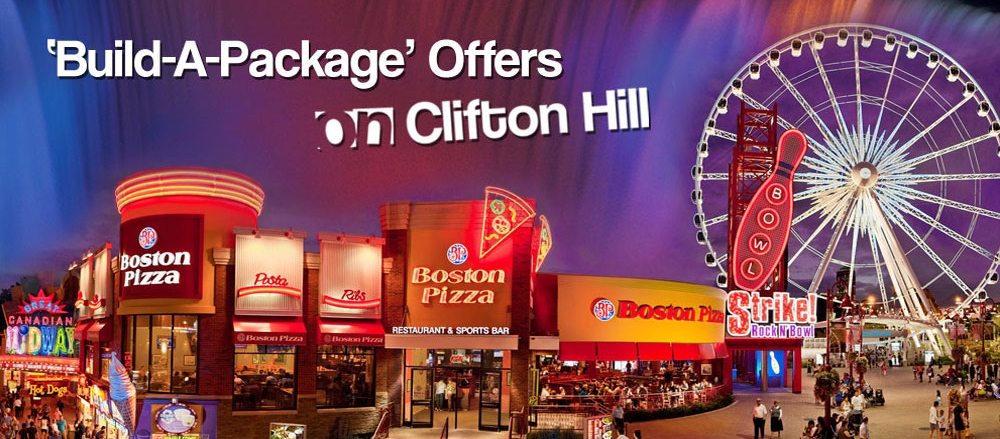 For more information on the Niagara Icewine Festival please visit them online at www.niagarawinefestival.com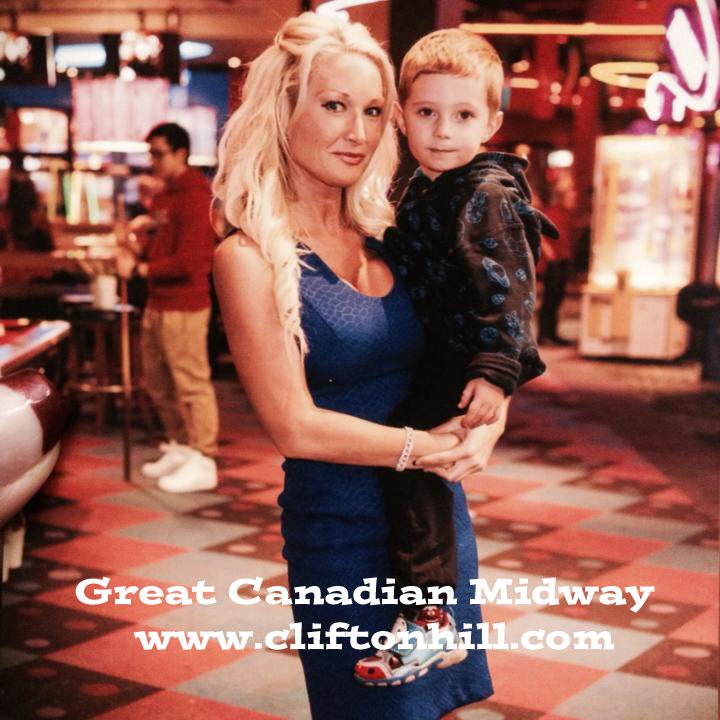 Christine Lynn
Facebook: www.CliftonHill.com/fb
Twitter: www.CliftonHill.com/twt
Google+: www.CliftonHill.com/gplus
Pinterest: www.CliftonHill.com/pin
Instagram: @cliftonhillfun